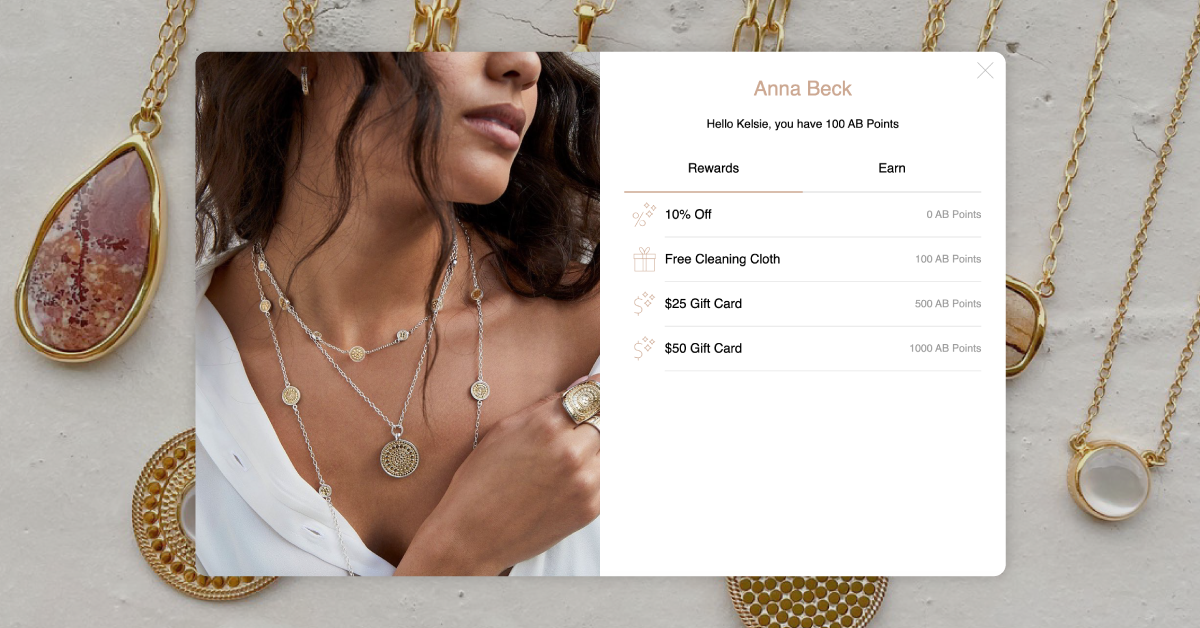 If you're an admirer of beautiful things and meaningful initiatives, you will love Anna Beck. Founded 18 years ago by Becky Hosmer, Anna Beck is a jewelry brand that celebrates "our shared connection through the beauty of artisanship."
The company is based in Los Angeles, and they work with artisans in Bali who use handmade techniques to create unique and gorgeous pieces.
Because of Anna Beck's commitment to serving their community, the brand has attracted fiercely loyal shoppers who continuously support the company. Anna Beck wanted to reward their customers, so they launched a loyalty program, powered by Marsello.

"Customers are seeking meaning right now, and we've found that people care deeply about where their jewelry comes from and that it has a deeper story beyond fashion and aesthetics. We're able to keep a dying Balinese art alive, and that's the greatest success of all."

Since they started using Marsello, Anna Beck has experienced a 728.33% increase in revenue, directly attributable to their loyalty program. They've also seen a 134x ROI.
Let's take a closer look at Anna Beck's loyalty program, as well as the other steps they're taking to drive sales and loyalty.
An inviting rewards program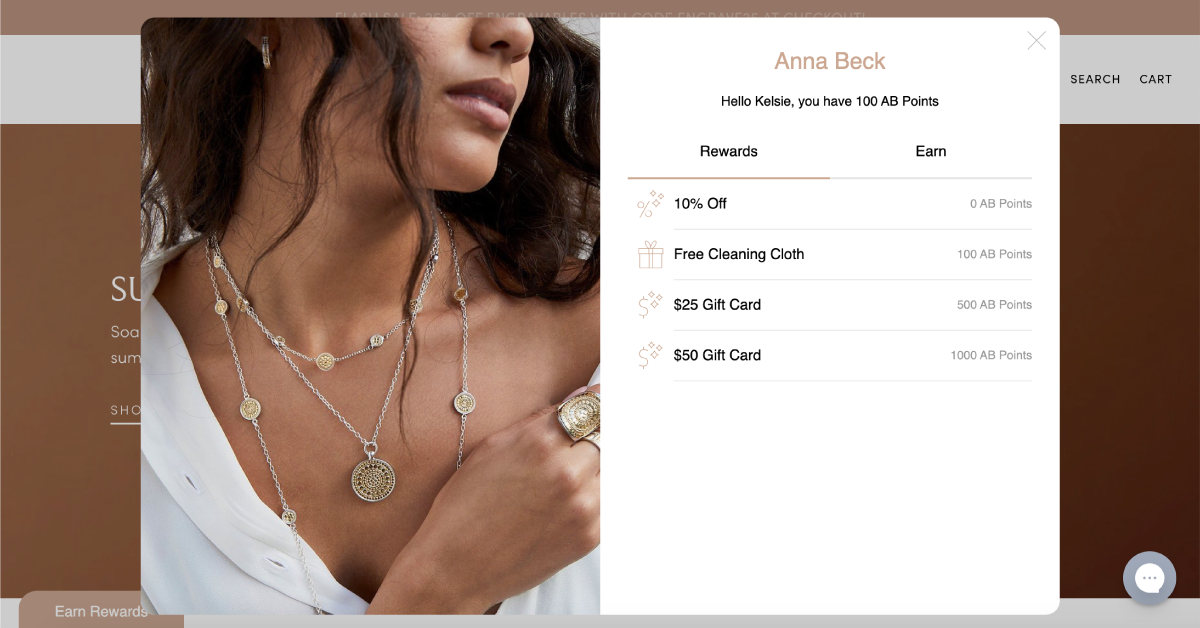 "​​Through the data, we've found that we have incredibly loyal customers. Once they make their second purchase, they are highly likely to be lifelong customers. Marsello allows us to easily reward those loyal customers for sticking around, it was a no-brainer. Anna Beck has only been an online retail brand for a handful of years, and a loyalty program was the natural next step."
Anna Beck does a tremendous job encouraging shoppers to join their loyalty program. For starters, members automatically receive 10% off along with a welcome gift simply by joining the program.

What's more, loyal members are rewarded for different behaviors and activities. People earn points when they make a purchase, review a product, refer their friends, and when they follow Anna Beck on social media.
While they've previously experimented with adding tiers to their loyalty program, Anna Beck now offers single-tier rewards to loyalty members. With easily earnable rewards, customers are encouraged to engage with Anna Beck's loyalty program from their very first purchase and keep earning towards each consecutive reward following. With tiers, Anna Beck was able to entice different levels of customer loyalty and engagement; since adjusting their loyalty program to a single tier, all Anna Beck's customers can feel like they're on an even 'playing field' where rewards are attainable no matter what stage of the journey they're is in. We love that Anna Beck experimented to find a loyalty setup that works just right for them!
See if you can do something similar in your business. Establish a low barrier to entry for your loyalty program to entice people to join and increase continued engagement with achievable, desirable rewards like % discounts and free shipping that can be redeemed within one or two orders. Like Anna Beck, you can also introduce tiers to encourage higher spending among your most loyal customers.
Depending on shoppers' engagement and program performance, you can then decide what type of rewards program works best for you and your customers.
Leveraging social media to connect with shoppers during the pandemic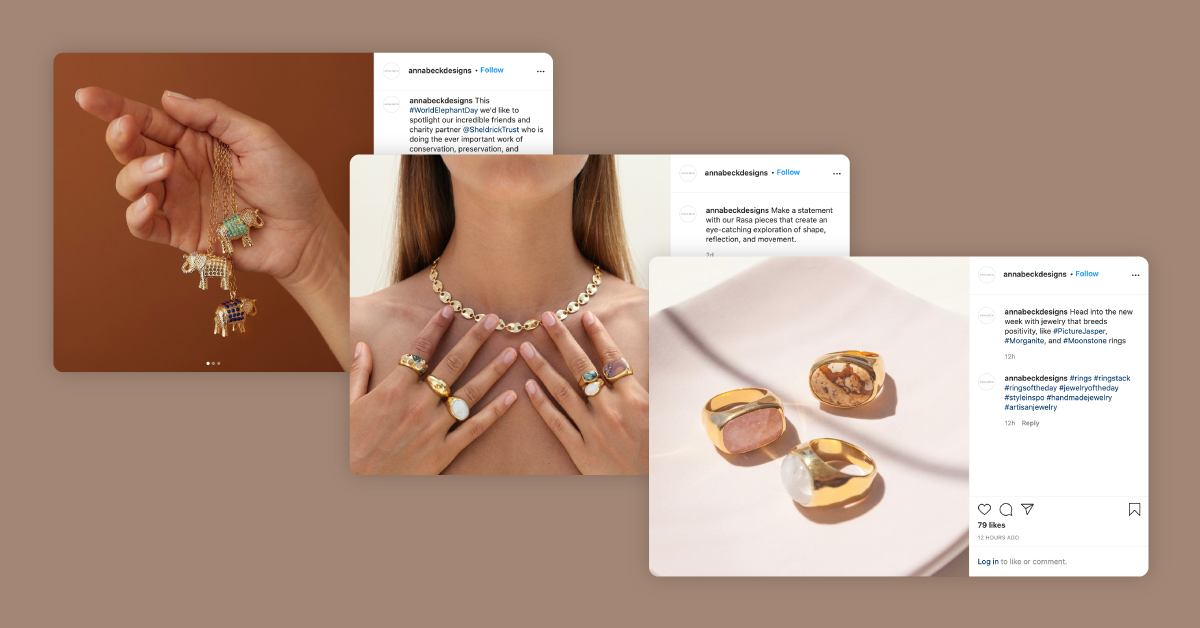 Like many businesses, Anna Beck was also affected by the COVID-19 pandemic. However, they were able to quickly bounce back by doubling down on social media and connecting with audiences who wanted to treat themselves during a difficult period.
Because of their efforts, Anna Beck's online business actually doubled in 2020 and they were able to keep their artisans in Bali employed even when other businesses in the area were struggling.

"The pandemic was not easy for many businesses, and our wholesale business saw a huge decline, to no surprise. But with aggressive social media marketing and tapping into our audience that wanted to find ways to treat themselves during a difficult time, our online retail business boomed in the past year and we were able to keep our artisans in Bali employed while many other businesses in Bali suffered due to the loss of tourists."

As for social media practices, Anna Beck uses a variety of tactics to keep people engaged, including:
Consistently posting several times per week

Creating "how-to" content, such as tutorials on how to measure your ring size.

Putting the spotlight on customers (like Katie Couric) wearing their pieces — they even have a branded hashtag called #ABCollective

Showcasing beautiful photos and videos from Bali

Sharing styling tips on how to wear different jewelry pieces.
Streamlining operations with technology
Running a business and taking care of thousands of customers is no easy feat, especially for Anna Beck, which has a small (but mighty) team.
So, how do they keep everything running smoothly? Simple: Anna Beck's team members rely on tools like Marsello to automate their marketing and keep shoppers coming back with minimal manual work.
Anna Beck has also integrated their eCommerce platform, Shopify Plus, with Marsello so sales and customer data seamlessly flow between the two systems. This reduces manual entry and human error, thus making life easier for everyone in the team.



What

Anna Beck

has this to say


"We like how you can be as involved as you want, or set it and forget it. We are a very lean team with a million things on our plate, and Marsello hums along in the background doing great work for us, keeping our customers engaged and rewarded!"