Francesca Jewelry was founded in 2011 by Hannah, who was designing hand-crafted pieces while she studied towards a science law degree. As the business grew, her sister Rachel joined her. The sisters design Francesca's collections together, creating a perfect mixture of both their styles, edgy and classic, and becoming known for their 'Franc Stacks' which incorporate beautiful natural stones. Francesca began as a small stall in Tasmania's famed Salamanca Market and has grown to become a popular omnichannel store throughout Tasmania and Melbourne.
Francesca's loyalty program was created as a way to say "thanks for the love" and to help encourage their members' obsession with Francesca. With each purchase in-store or online, their members earn points to unlock exclusive discounts based on their spend totals. Customers have six months to make use of their points before they expire – a clever tactic for encouraging customer engagement with the loyalty program and rewarding customer loyalty, thereby increasing their repeat customer purchase rate. To learn how to make the most out of your loyalty marketing, check out The Loyalty Marketing Guide: 8 Strategies for Gaining Customers for Life.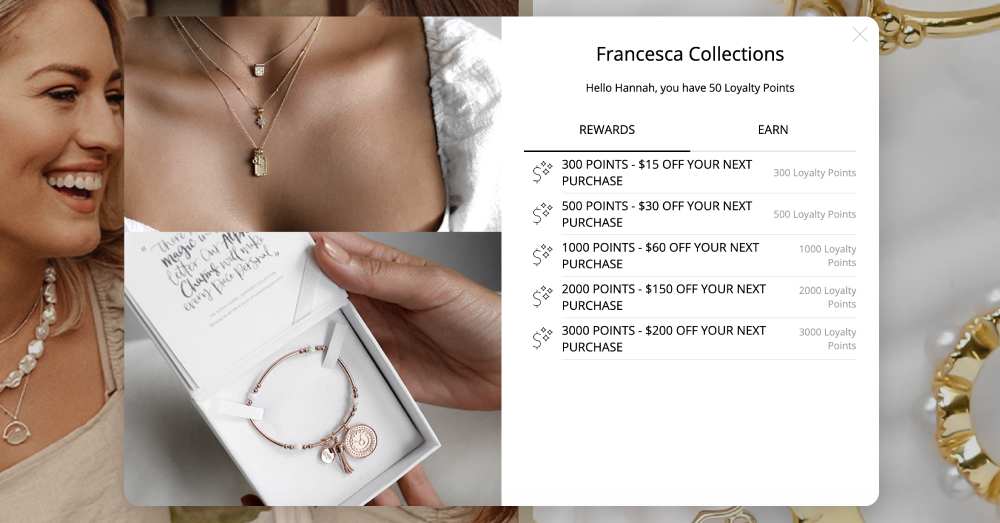 Francesca made sure to customize their loyalty program and widget to show their brand's unique style, cleverly showcasing some of their beautiful range at the same time. The details of their loyalty program are also clearly placed around their online store, improving accessibility and customer engagement. They've added it into their store navigation, as well as a 'docked' loyalty tab linked to their widget which sits at the bottom of each of their store page.


Francesca's loyalty explainer page is just as beautifully branded as their widget! It's a great introduction to their Franc Fam loyalty program, explaining how members can earn and get rewarded, as well as listing any terms & conditions (such as the six-month expiry window). The page layout and distinct sections make it easy for their customers to scan and understand, helping to incentivize their customers to join the Franc Fam and start earning right away.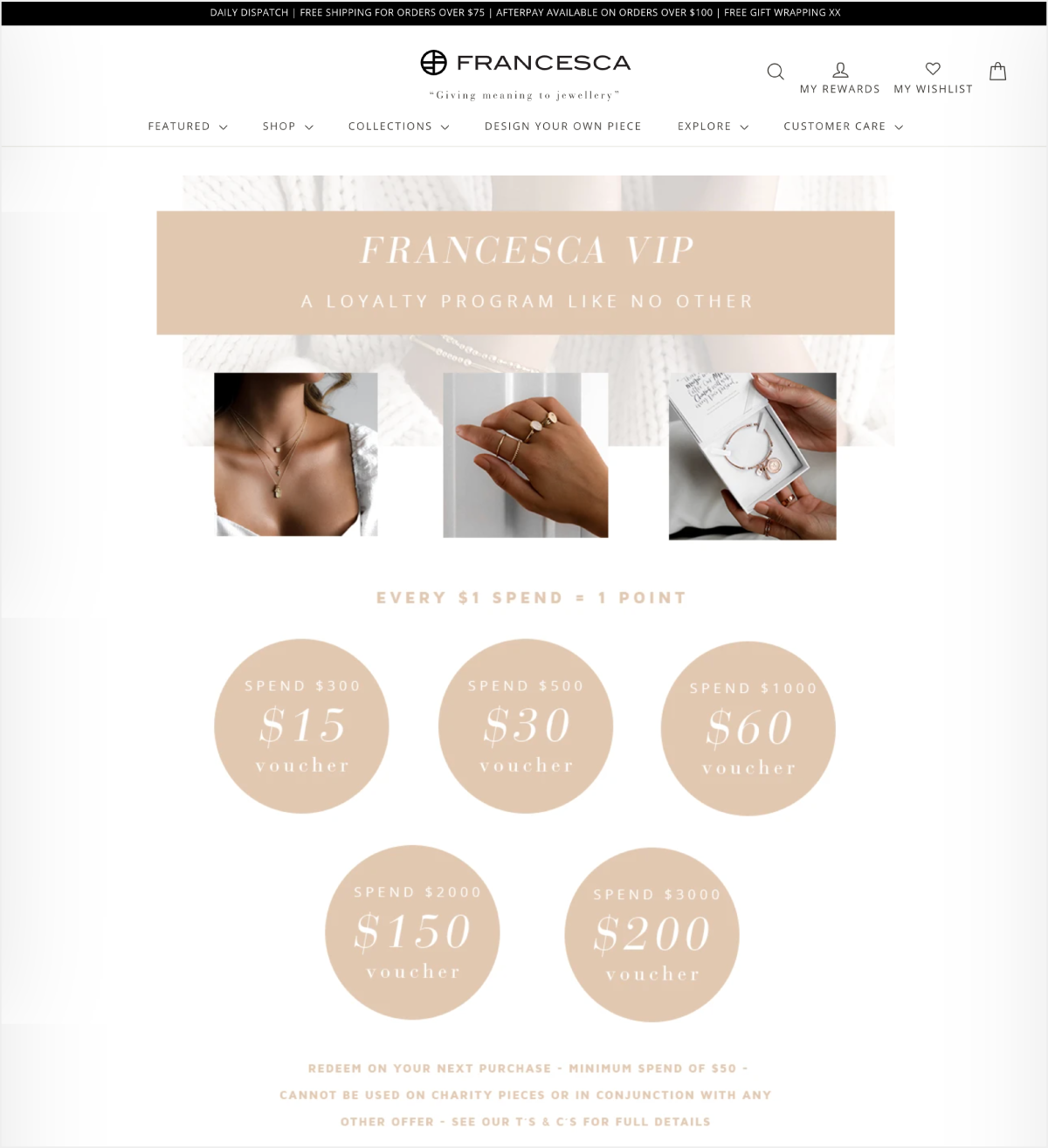 Hannah and Rachel work hard to create a consistent brand experience for their customers across both their online store and brick-and-mortar stores. They run their loyalty program across both to make sure their members earn for purchasing however they choose and to make it easy for them to redeem rewards. It makes sense too – how many times have you seen something online, realized you can check it out in-store, and seeing the item has convinced you to complete the purchase plus enticed you to buy more?
What Francesca has to say about their marketing


"Our customers are absolutely loving our new loyalty program! They are getting excited about all of the products they can earn, and this has really helped with our retention of customers and repeat business! The fact that we can have this experience in-store and online has been really valuable."

Extra things Francesca are doing that we love
Another way that Hannah and Rachel create a consistent brand experience is their promotion of both their brick-and-mortar and online stores. In their online store, they have a banner image of their brick-and-mortar stores with their locations. This helps tie the stores together, as well as letting their customers know they have the option to see their products in-person, and as we know, this is a solid way to convince customers to buy more and keep coming back.


Francesca actively supports multiple charities through their Shop For Awareness collection. As they say, Francesca is "founded on the belief that success means nothing unless you give back". Each month, the popular brand partners with charities throughout Australia to raise both awareness and funds through sales of their beautifully crafted jewelry pieces. A percentage of the sale of each charity-linked jewelry piece goes towards the chosen charity, as detailed in the product description.




The banner that heads this page clearly states how much money has been raised and offers a hashtag to share on social media (#stretchingawareness), helping customers to feel even more connected to the Francesca community. Each purchase is also beautifully packaged with a little thank-you and proof-of-donation note.