Impact Success of Your Brand with a Virtual Marketing Assistant.
eCommerce Fastlane Podcast's Steve Hutt recently chatted with our very own co-founder and co-CEO, Brent 'Spice' Spicer.
They discussed everything from Marsello's mission (to deliver an all-in-one marketing expert that tackles everything from data analysis to scheduling) to the basics of what retention marketing is and how to use it so that your brand is working for you. Whether you're figuring out how to optimize your loyalty program, or your tackling scheduled email marketing campaigns and customer segmentation, Marsello has the tools to help. Steve really gets into the finer details of this with Spice in Episode 70 of this podcast.
eCommerce Fastlane is a great source of all eCommerce news, updates and recommendations so we're very proud to be featured and have the opportunity to share what it is that sets Marsello apart.

Listen here and make sure to leave a review on Steve's podcast if you enjoy it.

Everything you need to sell more in-store and online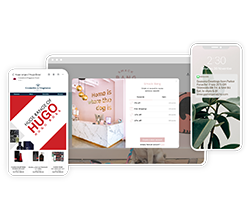 See more
Subscribe
Stay up-to-date with popular content to help grow your retail store.