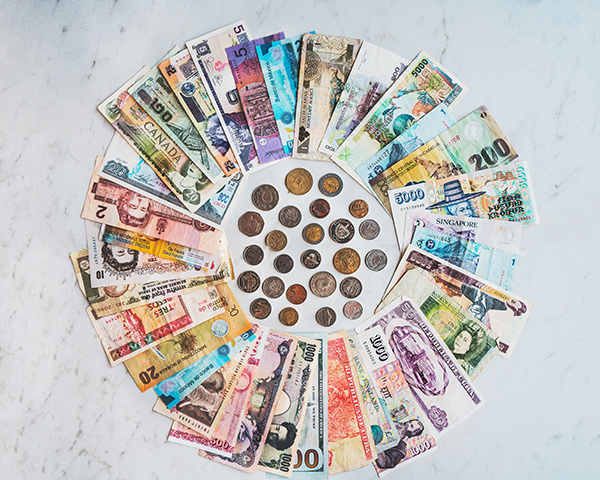 Retention Marketing 101: How to Keep Customers Coming Back
Written by Francesca Nicasio

 |   Read
Repeat customers are every retailer's dream. Study after study has shown that repeat shoppers are more valuable because, in addition to being easier to sell to, these shoppers also tend to spend more.
For these reasons, it's important to invest in retention marketing and strive to keep your customers coming back. Doing so will lead to higher profits, lower acquisition costs, and ultimately, a healthier retail business.
In the following paragraphs, we'll be sharing some of the best ways you can increase customer retention in your biz.
Let's dive in:
1. Compete on quality
Sophisticated retention marketing strategies are great and all, but at the end of the day, people will continue buying from you because of the quality of your offerings. So, before getting into tactics for generating repeat business, it's important to ensure that your products and services are top-notch.
Let's start with your products.
Think about the items that you're selling. Are your customers satisfied with them? Do they feel that they're getting a lot of value? Is there anything you could do better
A good way to find room for improvement is to gather feedback from your existing customers. Ask them to rate their satisfaction and encourage them to provide qualitative feedback on your products. Then, use those insights to further develop your merchandise.
It doesn't stop there, though. In addition to selling great products, you also need to provide amazing customer service. We live in an age when shoppers can easily find products similar to what you're selling on other websites. It's all too easy to commodify merchandise these days, so differentiation is more important than ever.
The best ways to be distinctive is to offer unparalleled customer service. If you're an online store, one of the things you can do is provide customer support on multiple channels and keep improving your response time.
It's also important that you train your support staff well. Ensure they know your product catalog inside and out and encourage them to truly serve and inform shoppers, instead of just selling to them.
And just like with improving your products, feedback is important. Make it a point to seek comments and concerns from your customers, so you can improve.
To make this step easier, consider automating feedback collection in your store.
Check out what Nigerian shoe distributor, The BCode is doing. The BCode proactively collects feedback after shoppers make a purchase to improve their business and learn about customers' experiences. They do this by adding their survey to their beautifully eye-catching loyalty points email, making it easy for their customers to respond.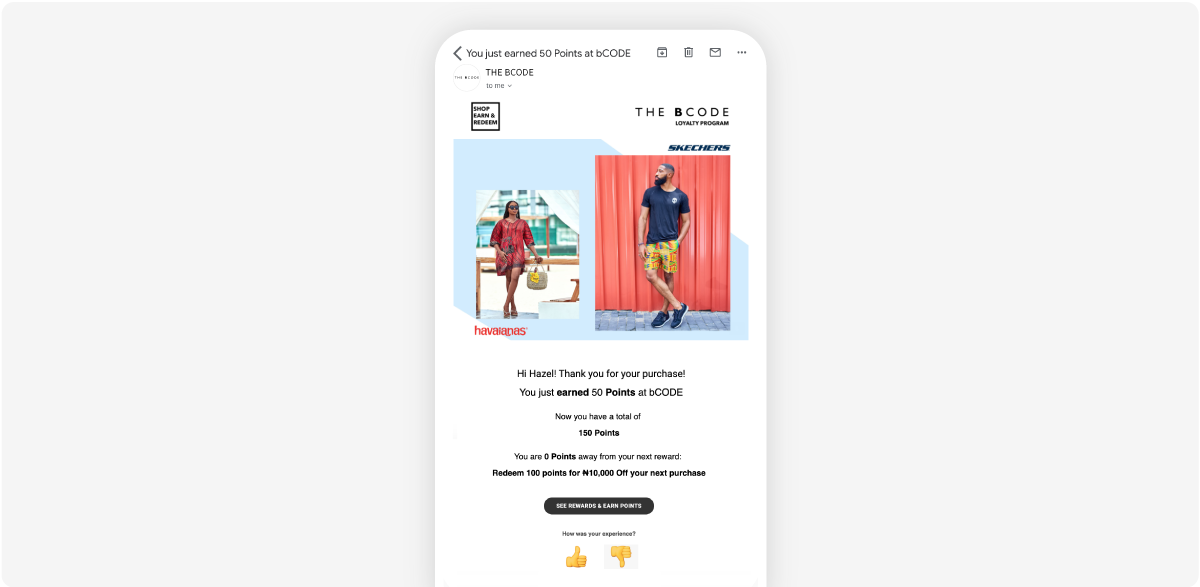 2. Regularly communicate with customers
Even existing customers won't buy from you if your store isn't top of mind. That's why regularly touching base with them is essential. Fortunately, in today's digital age, it's easy to do this via email or even SMS.
Consider the following examples:
Email promotions
Email promotions are incredibly common and for good reason: they work. If you're looking to generate sales from existing customers, one of the low-hanging fruits you can grab right now is to craft a compelling promotion and let your subscribers know.
Have a look at this example from Overstock.com:
SMS Campaigns
Do you collect people's cell phone numbers? If so, use them in your marketing. Snowflakes, a dessert store in Cerritos, CA, sends offers via text to encourage people to come in:
Seasonal emails
Seasonal events and holidays give you the perfect excuse to touch base with your customers. If there's a holiday coming up (e.g., Valentine's Day, Mother's Day, etc.) take some time to create an email campaign for the occasion.
Also, note that the event doesn't have to be a big 'official' holiday to work. Fun, industry-specific holidays can also do the trick. For instance, for National Cookie Day, Daily Harvest sent out an email inviting customers to order – you guessed it – cookies!
Product or company updates
Got some new arrivals? Is anything exciting happening in your company? Share the news with your subscribers. Check out this email from Gucci in which they share new pieces from their 2019 collection:
Educational emails
While offers can be powerful, your shoppers can get sick of them if all they get from you are promotional emails. Be sure to incorporate educational content in your customer communications strategy to keep people engaged.
Energy Muse, a website that sells crystals, regularly sends out informative, non-salesly emails to their list. Here's one where they provide a guide on active cleansing meditation:
3. Run a loyalty or rewards program
People love perks and rewards and when you offer incentives, customers are more likely to complete a desired action. This is why loyalty and rewards programs are so effective.
There are a number of ways to implement a loyalty program, and the right one depends on your products, business, and customers. For many retailers, a good way to go is to give shoppers the ability to earn points that they can later redeem for future purchases.
Our Bralette Club, a women's lingerie store based in Singapore, does an amazing job at this through their Peach Party program. VIPs earn stars by doing an array of actions, such as making a purchase, following Our Bralette Club on social media, referring their friends, and more. Once they collect enough stars, they can unlock discounts and rewards.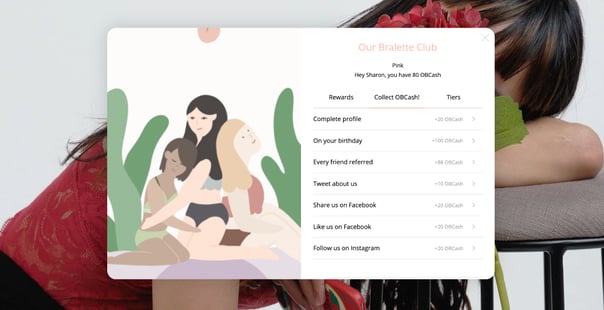 4. Always be thinking about the 'next' purchase
You don't earn repeat business by just closing a current sale and then calling it a day. You need to constantly think about the next moves of your shoppers, so you can proactively market to them.
The best way to do this is to map out your customers' retail journeys. What brought them to your store? What did they buy and what will they buy next? The answers to these questions will help you figure out how you can show up on your customers' radar at just the right time, so you can encourage them to come back.
Let's say you're selling baby clothes. If you know that a customer purchased an item for a 3-month old, then perhaps you could get back in touch after 3 months with product recommendations for a 6-month old.
Or, if you're selling a product that needs to be replaced or refilled every so often (e.g., cosmetics, certain household items, etc.) then you can send reminders to your customers to stop by your shop.
The bottom line? Effective customer retention requires long-term thinking. View a customer's shopping journey in its entirety and then figure out how you can add value at every turn.
5. Educate your customers
Educational content helps you engage customers and positions your brand as an authority, thereby building trust in the process. And since people tend to buy from companies they know, like, and trust, having a well-thought-out educational strategy can do wonders for customer retention.
You can kick-start your strategy by offering tips or by shedding light on industry trends. So, if you're a fashion retailer, you could produce content on the latest runway looks and come up with advice on how people can wear certain items.
Do note that while this may give you the opportunity to plug your products, you need to avoid the temptation to do so. Remember, the goal of shopper education strategy is to inform and add value, NOT to overtly sell your stuff.
Final Words
Repeat customers are more profitable and they're critical in maintaining a thriving retail business.
That's why if you're not giving them enough love, you need to make customer retention a bigger focus. Follow the tips we discussed today to do just that!
Published Dec 28, 2018 12:00:00 AM