Create Valentine's Day Campaigns Your Customers Will Love
Written by
Sophie Macdonald
 | Read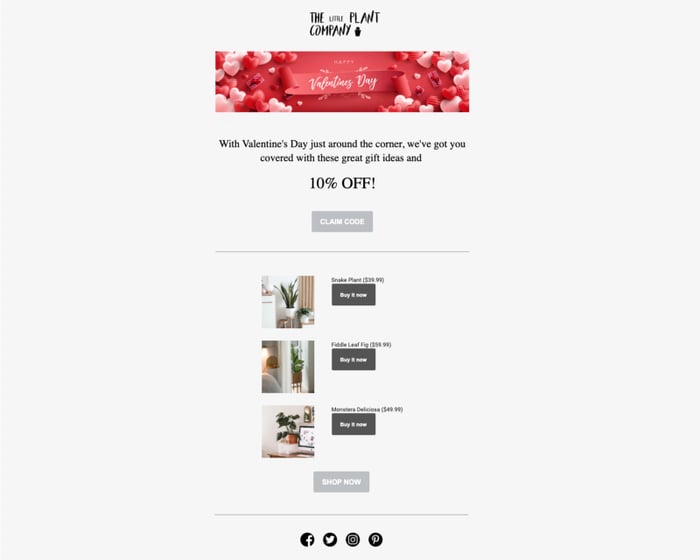 Valentine's Day is fast approaching and now is the perfect time to get your customers excited to be shopping with you.
Before you go ahead and start marketing for any holiday, it's important to make sure that your inventory is well-stocked, that your loyalty program is looking inviting, and your staff and/or sites are ready for the traffic that a holiday brings.
Once you have that sorted, you can pop the big question: how are you going to get your customers sharing the love and shopping with you this Valentine's Day? Easy! Marsello's One-off Email Campaigns!
This blog will not only give you the inspiration to give your customers heart-eyes over your Valentine's Day email marketing, but we're also giving you the banner assets and step-by-step instructions on how to recreate these emails.
Let's get started!
A gift guide to guarantee customer engagement.
Gift guides are the perfect way to get customers excited about your store and get them shopping with you in the lead-up to each and every holiday.
We love this email by The Little Plant Company:
The email is simple but effective. It includes a company logo, holiday-specific banner, content advertising a promotion, a coupon code, product recommendations, a call-to-action button, and social media icons.
The Little Plant Company's campaign is designed to go out with plenty of time in the lead-up to Valentine's Day and remind customers to visit their store before February 14 (Valentine's Day).
A Valentine's promotion to get customers shopping.
Why stop at a gift guide? Following it up with a reminder or even another promotion is a great way to capture those customers who did not make a purchase (particularly if you make sure to target those customers to received and/or opened your gift guide, but did not make a purchase).
Moonshine Sunglasses are a great example of keeping the promotion simple but eye-catching. They've used a store logo, Valentine's Day banner, promotional image, content advertising a discount, a coupon code, product blocks to showcase specific products, a call-to-action button, and social media icons.
Now comes the important part!
We've taken the hard work out of recreating these emails for you by making the same Valentine's banners available to you for free. All you have to do is download the banners and add them to your one-off Valentine's Day email campaign with the Image Block tool in Marsello's drag-and-drop email builder (more on how to do this below).
Recreating the emails with Marsello's One-off Email Campaigns.
Let's take a look at each content block used in these emails and learn how to use them with Marsello's drag-and-drop email builder:
Adding your store logo to your emails makes them instantly recognizable and reinforces your brand's connectivity with your customers. Make sure they're high-quality and a small enough resolution that they aren't overbearing or clunky. We love what Moonshine did with their Valentine's email by incorporating their logo and adding a stylish image block to showcase more of their products and brand style.
To easily incorporate your logo into your emails, follow these simple steps:
Step 1: Under the Marketing>Automations tabs within your Marsello App, you'll find an 'Edit Settings' button on the upper-right-hand side of your page. Select this button.
Step 2: A window will load which prompts you to 'Add your brand and media flows to emails'. Simply load your logo file (taking note of the recommended measurements) and save your settings. Why not add your social media information here too so that dragging and dropping those functions are automated in the future?
Step 3: Navigate back to Marketing>Campaigns and continue creating your beautiful Valentine's Day flow.
These changes allow you to simply drag-and-drop the 'Store Logo' block into your email content, which will automatically fill with that pre-loaded logo that you just added. We recommend keeping these logos simple, small, recognizable, and at the top of your email (so that your customers know who their email is from with their first glance).
The Little Plant Company has created a text-based campaign introduction that invites customers to redeem a 10% off coupon and to peruse The Little Plant Company's products with an enticing product showcase. They've edited the font and sizing, and made sure to use creative and inviting design decisions that are on-brand. Note: it's really important that you make sure to use text that not only fits your brand but is also universally available on all devices. Fonts like Tahoma, Helvetica, Open Sans, and Arial are great sans-serif options. Lato, Montserrat and Times New Roman are good universal options for serif fonts.
It's worth taking note that the written content in The Little Plant Company's email targets a general audience – it clearly aims to target as many of their customers as possible:
"With Valentine's Day just around the corner, we've got you covered with these great gift ideas and 10% off".
The text clearly invites customers to shop, and to take 10% off at the checkout while they're at it.
Moonshine Sunglasses added a Valentine's Day-themed banner using an image block; they also added a sharp, high-resolution image that showcases their products and brand – a nice extra touch to draw customers to their store.
It's important when you incorporate extra imagery to make sure that it supports the goal of the campaign. Avoid adding the text of your email content and make sure you use high-resolution images with reduced file-sizes. If your images are too large (affecting your loading time or your email looks like it's just images, it could be flagged as spam. Learn more about email deliverability here).
The core images for both of the above emails are the holiday-specific banners and the product images. It's clear in both emails that the content carefully added to support the goal of the message.
Both banners are available to download now. Simply download from the button above to access Marsello's Valentine's Day banners and start creating your own campaign.
Product recommendations is a powerful marketing tool designed to bring smart, targeted marketing to your customers without any extra effort from you. Based on your customer's previous purchases, and the purchases of customers like them, the Product Recommendations block auto-fills the three tiles with a selection of products from your store that are most likely to get that specific customer shopping with you.
The Product Recommendations block is perfect for stylized gift guides that encourage your customers back to your store. You can see it in action in The Little Plant Company's email gift guide. Notice that they've also included a discount code, giving their customers even more incentive to shop for those products that they're so likely to adore.
A product block gives you the power to actively promote selected products to your customers. We love the idea of using this block to showcase examples of products included in a sale. Moonshine Sunglasses uses three product blocks to showcase a range of their sunglasses and further invite customers to redeem their 15% off discount.
Note: these blocks are a visual invitation to your customers! Make sure that each image is high-quality, compliments the content of your email and your brand, and that all the relevant information for each product is included correctly (you will need to add pricing and product names manually).
Discount codes (also sometimes referred to as coupons) are king when it comes to holiday email marketing. You can bet that your competitors are using promotions such as site-wide discounts to invite customers back to their store. Don't be afraid to do the same if it's within scope!
Both of the above emails incorporate discount code blocks into their emails. Notice that Moonshine Sunglasses acknowledges the short timeframe with which to get customers shopping and are offering a little more of a discount on their premium products, hopefully getting their customers to make that purchase soon. Consider including a clear deadline in your own emails to really communicate that sense of urgency.
A clear call-to-action (CTA) is vital in each and every email! Your customers must be able to discern why you're contacting them, and it needs to be easy for them to follow your suggestions or requests. Giving your customers a succinct CTA such as 'SHOP NOW' (note that in both example emails, it's in upper case) conveys a sense of urgency while also giving your customers a clear path to your store.
Including social media icons in your emails is a fantastic way to send customers to all your marketing channels and grow your engaged following. Just make sure that you add all links correctly and you aren't distracting customers from the point of your email – if you want your customers to make purchases during your Valentine's Day promotion, then including your social media icons too early in the email could be distracting and direct your customers' attention away from the point of your email.
In both emails above, the two companies have included their social media icon links at the bottom of each email. This means they are likely to engage those customers who are actively interested, but they will not distract the majority of their customers from the email itself.
Customizing your email campaigns to suit your brand is a great way to stand out, or to reinforce a theme. If it suits your store, perhaps you could incorporate a red or pink theme to your email.
The Little Plant Company did just that by using an off-grey background color that has the faintest tinge of pink. This not only complements their branding but also subtly warms their customers to the themes of their email.
Wrapping up:
Each and every detail in your emails need to be intentional and oriented towards your end goal – do you want customers to shop your holiday promotion? Are you hoping to get customers to follow you on Social Media? Is the core goal to promote your brand or a certain product? Do you just want your customers to click through your emails to your store? Whatever your measure of success for that campaign, it needs to be clear to your customers what you're expecting them to do. This will not only help you to send a successful campaign, but it will also help with email deliverability.
Our final piece of advice?
Always send yourself a test email first to make sure the content looks great on all your devices.
We've given you the tools to recreate these emails yourself. And remember, you can get your Valentine's Banners here.
Published Feb 5, 2020 12:00:00 AM