Customer Segmentation Series Part 1: Segmentation & RFM
Written by Sophie Macdonald

 |   Read
Sometimes, it can feel as though your carefully planned marketing is drowning in a sea of emails, paid ads, and brand awareness campaigns. In turn, it can then feel like an impossible task to convince a customer to pick your products and brand for their Retail Lifeboats: the SS Revenue and SS Loyalty.
Marsello released Customer Segmentation specifically designed to tackle this. We're taking the guesswork out of segmentation and targeted marketing, however, we expect retailers to want to understand what is happening. We want you to have all the information to make the most out of your segmentation, from the basics to retention marketing and finally, acquisition marketing. That's right, welcome to part one of another Marsello three-part blog series. And if you didn't see our SEO series, check out part one here.
As internet marketing guru Neil Patel says, "User segmentation isn't something that is alien in the marketing world. The big brands have this down to a T, and the little guys are just waking up to the power behind having a laser-focused strategy — laser-focused on user segmentation."
Customer Segmentation 101
It's becoming increasingly apparent that retailers should be specifically marketing their brand to smaller subsections of their customers, rather than their entire customer base. The idea that when customers are segmented by their shopping behaviors, traits, and previous purchases, it's far easier to target them with marketing campaigns that are most likely to result in a sale. Think about how hard it is to try and create your marketing when you know next-to-nothing about your customers – using customer segmentation to inform tailored, and personalized messaging is a proven, sure-fire way to keep customers interested and even win-back customers who have lapsed.

Let's break that down. I love this example: everyone has their coffee preferences – americano, latte, cappuccino, espresso, iced coffee, or a cup of tea instead. The thing is, selling an espresso to someone who knows they want a large frothy soy latte is a waste of time, and can even sometimes leave that customer feeling like they wasted their money. Cafes that cater to a wide variety of coffee preferences, and even dietary requirements, are already using customer segmentation by meeting the needs of as many customers as possible while still selling a small variety of products. It's tailored marketing at its most basic! And it doesn't mean you have to stick to catering to what customers know, for example, cafe regulars who take their coffee away may be thrilled with a reusable coffee cup deal that includes a free coffee at the time of purchase. It's all about applicability.
Cafes can easily go the extra mile. The Marsello marketing team are regulars at a nearby cafe. With weekly meetings and daily morning coffee orders, the baristas have gotten to know even our most particular orders. For example, one of our team loves a mochaccino, but only when the coffee is strong, and the chocolate is quarter-strength. It took a little trial and error to get there (and sometimes when there's a new barista there's a bit of refamiliarizing needed), and now our local cafe has this particular coffee (and all the others) so nailed that when our team walks in, our Mochaccino Marketer just has to say, "My usual please". This familiarity, their generosity with their loyalty program, and their warm, attentive customer service have made our entire team very loyal customers.
What the local cafe is doing here is helping Marsello's Marketers to feel cared for, attended to, and that our loyalty is appreciated; this makes us want to shop with them again and again, and therefore helps us to form a recurring spending pattern. Their attention to detail, excellent quality coffee, and care for our individual needs then help us to feel further catered to, and when little perks like free scones are thrown in, we are not only sure to keep coming back, but we're sure to bring others and form lasting habits.
That's great for cafes, but how do we apply this to the wide variety of eCommerce and Point-of-Sale stores out there when knowing each customer at an individual level isn't feasible? Well, have you heard of RFM (Recency, Frequency & Monetary) analysis for customer segmentation? If you haven't, the reason we're here is to explain the basics.
What is RFM analysis
RFM analysis starts by basically asking three questions about each customer:
How recently have they shopped with you?

How often do they make a purchase?

How much have they spent?
Once you've asked these core behavioral questions and started to organize your customers, you can begin to develop how you will work to capture these segments within your different marketing tactics.
Now, actually stopping to query this of every customer isn't going to work, but automating it through customer database analysis will! Marsello's customer segmentation does the hard work for you here, although it always pays to understand how that works. Yep, you read that right! Marsello's Customer Segmentation is data-driven and based on RFM analysis. We're also excited to give you paired suggestions that are designed to take the segmentations marketing capabilities one step further and help you to begin targeting customers, helping to move them to more loyal and reliable segments. Keep your eyes peeled on our upcoming blog on customer segmentation and retention marketing where we'll go into more detail on this.
The RFM Analysis Ranking System
RFM analysis doesn't just stop at organizing your customers based on recency, frequency and monetary. To make the most out of this system, it's then important to rank the importance of these categories and rank the customers within these categories, allowing you then to find your most loyal customers, those who are most at risk, or, for example, those who haven't shopped recently. We're really just brushing the surface here so let's dig in and create an example:
Sam, a sewing master, and clothing designer, has been running a successful clothing company for the past year. He's been sending blanket messages to his customers and has recently discovered RFM analysis. Instead, Sam wants to create marketing that can reach out to all of his customers, without assuming the same demographics of them; so he begins using RFM to organize them and is now in the process of ranking them. To do this, he exports spreadsheets from his Point-of-Sale and eCommerce system, combines the spreadsheets and then manually has to rank each of his customers using RFM analysis.
In order to make sure that he ranks his customers fairly and without bias, he creates his calculation process; this is easy for her monetary i.e. how much they've spent. However, it becomes more complicated for frequency and monetary. Frequency is the number of orders they've made in a specific time frame, what should that time frame be? What's excellent and what's not? Recency is how often they shop, however, when does a customer become at risk? What is their average purchase cycle? In short, how do you know you've done this correctly? And how often should you do this process?
Here's where Marsello's customer segmentation sets us apart. With the correlation between recency of purchasing and the likelihood of purchasing again, Marsello's data-driven segmentation organizes customers with this in mind. For customers in the 'New' segment, are specifically customers who have made one order within the past year. However, if a customer makes more than one purchase within the year, they move to and of the 'Promising,' 'Loyal,' and 'Best' segments, scaled according to Frequency and Spend. Check out the Marsello Customer Segmentation tool below. Each block is interactive and includes a customer list for the specific segments, leaving room for detailed marketing efforts down the line.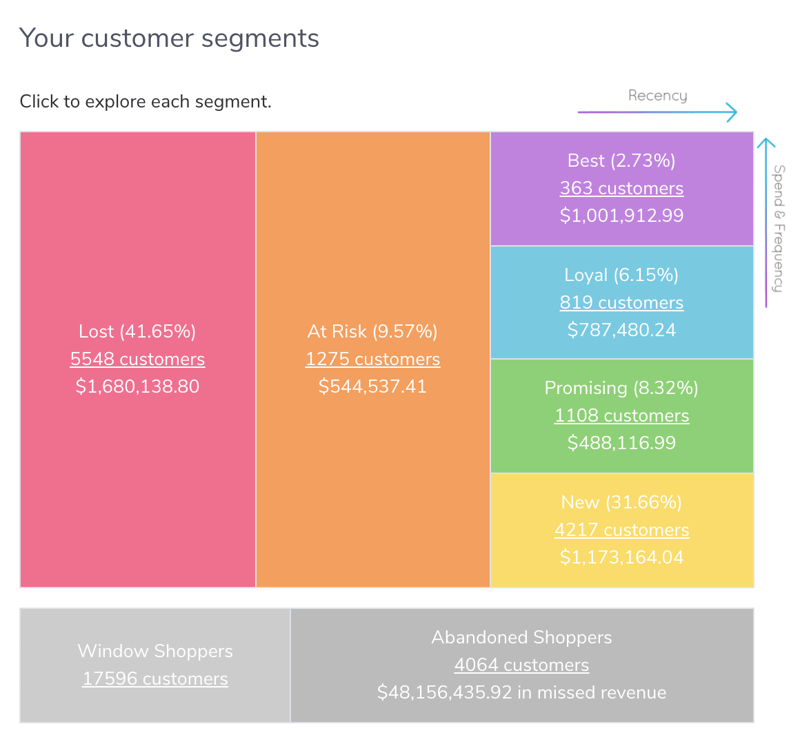 Let's create another example: for Sam's highest spending customer (let's call them 'Belinda'), who also shops multiple times a month. Belinda is a devoted follower of Sam's clothing designs, and he knows Belinda by face when she enters the store. Of course, Belinda is within the 'best' category, but to keep her here, Sam knows that he needs to cater to this customer on a personal level. Belinda likes her clothes to be shipped from the brick-and-mortar store, and, from previous experience with her, Sam knows this is the case. Sam's more than happy to oblige because he knows it means repeat sales from his highest spending customer.
Now, it's worth noting that Belinda the 'Best' can slip into the 'At Risk' segment. Sam knows from shopping patterns to expect Belinda at least twice per month within his brick-and-mortar store, and he can also usually expect at least one online purchase from her every two or three months. On one occasion, Belinda doesn't complete a purchase for four months! Because this is out of her regular purchase cycle, Belinda slips into the 'At Risk' segment. Sam can see this is a bit of a problem and creates marketing to hopefully bring Belinda back. If Belinda doesn't complete a purchase within 12 months of her last purchase, she moves segments again to become a 'Lost' customer.
With the example of Sam and Belinda, it's simple to see how customer segmentation can have a significant effect on marketing strategies. Rather than sending Belinda an email for a generic coupon, as a 'Best' customer, it would be wise for Sam to offer Belinda something that feels a little more exclusive and tangible. Perhaps tiered loyalty and added purchase freebies would be a good option.
Check out Our Bralette Club's beautiful loyalty program which features VIP tiers for inspiration: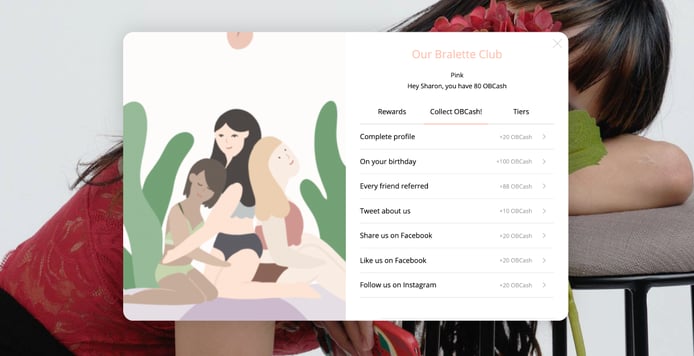 Marsello's customer segmentation doesn't just stop at organizing customers. As we've already mentioned, it can be a mammoth task to organize customers into segments manually, and to know that you have to do this regularly is daunting. Knowing how often you should be updating your segments isn't even the start of it. The good news is that Marsello's customer segmentation is updated every 24 hours, and we're aiming to up the ante and make these updates even more regular. Even if you are using RFM, manually updating every day just isn't feasible, so we've got you covered, ensuring your targeted marketing is accurate.
If you're still curious about manual segmentation, Shopify and BigCommerce have published some incredibly descriptive articles on RFM.
So, what do we know
RFM analysis is used to organize customer databases into specific segments. Basing these segments off customer's purchase behavior gives crucial insight into the type of marketing you should use to target them and to move them between segments.

Frequency and monetary values are core to calculating your customer lifetime value (CLV); meanwhile, recency gives insight into customer engagement and indicates the likelihood of that customer coming back again. We'll go into this in more detail in Part Two of this series, so keep up to date with these blogs by subscribing on the right-hand side of your screen, and following Marsello on Twitter or Facebook.

Targeting your marketing based on these metrics allows you to focus your budget on areas such as retention and acquisition, while still moving customers to more reliable segments.
Stay tuned for our Customer Segmentation Series parts two and three to learn more about segmentation coupled with retention marketing and acquisition-focused tactics.
Have you seen the rest of the Customer Segmentation Series?
Check out Part Two and Three in the links below:
Published Feb 19, 2019 12:00:00 AM