In 2006, Brandon Weimer (owner and co-founder of Brandini Toffee) was challenged to save for a class trip to Italy. He and a family friend cooked up the clever idea to sell toffee to raise funds and, out of sheer determination and talent, Brandini Toffee was born.
This specialist toffee company may seem relatively small compared to some big-scale brands, however, the Brandini team knows their family-owned and operated story is one of their core strengths. No matter which of their four brick-and-mortar locations you visit (that's right, they've grown to four physical stores), Brandini Toffee never fails to deliver the feel of a family-run business.


Their marketing journey
The team at Brandini Toffee needed to create a cohesive omnichannel experience that supports and delights their customers in-store and online – wherever those shoppers decide to snack on any of Brandini's delectable products. The hunt for a marketing tool that tied email campaigns with loyalty marketing-led Brandini Toffee to find Marsello, empowering them to focus their marketing on both customer acquisition and retention while also tracking the success of each campaign and decision.
Brandini partner, Justin Post, said this of their marketing journey:
"We found Marsello while searching for a loyalty rewards program that offers incentives for sign-up and future purchases. The amount of incentives Marsello offers during the signup process are so good that customers are happy to opt-in. We wanted plenty of features but the ease of use is super important. Marsello checked both boxes."
Let's take a look at what it is about Brandini Toffee's marketing that helps them to stand out.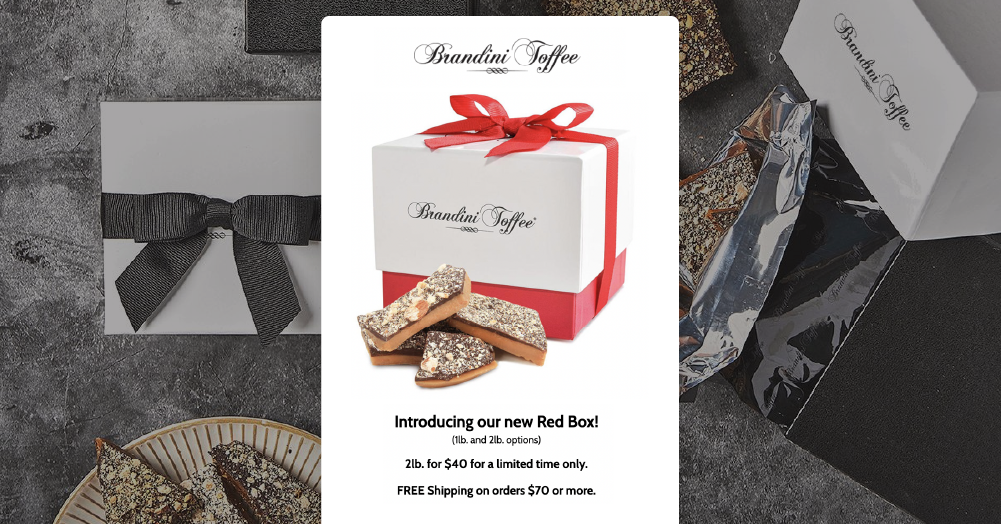 Omnichannel loyalty marketing
It was essential for the Brandini team that their loyalty program integrated both in-store and online; the embodiment of an omnichannel business model. They knew that their customers' experience needed to be seamless no matter where shoppers chose to make a purchase.
Of their loyalty program creation, Justin said: "The setup was quick and easy. We were guided through the process with examples of point/reward values to choose from. We opted for 1 point per $1.00 spend but there are almost a dozen different ways for customers to earn points, any one of which can be activated by clicking a button."
"Getting the signup form integrated on the website was also a very easy process and Marsello provides all the copy about how the program works so we used that to build our Brandini Rewards instruction page. Again, quick and easy, which is so important for a small business with limited resources." He added.
And when customers decide that they want to spend the points they've earned, they get direct bang for buck with set dollar discounts on their purchases.

The Brandini loyalty program is easy to understand, with multiple online access points. Customers can find all the loyalty program information they need by either clicking on the right-anchored loyalty program tab or by navigating to the Brandini Rewards information page.
With a 90% reward redemption rate and an 18% repeat purchase rate in just 8 months, Brandini Toffee has proven they're adept at fostering a loyal community of confectionary connoisseurs. It seems that toffee lovers know Brandini's products also make the perfect gift as Brandini loyalty members shop most often in December, year on year.
As we've mentioned, the Brandini Toffee team is dedicated to creating a consistent customer experience and one of the ways they're able to achieve this is by collecting valuable customer feedback.
They have an outstanding Customer Satisfaction Rating of 96% and they collect this information by prompting customers for their feedback after each purchase. Their survey asks customers to rate their experience of wait time, quality of service and products, customer service, value, and 'other' (which prompts customers to specify). With over 2500 responses, it's obvious that Brandini Toffee customers really care about offering feedback and supporting their favorite sweet treat suppliers.


Email marketing that delivers in every way
Brandini Toffee is no stranger to email marketing either. In fact, they've been determinedly building their email list for years and now they're seeing real benefits to having curated a contact list that's truly invested in Brandini's growth. Here's what Justin had to say about the creation of their list:
"Email marketing has been an important sales and communication tool for Brandini Toffee from the start. It was 2006-07 when we began building our list. We created signup sheets and collected emails at festivals, events, and retail. It was always a fun challenge to interpret the handwriting when entering them into the database lol. Of course, now signups are done on the website and at POS. It was a labor of love to build our online community of diehard Brandini Toffee fans and our email open conversion rate reflects that."
When asked what they've enjoyed most since starting their journey with Marsello, Justin stated that Brandini Toffee's marketing list has doubled!
"[...] Watching our customer database grow – it has more than doubled since our move to Marsello and we're just getting started."
Let's take a look at one of the campaigns they've sent to this carefully curated list.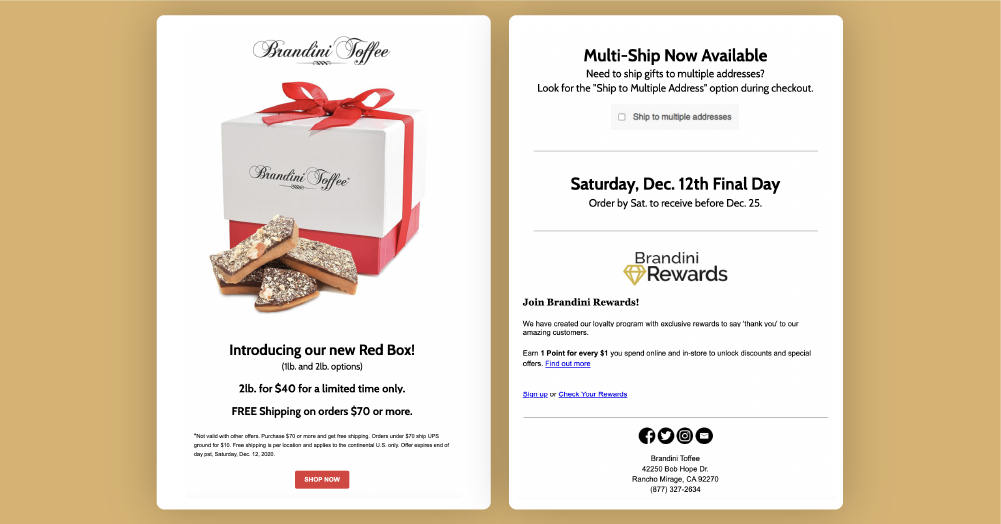 Since sending their first campaign using Marsello, Brandini Toffee has seen a 120% increase in revenue from December to March (compared year-on-year) and it's results like these which are a true testament to the Brandini team's clear brand image and dedication to finding customers that love their products.
The email itself is a simple holiday season campaign in the lead-up to the busy Christmas season. With a truly delectable-looking product image, stand-out CTAs (SHOP NOW), and clear sectioning with easy-to-read headlines, the feel of this email is instantly inviting, informative, and direct. And Brandini's customers loved it too! The email itself saw a 10.3% conversion rate, 14% click rate, and 27% open rate (and their average email and open rates sit close to these figures too)!
The Brandini team also makes sure to link each and every email to their loyalty program, encouraging customers to keep coming back at every touch-point.
Justin said, "Creating email campaigns is very intuitive and feature-rich. For instance, we promote Brandini Rewards with every email and include the reward member's point total. This provides an extra incentive to make a purchase or cash in on their points through free product or shipping."
Automated email campaigns are also proving to be an essential addition to Brandini Toffee's email marketing.

Automating

success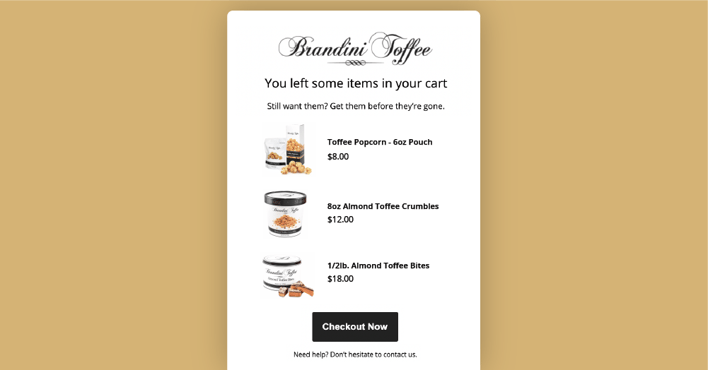 Abandoned carts are an essential focal point for any loyalty-focused retailer and Brandini Toffee is looking forward to working toward creating more automations in the future with "automation is next on our hit list". Even so, their success to date is no small victory.
With two automated email campaigns activated, the team at Brandini Toffee makes sure to contact their customers at each step of their journey. Not only does this help to encourage customer loyalty and buy-in, but it also ensures that customers feel seen and appreciated!
In fact, since they first created automated campaigns, Brandini Toffee have seen as much as a 583% increase in attributable sales!
Their most successful automated campaign reminds shoppers when they've abandoned their cart. The email simply notifies the customer of their abandoned order while also suggesting other products. This campaign alone has generated 95% of the total orders generated by automated campaigns.