Evermore Toys is not your average toy store. This New Zealand-based retailer envisions a world where kids can play with ethical, sustainable, and educational toys that stand the test of time – "toys that will last forever and more". That's why the Evermore Toys team has made it their mission to source products that are enriched with values and are deserving to be handed on to future generations.

The team behind Evermore also ran the toy store Bebabo, and have since closed the chapter on that business. They've used Marsello's loyalty features for both Bebabo and Evermore Toys, and have seen excellent results. In fact, the business experienced a 156x ROI and 738.87% increase in revenue using Marsello.


A customer loyalty program that delights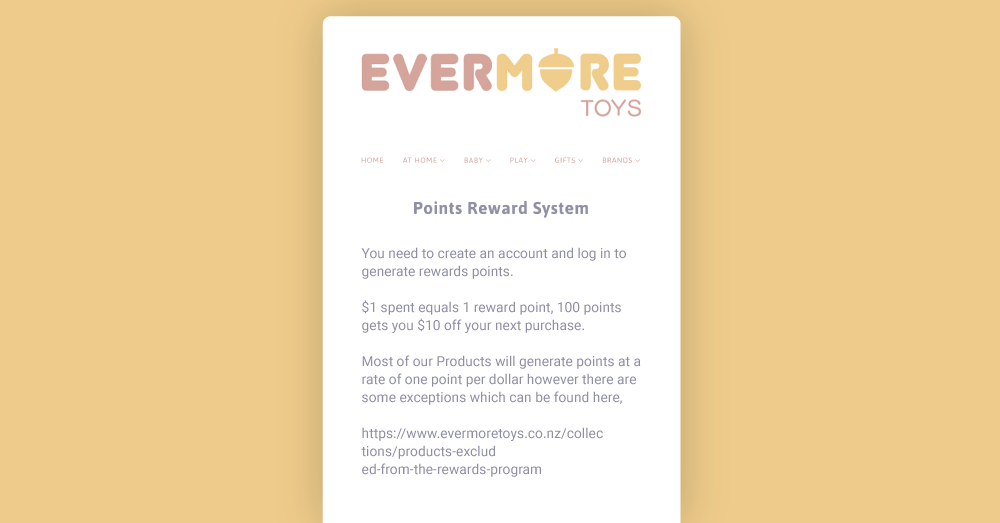 Evermore Toys implements a simple and straightforward loyalty program. Members earn 1 point for every dollar spent, and they can accumulate points to redeem for discounts (for example, with 100 points, loyalty program members can redeem a discount of $10 off their next purchase).

This setup makes the program easy to understand, so shoppers won't have to think too much or jump through several hoops to earn points. They can simply watch their points balance – and rewards – grow with each spend. And to make the program even easier to understand, Evermore Toys have set up a loyalty program explainer page on their website, breaking down all the information customers need to know.

Customers' experience of a loyalty program can really be the deciding factor in that program's success and by keeping their program simple, Evermore Toys have been able to build on customer loyalty engagement while also navigating a shift in their business.

In fact, in the year between September 2020-21, Evermore Toys saw a 95% increase in loyalty points earned per month – a strong sign that loyalty program customers are coming back time and time again.

Evermore shows us that sometimes, the simplest and most straightforward approach yields the best results. You don't always need fancy bells and whistles to encourage shoppers to spend. By keeping things simple, you're making it easy for your customers to have a rewarding shopping experience.
Using email campaigns to maximize brand loyalty
Email marketing proved to be particularly useful when the team decided to transition from Bebabo to Evermore Toys. To keep customers in the loop, the team sent an email talking about their decision to close down the Bebabo chapter of their business. They took the opportunity to introduce Evermore and get people excited about the new brand. In doing so, they were able to maximize customer loyalty without having to start from scratch.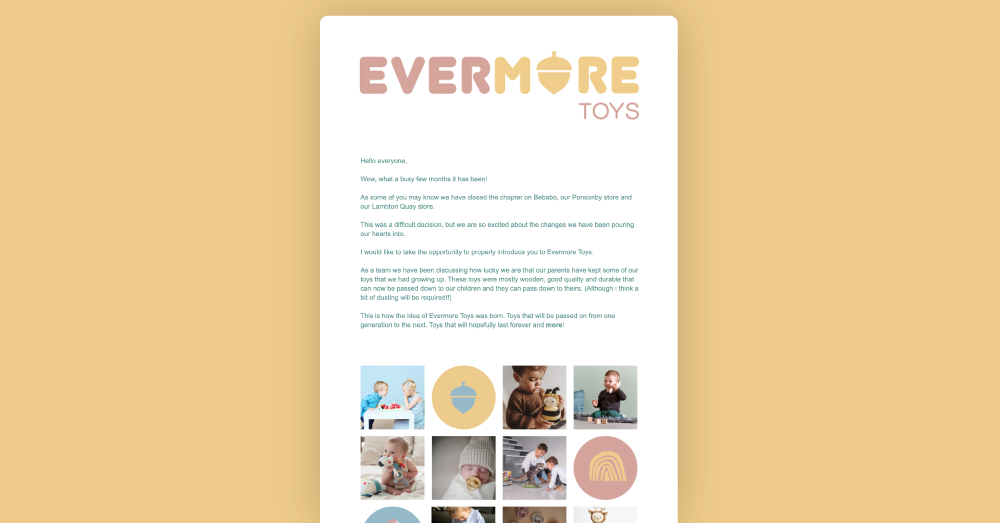 This email worked incredibly well and it resonated with Evermore's audience. So much so, that they saw a 45% open rate and 4.5% click-to-conversion rate.


Integrating loyalty with their POS system
Evermore Toys operates both an online store and a brick-and-mortar shop. To keep their sales and marketing channels connected, they've integrated their POS system (Cin7) and eCommerce (Shopify) with their loyalty software (Marsello).

Having their sales and marketing platforms tightly connected means Evermore Toys' customers can earn and redeem rewards whether they're shopping online or offline. Thanks to Marsello's integration partnership with Shopify and Cin7, shoppers can enjoy a smooth retail experience no matter where or how they're shopping.
What Evermore Toys has to say:
"Our email newsletters through Marsello have really helped the business stay connected with our customers and communicate in a personalised way.

The customer service Marsello provides is fantastic. I have often used the support 'chat' function and will always get a response within minutes.

I would highly recommend Marsello to anyone looking to upgrade their loyalty programme."

– Victoria, Evermore Toys.