Federation + is a household name in New Zealand fashion. The popular streetwear brand is a virtuoso in combining design, functionality, and "the perfect mix of quirk + cool" into everything they do. Their attention to detail stretches beyond their designs and product quality too! Federation +'s omnichannel marketing strategy reaches customers at every step of their journey with SMS, email campaigns, automations, and a generous, customer-centric loyalty program.
SMS marketing destined to delight
Federation +'s effortlessly cool brand feel translates consistently across all of their marketing – even their SMS marketing campaigns! They sent this SMS in the days following Boxing Day, just before New Year's Eve and, to ensure they stood out, they made sure customers knew who was reaching out by starting the message with Federation +. The + symbol is closely tied to Federation +'s logo and brand, and we love that because it's so simple, it's easily replicable in so many different formats.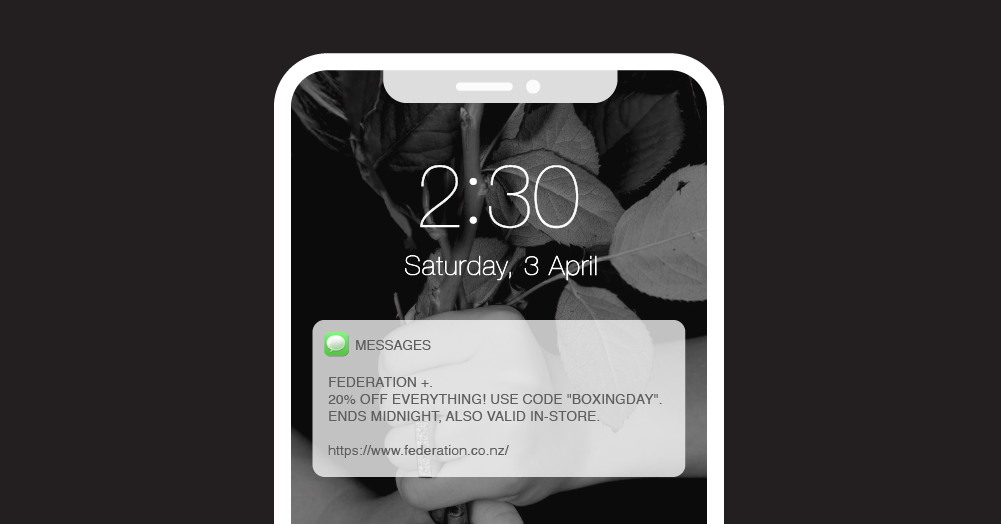 The campaign itself offered customers a 20% discount both in-store and online, with the offer ending promptly at midnight that same day. And Federation + customers loved it! With a 95% delivery rate and 8% click rate, Federation +'s last SMS Campaign for 2020 saw a conversion rate of 11%. What a way to close out a changeable year for retailers!
In fact, in the month of December, Federation + saw a 28% increase in revenue directly attributable to this one SMS campaign!


Automating success
Federation +'s marketing is far more expansive than just SMS campaigns too – their automated email marketing instantly connects customers to the brand and encourages them to make purchases at different stages of their journey or at particular milestones.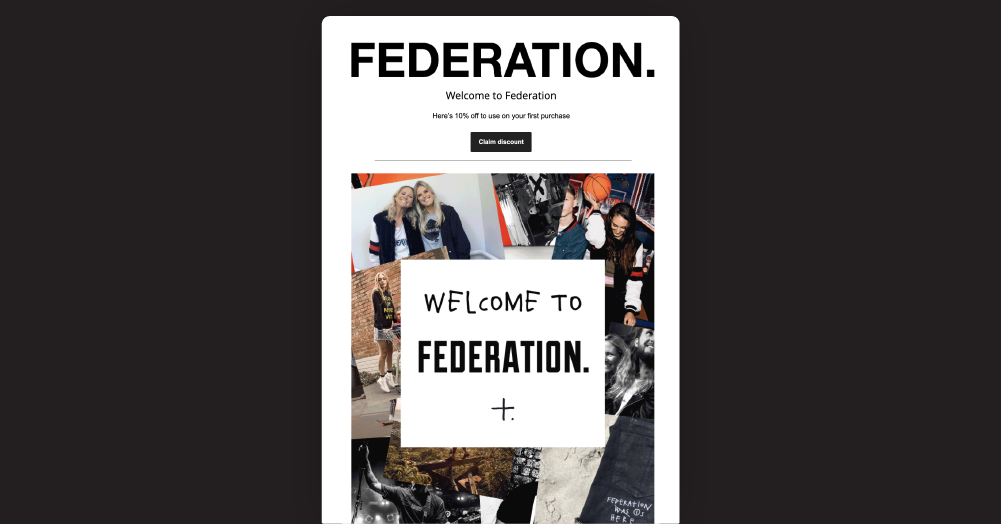 When shoppers first create a customer account with Federation +, they immediately receive the "WELCOME TO THE FAMILY" automated email campaign. The eye-catching email offers customers 10% off their first purchase and uses a product recommendations email block to suggest current top-selling products. But our favorite part? The email imagery is a beautifully layered GIF that presents the images like a collage and creates an enticing, stand-out, and powerful piece of marketing collateral!
Federation +'s brand continuity shines through as an essential facet of their marketing and their automated welcome email is no different. In fact, their marketing is so effective that this campaign has seen a 19% conversion rate in just over 5 months, and almost 50% of the total revenue generated by their automated campaigns is directly attributable to their welcome automation! With just over 107x ROI in that same timeframe, we can't wait to see what Federation + does next with their marketing.


An omnichannel loyalty program
Loyalty programs are a powerful customer retention tool and Federation + is no stranger to cultivating seamless, top-tier customer experience. Their online and in-store loyalty program creates an inviting and easy way for customers to earn points and redeem rewards when shopping with their favorite streetwear brand and incentivizes customers to shop more by offering generous loyalty tiers.
With multiple earn options which offer shoppers 100 points for each action, loyal customers can easily earn rewards like free shipping, $ discounts, and a free tote. And the benefits don't stop there! Federation +'s loyalty program also features three separate tiers (Silver, Gold, and Platinum), helping customers to feel appreciated and encouraging them to shop more the earn even more points.
With an 88% reward redemption rate and 20% repeat purchase rate, it's no wonder that Federation + has seen almost a 10% revenue boost from loyalty marketing alone.


What the team at Federation + have to say


"Marsello has provided us with a way to integrate our marketing program with our loyalty system, creating a seamless combination of the two; reducing costs and increasing conversion rates."
– Luke Simonsen / Federation +