The sibling duo behind jewelry brand and clothing stockist, Katie Waltman, officially teamed up in 2010 to dedicate themselves to their growing business. Having co-owned a coffee shop, Katie and John both knew how important loyalty marketing was to their customer retention strategy; they were on the hunt for a loyalty program tool that integrated with both their online store and brick-and-mortar POS. Fast forward 18 months and Katie Waltman are using all the tools at their disposal to make the most out of a comprehensive omnichannel marketing strategy. And with 47x ROI, an average email open rate of 26% (a 17% increase year on year), and a 97% customer satisfaction rating, the KW team is making sure to cover all their bases.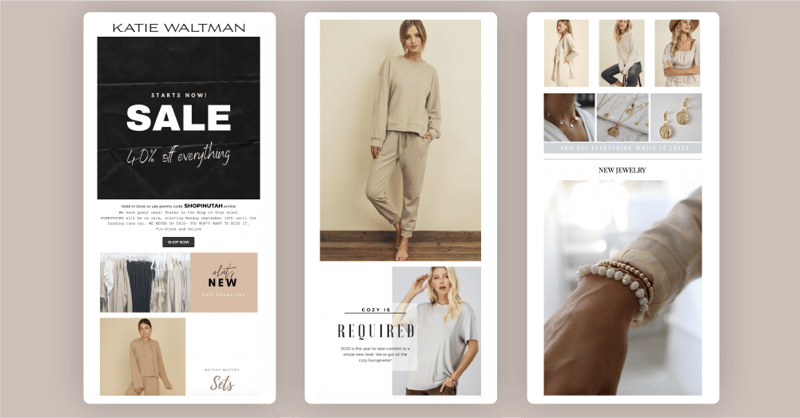 The eponymous brand, Katie Waltman (Salt Lake City, UT) was started as a passion project for its namesake founder, Katie. Since its 2002 conception, KW has grown at an impressive rate, featuring in multiple major publications such as People Style Watch, Elle Magazine, and Oprah.com. And Katie Waltman's marketing results are a testament to their hard work and dedication towards creating a one-of-a-kind brand.


Email marketing that delights and compels customers
A perfect example of their commitment comes in the form of a one-off email campaign they sent in September of 2020 (as shown in the banner above) to promote an upcoming sale. The sale offered customers an undeniably enticing 40% off. It's worth mentioning that 90% of the total revenue that Katie Waltman generates with Marsello is a direct result of one-off email campaigns; this campaign alone accounted for 14% of their total attributable revenue from campaigns! The campaign itself also saw a whopping 33% open rate and 17% conversion rate.
Their method is simple – create offers and perfectly aligned product recommendations that customers can't help but desire.
With the promo code 'SHOPINUTAH', customers could claim the hugely generous 40% discount. Clean designs, clear branding, high-quality product images, and a clear call-to-action (SHOP NOW), all played a part in encouraging customers to make a purchase.


An infallible customer retention & engagement strategy
KW doesn't stop at email campaigns either. Their marketing strategy is the epitome of 'omnichannel'. Not only does it reach both their online and brick-and-mortar stores, but it also touches on both customer retention and acquisition. With customer feedback collection, a detailed loyalty program (with automated email updates), and email marketing, Katie Waltman is catering to customers at all stages of their lifecycle.
Finding a loyalty program tool for their store was what initially inspired the team at Katie Waltman to try Marsello. We love that their commitment to creating a program that really suits their store has helped them to see outstanding results! In fact, they have achieved a 100% customer engagement rate with their in-store and online loyalty program, and a 75% reward redemption rate.
The program itself includes customer referral incentives (+200 points for successfully referring a friend), percentage discounts at different points-earned levels, and a generous "5% back on all purchases for creating an account." Not only do they incentivize customers to join their loyalty program, the KW team really makes it worth the journey for their loyal customers. And they achieve this by engaging with their customers on a personal level.
When loyal customers earn points, an automated email from the Katie Waltman team lets them know their points balance and also encourages customers to leave feedback about their shopping experience through a short checkbox survey. And Katie Waltman's customers are more than happy to share their thoughts. The jewelry brand has a 97% customer feedback rating with customers returning particularly positive feedback for product quality, customer service, and value, and since we know that customers only leave feedback when they care, these accolades are a powerful tool that let the KW team know exactly what they're doing well, and where they could perhaps give some attention!
Katie and John don't plan on slowing down either! The sibling team have big plans for their business' future marketing. John had this to say, "We have been hoping to increase our online sales. We view Marsello as a valuable tool to help us keep the attention of our customers, and keep them coming back for more." We can't wait to see what the sibling duo behind this intelligently and delightfully marketed brand will do next.


What the team at Katie Waltman has to say
"Setting up Marsello has been very easy, especially with the help from your support team and our account manager. We appreciate the effort you make to reach out to us and help us find ways to use the tools better. We have certainly seen an impact on sales by using Marsello, especially the automated emails about points, which serve as a good reminder to get customers back in the shop."