Merrell NZ (distributed by the wholesale division of their company Nevada Sport) has been delighting New Zealanders with comfy yet functional footwear since 1984 – in fact, Merrell NZ is the longest-running distributor of Merrell products worldwide with 35 years under their belt. The New Zealand arm of the brand started with selling ski boots back in the '80s, and in 2008 they brought the brand's technical apparel to the country.


In June 2020, Merrell NZ began using Marsello to power their email marketing campaigns. Within 15 months, the brand has seen an astounding 969x return on investment for their marketing. Read what they had to say on their marketing journey:

"We were using MailChimp as a relatively simple solution but decided to change to Marsello because [beyond emails] Marsello also offers automations, loyalty, rewards, email campaign segmentation, SMS. All the tools that we knew we wanted to test in stages as our eCommerce and business grows. Step 1 was swapping from MailChimp to using Marsello's email marketing campaigns. Step 2, we're using marketing automation. Step 3, it's loyalty!"

– José Matiz, Merrell NZ.
Read on to discover how Merrell NZ structures and implements their marketing strategy to maximize conversions and sales, and support their different sales channels while growing their community of brand ambassadors.
A customer loyalty program that delights customers and employees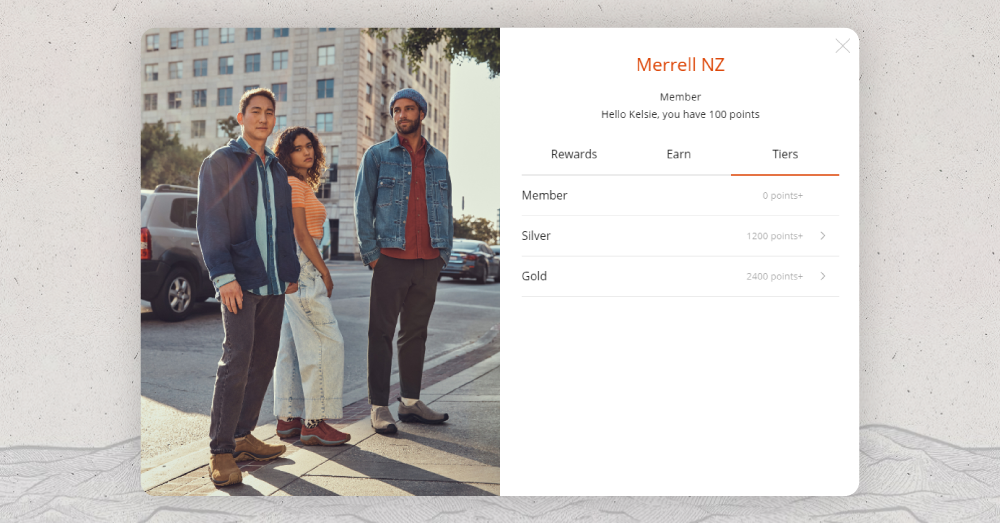 With the help of Marsello's Premium Onboarding package, Merrell NZ was able to create a loyalty program that delighted their staff and customers alike! In fact, Merrell NZ Customers even ask for points during customer support situations because even if a product isn't quite what they expected, Merrell NZ's customers know they'll be more than happy to shop with the company again and again – and that's the epitome of customer loyalty!


"[…] the Merrell Rewards program powered by Marsello means a lot to us – it gives us the opportunity to link customers from our retail and web stores, work around customer retention and automate email marketing flows in a really clever way."


While the program is still fresh, the team at Merrell NZ are thrilled with their results so far. And the proof is in the data! In fact, in just one month they've seen their VIP customer list grow to 123 members. With a 15% repeat purchase rate and an average purchase frequency of 3.5x, Merrell NZ's customers are already proven loyal regulars so we can't wait to see how their loyalty program grows in the future.


To maximize the growth of their loyalty program, Merrell NZ makes sure to actively promote the program in their email campaigns too. In a recent campaign, Merrell NZ celebrated the global brand's 40th birthday by offering free shipping on all orders.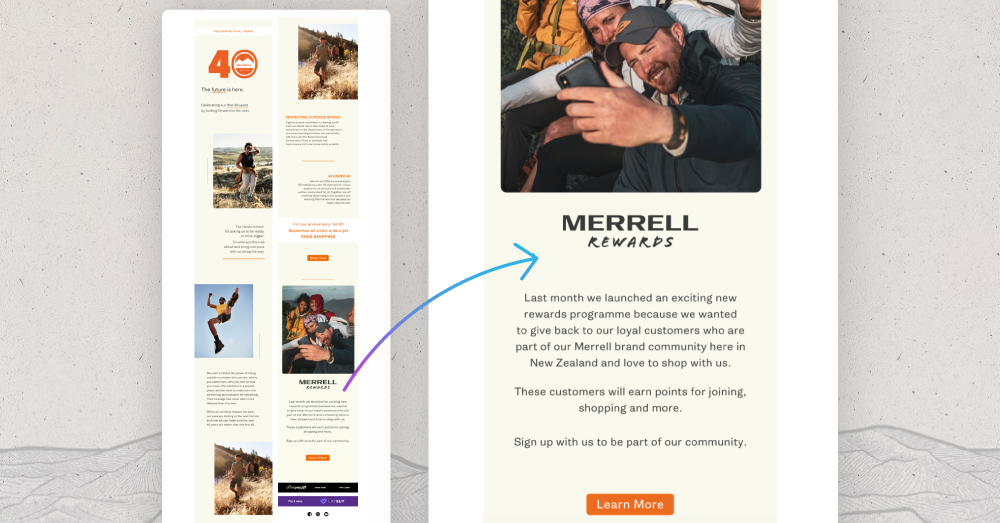 The beautifully branded and engaging email campaign was rounded out with a clear push for customers to join the Merrell NZ loyalty program, highlighting the ability to earn points just for joining the program. The campaign was a success in many ways – with a 7.4% click-to-conversion rate and 28% open rate, it not only resulted in conversions but also increased awareness of their new customer loyalty program!


Let's recap quickly: with VIP tiers, clear earning and reward options, and dedicated promotion of their loyalty program, Merrell NZ are making sure shoppers know that they will reap the rewards if they sign up.


Pop-up forms to capture customer data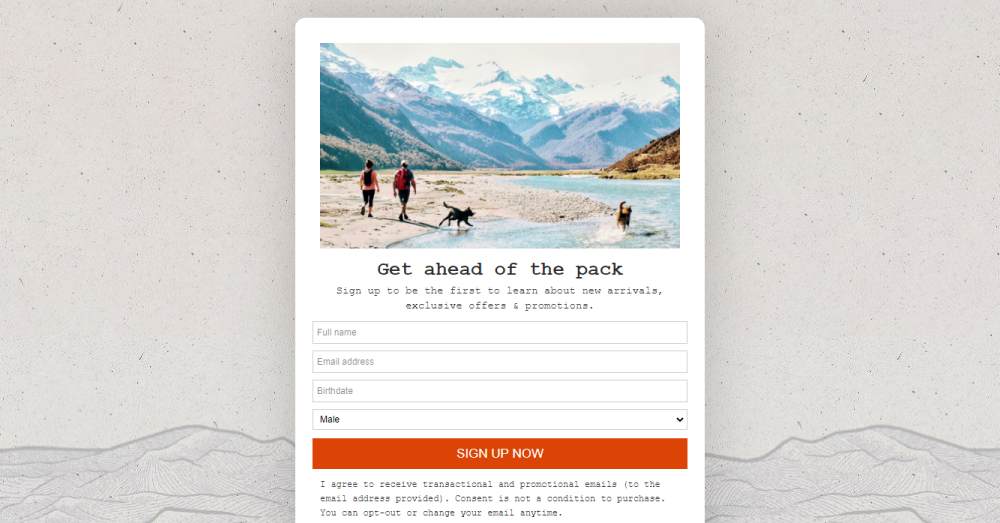 Merrell NZ cleverly maximizes every opportunity to encourage customer engagement with their brand. From their dedicated loyalty program to clever email campaigns, Merrel NZ also includes a pop-up form on their website that directs shoppers to leave their name, email, and date of birth. And with a 25% sign-up rate, it's obvious that forms are helping to drive Merrell NZ's customer engagement efforts.
Cohesive email designs
The overall look and feel of Merrell NZ's messages are perfectly on-brand. From the well-known logo at the top of their emails to the use of earthy tones throughout the content, everything about the company's messages is designed to appeal to Merrell's target audience: people who enjoy being outdoors and who care about minimizing the environmental impact of their purchases.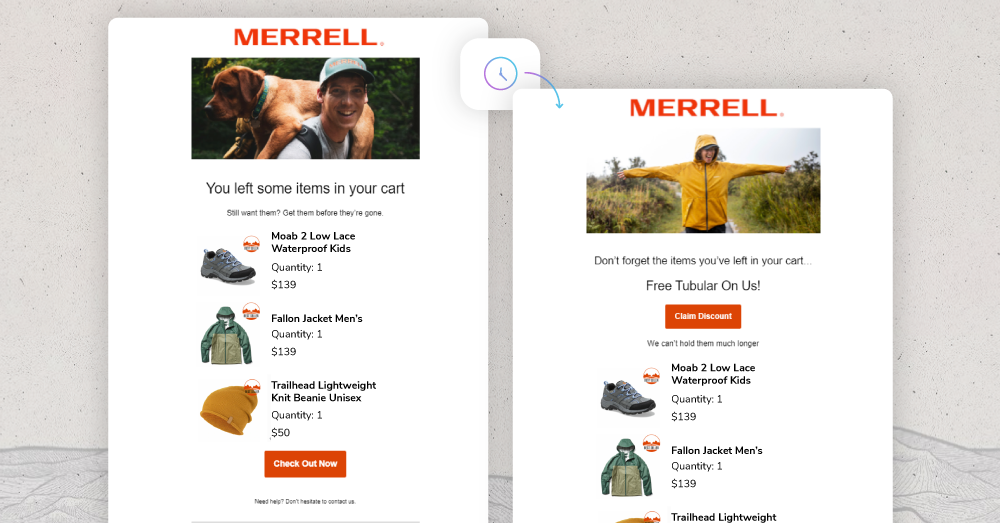 From one-off campaigns to automated flows for their loyalty marketing and retargeting efforts, Merrell NZ has created a collection of high-value, high-return emails that engage customers at every stage of the funnel. In fact, their automated abandoned cart recovery flow has an entry-to-conversion rate of 17%! Overall, their automated campaigns have an average monthly open rate of 62% – well above the industry average! And their one-off campaigns are seeing similarly outstanding results with a 32% open rate!


Let's dig a little deeper and look at the design of their campaigns.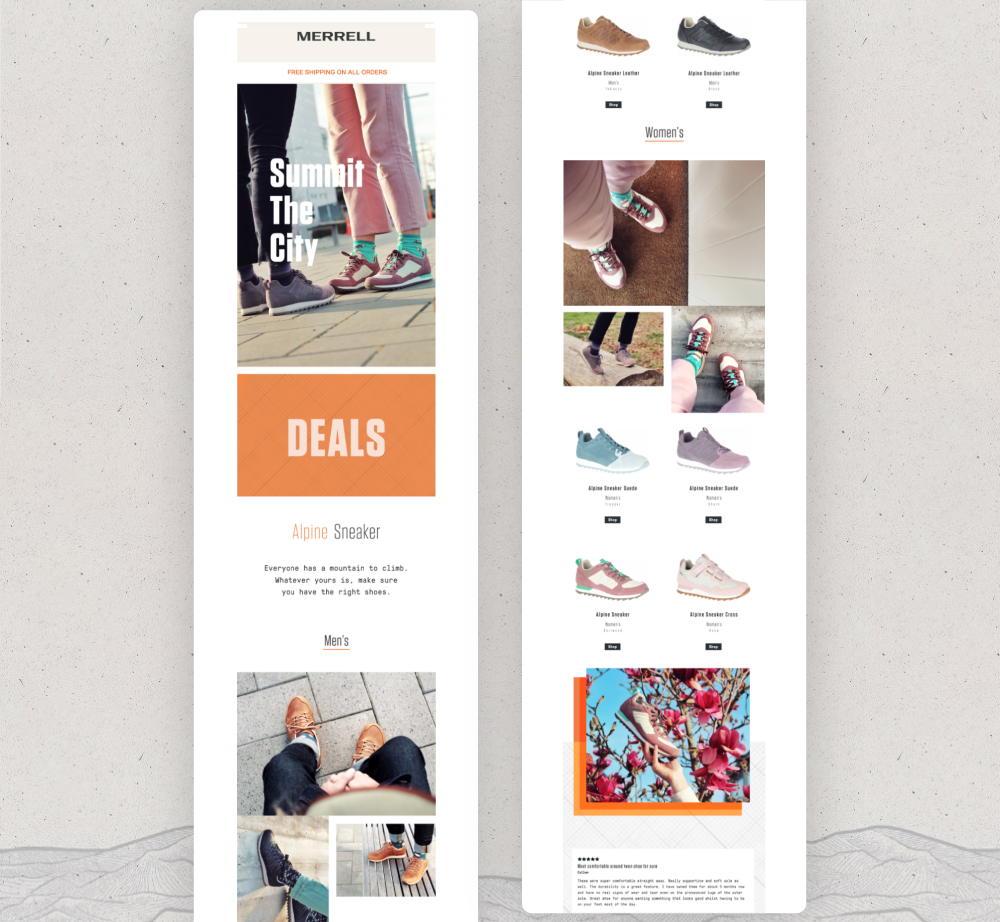 Many of Merrell's emails also incorporate a combination of product photos and lifestyle shots to effectively showcase merchandise from multiple angles. With complimentary brand colors and an enjoyable distribution of text to images, Merrell NZ creates email campaigns that keep their customers engaged every time!


Another thing we love about Merrell NZ's email campaigns is that they incorporate lots of social proof by including dedicated sections that display product ratings and reviews from other customers. We all know that shoppers' testimonials are quite effective in driving sales and loyalty, so incorporating them into their emails is truly a clever move by Merrell NZ. Take another look at the campaign and take note of the reviews section they included at the very end!


Finally, Merrell NZ's emails typically have one or two call-to-action buttons that create a clear engagement pathway for subscribers.


It's important to the team at Merrell NZ to be able to test any changes they make to their marketing and understand what works for their different customers. By adding clear CTAs throughout their emails and including engaging imagery that supports their messaging, Merrell NZ is able to gain insight into how shoppers engage with the email communications they receive. In fact, with clear testing and goals in place, Merrell NZ even plans to experiment with SMS marketing in the coming year.


"Marsello is a platform that provides you with a lot of solutions that you can test step-by-step while looking at the results. It's not an expensive tool so it makes sense to test it for a couple of months."
What Merrell NZ has to say about Marsello
"For us, Marsello was a game-changer, we have been using it for over a year. We started with email marketing and now moved on to loyalty programmes and several automations, it's amazing! Their support team is quick and super-efficient."
– José Matiz, Merrell NZ.
Integrating their marketing across all sales channels

Merrell NZ's journey to Marsello was born from the impact that COVID-19 responses had on their brick-and-mortar and wholesale businesses. It was important to the team at Merrell NZ/Nevada Sport to find a solution that worked well with all their sales channels and key business players because, suddenly, they were only able to sell online. Previously their business had been predominantly based in-store and through wholesale distribution and they knew these sales channels would eventually pick back up again, but in the meantime, eCommerce needed to do some of the heavy lifting.


Because Merrell NZ has physical, digital, and wholesale sales channels, it was essential that they found a marketing solution that worked across all their sales channels (with Cin7 and Shopify) while simultaneously growing their eCommerce channel. Marsello integrates with both solutions, enabling Merrell NZ to grow conversion rates and engage with customers no matter their connection to the store or where they shop.

"[Marsello] feels like an extension of our team rather than a service provider. That's something that we're constantly looking for."