My Sister's Closet Boutique (MSC) is a clothing boutique that specializes in trendy, comfy, and modest apparel for women of all shapes and sizes.
Established in 2010, MSC was founded by Sarah, who at that time, was a stay-at-home mom. Sarah felt called to open a shop, so she took inspired action and started My Sister's Closet Boutique. Fast forward to 2021, and the company has a thriving eCommerce site plus two brick-and-mortar stores.
The team at My Sister's Closet uses Marsello to power their marketing efforts across physical and digital channels. Since launching their first campaign in October 2020, they've seen a whopping 641% increase in marketing-related revenue and are currently achieving 190x ROI.
How did they do it? Two words: omnichannel marketing. MSC uses email automations and campaigns, loyalty, and SMS marketing to engage customers on multiple platforms. Let's explore their initiatives below.


Turning email campaigns into exciting events
My Sister's Closet puts a very interesting spin on email marketing. The team often sends out 24-hour event emails, featuring exclusive, limited-time deals.
Here's how they work: every Monday at noon, MSC reveals new items going live, which customers can buy immediately at deeply discounted prices PLUS free shipping.
We absolutely love this approach because it breathes new life into the very common 'SALE'-type emails that other brands send. By positioning these email campaigns as events, My Sister's Closet is able to drive excitement and anticipation for their latest offerings. Plus, these events take place on a regular basis, so customers can look forward to them every week.
Design-wise, these emails usually feature just a few products, so customers don't get overwhelmed.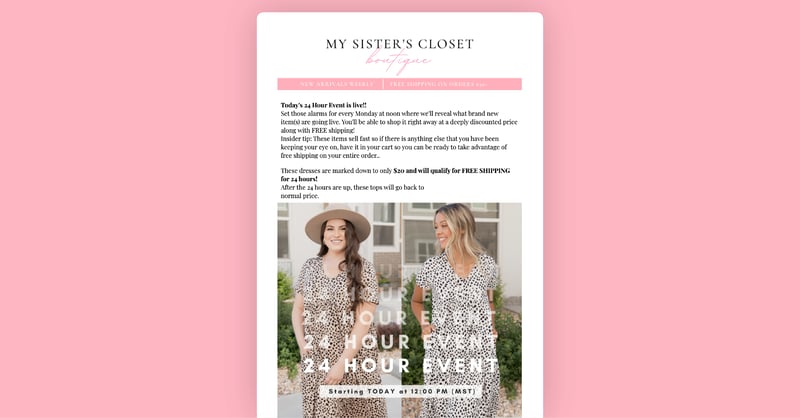 They also use these emails as an opportunity to promote their other initiatives, such as the Pink Palace Podcast – MSC's very own branded show, where the team shares insights on building a wardrobe, loving the way you look, and increasing confidence.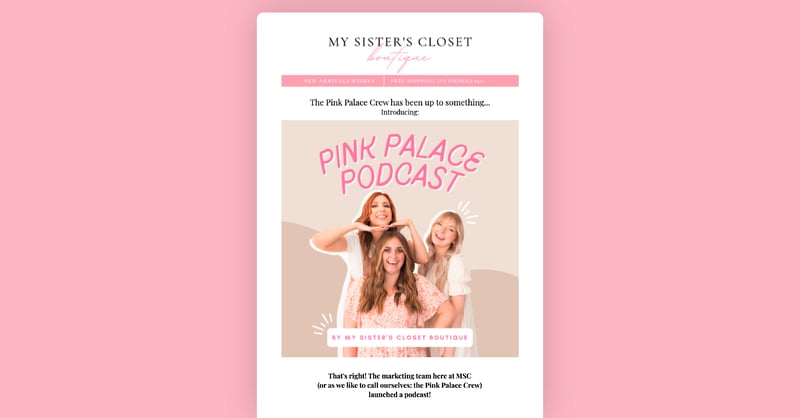 The brand's email initiatives have generated a 339.2% increase in orders and a 347% boost in monthly revenue (just from emails like MSC's 24-hour events).
Boosting engagement and revenue through SMS
In addition to email campaigns, My Sister's Closet Boutique also leverages SMS marketing. They send out SMS blasts promoting their latest deals, helping MSC reach customers beyond their email inbox. In the four-month period that they've implemented SMS, My Sister's Closet has seen a 421% increase in monthly orders.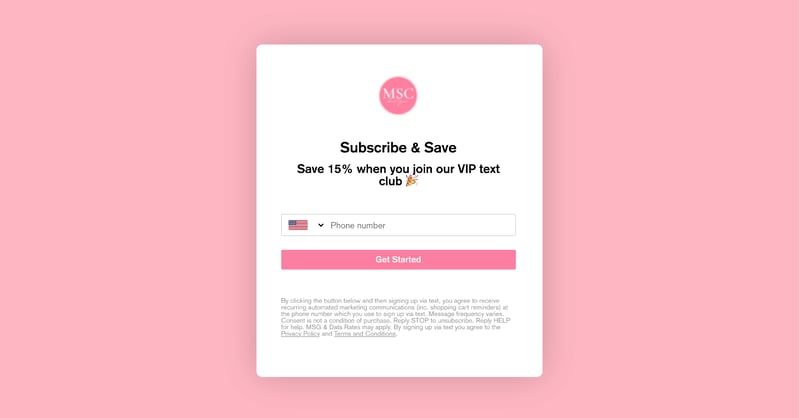 MSC makes it a point to promote their SMS initiatives by encouraging online customers to share their phone number. When you land on their website, you're greeted with a pop-up along with a 15% discount offer if you join MSC's VIP text club.

In addition, My Sister's Closet boutique segments their SMS audience when launching campaigns. While store-wide sale alerts are sent to everyone on their list, MSC also sends exclusive offers to select customer groups, such as their "Best," "Loyal," and "Promising" segments.

Marsello automatically groups shoppers based on their behaviors, so the MSC team never have to worry about segmenting their customers to curate personalized campaigns.


A supercharged loyalty program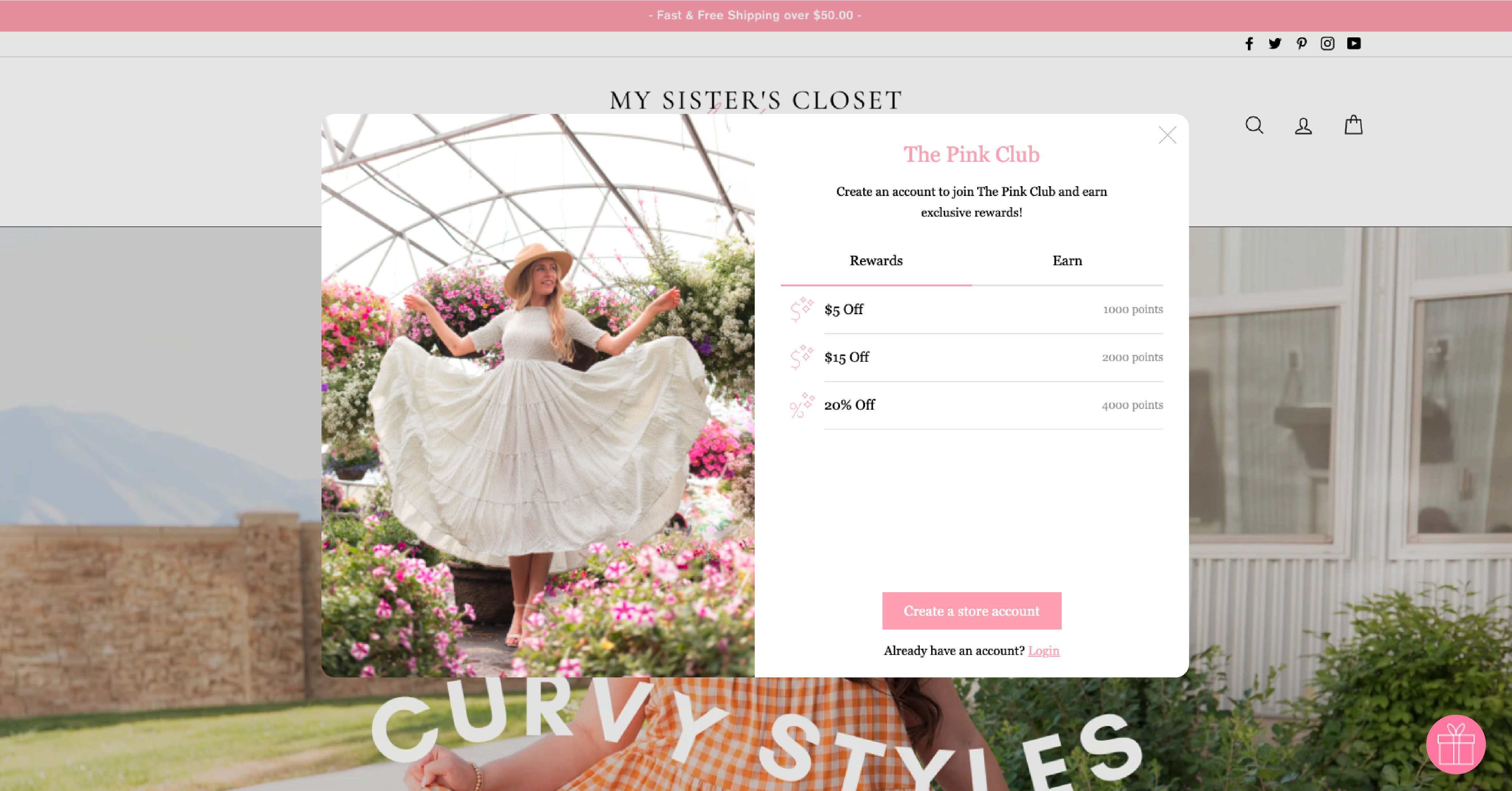 To encourage sales and customer engagement, MSC runs 'The Pink Club', a loyalty program that rewards customers for shopping and interacting with the brand. We love MSC's loyalty widget, which features a beautiful, light product photo that perfectly captures the My Sister's Closet brand.

Their loyalty program is very generous and gives customers the chance to earn points when they purchase a product, refer a friend, write a review, and more. Beyond that, MSC also runs limited-time events in which shoppers get awarded double points so they get even more opportunities to earn rewards. Points can then be redeemed for special discounts.
Keeping digital and physical retail tightly connected
The team at MSC uses Shopify Plus online and Shopify POS in-store. Everything lives on one marketing platform, making it easy for the company to track sales, inventory, and customer data. Their tightly integrated system also enables them to connect the dots between online and offline commerce, so they can make smarter business decisions and supercharge their omnichannel marketing strategy.
What My Sister's Closet has to say:


"We have been using Marsello for our Emails and Loyalty programs and it has been a great experience. We are happy with the app's technical capabilities, and the customer service has been top-notch especially with our Customer Service Sucess Manager. When we have had any concerns or questions they are right on top of it and if they don't know the answer right then, they will do the work to find out. I feel like they are always working on improving their systems so it stays current and relevant. I highly recommend working with Marsello!"