Our Bralette Club's Automated Win-Back Campaign Generated Over $4K in the 4
Months Since It Was First Sent
Our Bralette Club uses automated emails to win-back customers who are at risk of not returning – the perfectly-timed campaign (powered by Marsello) has been a stand-out success with eye-catching designs that generated just over 4K in revenue in the 4 months since it was first sent.
Singapore-based lingerie store,Our Bralette Club, are body positivity ambassadors with a large and thoroughly engaged customer base. It stands to reason that they have a well-established brand identity, and they wanted to connect with customers at opportune times to reinforce their brand message and ultimately, drive sales.
After creating their win-back campaign, Our Bralette Club generated over $4K in revenue during the first 4 months and an astounding $7,200 from all automated emails. Their captivating graphics deserve a special mention, too! We love that they've incorporated a variety of GIFs in each email that embody the OBC brand. As their customers have come to expect these fun graphics, it's helped to sky-rocket high open rates.
Popular Posts

Everything you need to sell more in-store and online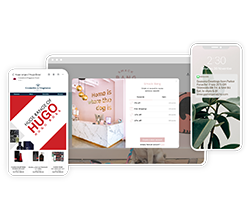 See more
Subscribe
Stay up-to-date with popular content to help grow your retail store.