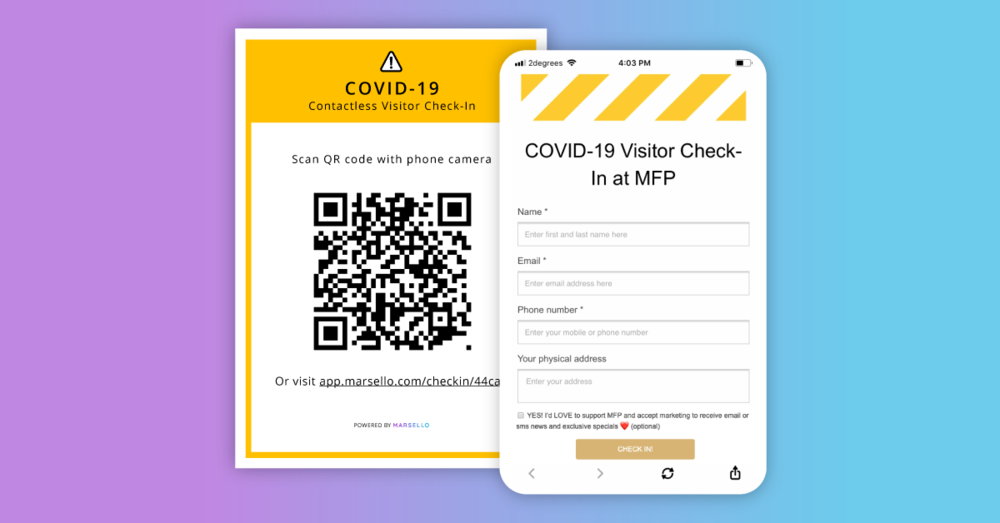 Using contact tracing to retain your customers
Written by Sophie Macdonald

 |   Read
As retail and hospitality have adjusted to recent times, it's become increasingly more important for customers and merchants to be able to account for who is visiting their physical business locations. This is why contact tracing has become integral to ensuring a safe space for customers to continue shopping in-store and for those stores to operate – being able to safely (contactless) and securely (protecting personal data) account for everyone's locations so they can be alerted to any personal health risks is fast becoming commonplace on an international scale.
But just because this data is private, doesn't mean that's the end of the road. Marsello's Contact Tracing Forms also allow your visitors to opt-in to receive your future marketing. This means you can automatically collect the data of those interested visitors and add them to your mailing list automatically.
Let's take a look at Marsello's contact tracing feature and see how one store is already seeing success.
How it works

Setting up your form is easy! All you need to do is find it in your Marsello admin navigation menu under 'Marketing'; you'll see the option 'COVID-19 Contact Tracing' and your first form is all set-up and ready to go! Just check out this help article if you'd like to learn more.
Once you've created your form, you'll need to download your unique QR code flyer and print that for display within your store. This is the flyer that your customers will scan with the cameras on their smartphone, automatically loading the COVID-19 Contact Tracing Form you created. If you added the ability for your customers to opt-in to receiving marketing, you'll find this at the bottom of your form.

12.6% of Madame Fancy Pants' contact tracing customers have accepted marketing!


One merchant that has seen a 12.6% increase in customers who accept marketing from the Contact Tracing Forms is Madame Fancy Pants (MFP), a Wellington, New Zealand-based retailer who specializes in high-quality designer clothing. Since enabling the form, MFP has been able to not only track the customers who visit their physical store (allowing them to be compliant with current New Zealand retail practices) but also increase their marketing outreach and customer loyalty with a marketing opt-in at the bottom of their form. We can't wait to see how they reach out to these customers in the future.

Final words


We've covered the importance of contact tracing, how to set up your forms, and even seen a store that is reaping the rewards. Now it's up to you to create your own COVID-19 Contact Tracing form and create the opportunity to offer your customers a safe shopping experience to keep them coming back.
Published May 27, 2020 12:00:00 AM