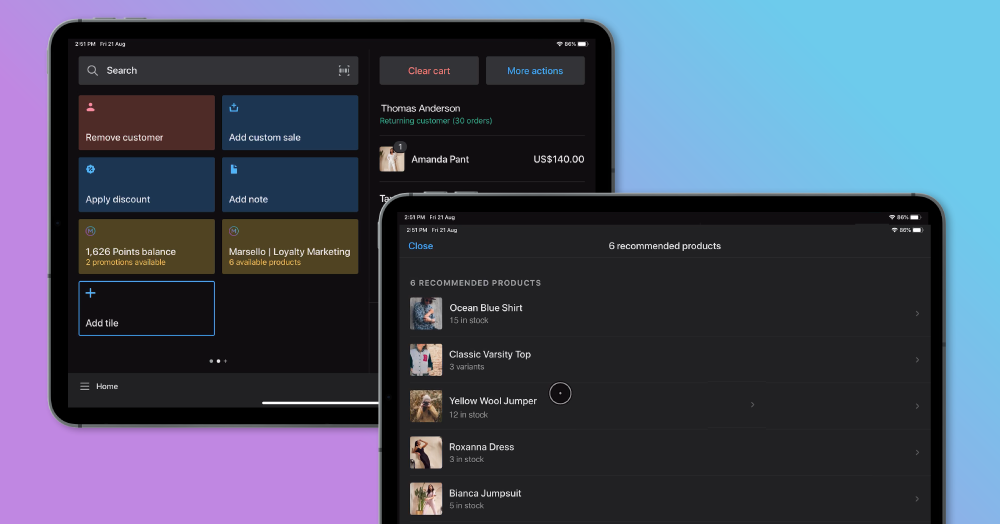 How to Use Product Recommendations for Shopify POS!
Written by Sophie Macdonald

 |   Read
Personalized product recommendations are a powerful marketing tool that is capable of increasing sales conversions by 10-30%. With data-driven AI that compares the customer's data to shoppers like them, Product Recommendations make it easy for your staff to cross-sell and up-sell products that your customers will love.
In a recent study published by cmo.com, 66% of participants said that campaign content that didn't have a personalized element (like personalized product recommendations) would discourage them from making a purchase. And the same goes for in-store! Being able to recommend products to your customers that they're likely to enjoy is a valuable sales skill; combine that with the customers' shopping data and you've got a winning recipe for increased sales both in-store and online. And with Marsello's Product Recommendations feature built for Shopify POS, mastering the cross-sell is as personally accurate to each customer as it is simple to use.
Marsello's AI looks at the products added to the sale when a customer has come to purchase items. The AI instantly populates recommendations based on what similar customers have frequently bought in conjunction with the same products your customer is buying. Combined with Marsello's all-in-one marketing app, you'll be able to increase repeat purchase rates with a custom loyalty program that runs on auto-pilot on Shopify POS and eCommerce, as well as drive sales with product recommendations in POS, email marketing, and more.
Curious how Product Recommendations can work in-store? Let's take a look!
How to Use Product Recommendations for Shopify POS

So how does it work in-store? When a customer is ready to make a purchase, you simply need to add their products to your Shopify POS as you would normally. Once the items are added, you're free to start recommending similar products. And it's so easy! Just watch the short video below to learn how!

As you can see, you simply need to select the tab titled "Marsello | Loyalty Marketing" and then you'll see a list of recommended products that can easily be added to the sale if your customer is interested. For more information on getting Product Recommendations for Shopify POS set up in your store, check out our Help Centre article that breaks down all the necessary steps.
Why Product Recommendations?

Although we see them all the time with email marketing, Marsello's Product Recommendations for Shopify POS is a groundbreaking feature that you'll find nowhere else! It's vital that retailers are able to give customers valuable intel into the products on offer that they may not otherwise know about, and Product Recommendations makes this simple while also being informed by real-time shopping data.
We know from countless studies that adding personalization such as recommending stock and encouraging sales with promotional offers can not only increase sales conversions, but also increase click rates, open rates, customer referral rates, and order values! Now, let's translate that to in-store behaviors!
Look at click rates and open rates as an increase in the number of customers who are visiting your store time and time again, browsing your products, and maybe even bringing their friends with them. If your staff are able to up the customer-service-ante by effortlessly recommending products to customers that they'll actually enjoy, your customers aren't just going to feel like you're pushing products on them, instead, they will feel seen, catered to, and appreciated.
As our friends at Shopify put it, "effective cross-selling techniques can improve revenue per customer by 65% or more, and 80% of buyers prefer to buy from brands that personalize the purchase experience". Read more here.
Final Words

Whether you're looking to up-sell or cross-sell your products, or you want to shift old stock and increase customer loyalty, Product Recommendations for Shopify POS will help you to not only meet your sales goals but also satisfy your customers and grow your business. And it's so easy to use!
With Marsello's AI, Product recommendations are a powerful, data-driven tool that any brick-and-mortar or omnichannel retailer should add to their business. The best part? Marsello's AI Product recommendations gets smarter and smarter with every purchase! If you'd like to get started, check out our Help Center article to learn how to add Product Recommendations to your Shopify POS.
Check out our wide range of features and upgrade for complete access to Marsello's features.

If you'd like to learn more about the all-new Shopify POS, please sign up here.
Published Sep 1, 2020 12:00:00 AM