T.C. Elli's, a Texas-based fashion retailer, is a go-to destination for fresh and eclectic fashion. The store has a wide assortment of trendy clothing and accessories that are perfect for shoppers who love keeping up with the latest in fashion.
T.C.E engages customers across a wide variety of channels, including brick-and-mortar, eCommerce, and mobile. Powered by Marsello, their campaigns have seen 51x ROI.
Emails that live up to the hype

T.C. Elli's is seeing a 57% revenue return from email campaigns. A key part of their success is the frequency and quality of their messaging - they reach out to their subscribers with offers, updates and new product releases at least 1-2 times a week. This means that they're consistently driving revenue from their email channel and their subscribers stay connected with the brand.

Email Campaign: Fresh-Eclectic Fashion
T.C. Elli's sent a one-off email campaign that saw outstanding results thanks to a combination of intrigue, an amazing product selection, and a timely offer.
Their secret weapon? Creative copy that delivers. T.C. Elli's piqued interest with the subject line: "Something big is happening...💐" – copy that lead to a 14.45% open rate.
T.C. Elli's made sure that the content of their email lived up to the promise in the subject line. Customers who opened the email were granted VIP access to their live product launch later that day and were treated to a 15% discount.
Hyper-targeted SMS campaigns

T.C. Elli's is also leveraging the power SMS marketing.
The team uses Marsello's pre-determined customer segmentation to group customers into buckets: lost customers; at risk customers; best customers; loyal customers; promising customers; and new customers.
Marsello automatically groups customers based on their purchasing history and behavior making it easy to create targeted campaigns.
Taking this one step further, T.C.E created an additional custom segment for all their loyalty program customers: 'TCE Honeys'. This powerful use of segmentation allows them to send targeted and relevant text messages.
SMS Campaign: Buy 2, Get 1 Free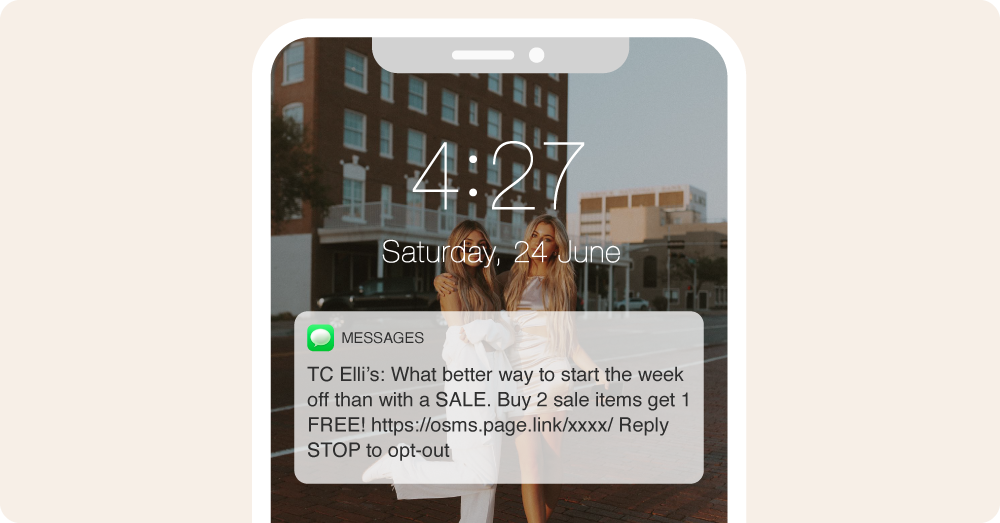 One clever way to reward loyal customers is to make sure they're in the know about special offers or sales.
When T.C.E launched a promotion that allowed shoppers to get a free item with select purchases, they sent a targeted SMS to their "Best," "Loyal," and "Promising" segments. This meant that their best customers were able to jump on the deal immediately, giving them advanced access to the promotion.
Tip: Want to learn how to segment your customers like a pro? Our Customer Segmentation Guide gives you everything you need to know!
Connecting all channels together
As a retailer that has both an eCommerce and brick-and-mortar store, T.C. Elli's needs to ensure that their sales channels are connected. To that end, they have a tightly integrated tech stack featuring Vend POS, BigCommerce, and Marsello.
These three solutions are able to talk to each other, so sales and customer data are synced across all channels and shoppers have a smooth retail experience online, offline, and everywhere in between.