T.C. Elli's Generate $1,817 From a Captivating One-off Email Campaign
T.C. Elli's, a Texas-based fashion retailer, recently sent a one-off email campaign that saw outstanding results thanks to a combination of intrigue, an amazing product selection, and a timely offer. The campaign generated revenue of over $1,800 and saw an open rate of 14.45%.
T.C. Elli's used creativity as a secret weapon during the creation of this one-off email campaign. They started the email with an intriguing subject line that read, "Something big is happening...💐" which helped to pique the interest of their subscribers. Users who opened the email were given a glimpse of the brand's newest products and were treated to a 15% discount.
We love this approach because, unlike other brands which sometimes 'bait' subscribers with attractive subject lines, T.C. Elli's made sure that the content of their email lived up to the compelling subject line.
We should also point out that this is just one of the brand's many email campaigns. T.C. Elli's regularly comes up with great messages, reaching out to their subscribers at least 1-2 times a week. This means that they're consistently driving revenue from their email channel and their subscribers stay connected with the brand. And it works! T.C. Elli's has seen 28.77x ROI with Marsello in just 10 months!
We're confident that T.C. Elli's will continue to drive sales with one-off email campaigns that also promote brand engagement. We can't wait to see what they come up with next!
Store: T.C. Elli's
Industry: Apparel
Integration: Vend & BigCommerce
---
Popular Posts

Everything you need to sell more in-store and online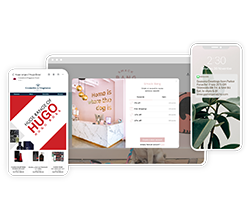 See more
Subscribe
Stay up-to-date with popular content to help grow your retail store.