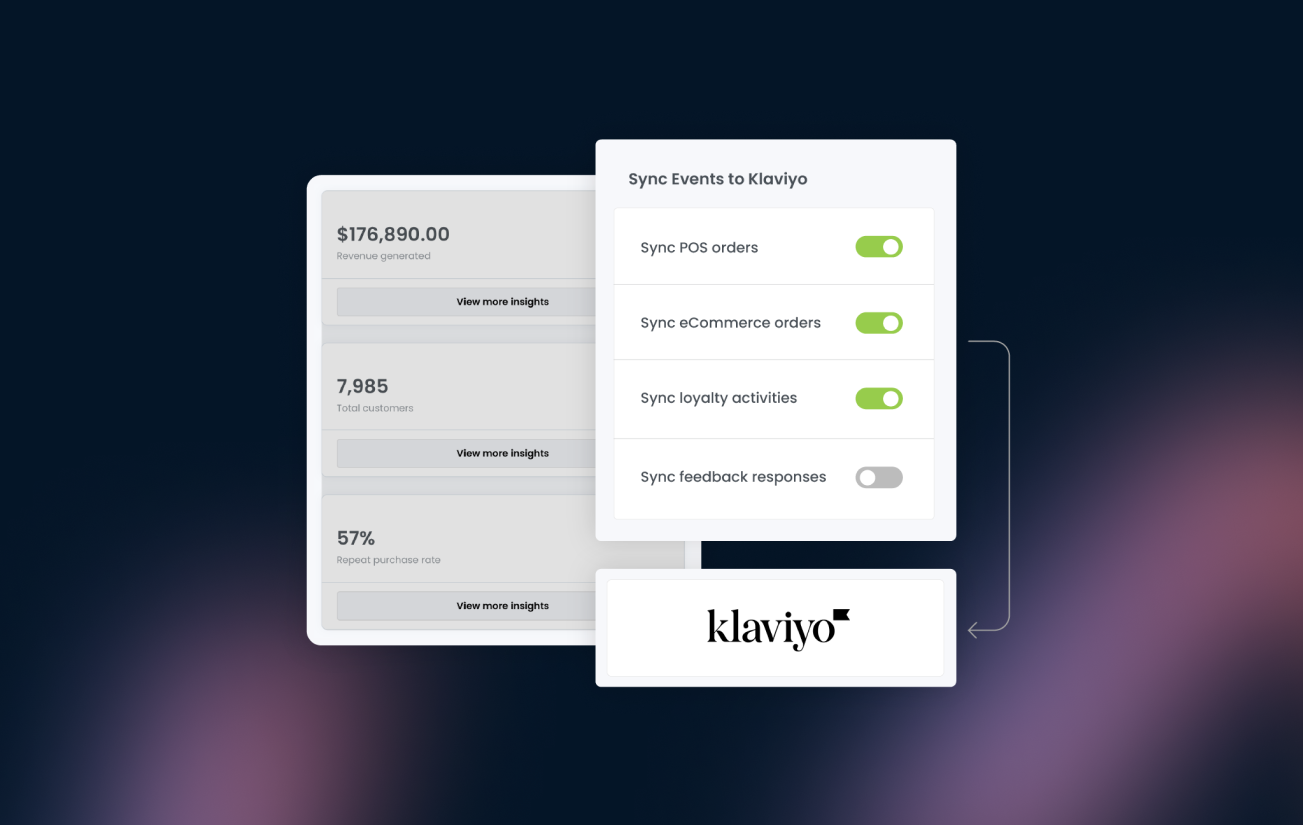 5 Klaviyo Integrations Every Retailer Should Be Using
Written by Alice Cresswell

 |   Read
Klaviyo is a game-changer for retailers, and it's easy to see why they love it.
Its user-friendly interface and straightforward setup make it a favorite among retailers of all sizes, allowing them to streamline marketing, engage with customers, and ultimately drive sales and growth.
However, unlocking the full potential of Klaviyo's capabilities can be overwhelming, especially with its extensive list of integrations. From seamless connections to popular e-commerce platforms to personalized product recommendations and targeted ad campaigns, Klaviyo's network of integrations can do it all!
To help you narrow down your choices, we've identified the top five types of Klaviyo integration every retailer should be using—especially if you're selling in-store and online. We've included a few good examples of each so you can find the solution that works best for you.
Regardless of which integrations you choose, rest assured that setting them up is straightforward and hassle-free, so you can quickly leverage Klaviyo's power to enhance your marketing efforts.


---
---
1. E-Commerce Platform

Klaviyo offers integrations with popular e-commerce platforms like Shopify, WooCommerce, BigCommerce, and others.
This integration is crucial as it allows Klaviyo to sync customer data, purchase history, and product information from your online store, enabling you to create targeted and personalized email marketing campaigns based on customer behavior and preferences.
Popular e-commerce platforms that integrate with Klaviyo:
Shopify
Shopify Plus
Bigcommerce
Woocommerce
2. Omnichannel Loyalty & Rewards

Because Klaviyo does not integrate directly with point-of-sale systems, it's typically the most powerful for e-commerce use cases.
However, by integrating with Marsello's customer loyalty software, merchants can bring their in-store customer data into Klaviyo.
This enables you to centralize and leverage all your customer data for better segmentation and targeting.
Marsello helps omnichannel retailers understand customer behavior, preferences, and purchase patterns. That means more effective marketing, 360-degree customer insights and multi-site reporting.
Omnichannel loyalty apps to explore:
3. Meta Custom Audience Sync

By integrating Klaviyo with your Facebook and Instagram advertising accounts, you can create custom audiences based on email subscribers, customers, or segments in Klaviyo.
This integration facilitates targeted advertising campaigns and improves your ad reach and effectiveness.
Some custom audience sync apps you can explore:
4. Product Recommendation Engine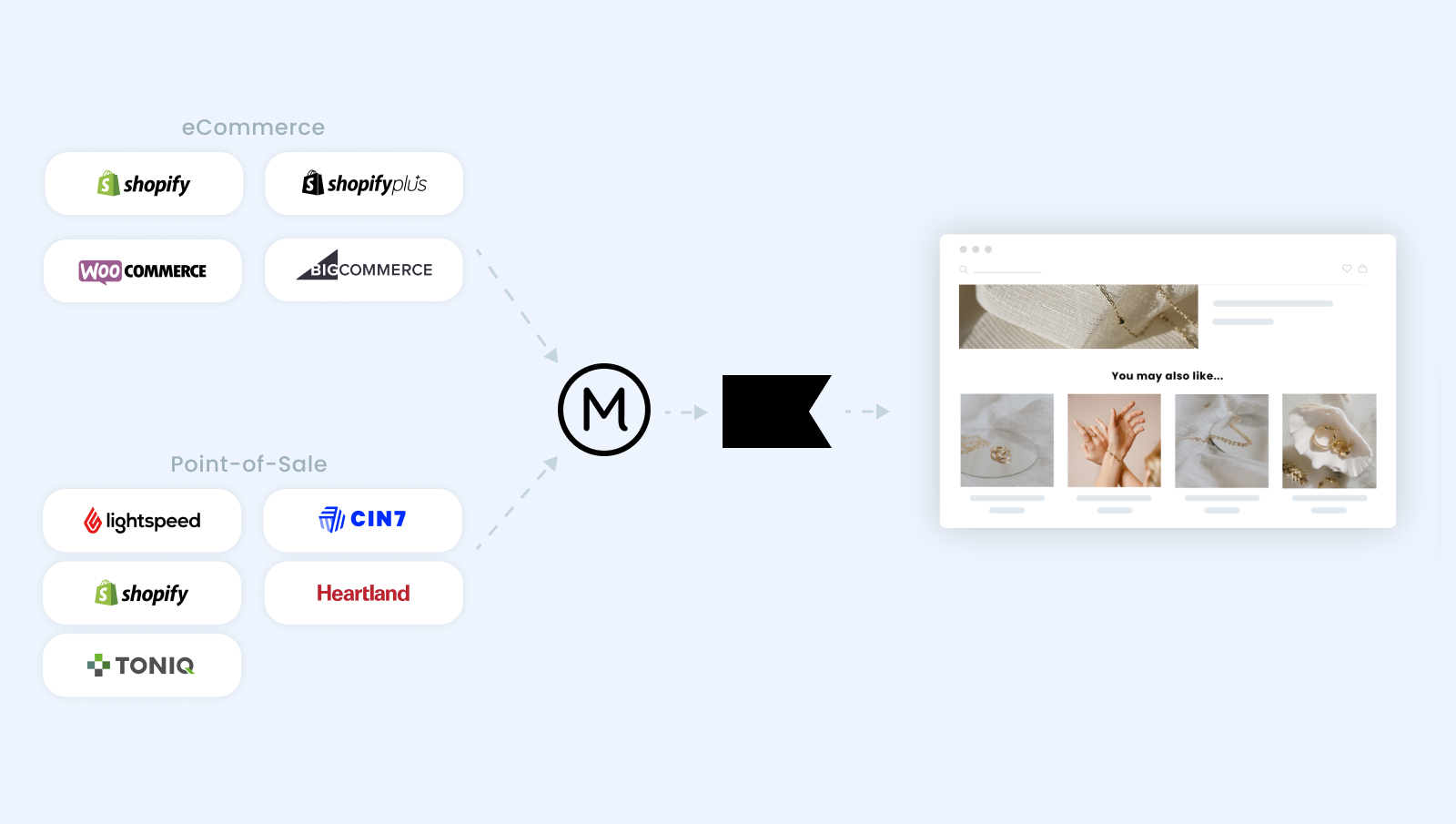 To boost cross-selling and upselling opportunities, integrate Klaviyo with a product recommendation engine.
These apps enable you to automatically recommend relevant products to customers based on their browsing and purchase history, increasing the chances of repeat purchases.
Check out these product recommendation engines:
5. Customer Service & Support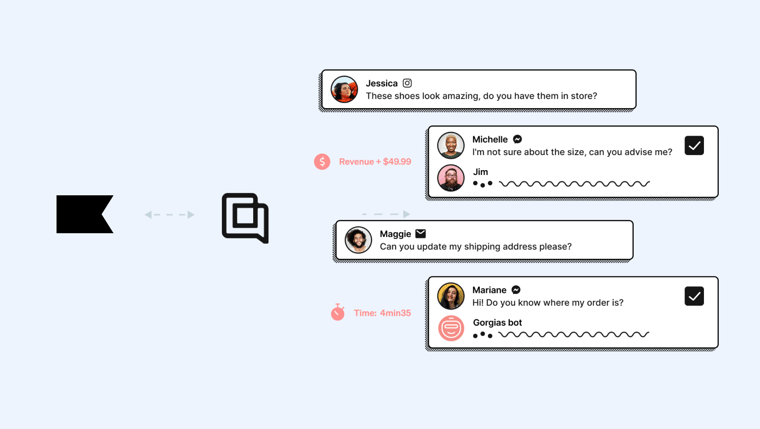 Enhance your customer support with Klaviyo by integrating with leading customer service platforms.
By connecting Klaviyo with customer support tools like Zendesk or Gorgias you can provide personalized and timely support to your customers.
Benefits of customer support integrations include....
Accessing customer support history: Integrate Klaviyo with your customer service platform to access past interactions and better understand your customers' needs and preferences.
Personalized follow-ups: Automate personalized follow-up emails based on customer inquiries or support tickets to show your customers that you care.
Targeted feedback requests: Use Klaviyo's customer data to send targeted feedback requests after resolving support issues, helping you gather valuable insights for improvement.
Some customer support apps you can explore:
---
So, which Klaviyo integrations should I use?
With the right integrations, Klaviyo becomes a true powerhouse for multi-channel retailers. By tapping into in-store and online customer data, retailers gain comprehensive insights into customer behavior, preferences, and buying habits across all channels.
By adding an omnichannel loyalty program, every other Klaviyo integration becomes exponentially more powerful.
Send product review requests to in-store customers, run marketing campaigns to specific store locations, use your in-store customer data for targeted ads and product recommendations, and so much more.
This omnichannel approach ensures retailers can deliver a consistent and engaging brand experience to customers, no matter how they shop.
Next read: 7 Steps To A Profitable Loyalty & Rewards Program


Published Aug 4, 2023 4:19:16 PM