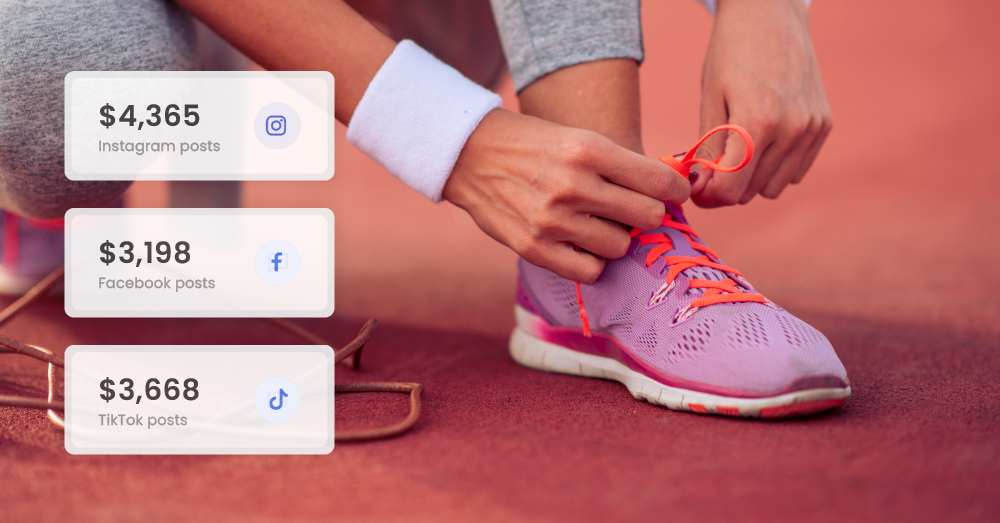 Fact: social media is a major part of the lives of today's consumers. No matter what type of business you run or who your target market is, chances are you have customers using various social apps and platforms.

Social networks are so embedded in our daily lives that people are increasingly using apps like Instagram, Facebook, and TikTok to discover — and ultimately purchase — products. This is particularly true among younger consumers. Industry data shows that 55% of social media users ages 18 to 24 have purchased something through a social channel.
Social media is clearly a solid vehicle for sales, and if you're active on platforms like Instagram, TikTok, and Facebook, then you're likely attracting customers and sales through these channels.
The question is, how many of your sales are actually coming from social media?
If you find yourself shrugging your shoulders to that question, keep reading. In this post, we'll shed light on the key steps and best practices you must take to effectively track and measure sales you've generated via social media.
By the end of this post, you'll have a better understanding of the different ways to track sales on social, and you'll walk away with tips and tools to do it right.
Let's dive in.
---



Quick Links:




---
Why should you implement sales tracking on social media?

As the saying goes, you can't improve what you don't measure. Actively implementing sales tracking on social media enables you to improve in the following ways.


You can allocate resources more effectively

Running social media accounts can take a significant amount of resources. Even if you aren't actively spending money on ads, you and your team likely devote quite a bit of time and energy planning your posts, creating content, and publishing said content on social platforms.
Tracking your sales enables you to hone in on activities that are driving a positive ROI, so you can focus on doing more of what works.
That way, you can ensure you're spending more time (and money) on sales-generating activities.


It helps you refine your strategy

In addition to enabling you budget resources more effectively, tracking your sales on social media helps improve your overall marketing strategy.
Let's say you post a mix of Reels, Stories, and static photos on Instagram and notice that certain types of posts are better than others at generating sales. You can use that insight to create more content that resonates with your audience.
Measuring your social media sales can also tell you which channels are effective at generating revenue. If you find that you're getting better results on Instagram versus TikTok, for example, then you can start prioritizing Instagram in your sales campaigns.


You'll grow your social media presence

All of the above benefits lead to a stronger social media presence overall. When you're able to focus your efforts on the platforms and tactics that matter, you'll naturally connect better with your audience and gain more fans and followers.
5 tips for tracking sales on social media

Now that we've covered the why behind social media sales tracking, let's look at how you can go about it. Here are a handful of tips to ensure your sales tracking efforts are successful.


1. Start with a plan

It can be tempting to just start posting straight away and seeing if any sales come through, but a haphazard approach to social media tracking could lead to missed opportunities, inaccurate data, and wasted time.
If you want to get the most out of your efforts, you need to lay the groundwork and plan accordingly.
Here are some of the details you need to iron out before launching your social media campaigns.
Time period. Map out the dates and times you'll be running your campaign. This will make it easier to attribute sales that come through via social media.
Products and assets involved in the sale. What items will you be promoting? Do you have photos and videos of those products? Make sure you have the necessary assets ready beforehand so you can launch you campaign without a hitch.
Type of activities. Identify the specific activities or campaigns you'll be running. Will you be working with influencers? Are you running an exclusive sale? Is it a "new arrival" type of campaign? The right method for tracking your sales will depend on the type of initiative that you're running.
Social networks involved. Get clear on the social network (or networks) that you'll be using. If you're leveraging multiple platforms, you'll need to tailor your efforts accordingly.
Resources spent. It also helps to track the time and money you've spent on your campaigns. Doing so will enable you to measure your social media ROI and determine whether or not the campaign is worth the effort and resources spent.


2.Track social media sales using a special promo code

A good way to measure social media sales is to use a dedicated promo code. This tactic is best used when you're running a sale or partnering with an influencer to promote your products.
To implement this tactic, come up with a promo code that's unique to a particular campaign or influencer and make sure the code isn't used on other channels. These codes should be fairly easy to generate and track if you have the right ecommerce platform or marketing solution.
Once you launch your campaign, start looking out for transactions that contain the promo codes you created and use that data to track your sales.
We can see this in action in Lakanto Monkfruit Sweetener, a company that makes sugar-free sweets. Lakanto teams up with influencers like Nicole Cogan (@nobread on Instagram) to promote its products.
To attribute sales generated through this partnership, a specific promo code (i.e., "NOBREAD") is used, and Nicole's followers will get a discount when they enter the code at checkout. Meanwhile, Lakanto can track sales that resulted from the campaign by taking note of how many people entered the promo code on its website.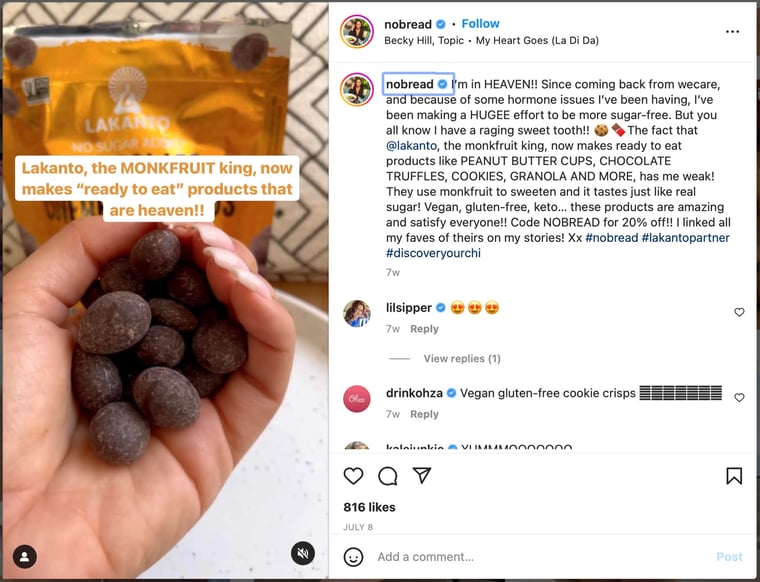 Promo codes are simple and easy to use (both for customers and the merchant). Just bear in mind that these codes also have some shortcomings.
For starters, promo codes may not always paint an accurate picture of sales.
If someone sees your product on social media but doesn't use the code at checkout, then your system won't be able to properly attribute that transaction.
In addition, if one of your brand partners decides to share their promo code outside of social media (e.g., their blog or during an in-person interaction) then this may distort the data around social media attribution.
Also, you can only use promo codes as a tracking tool if you're running a sales or promotion. Customers typically expect discounts when entering a code at checkout, so if you aren't running a sale, then you can't really use promo codes as a tracking tool.


💡 Pro-tip: Add promo codes to your social media posts in Marsello as one way to track sales and measure the dollar impact of your posts.
3.Use special links and UTMs

If you're using Google Analytics to measure your web traffic, then UTMs (Urchin Traffic Monitor) can help you see which sources or campaigns are driving traffic to your site.
UTMs make use of parameters like website source, medium, and campaign to pinpoint where your visitors are coming from. These UTMs come in the form of special tracking codes that you attach at the end of a URL.
They look something like this:
https://www.example.com?utm_source=social-media&utm_medium=instagram&utm_campaign=holiday-products
In the example above, the source of traffic is social media, the medium is Instagram, and the campaign is holiday products.
When you log into Google Analytics, you'll be able to drill down on how many visitors are attributed to these parameters.
You can generate a UTM by heading to Google's Campaign URL Builder. Just fill out the required fields and the tool will generate the link for you. You can then use that special URL in your corresponding campaigns and then start tracking.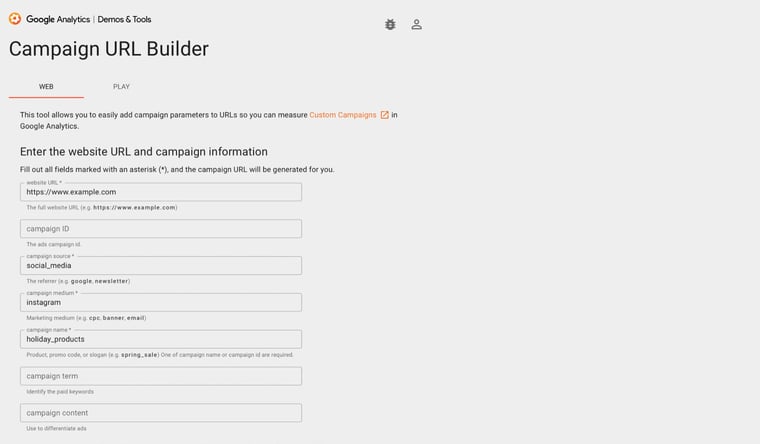 If you aren't using Google Analytics, you can opt for personalized social links instead.
Marsello enables you to create a custom "link in bio" page that you can include in your social media profiles. You can then track the number of people who clicked on the link to determine how many followers visited your site.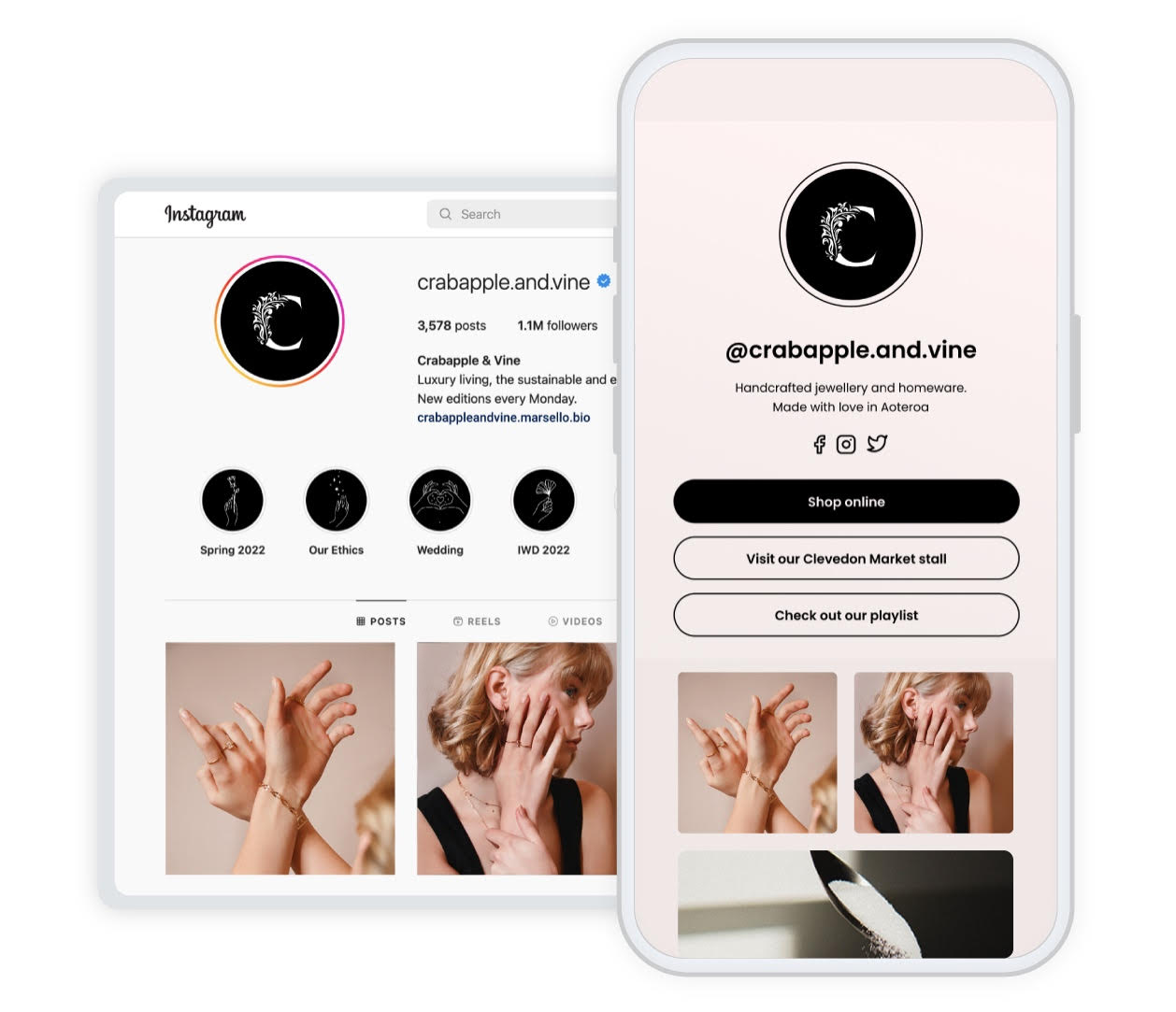 Links and UTMs allow you to measure page visits without the use of a promo code, so they can be helpful tracking tools when you're not running a promotion.
However, one limitation of UTMs and links is they only track page visits, not sales or conversions. They can tell you how many people landed on a page and where they came from, but they won't show you how many users completed a purchase — unless you're using a tool like Marsello to track the entire buying journey.
4. Ask your customers

You can glean social media sales intel simply by asking your customers. At the checkout page, add a form field asking shoppers where they heard about you, and then have them select from a range of options.
From there, tally up the number of people who selected social media (or a specific social network — i.e., Instagram, TikTok, Facebook, etc.) and use that information to track your sales.
This tactic is easy to implement, but it also has some downsides. For one thing, having an extra form field on the checkout page adds friction to the buying experience and may turn off some customers.
Additionally, some shoppers may opt to skip the question, so won't be able to capture all the data you need.


5. Use sales tracking tools

While you can certainly track sales manually — i.e., by counting promo codes or tallying survey results by hand — these processes are cumbersome and can lead to human error and inaccurate data.
You're far better off measuring social media sales with tools that can automate the process. Marsello, for example, streamlines social media sales tracking by connecting your POS and ecommerce sales data with your social media accounts.
From there, Marsello attributes a percentage of your revenue to a social media post containing a tagged product, UTM, or promo code.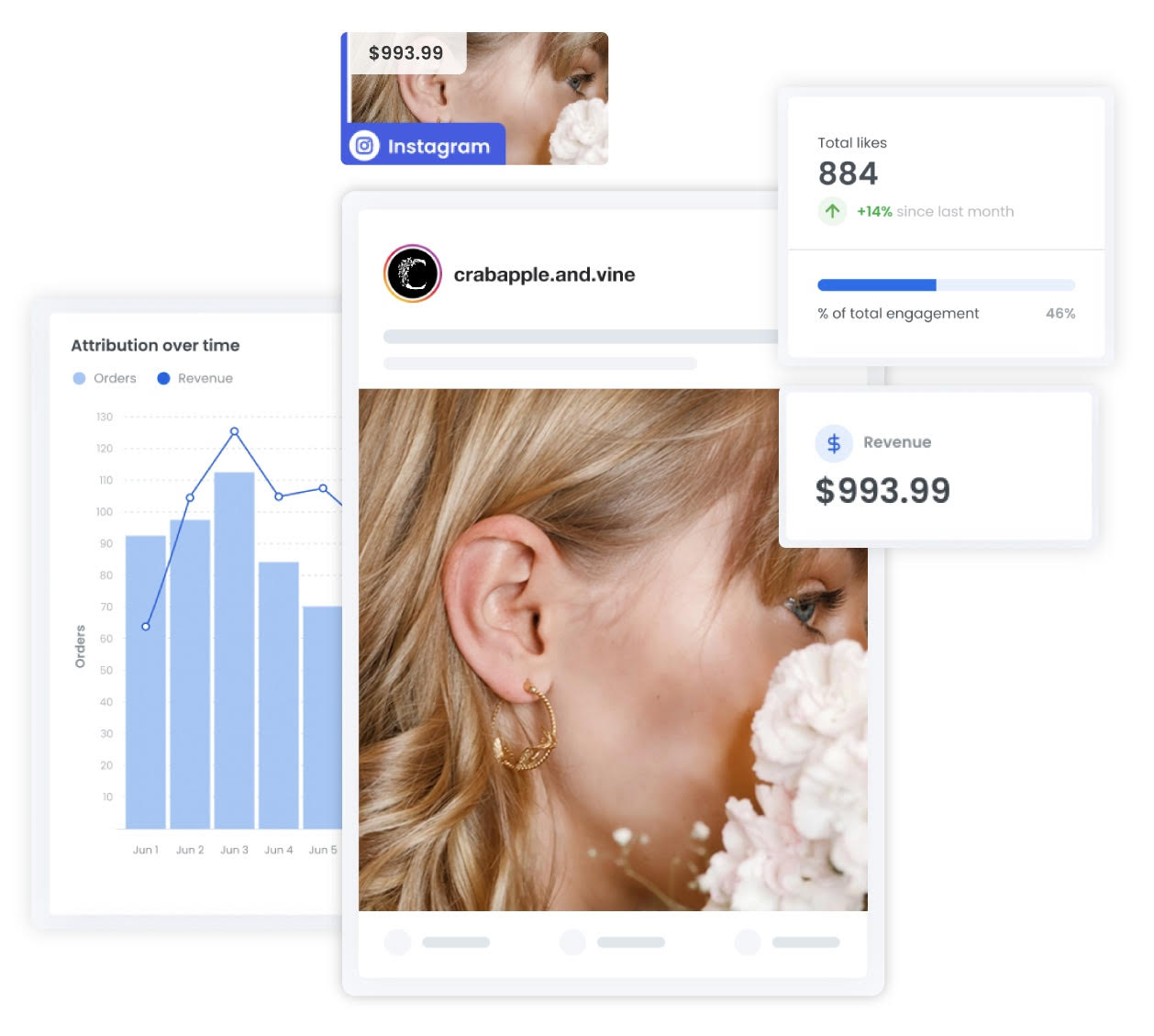 Here's how it works:
Connect your social media accounts to your POS or ecommerce platform.
Create posts across Instagram, Facebook and TikTok then tag your products.
Use Marsello track and measure sales for a given time period.
💡 Pro-tip: Measure revenue, orders, and average spend in Marsello to give you a clear picture of what social activities are actually contributing to your bottom line. This, in turn, helps you make smarter decisions that lead to more sales, profit, and followers.
Bringing it all together

You and your team likely spend a great deal of time and energy on social media, so you must ensure your efforts are put to good use. The best way to do that is to actively track your social media sales, so you can refine your efforts accordingly.
Need help doing just that? Marsello Social provides you with tools to easily publish social media content and track sales.
Marsello: All your marketing, in one place.
Send email and SMS campaigns to customers
Create set-and-forget marketing automations
Schedule social posts
Track the impact of your marketing on revenue
Build a customer database
Published Sep 14, 2022 9:58:20 AM