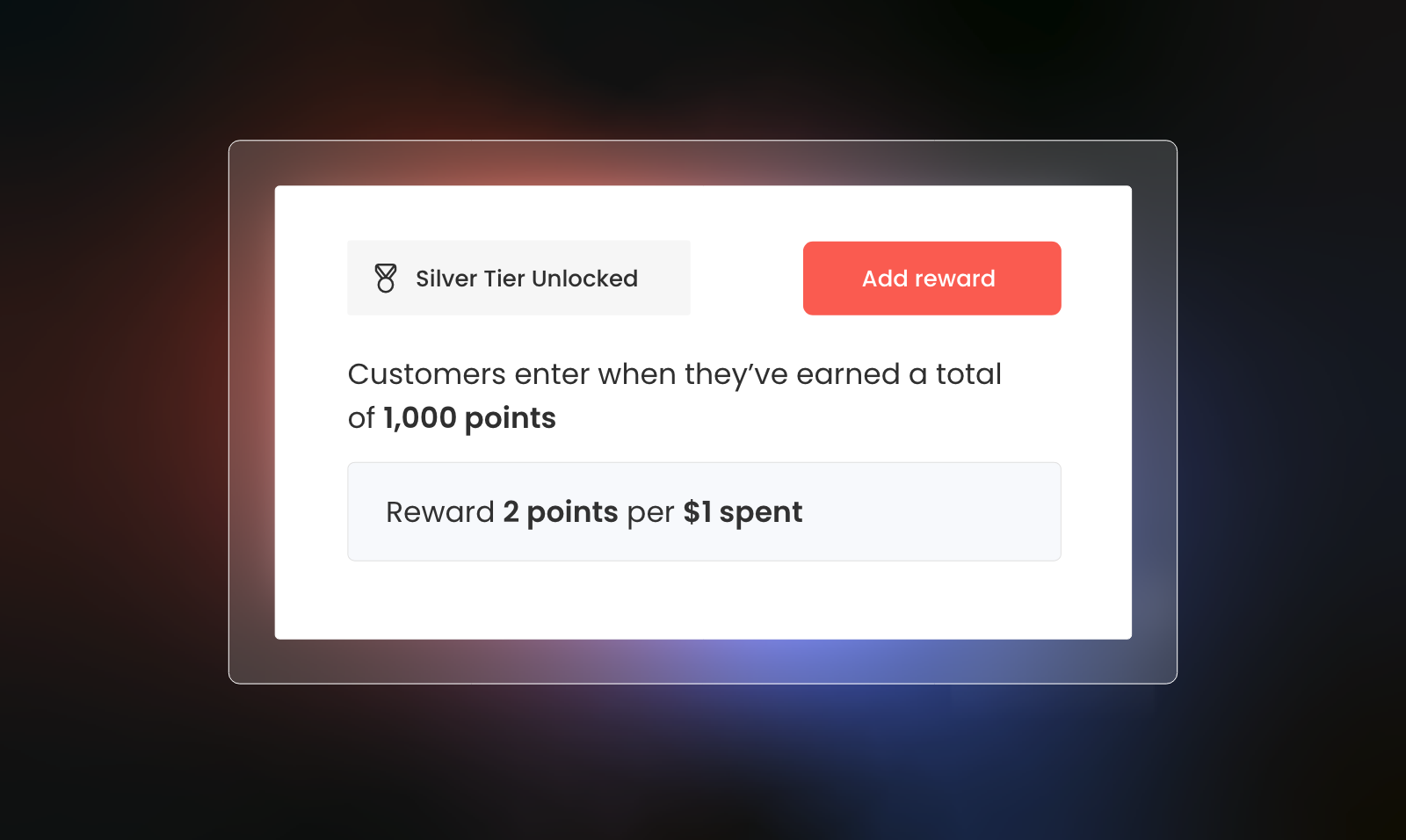 How to Create a Loyalty Program in 2024
Written by Max Crosse

 |   Read
Loyalty programs are the holy grail of retail marketing. Done right, they go way beyond offering generic discounts and giving away rewards that eat into your profit margins.
A well-designed loyalty program is the most powerful tool a retailer can have in their marketing arsenal. They offer you a way of engaging your audience, growing revenue, and ensuring your customers stick around for the long term.
But, how do you create a great loyalty program? In this blog, we'll dive into a few simple steps that can help you design and launch an effective loyalty program for your brand.
What is a loyalty program, and why is it important?
A loyalty program is a system that encourages customers to return by rewarding them with points and incentives for each purchase or interaction they have with your brand.
A well-designed loyalty program goes beyond superficial benefits and genuinely enhances the customer experience. It gives your customers a reason to spend more and shop with you more frequently. The best part is that it can be automated to reward them for activity that grows your brand, like making a purchase, referring a friend, or sharing your profile on social media.
These incentives not only keep your customers engaged but also help your business thrive, driving repeat purchases, winning new business, and cultivating long-term relationships with your brand.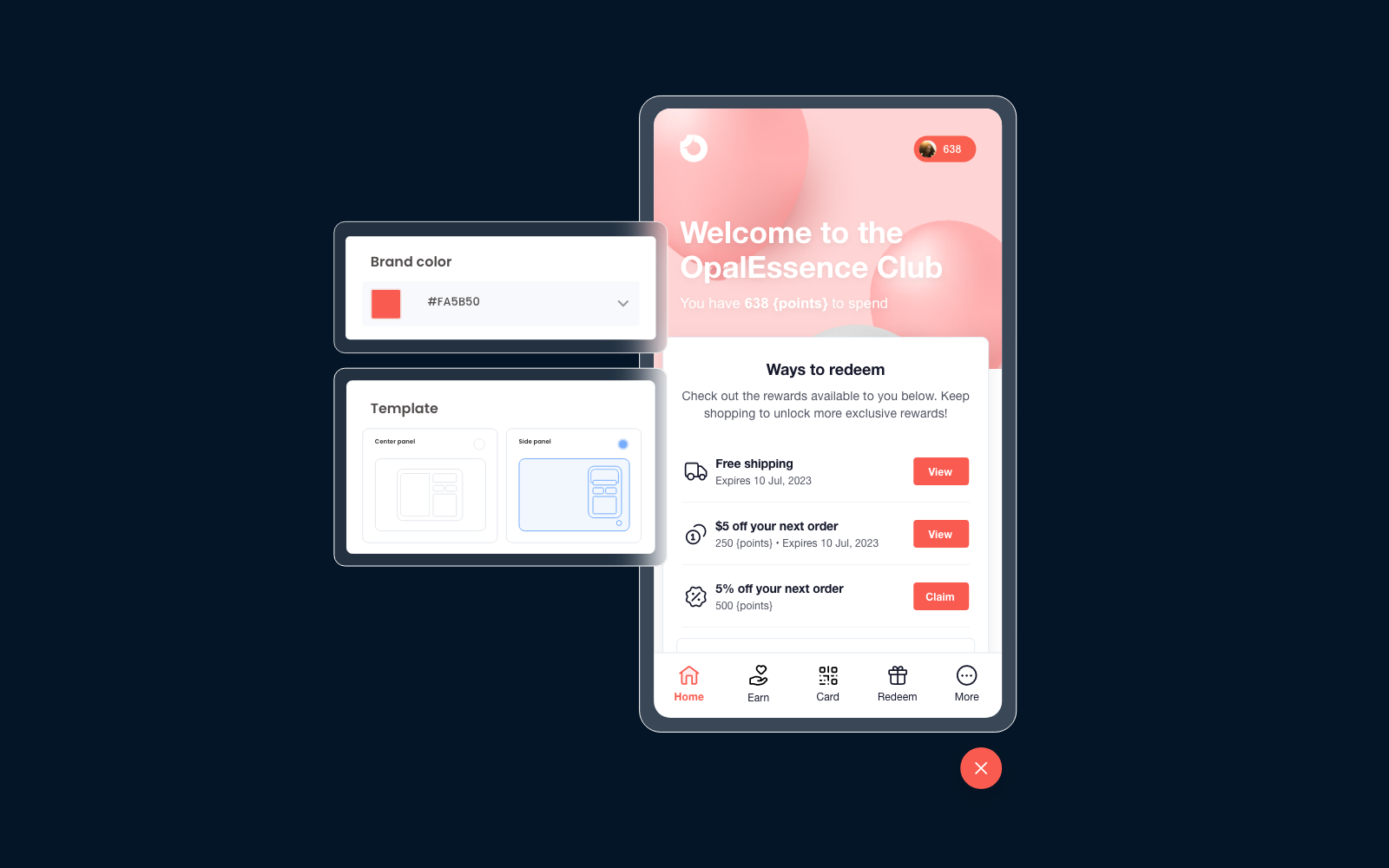 How to Create a Loyalty Program in 2024
Decide what you want to achieve with your loyalty program
For most retailers, the ultimate goal of a loyalty program is to increase repeat business and promote activity that grows your customer base and brand, however, it's crucial to tailor your loyalty program to your specific needs.
Here are some specific goals you might want to achieve with your loyalty program. Keep in mind that every business is different so it's worth reflecting on what your overall business goals are.
Increase customer retention: Perhaps your repeat purchases rate is low, and you don't often see the same customers coming back.
Build your customer database: Gather more valuable customer data to inform your marketing strategy and increase brand engagement.
Generate more sales: Increase repeat purchases and provide customers with incentives to spend more per transaction with your brand.
Word-of-mouth marketing: Encourage your customers to spread the word by offering incentives for referrals, growing your database, and increasing your brand awareness.
Reduced marketing costs:

80% of all sales come from 20% of your customers,

and it's much cheaper to target your existing customers than to attract new ones.

Competitive advantage: Stand out from your competition by adding value to your customer experience. Give customers a reason to choose your brand first.
Remember, specific objectives will vary based on your business needs and market situation. It's essential to define clear goals for your loyalty program so you can measure performance and know what works.
Determine the type of loyalty program you want to launch
There are many types of loyalty programs available to you, each with its benefits and tailored to different business models. Here are some common types:
Points system for rewards: Customers earn points for every dollar they spend with your business, or for specific actions. These points can be redeemed for free products or other rewards.
Tiered loyalty programs: Customers can progress through various tiers based on their level of engagement. The higher the tier, the more significant or exclusive the reward.
Punch cards: Customers can receive punches or stamps for each purchase they make with you, with an exclusive reward or free product available after a certain amount.
Community-based incentives: Customers can earn points of rewards for activities that grow your brand, like sharing your profile on social media, liking you on Facebook, or successfully referring their friends to your store.
In 2024, we'll see brands adopting a 'hybrid' loyalty program model combining various loyalty program types. The best loyalty software providers offer a range of customization options, helping you craft unique loyalty rewards that align with your business model and customers' shopping habits.
---
Creating your loyalty program
Now that you've decided on what type of loyalty program you'll launch, it's time to dive into the creation process.
In this example, we're going to focus on a comprehensive loyalty program setup.
But before you jump in, here are some key metrics you'll need handy before you configure your reward settings.


Know your margins!
... And how much you're willing to give away. Here are some helpful metrics to have on hand 👉


Average purchase value
First, identify how much your average customer spends when they purchase at your store. This metric is crucial as it serves as the foundation for determining the number of loyalty points you should offer to your customers.
Average purchase frequency
Knowing how often customers purchase from your store is a critical part of configuring your loyalty program.
Say you decide to offer 1 point for every $1.00 spent and your first reward (in this case, 20% off) requires 250 points to unlock. That means a customer will need to spend $250 at your store before they can unlock this reward.
While it might initially seem like a substantial amount, consider this: if your average purchase frequency is once a week, and your average purchase value is around $125, your typical customer will gain access to this reward within 2 weeks. If this is the case, your rewards system is probably too generous and may be eating away at your margins.
Product margins
When you're configuring your rewards, it's important to know your product margins. Platforms like Marsello allow you to choose between percentage and fixed discounts (i.e. $20 off), giving you more flexibility to reward your customers the way you want.
Typically, we recommend using percentage-based rewards as they scale alongside your order total. Here's why: If you opt for a fixed discount like $20 off, customers might find ways to abuse it, potentially impacting your profitability. Additionally, if your average purchase value is low, then customers may be forced to add to their cart to redeem the discount.
Percentage-based rewards scale naturally with the order total, creating a fair balance between your customer's expectations and your company's wallet.
Set up your points system
Designing your points system is the first step toward a successful loyalty program. Loyalty points encourage customers to engage with your brand by rewarding them with loyalty program points for purchases and other activities. Customers' points can then be redeemed for discounts, free products, or other rewards of your choosing.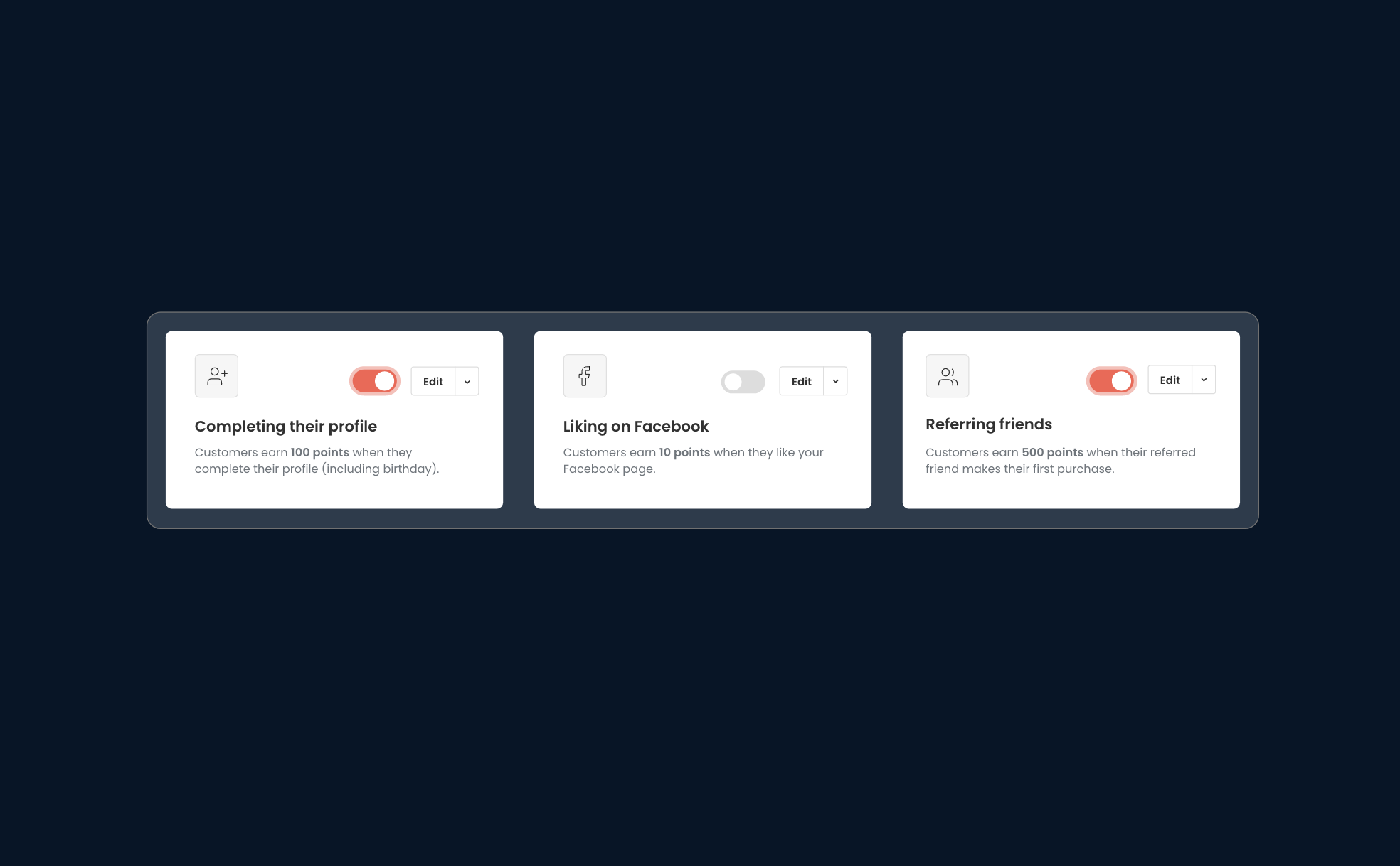 Though there are countless ways for customers to earn loyalty points, here are some of the basic options:
Making a purchase: Customers earn points for every purchase they make at your store.
💡 We recommend offering 1 point for every $1.00 spent to keep things simple.
Creating an account: Encourage customers to kick-start their earnings with points when they create a new account. This is a great way of increasing your customer database.
Completing their profile: Reward customers points for providing their personal details, like birthday, gender, and mobile number. This helps you build an information-rich database.
Say Happy Birthday: Personalize your loyalty experience by enabling the Happy Birthday points option. Surprise your customers on their special day.
Product reviews: Encourage customers to review your products.
Acting sustainably: Reward customers for acting sustainably. I.e. bringing a reusable shopping bag when they shop with you.
Liking on social media: Grow your social media following by gifting points to customers who engage with your brand online (Facebook, Instagram, and Twitter).
Sharing on social media: Incentivize customers to spread the word about your store.
Refer a friend: Kick-start your referral program by rewarding customers when their referred friend makes their first purchase.
Beauty in simplicity - How ALPHA60 keeps their loyalty
program as simple as possible.
"We try not to complicate it too much and add different things in, and that really works for us. I think it's because it's simple for people. It's easy for customers to understand."
Kelvin, Brand Manager
---
Configure your rewards and VIP tiers

Now that your customers have the means to earn points, it's time to map out your rewards ladder and VIP tier structure.
When editing your rewards, it's essential to strike a balance. If your rewards are too easy to unlock, customers may unlock them too quickly, leaving them with nothing to work towards. On the other hand, if you set the bar too high, customers might lose interest.
The key is to establish a logical and well-structured progression that ensures customers feel like they're advancing towards greater rewards with each interaction. This keeps them motivated and engaged throughout their journey with your brand.
Rewards
To illustrate, let's take a look at a hypothetical brand, Opal Essence.
At Opal Essence, members earn 1 point for every $1 spent at their store.
Average purchase value: $100.00

Average purchase frequency: 3 months
The key to your rewards ladder is to make them realistic and attainable, without giving too much value away. For example:
10% off - 200 points to redeem
15% off - 400 points to redeem
20% off - 600 points to redeem
In this case, with customers spending an average of $100 per purchase, they would need to make two purchases to unlock their first reward. And so on… four purchases for the 15% discount, and six to unlock the 20% discount.
This rewards setup creates a logical sense of progression for customers, making them feel like they're working towards substantial perks with each visit to your store. Not only does it drive repeat sales, but it also fosters brand loyalty and increases customer lifetime value.
While percentage-based discounts are the easiest to implement, there are various other reward options to choose from. Here are 5 common types of rewards:
Percentage (%) off rewards: storewide, on a specific item, or on specific collections

Fixed value ($) off rewards: storewide, on a specific item, or on specific collections

Free shipping

Free product(s)

Spend threshold rewards: Requires a minimum purchase value to redeem
---
VIP Tiers
A VIP program elevates your loyalty strategy by making your best customers feel special. With VIP tiers, you can offer additional benefits to those who reach higher tiers, such as exclusive rewards, free shipping, early access to sales, VIP events, and faster points earning.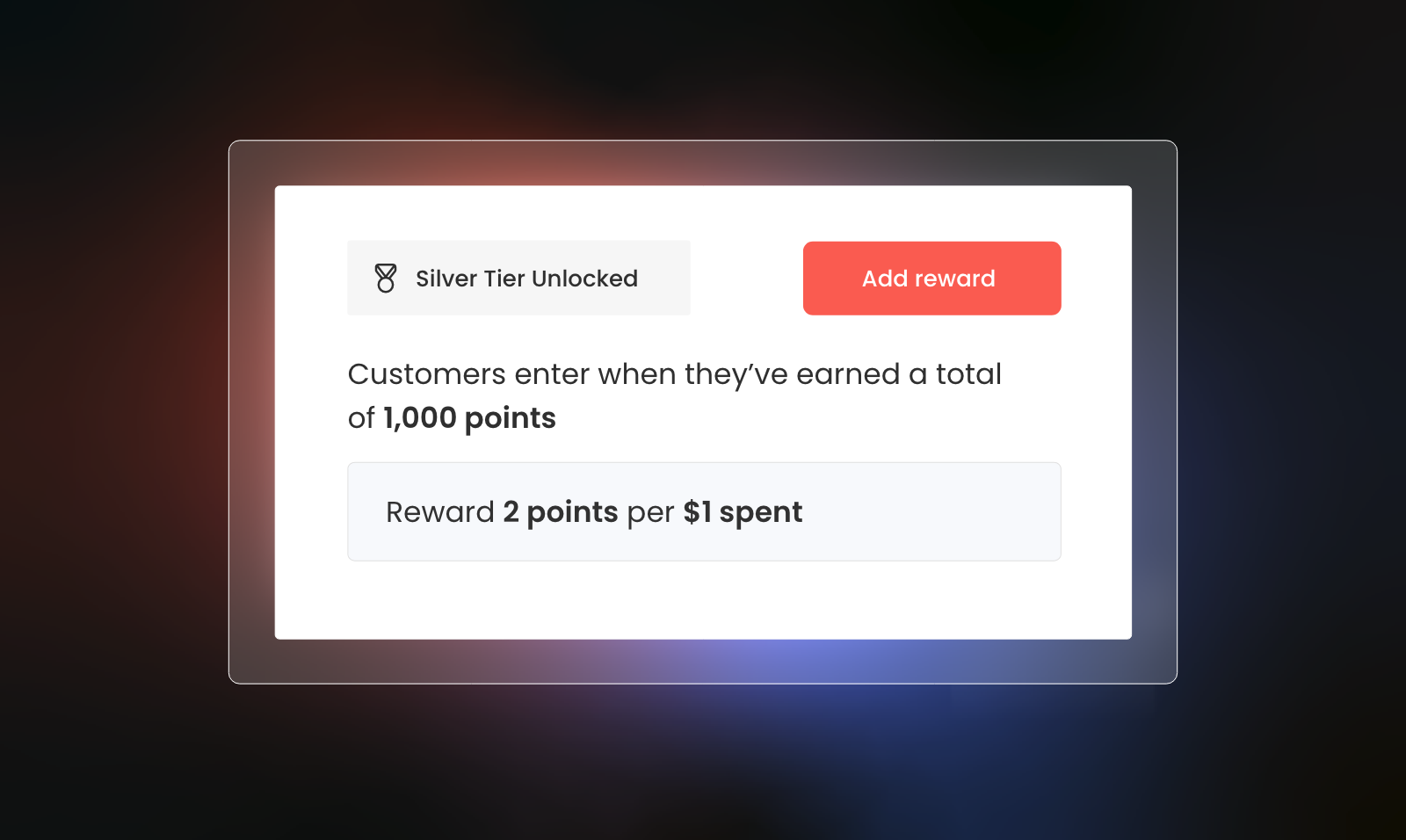 Consider how the VIP tiers align with your overall business strategy. For example, if you sell high-end fashion products and are launching a new collection, granting VIPs early access to new product lines creates an aura of exclusivity. This makes them feel like valued insiders.
Here are some VIP perks ideas you could implement:
Faster points-earning: Silver Tier customers earn 2 points for every $1 spent, and Gold Tier customers earn 3 points for every $1 spent.
Exclusive rewards: Offer unique rewards to your VIP customers, making them feel valued and understood.
Blanket discounts: VIP tier customers enjoy ongoing discounts for every purchase they make from your store, such as 10% off.
Free shipping: Ship products out to your VIPs free of charge to thank them for their ongoing support. This makes them feel appreciated and encourages them to stick around.
VIP tiers not only boost customer loyalty but also create loyal advocates who will spread the word about your brand.
💡 Pro-tip: Utilizing VIP tiers and customer lists enables you to craft highly personalized email and SMS campaigns. Perhaps you're hosting a VIP-only event, or want to offer exclusive styling services, VIP tiers, and segmentation lists can help you tailor your marketing to cater to your most loyal customers.
Promote your loyalty program
Before you enable your loyalty program, take a moment to review your settings and ensure that your points, rewards, and VIP tiers are configured correctly. This is the perfect time to revisit your business goals and check that your program aligns with your business strategy and overall direction.
With your loyalty program ready to go live, it's time to spread the word. Send a captivating loyalty program announcement email to share the exciting news with your customers. This announcement can serve as your invitation to customers, encouraging them to shop again and engage with your new loyalty program.
💡 Pro-tip: To build excitement for your loyalty program, consider sending an email a few weeks before the official launch, teasing the upcoming loyalty perks and getting customers excited about what's to come.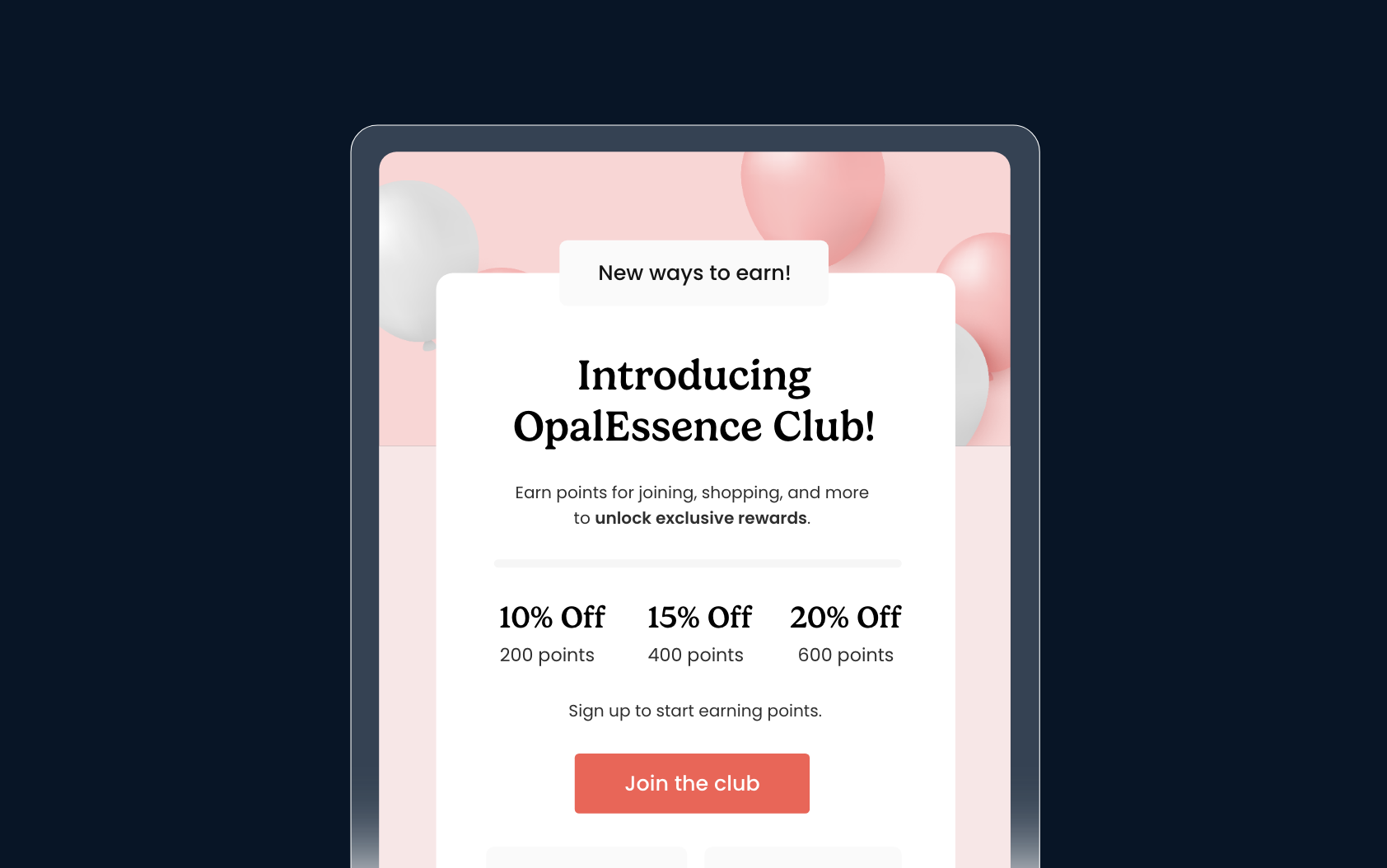 Final words
Loyalty programs aren't just about giving away discounts; they're a highly strategic tool that helps you drive repeat sales and build long-term relationships with your customers. Done right, a loyalty program fosters a community of loyal advocates, expanding your brand's reach and ultimately increasing your bottom line.
If you're looking to create a loyalty program for your business, Marsello makes it easy to set up, launch, and promote your loyalty program with ease.


Create your loyalty program with Marsello
---
Bonus tips



Embrace an omnichannel approach
Building a successful loyalty program begins with understanding your customers' needs. An omnichannel loyalty program is one of the best ways to engage and reward your customers, no matter how they shop with you. Customer loyalty platforms like Marsello enable you to run your loyalty program seamlessly across both in-store and online channels, ensuring customers can access the benefits of your program, regardless of their shopping preferences.
Measure your performance and optimize
Remember, the job's not finished once your loyalty program is live. By monitoring your loyalty reporting and customer activity, you can uncover insights to inform your future marketing and loyalty program optimization. Regular optimization will ensure that your loyalty program continues to evolve, providing the best experience for your customers.
Have fun with it
Creating a loyalty program can be an exciting journey that helps you understand and connect with your customers on a deeper level. It's a chance to get creative and celebrate your brand's unique selling points. So, while you're planning your loyalty program, don't forget to have fun with it.
Good luck with your loyalty program creation!
Next read: How to create a points system for rewards
Published Oct 26, 2023 8:06:33 PM