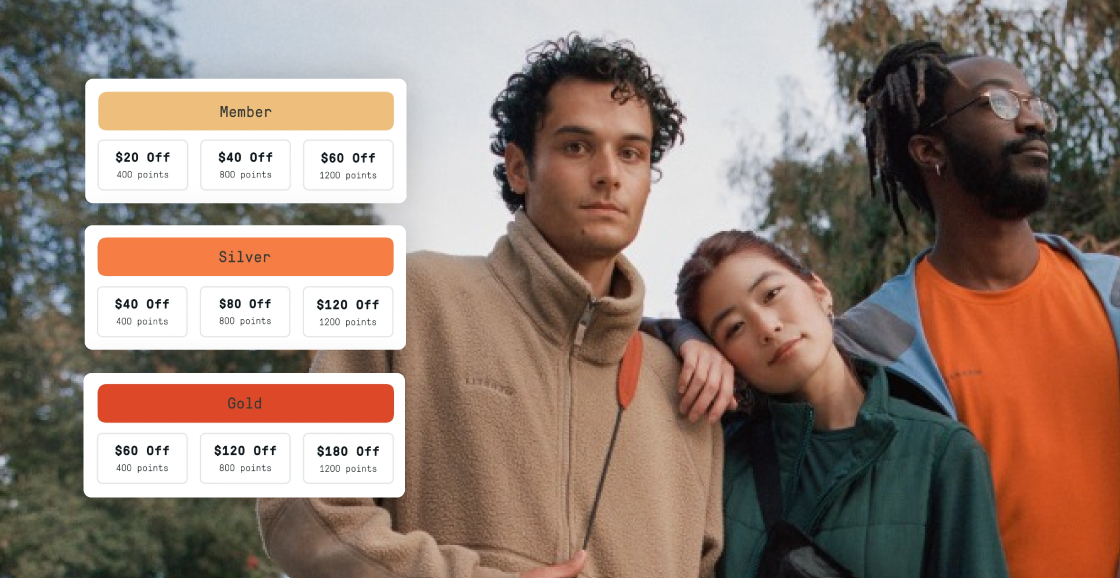 6 Tips for creating a point system for rewards
Written by Lucy Bekker

 |   Read
Quick links:


---


The ultimate goal with a reward points system is to motivate customer behavior that grows your business. However, it is also a good way to build brand loyalty and reward your most loyal customers.
The Pareto Principle (also known as the Law of the Vital Few) states that 80% of all sales come from just 20% of your customers and that 20% are usually loyal, returning customers.
Creating a rewards program lets you focus on that valuable 20%!
If you have ever wondered
What a reward points system is,
How to set up a simple rewards program for loyal customers, and
How you can increase your revenue with a loyalty program
Then you are in the right place.


Related: How Mecca Built One Of The World's Best Loyalty Programs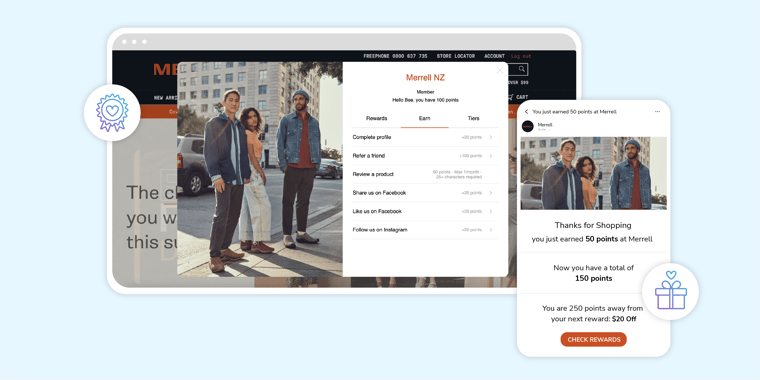 What is a reward points system?
According to Shopify, rewarding points is the most common type of customer loyalty program. A reward points system is an incentivization strategy that increases spending through earning in-store points or credits.
Customers earn points on their account when they purchase. They can then redeem points the next time they shop or use them for other freebies and perks. Some loyalty programs also let customers accumulate points and move from a "regular" member to a "VIP" member in a tiered program.
Evermore Toys is a great example of a simple points rewards system. Their mission is to create high-quality toys for their customers, and they implemented an elegant customer loyalty program that increased their revenue by 738.87%.
Customers earn 1 point for every $1 they spend; when they reach 100 points they get $10 off their next purchase. Evermore Toys saw a 95% per month increase in loyalty points over a one-year period, showing that you don't need a complicated loyalty program to get results.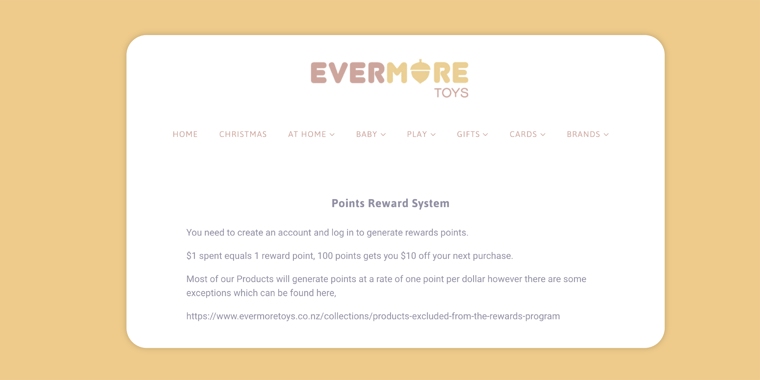 6 tips for designing a points reward system for your business
To implement a reward points system for customers, there are a few key systems you need. Your business and your customers are unique. 44% of consumers aren't happy with rewards programs because the bonuses feel "irrelevant". So it's worth a bit of creative strategy!
The most successful loyalty programs are specific to your brand community and are extremely customer-focused.

Related: 7 Steps To Building A Profitable Loyalty & Rewards Program


1. Identify the main goals of your customer loyalty program
Obviously, your loyalty points system benefits your revenue potential. However, you can do so much more with it! So the first step to a successful points system is to identify what you want to achieve with it.
Here are a few questions you can ask yourself:
Do you want to build brand loyalty by creating a unique community?
Do you want to reward your MOST loyal customers by creating a tiered reward system?
Do you want to delight customers with unexpected surprises?
Do you want to encourage more spending or points accumulation?
Do you want people to share your business on social media or get people to refer their friends?
Are you going to run "points promotions" to encourage higher spending in sales?
All loyalty programs motivate particular behaviors. When you are starting out it is best to choose just one or two goals so that you can track their progress and then build from there.
Download the free CLV Calculator
Most retailers use loyalty programs to increase the average lifespan and value of a customer. Use Marsello's free calculator to quickly estimate your average CLV.


2. Determine how customers will earn the rewards
Next, you will need to determine HOW customers actually get rewards.
You might want to keep it simple like the Evermore Toys example above. They spend a dollar, they earn a point. There's nothing wrong with avoiding complications.
Loyalty programs also offer points for customer behavior such as
Sharing on social media
Earning freebies on your birthday
Giving product reviews
Referring a friend
Take Our Bralette Club as an example. Their loyalty program members can earn points when they make a purchase, for every friend they refer, for Tweeting about the brand, and even just for getting a year older on their birthday.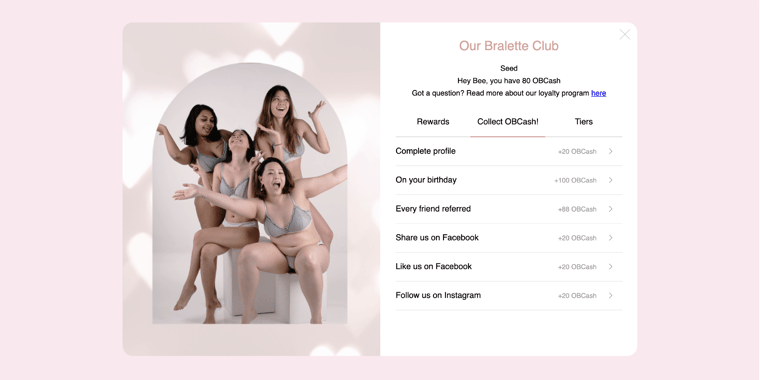 Other models include tiered rewards systems. This is where members can move from regular member to VIP status once they cross a spend threshold. VIP customers could have benefits such as Double Points (every dollar is 2 points) or other bonuses like automatic free shipping.
You will also need to consider online versus in-person shopping. Can customers earn and spend points no matter where they shop with you? Using a points reward software like Marsello makes loyalty programs completely seamless across eCommerce and POS.
3. Determine how these rewards will be awarded to the customers
Once customers have earned their points, it's time to reward them! Do you have a system for how they can claim points?
Firstly it is important to have a login for members where they can easily see their points program total. Seamless integration with your eCommerce checkout and POS is critical for a successful loyalty program. Don't make your customers work for it!
Next, identify the timeline. Can they redeem points as soon as they earn them? Will they receive a coupon or code for their next purchase? Will you send them something for free?
Lastly, consider what form their rewards will be in. It doesn't just have to be points they can spend in-store.
Here are a few ways you could reward your customers in a points program:
Offer secret sales for people with a certain number of points
Collaborate with other businesses to do giveaways with similar products
Give away freebies when they buy multiple items
Do live in-person events for your most loyal customers
Offer other bonuses like free shipping or first access to new products
Set up an affiliate program where they can make actual money for referring new customers
Nigerian shoe brand bCODE has an outstanding loyalty program strategy. When they first launched their online rewards, they created a double-point promotion as well as a spend threshold.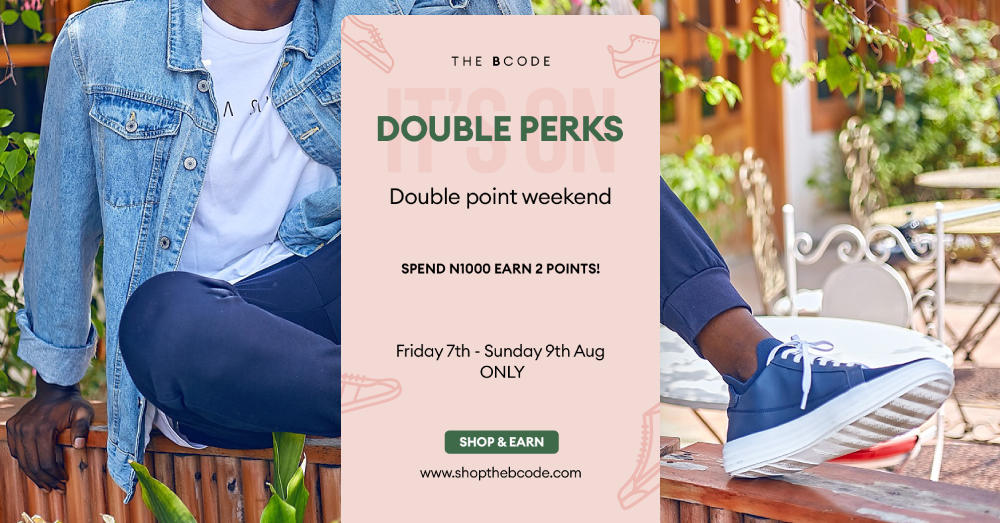 With their email marketing and social media campaign, they encouraged increased sales, loyalty program sign-ups, reward redemptions, and more! They also encouraged bCode customers to sign-up by sending an email campaign that detailed how shoppers could sign up to the newly expanded loyalty program and earn points in the lead-up to the weekend's promotion.
With a 94% increase in loyalty points spent, you know they are rewarding loyalty right!


4. Identify the value of your rewards
If customers earn points-per-dollar, you will need to identify the value of your rewards. You can categorize rewards from low to high value based on how loyal customers are.
Will they get a discount voucher? Do their points add up to free shipping? Can they move up a membership level if they reach a spend threshold?
If you have a tiered loyalty program, the value of the rewards can go up with each level.
For example, a first-tier member could earn points that add up to a discount voucher. A second-tier member could earn double points. A third tier, VIP member could have free shipping, triple points, and access to exclusive events.
Remember, your most loyal customers bring in the most amount of revenue. It is worth going above and beyond to improve their experience with higher value rewards.
Look at outdoor apparel & footwear brand Merrell NZ. As soon as you sign up for their rewards program you can start moving up the tiers. Their silver and gold tier members enjoy generous discounts when they earn a certain number of points. Merrell NZ makes it simple for members to earn points with amazing rewards and a simple loyalty program widget.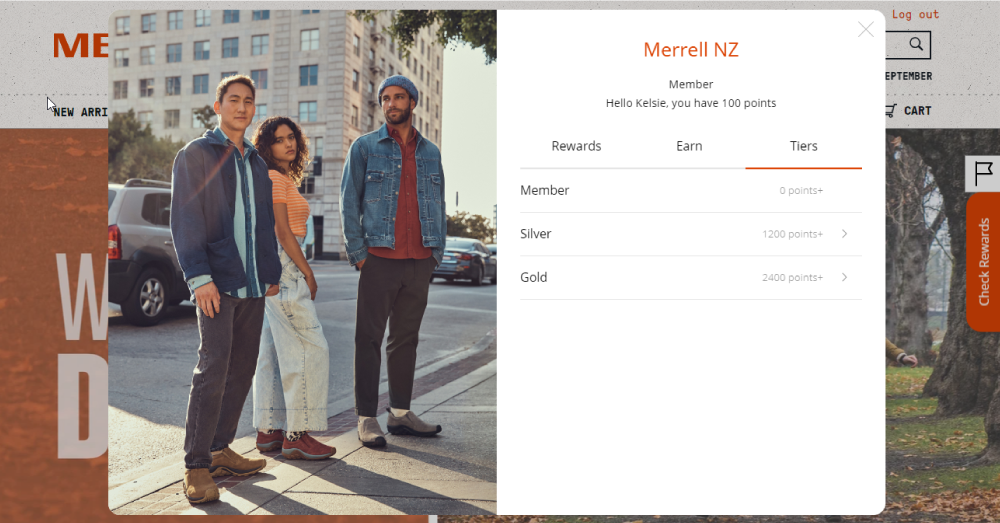 5. Associate a name/brand to your loyalty program
No matter how amazing your product is, you are facing a huge amount of competition. Your customers are probably being asked to join a huge number of other loyalty programs.
To make your customer reward system stand out, we recommend branding it.
How can you make your loyal customers feel like they are part of a special community? This is where customer experience comes into play for modern business. It's not enough to simply sell to your customers. Associating a brand name with your loyalty program makes you memorable.
For example, Marsello user Our Bralette Club has a membership loyalty program called the Peach Party. Peach Party members enjoy generous discounts and free products, and most importantly the branded name makes them feel part of the club!

6. Promote your rewards point program
Finally, you need a system for promoting your points reward program. You can't reward customers if they don't know it exists! Don't be afraid to promote it everywhere online and in stores.
This isn't just for new customers or new business. When Evermore Toys rebranded, they used a clever email marketing campaign to encourage existing loyalty members to engage with the newly branded store and earn more rewards.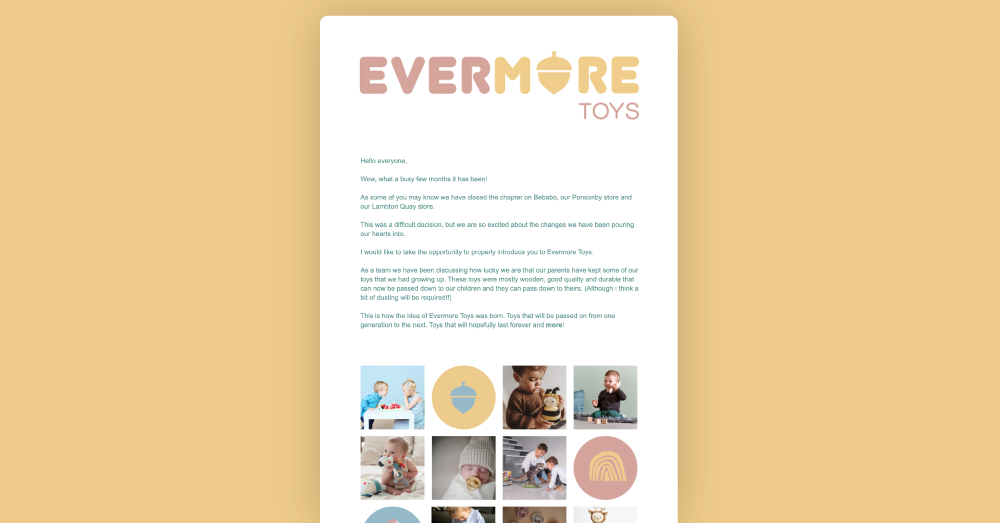 We have a few tips for promoting your rewards system online:
Let people register for an account at the checkout and remind them to sign in
Have a banner on your website telling people about the benefits of becoming a member and earning points
Let customers know on your social media platforms
Use an

omnichannel marketing platform

that combines your reward system online with your POS
Automate your email marketing strategy to communicate effectively with new and existing members- you need to promote at the right times to ensure high engagement!
Your loyalty program is all about serving your customers even more. Shout its benefits from the rooftops!
Final words
A reward points system is an effective way to increase your revenue. It rewards your most valuable customers and goes beyond a transactional relationship. By branding your loyalty club, designing an easy-to-follow system, and promoting it for every new and returning customer, you will see incredible ROI on your rewards program.
If you are looking for the easiest way to set up a loyalty program for your eCommerce or in-person store, you've already found it. Marsello makes it simple to set up, market and run a successful point system for rewards. Start rewarding your customers with Marsello!
Read more: 7 Steps To Building A Profitable Loyalty & Rewards Program
Published Nov 11, 2021 8:39:21 AM