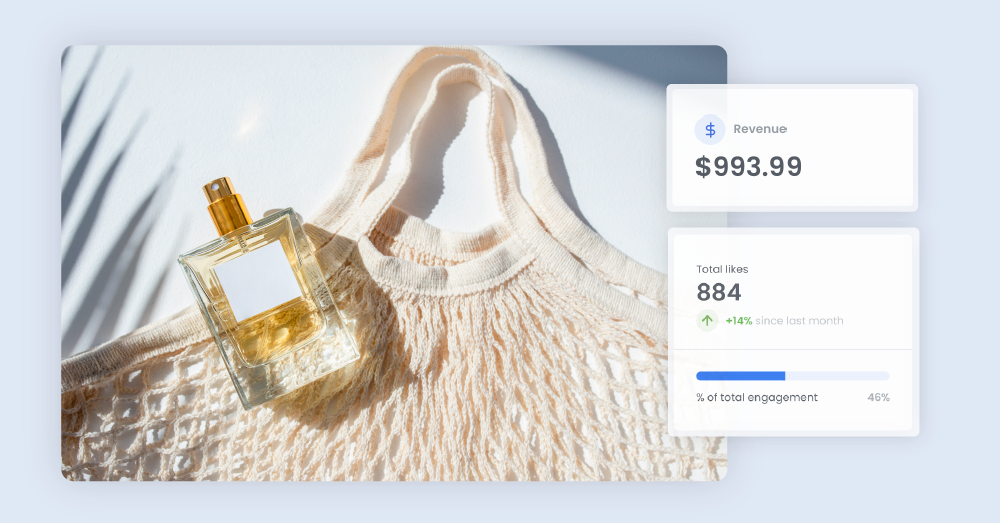 How To Turn Social Media Engagement Into Sales
Written by Alice Cresswell

 |   Read
Does your engagement convert? Learn how to find out 👇

Social media engagement is a great metric for measuring the buzz around your brand. The average Instagram engagement rate across all businesses is around 1-2% per post (depending on where you look).
So, if you've got 5,000 followers, the average business could expect around 50-100 likes on any given post. Video content generally sees a much higher engagement rate—that same business could be seeing around 300 likes on a video post. Carousels also receive higher engagement, as Instagram's algorithm will show the same post more than once to the same follower.
But engagement is not revenue, and it doesn't necessarily even convert to revenue in the long run. If your posts don't drive action, generate exclusivity, or create urgency, your audience may engage with you without ever making a purchase.
So your next question should be: how do I turn engagement into dollars and cents?
---



Quick Links:




---
How do I turn engagement into revenue?

When I talk to merchants, there's one thing I hear a lot: "My posts get lots of comments, good reach, and heaps of likes, but I just don't know if I'm seeing sales from them." It's a common concern—you're putting all this time and effort into creating content, but it's really hard to make that content sell.
Here are three strategies you can use to take that engagement and convert followers into paying customers.


1. Use Product Tagging to drive social sales

To convert followers into customers, you want to take away every possible barrier to purchase. Don't make your followers Google your website, then manually type a product into the search bar. Every time there's an extra step, a percentage of followers will drop off the buying journey.
Product Tagging is perfect for this. It doesn't have to be on a "product launch" type post either, you can tag products on lifestyle imagery, competition posts, and more. You can even use "product" stickers to tag products in your Instagram stories too.
Take advantage of every opportunity to tag a product.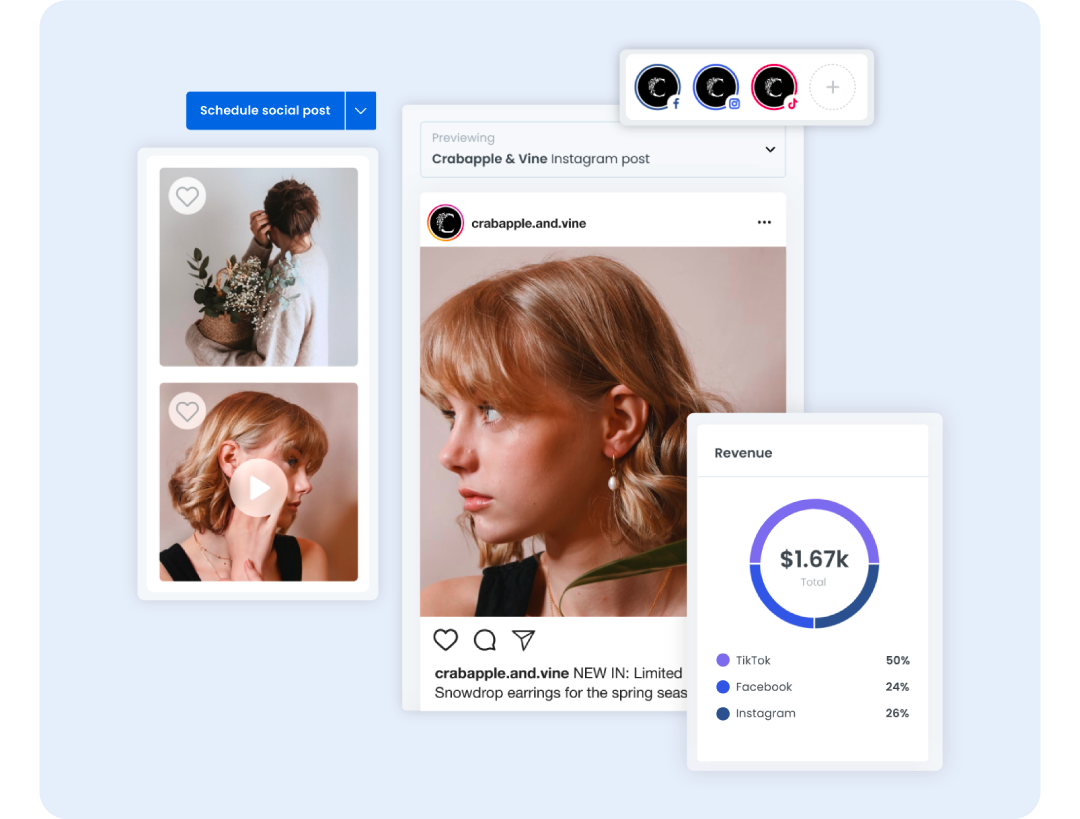 2. Create a custom link in bio landing page

When you only get one link, make it count. Drive followers to your store with a branded link and customizable landing page for Instagram and TikTok.
Having a centralized landing page means you can drive all your traffic to one page with multiple products, promotions and calls-to-action. There are lots of tools out there, from free, basic products to tools with advanced features and customization. The most sophisticated tools have the ability for merchants to add forms, buttons, media and more to a fully branded page.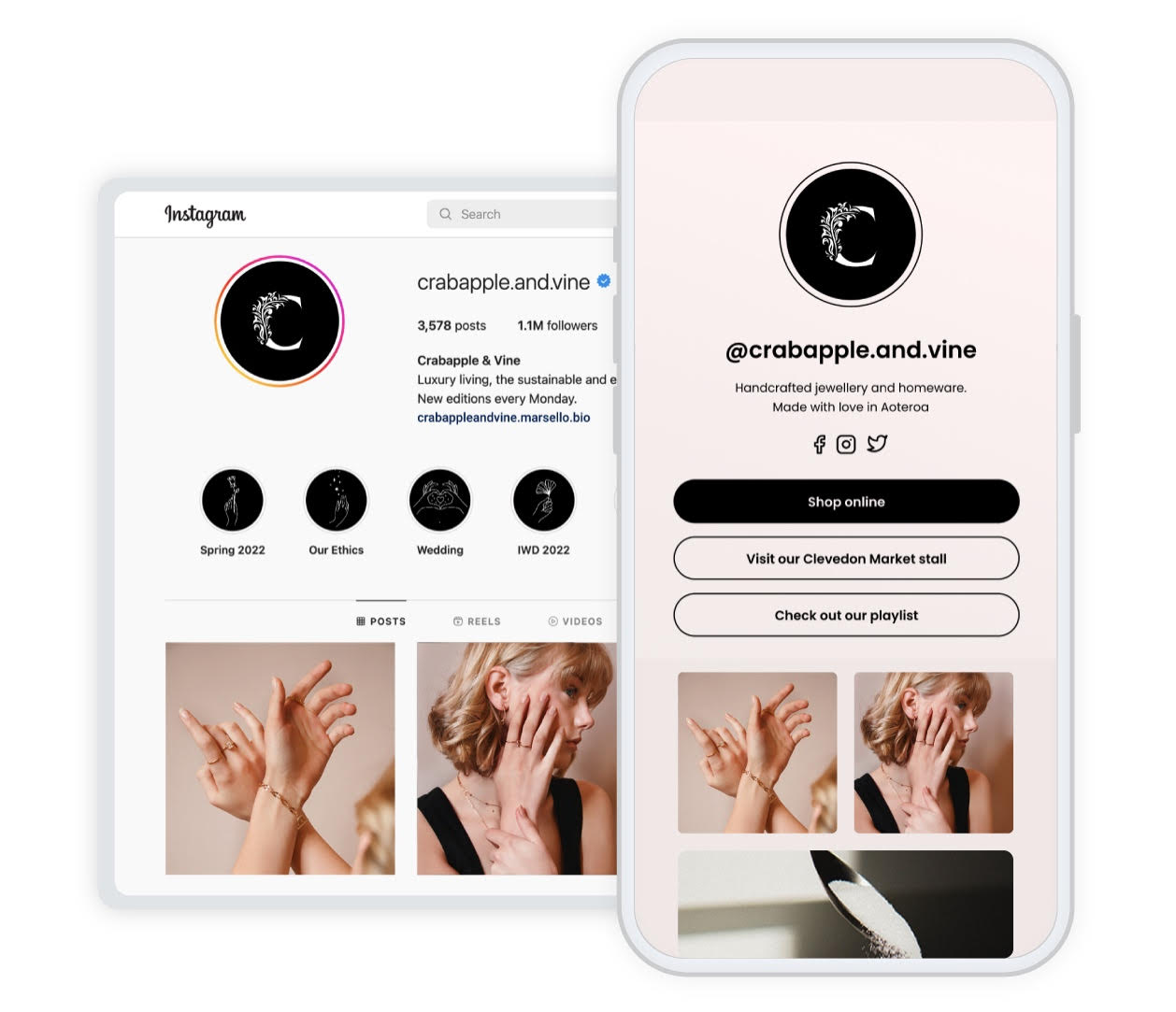 3. Plan campaigns and posts ahead of time

Sometimes, even the best post with the most amazing offer and relevant call-to-action just won't work.
Imagine this. You're a retailer selling mountain bikes. You've also got a workshop and you sell replacement parts and accessories. It's the middle of winter and things are quiet, but you know come spring all your customers will be wanting to replace their knackered bearings to hit the trails as soon as possible.
You make a post offering half price bearings in-store hoping to see some service bookings off the back of it (thinking that you'll be able to upsell when people are in the right frame of mind). But you don't see any uptake so you assume you were wrong, and that the idea was a flop.
Here's how you could do it differently:
You want to target existing customers, but also other riders in your local community. You know the large portion of your social followers are local mountain bike riders. So plan and schedule a series of posts each with different creative, and do a candid video post on your stories too.
You could build the hype by sending out an email or two as well to your local database.
Create a discount code people need to use in-store so you can track the impact of the campaign (I'll get to that shortly). It might even make sense to send an SMS out as well, driving people to one of your social media posts for more info.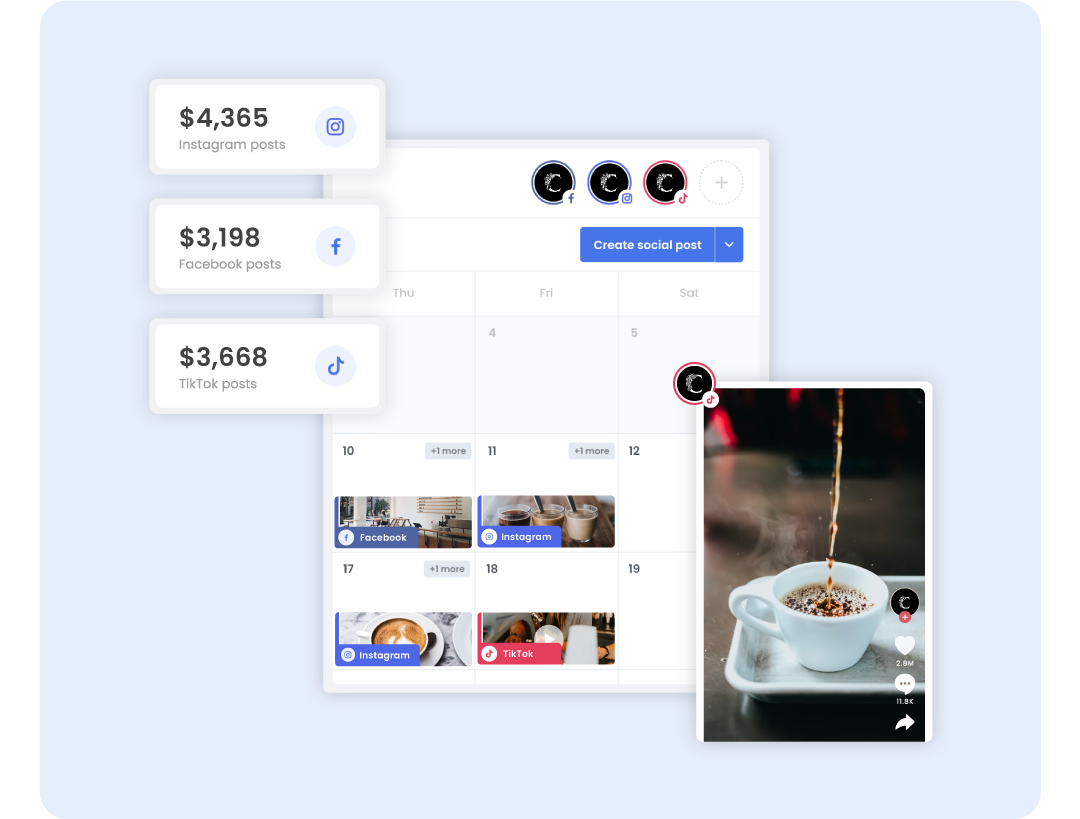 All this planning can be on the back of an envelope:
Insight: There's always a spring rush for parts and servicing because people leave it til the last minute, and the workshop is really busy
Objective: Sell bearings, drive foot traffic, and get people thinking about booking in a service early
Offer: 50% off all bearings (put a time limit on this for urgency-for example, "This month only")
Target audience: Customers and other local riders
Channels: Social media, email and SMS
Success measure(s): In-store bearing sales, foot traffic increase, service bookings
Once you've got your basic campaign plan, spend a couple of hours getting everything set up.
Create a discount code and/or UTM to track bookings from your campaign.
Use a social media scheduling tool to schedule campaign posts over your campaign time period.
Schedule an email blast to customers, and maybe a reminder email or two.
Schedule an SMS to reach people directly to their mobile (around 98% of SMS messages are opened, so it's a great channel for a short, snappy and time-sensitive campaign).
Taking a step back to plan means you can get your channels working together to increase the impact of your social media posts, and drive more sales.


How do I know what posts generate sales?

To understand how your engagement converts, you need a way to track sales that come from your social posts. This can be a bit tricky, so I've pulled together a handy list of ways to measure your results.


Get a social media analytics tool to track sales

The easiest and most effective way to track sales made from organic social media is to use analytics software that connects your POS, eCommerce, and social media data (you can do this all in Marsello).
This doesn't just track when someone clicks on a tagged product, it also tracks if someone likes, comments on or shares a post with a product tagged in it, and buys it later. This is called organic social media sales tracking.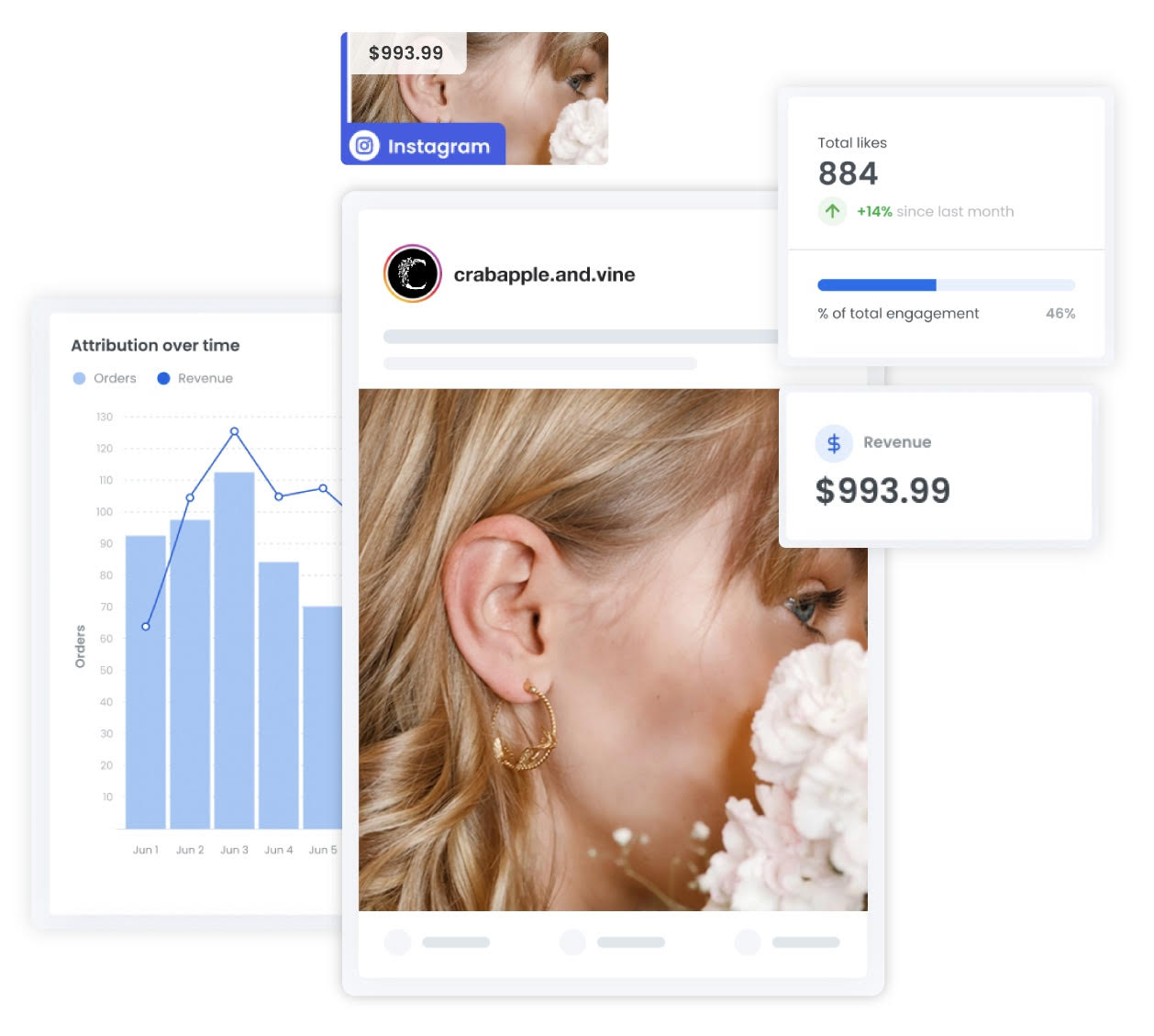 Using a tool like this, you can see:
What posts have generated the most revenue
Which creative type (images, videos, etc) leads to more sales
How many orders you get from social media over a certain period of time
Which social media platform works best for your business
What percentage of revenue comes from organic social media
By tracking sales and revenue, and seeing what kinds of social posts and which channels work best, you can improve the performance of your accounts over time.


Include discount codes in social posts

Discount codes are one of the simplest ways to see where traffic and sales are coming from. These have become popular for tracking sales from organic social media posts and campaigns, as merchants struggled to see the impact of their efforts in Facebook, Instagram, TikTok etc.
Simply create a unique discount or offer code for each channel, and you'll be able to track how many sales you generated from those posts.
Use UTMs to track links back to your online store
What is a UTM? UTMs (Urchin Tracking Modules) are short bits of code you can use to track how effective a campaign is. UTMs can track up to five parameters (aspects): campaign, source, medium, content and term.
That might sound complex, but UTMs are actually incredibly easy to use. And unless you're drilling into deep testing and measuring, you really only the first three parameters.
The easiest way to show you how to build a UTM is by using an example.
Say we are running a campaign that goes to http://marsello.com. We are using Facebook ads, and the campaign is to get sign ups for our social media scheduler.
Let's put that in simple terms:
Campaign: Social Media
Source: Facebook
Medium: Paid Ads
When you build your link, make sure you don't use spaces. Instead, replace your space with a dash symbol (-). Aside from that, use only plain text for labeling (avoid hashtags, ampersands, percentage symbols or anything else that could break the link).
Campaign: Social-Media-Sign-Ups
Source: Facebook
Medium: Paid-Ads
Now, we want to add these to the link in UTM format.
First, add a question mark (?). This indicates that the body of the link is complete, and Google Analytics, or your tracking tool, should read the following part as tracking information.
Add "utm_campaign=" then your campaign name.
Add an ampersand symbol (&). This tells your tracking tool that your campaign name is complete.
Add "utm_source=" then your source.
Add another ampersand symbol (&).
Finally, add "utm_medium=" then your medium.
It's that easy! Here's how ours would look:
http://marsello.com?utm_campaign=Social-Media-Sign-Ups&utm_source=Facebook&utm_medium=Paid-Ads
For each different source or medium you want to differentiate, change the UTM parameters. For example, you might differentiate visitors coming from a Facebook source by medium. You could state "utm_medium=organic-post" or "utm_medium=story-video" to separate traffic coming from different parts of the platform.
The more specific you go, the more you know what particular channel, content and post type works best. But it's always good to have broader parameters too, for example, you will still want to be able to compare all Facebook traffic from all Instagram traffic.


Final words

If you're putting a lot of resource into social media, but aren't sure if all the likes and comments are actually growing your business, you're not alone.
Start making your social media work harder by taking away barriers to purchase (product tagging, using a link in bio, etc) and track the results directly using UTMs, promo codes and sales tracking.
It's also important to have a clear plan, while leaving some wiggle room in your calendar for jumping on trends as they come up.
Looking for an all-in-one social planning, scheduling and sales tracking tool? Marsello provides you with tools to easily create, schedule and publish social media content.
Marsello: All your marketing, in one place.
Send email and SMS campaigns to customers
Create set-and-forget marketing automations
Schedule social posts and track the impact on sales
Track the direct impact of all your marketing on revenue
Build a customer database
Published Sep 14, 2022 9:58:14 AM