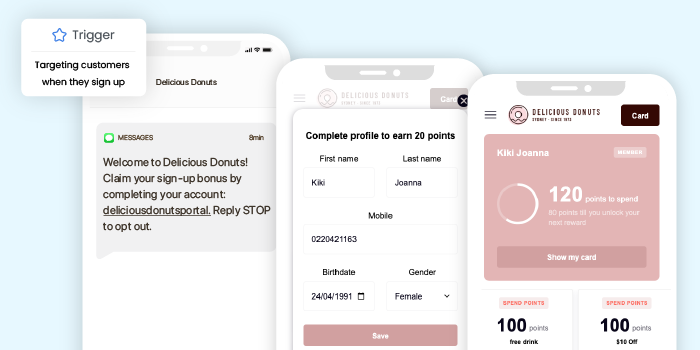 Order up! Marsello is now even better at serving hospitality businesses.
Written by Alice Cresswell

 |   Read
When it comes to converting customers into regulars, hospitality businesses have their own unique challenges. In Marsello's latest release, 4 new features make it easier for merchants to build customer relationships.
Do you know who your regulars are? More importantly, can you contact them?
Sure, you probably have a good idea of who comes through your doors the most. Most businesses have built rapport with locals who come in daily, weekly, or monthly.
But ideally, you know how to engage with them and when. Rather than having a reactive relationship, you want to keep regulars in your orbit - incentivize them to increase their order size, reward them for referring friends, and more.
Myth: It's not worth the effort of getting customers to sign up to your marketing lists.
Reality: Every customer you add to your database is a customer you can re-engage with through personalized marketing. If you're not signing up customers, you are missing out on valuable data and insights you could use to inform your marketing activities.
---

Quick Links:


---
Here's why hospitality businesses should collect customer details.
By collecting your customers' details, you can maximize your marketing efforts. You will be able to gather data on repeat business, the value of each customer, groups of customers who spend the most, and which campaigns are the most profitable.
Success Story: Pinjarra Bakery
Increase regulars with rewards. Pinjarra Bakery encourages regulars with a rewards program that has 58% of customers visit at least twice and avg. visits of 5 per month. Their reward program has generated over 5000 redemptions and over 40K in revenue.

Here are just some of the ways you can use customer data to increase revenue:
Segmentation
By using Marsello's default segments, or creating your own custom segments, you can send targeted, personalized marketing messages to the right customers. Reward your top customers with special gifts, or send incentives to those who haven't been back in a while. Whatever the message, send it to people who are the most likely to engage.
Automation
When your customers are automatically being segmented into groups, you can start sending timely automated emails or SMS messages. For example, instead of manually sending incentives to your 'at risk' customers, have a flow set up that does this in the background, whenever a customer matches certain criteria.
Testing & Measuring
Test what campaigns work best. Do double points days bring in the most revenue? Which segments respond best to these campaigns? Having access to customer purchase data is invaluable for understanding what marketing actually works, and what doesn't.
As you can see, customer data is exceedingly powerful - having these insights could even turn your current marketing strategy on its head.

However, when you've got a queue of hungry customers waiting for their Monday coffee & scone fix, you and your staff want to make point-of-sale as efficient as possible. Asking customers to create an account can feel like the absolute last priority.
But let's make one thing clear - collecting details does not have to be a painful experience!
4 new features that make it so much easier for hospitality businesses to build customer relationships.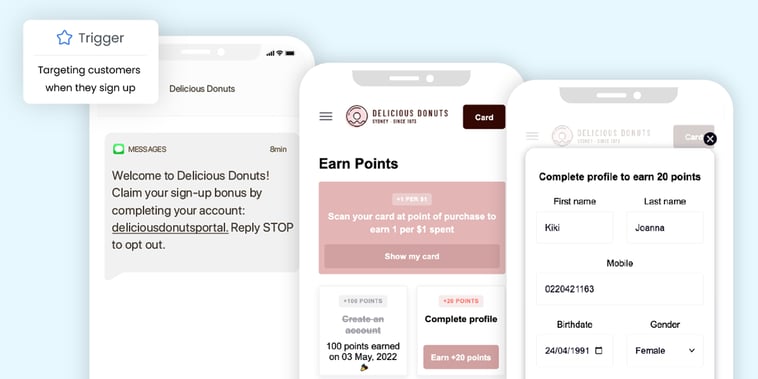 SMS registration at point-of-sale

In a nutshell: This is very simple. You only need to collect two things at POS: name and mobile number. Once these basic details are collected, a customer profile will be created.
From this point on, sales made by this customer will all be attributed to a single customer profile in Marsello, provided they reference their mobile number upon their next purchase.
This allows you to track how much a customer spends each time, what their average purchase is in $, and how regularly they visit (or buy online, if you have an eCommerce store too).
Complete customer account (via SMS automation)

In a nutshell: Automatically trigger an SMS to send to customers after point-of-sale so they can fill out additional details while they wait for their order.
Once the POS transaction is complete, your customer will receive an SMS to prompt them to finish creating their account on the new in-store customer portal.
This saves you time at POS, and gives customers something to do while they dine-in or wait for their takeaway order. They won't need to feel like they're holding up the line, and can relax while they complete their account and explore your loyalty and rewards program.
Registration QR codes

In a nutshell: Customers can scan a QR code in-store or on print media. This will direct them to take an action (for example, sign-up to marketing, create a loyalty profile, or redeem an offer).

Since QR code scanning technology was integrated into smartphone cameras in 2017, adoption rates picked up massively. The pandemic has only further solidified their role in our lives - now they are familiar, easy for users, and take seconds to create.
Now, you can generate QR codes right from within your Marsello account, and add tracking details including site tracking and custom tags.
Then, download and import your code into Canva (or your preferred design tool) to add your own branding or design. Alternatively, add your codes to your print media - menus, coasters, magazine ads, or window signs.
By adding site tracking, your customer will be added to that site's POS straight away. With custom tags, you can get even more granular - for example, you can track where in the venue the QR code was scanned, what event the customer was at, or even which specific poster design people scanned more frequently.
In-store customer portal

In a nutshell: The customer portal is a central place where customers can view their loyalty profile, points balance, available loyalty rewards & email discounts. It also holds their membership card, which they can use to identify themselves faster on their next order.
New customers will access this via the SMS registration automation post-POS purchase or when scanning the registration QR code (as above). Initially, it will display a welcome screen where they can sign-up for their account using their Google or Facebook account. This will capture the customer's name and email address, and when they create an account it will opt-in the customer to email & SMS marketing.
Once they've signed up, customers will be able to save the portal to their mobile home screen, so they can easily check their points balance and available rewards or discounts.
The portal also contains a membership card with a QR code. If you have a 2D barcode scanner, you'll be able to scan customer cards at POS to quickly identify them and attribute the sale to their profile.
Watch the demo video
Want to try these features out?
For now, these features are available to…
Soon, we'll be making these more widely available to other merchants as well - so keep an eye out!
Published May 4, 2022 1:38:21 PM