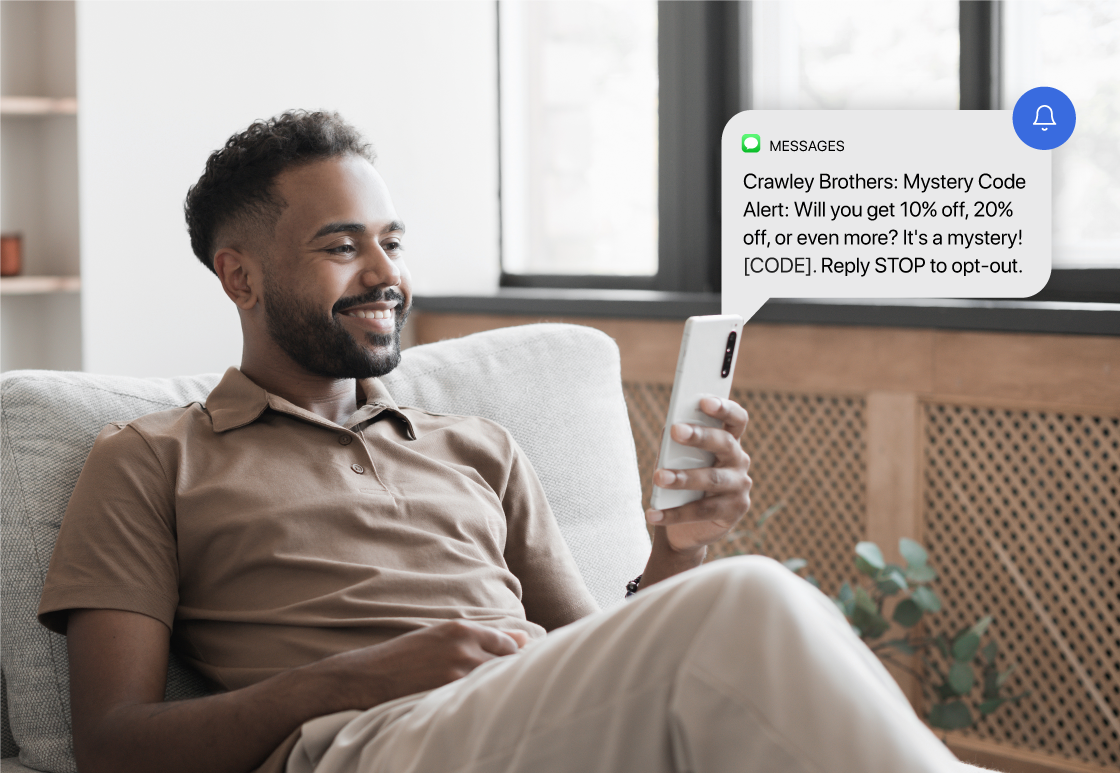 5 SMS Campaigns That'll Have Customers Eager to Share Their Number
Written by Alice Cresswell

 |   Read
Quick links:
---
We all know what bad marketing looks like. It's the emails we bulk delete, the text message that gets us up on the wrong side of the bed, and the intrusive ad in the middle of your Facebook message inbox.
We sign up for things left right and center, opting into emails when we buy something, accepting SMS marketing when we make an appointment… Then before we know it we're inundated with marketing messages and we're subjected to a total advertising overload.
That's why, as business owners, we're hesitant to send too many emails, or annoying texts, or set up pesky retargeting ads that don't turn off even when customers have already bought the dang thing.
However, when marketing is done well, we don't see it as marketing. We see it as a story, or a relatable anecdote, or a club we are genuinely excited to be part of.
So how do we take SMS—one of the more intrusive forms of marketing—and make it exceptional? How do we make SMS marketing so good that customers will be throwing their mobile numbers at us, begging to be part of our list?
The fact is, SMS has a reputation as one of the most annoying forms of marketing because it is the most direct. It comes right to the user's personal device, without the need for an internet connection or mobile data. It's almost guaranteed to be delivered and opened. There's really no barrier shielding the recipient from an annoying message if they're opted in.
But what makes SMS annoying also gives it its edge.
So here's what we're going to do. We're going to design 5 creative, tantalizing & clever SMS campaigns that you can use or modify and promote as part of your brand's customer experience.
Ready to say goodbye to SMS opt-outs?
Goal: To attract new text subscribers and build up a marketable database for SMS.
Benefit: Better engagement, higher read rates, and more return on your marketing investment.
Understand that these campaigns should be exclusive (or at the very least first access) to text message subscribers. In return for their mobile number and marketing consent, you want to make it well worth their while. Customers need to know that opting out means they will no longer have access to these incredible offers and campaigns.
Here are 5 SMS Campaigns That Will Have Customers Eager To Share Their Number.
---
1. The Very Secret Sale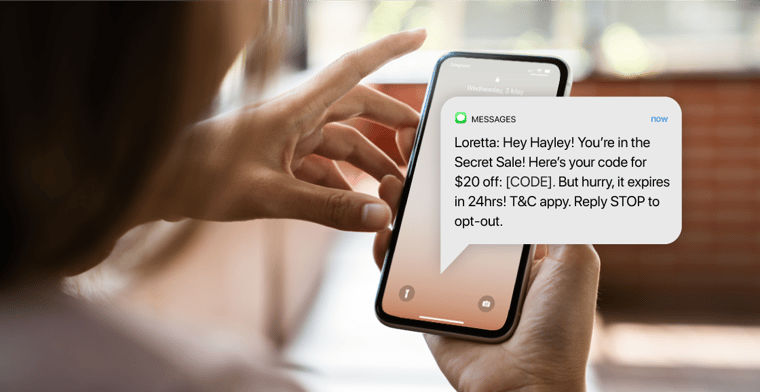 Every month, 1 text subscriber is chosen randomly to participate in a secret sale. This creates hype and excitement within your database, and you can use it in your list of amazing things your subscribed customers get access to. This campaign creates a sense of exclusivity and urgency, while also encouraging customer engagement, referrals and social shares.
Yep, it's pretty much just a one-off discount or voucher for one person, once a month. But make the offer tantalizing enough that everyone wants it.
Steps:
Export a list of your SMS subscribers as a CSV file (or download a full list, and sort by SMS subscribers, deleting the rest).

Use a Random Name Picker like this one, where you can upload a CSV file of your database

Pick a name at random (or as many as you like).

Create a campaign list or segment with that customer.

Generate a single-use or customer-specific discount or voucher code. Adding a time limit or expiry date creates urgency.

Send an SMS campaign (copy the text below and modify to your liking).
Message copied to clipboard!
Now paste into your next SMS message.
[YOUR COMPANY]: Hey [name]! You're in the Secret Sale! Here's your code for [$50 off]: [XXXX]. But hurry, it expires in 24hrs! T&C Apply.Reply STOP to opt-out
---
2. Mystery Discounts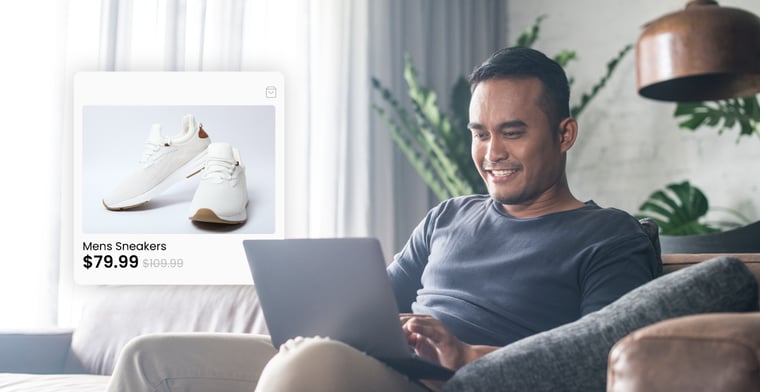 This campaign creates a sense of excitement and anticipation for customers, as they wait for periodic messages with surprise discount codes. By keeping the value of each code a mystery, you'll incentivize customers to jump online and add items to their cart to apply the code.
You can use this type of campaign alongside other campaigns and releases, for example for early access to new collections, to further increase customer engagement.
Message copied to clipboard!
Now paste into your next SMS message.
[YOUR COMPANY]: Mystery Code Alert: [XXXX]. Will you get 10% off, 20% off, or even more? It's a mystery! Expires in 8hrs! T&C Apply.Reply STOP to opt-out
---
3. Secret Menu Items or Freebies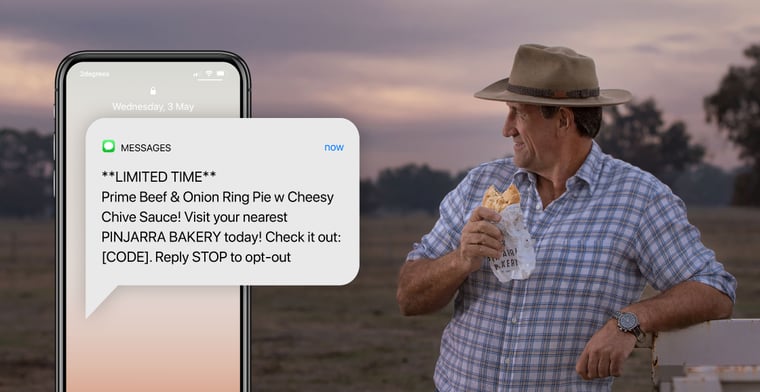 In one of the most creative SMS campaigns we've seen, Pinjarra Bakery promotes exclusive meat pies to their local customers. They'll create whacky recipes and do a one-off batch, then send a text just before lunch to let customers know.
Campaigns like this are great. they're time-sensitive, they're fun, and they get customers excited to try something new and different.
Message copied to clipboard!
Now paste into your next SMS message.
**LIMITED TIME** [SECRET MENU ITEM]. Visit [YOUR COMPANY] today. Hurry, we always sell out fast!Reply STOP to opt-out
You could use this same idea for secret menu items or order freebies too.
Message copied to clipboard!
Now paste into your next SMS message.
Say "[PASSWORD]" when you order from [YOUR COMPANY] today and we'll add a large fries to your order for free. Offer ends 5pm today.Reply STOP to opt-out
---
4. Pop-Up Store Google Maps Link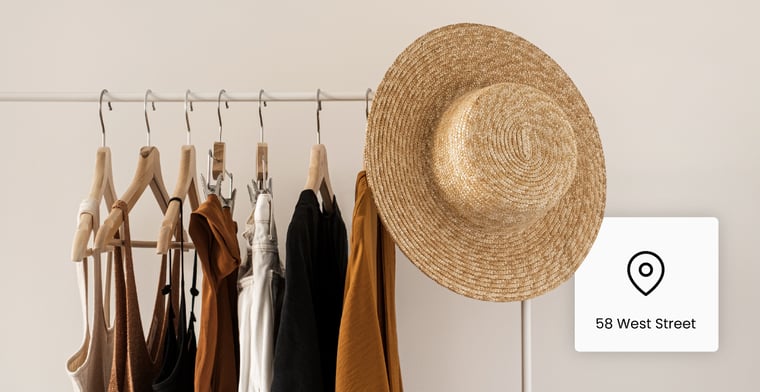 Running a pop-up store? Offer first access to the pop-up store Google Maps location to SMS subscribers. When promoting your pop-up store, you can create a landing page or add a form to your Link In Bio. Ask customers to add their mobile number to receive the location 24 hours before the store opens.
Pop-up stores can offer an air of mystique and exclusivity. They're outside your usual store location, run for a limited time, and often promise the best deals and last-of-run items.
I was recently out shopping and needed a different size in the hoodie I wanted. I was told that there was only one left, that it wasn't available online or in any of the physical other stores, but that it would be at the pop-up, happening later that week. Plus, the store assistant whispered as an aside, it would be half the price.
I got there on the day and the line was halfway down the street.
Pop-ups and markets are a popular way for stores to run sales and move stock quickly. Having everything for sale in one place, and for a limited time, creates urgency and demand. They are also great for ecommerce/DTC brands who want temporary, cheaper floorspace to build their brand presence in a particular market.
Message copied to clipboard!
Now paste into your next SMS message.
**THIS WEEK ONLY**[YOUR COMPANY] pop-up store.Location: [LINK]. Open 10-5 until Friday or while stocks last. Reply STOP to opt-out
---
5. The Birthday Offer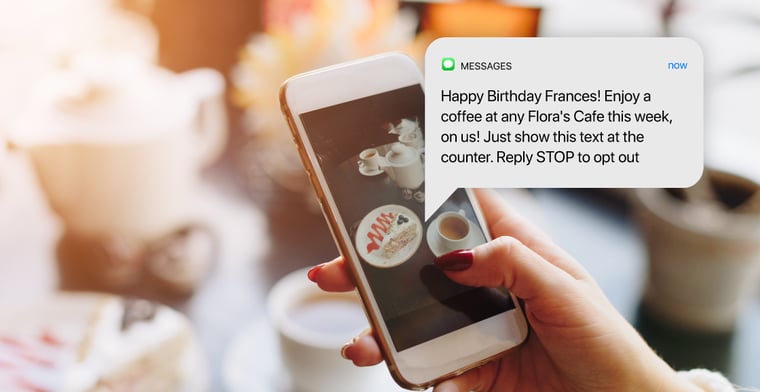 Last but certainly not least! Most customers expect birthday offers when signing up for a loyalty program or marketing emails these days. But why not offer something extra to SMS subscribers?
This campaign creates a personalized experience for customers, making them feel valued and appreciated on their special day. Additionally, by setting a time limit on the offer, you'll create urgency and encourage customers to take advantage of the offer before it expires.
Message copied to clipboard!
Now paste into your next SMS message.
Happy Birthday Frances! Enjoy a coffee at any Flora's Cafe this week, on us! Just show this text at the counter. Reply STOP to opt out
---
Before you begin: Tips From The Experts




Above: Wildfang leads with the benefit of opting in when promoting their SMS marketing program at checkout.
Be upfront. Dominoes lead the charge in transparency, letting customers know before they subscribe to expect no more than 6 text messages a month. If you're open, people know what they're signing up for and will be less likely to opt-out.
Lead with the benefit. Retailer Wildfang asks customers to opt-in by self-selecting whether or not they want a discount. Be clear under the initial copy/headline that customers are signing up for SMS marketing, and make sure you deliver the discount in the first SMS message you send them (automate it to be extra certain).
Keep compliant. Make sure you're staying within global, regional and industry SMS legals. While we stay up-to-date with the rules and regulations, we're not legal experts, so make sure you check the TCPA and other legislation and guidelines to make sure your campaigns don't miss the mark.
Final words
SMS marketing campaigns can be highly effective if they are designed well, creating a sense of excitement and exclusivity among customers. As SMS is the most direct form of marketing, it is important to ensure that campaigns are designed with care to avoid being seen as intrusive. The campaigns outlined above all offer creative and tantalizing options for customers to engage with a brand through SMS. By providing exclusive access to offers and campaigns, customers are more likely to opt-in to SMS marketing, leading to higher engagement and return on investment.
---
Meet with one of our experts and be in to win 1000 free SMS credits.
Discuss how SMS could work best for your business. Meet with an SMS expert before the end of June and be in to win 1000 SMS credits.
Standard T&Cs apply. Additional competition terms: 1) Offer not available for SHAFT-regulated merchants. 2) To be eligible, you must book and complete a call with a Marsello SMS expert before UTC 11:59pm, 30th June, 2023. 3) Only one entry per eligible business will be accepted.
---
Read more: 7 Steps To Building A Profitable Loyalty & Rewards Program
Published May 4, 2023 3:48:21 PM