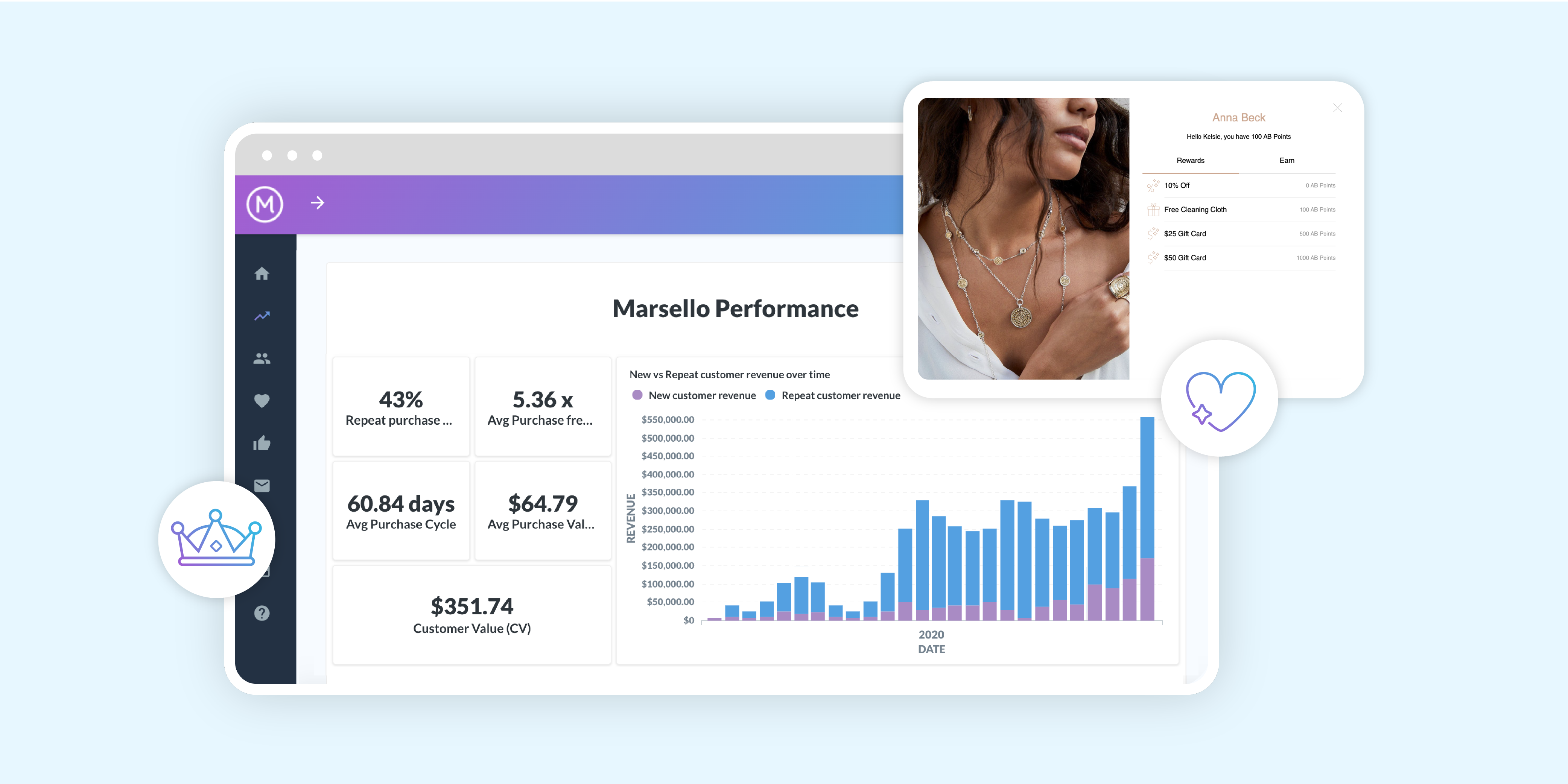 Creating effective customer segmentations through loyalty programs
Written by Lucy Bekker

 |   Read
Quick Links:


---
Have you ever wondered why marketers talk about why you should segment customers so much?
It's because it can seriously boost your bottom line!
One of the best ways to help you segment your customers is with an engaging loyalty program. With detailed customer data pulled from your customer loyalty software, you can target different customer groups based on your marketing goals and individual campaigns. From your most loyal customers to infrequent shoppers who are at risk of leaving your brand community, you can develop a targeted, personalized marketing campaign for each customer group.
Personalization using segments drives sales and boosts loyalty.
A survey by Segment has shown that 49% of respondents have purchased a product they weren't planning to buy because of tailored suggestions, and 44% said they would become repeat buyers after experiencing tailored shopping experiences.
If you're ready to see why customer segmentation is so beneficial, what segments you should be targeting and how to keep customers coming back using loyalty programs, then keep reading.
What is customer segmentation?
Customer segmentation, specifically behavioral segmentation, automatically groups shoppers based on their shopping habits. It shows you who your best customers are, which shoppers are more likely to make repeat purchases, which ones are slipping away, and more.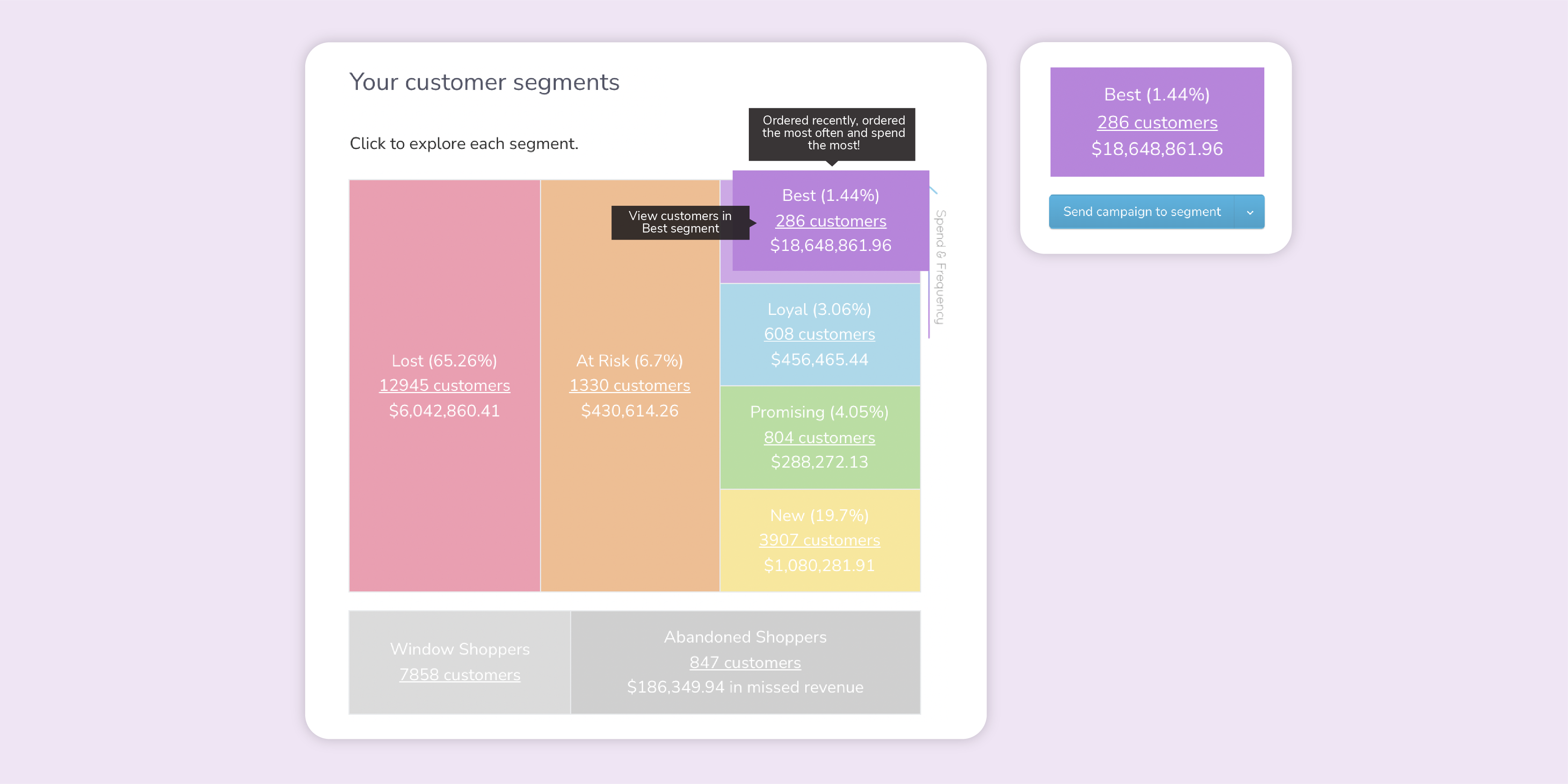 By using behavioral segmentation, your brand can easily identify your most valuable customers and focus promotional efforts on those most likely to purchase again. This is commonly referred to as RFM, which stands for:
Recency – When the customer last purchased from you.
Frequency – How often they buy.
Monetary – The amount they've spent.
Put simply, RFM looks at the overlap between when a customer last shopped with you, how often, and how much they spent. This allows you to target your best customers with greater accuracy.
The most common segments are:
Best
Loyal
Promising
New
At-risk
Lost
Once you identify which category your customer is in, you can strategically market to them and increase the chance of them converting.
Want to know even more about what RFM is? Read this in-depth guide to customer segmentation with Marsello.
Why segment your customers?
One of the main benefits of customer segmentation is that you can put your marketing budget where it matters: your existing loyal customers.
Depending on what industry you are in, acquiring a new customer can be anywhere from five to 25 times more expensive than keeping an existing one. As Forbes put it, "acquiring new customers is important, but retaining them accelerates profitable growth."
As well as targeting loyal customers and rewarding them, you can capitalize on less engaged customers. By sending marketing campaigns at optimized moments in their journey, you can reduce customer churn rate and improve marketing ROI.
If you're still wondering why you should segment, those results are just the beginning.
What are the benefits of customer segmentation?
You will quickly learn that the benefits of customer segmentation positively affect your customer as well as your business.
Firstly, it is the easiest way to personalize their shopping experience.
A Segment survey found that 71% of customers are frustrated that their online experience wasn't more personalized. Consumers are craving connection and an elevated shopping experience, and segmentation does this for you automatically.
Not only does segmentation improve customer experience through personalization; it improves your revenue.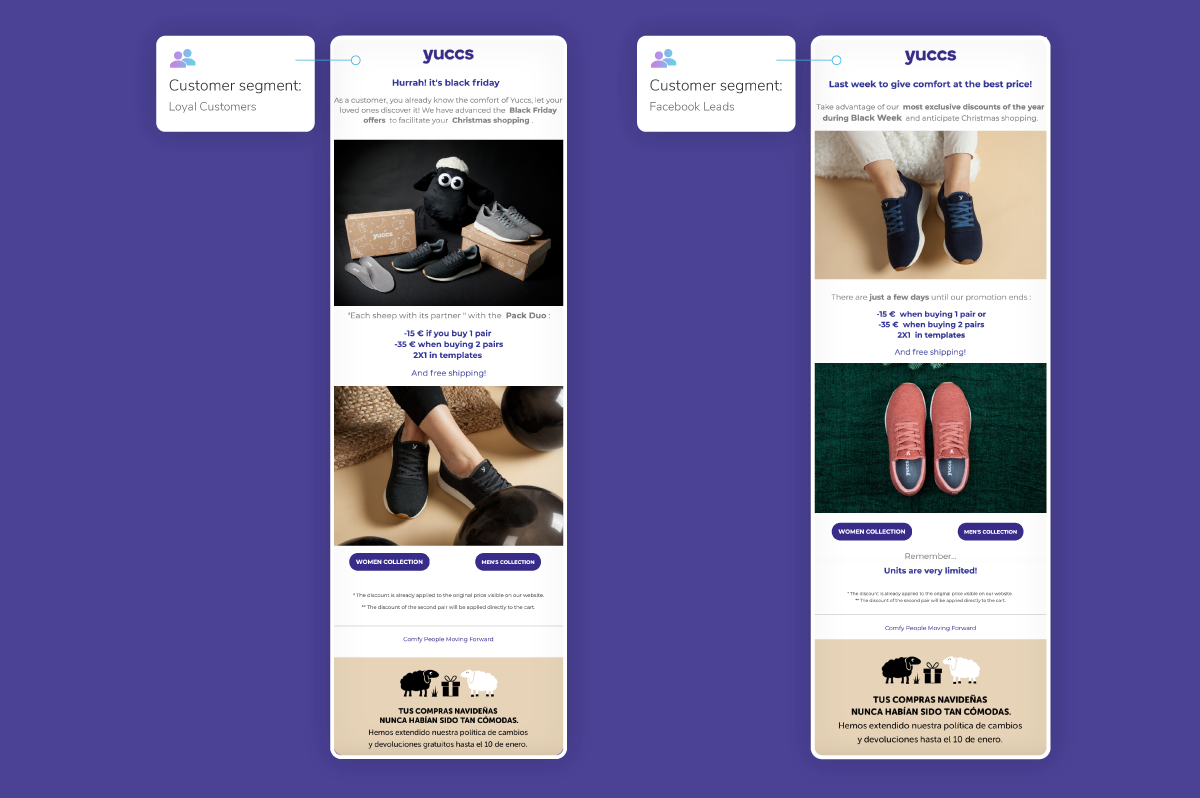 Take sustainable European shoe brand Yuccs. They use Marsello to create powerful email marketing campaigns that engage different customer segments and increase conversions. In just a year and a half of targeting different segments, Yuccs increased email marketing revenue by a whopping 1,733% (yes, really).
Those benefits speak for themselves!
Defining your customer segments
The first step of successful customer segmentation is defining your customers. Where are your customers in their buyer journey and what do they want? This will help you to personalize their experience and maximize the effect of segmentation.


1. VIP Customers


You can probably already identify your VIP customer segmentation.
Creating a VIP loyalty program not only rewards your best customers; it also makes it easy to segment them.
Carolina Lifestyle is a perfect example of targeting loyal customers. They are a lifestyle and fashion brand with an incredibly generous loyalty program (members automatically get 200 points just for signing up!).
Because they have a loyalty program that defines their most loyal customers automatically, they can send targeted campaigns. They send customers emails relating to their loyalty program, as well as beautifully designed One-off Campaigns to keep their customers up-to-date.
And it works – the company's average customer lifetime value (CLV) is $716.94, and about a third of Carolina Lifestyle's customers return to shop again within two months.
If you haven't started segmenting your loyalty program members and other customer groups, this is your sign to start now.

2. At-risk customers

At-risk customers are your customers who haven't purchased recently. They are at risk of "slipping away" and forgetting about you.
Because they have already purchased from you (i.e. you are not acquiring a new customer) it is worth your time and money to target this group specifically.
Identifying at-risk customers is also important because it is easier to win them back now rather than wait for them to become "lost" customers.
You can identify this segment by a few factors:
They have made a purchase before but you haven't seen them in a while
They visit your website a lot but don't actually make a purchase
They abandon cart more than once
This can be frustrating, but not all is lost! We will show you below how you can get these customers coming back.
3. Lost customers

Lost customers are people that made a purchase but have completely fallen off your radar.
Firstly, don't feel bad. Churn rates in the retail industry are about five to seven percent per year. Some customers will naturally fall off.
However, it is still more cost-effective to win this customer segment back than bring in new ones.
This particular segment can be tricky. It's not like a new customer who saw your product and it wasn't what they wanted. If they have purchased in the past and aren't now, it might mean that you are no longer meeting their expectation in some way!
Like all customer-focused strategies, you need to put their needs first when you are trying to win them back.
How to keep each of these customer segments coming back
The best part about customer segmentation is that it encourages customers to come back. Repeat customers spend 33%, so these strategies are worth the effort.


1. Include tiered loyalty for VIP customers
One of the best customer segmentation strategies is to leverage your loyalty program. You should always be rewarding the customers who already know, like, trust and rave about you!
A tiered loyalty program matched with segmented marketing is the ultimate combination for targeting engaged customers.
Let's look at an example of VIP customer segmentation.
T.C. Elli's uses segmented SMS marketing to target their Best, Loyal, Promising, New, and At-Risk customers. However, they take it one step further and segment their loyalty program customers called "TCE Honeys".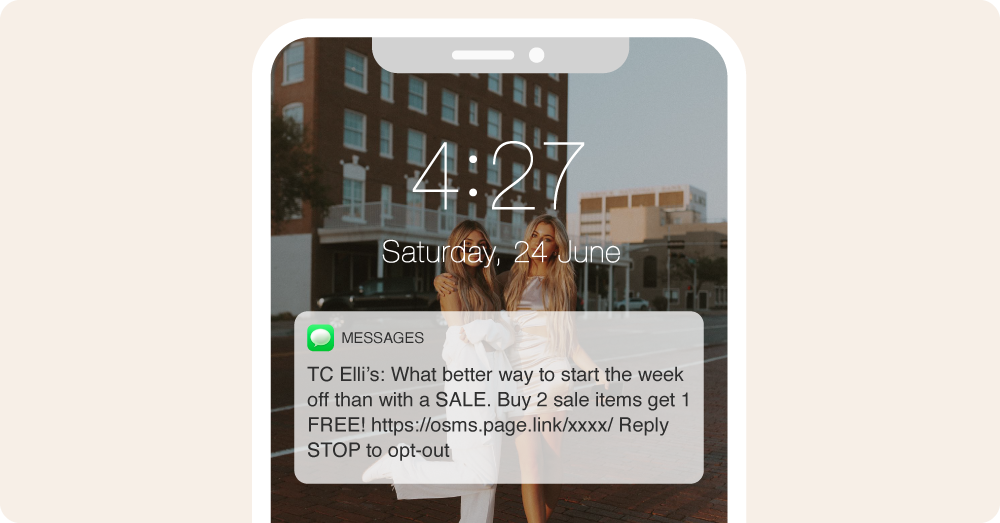 The T.C.E team ran a promotion that allowed shoppers to get a free item with select purchases. They sent a promotional text to their "Best," "Loyal," and "Promising" segments to ensure that their top customers would be some of the first people who can take advantage of the deal.
Combined with their in-store promotions and stunning email marketing, they saw a 51x ROI from their initiatives.
Rewarding your best customers is a sure-fire way to keep them coming back.


2. Connect with at-risk customers with email marketing
Email marketing remains one of the highest-converting forms of marketing. You can make the most of your at-risk segment by speaking to them directly.
The trick is to send them a non-invasive email that gives them a good, time-sensitive incentive to come back. We promise this strategy pays off!
For example, Yuccs shoe brand segmented their customers based on their purchase history and behavior for a Black Friday sale. Those who hadn't purchased in a while received a different message than those who have joined the Yuccs mailing list but are yet to make a purchase.
This strategy enabled Yuccs to connect to subscribers which engaged them in unique and compelling ways while maximizing conversions and sales.
And Yuccs' efforts paid off. During the week of the Black Friday campaign, the brand saw a 38% revenue boost!


3. Win back lost customers with rewards and offers
Winning back lost customers can be difficult, but not impossible.
Like your at-risk customers, you can target this segment with a no-pressure incentive to come back.
One way to win back a lost customer is to offer them in-store points in exchange for a simple feedback survey.
This achieves several things.
Firstly, you can get feedback on why you might have lost them! This helps you improve your customer service. Secondly, it reminds them that you exist and that they can use points in-store. Thirdly, you can get back on their radar without asking them to make a purchase.
Final words

This is your sign to segment your customers. Not only does it increase conversion rates, but it also boosts revenue, rewards your loyal customers, and optimizes your marketing strategy by targeting existing and previous customers.
The best part? Marsello can automatically group your customers based on their purchasing history and behavior, so shoppers are already segmented automatically, making it easy to create these targeted campaigns. There's no time like the present to boost your revenue and loyalty programs!
Published Nov 25, 2021 10:38:20 AM