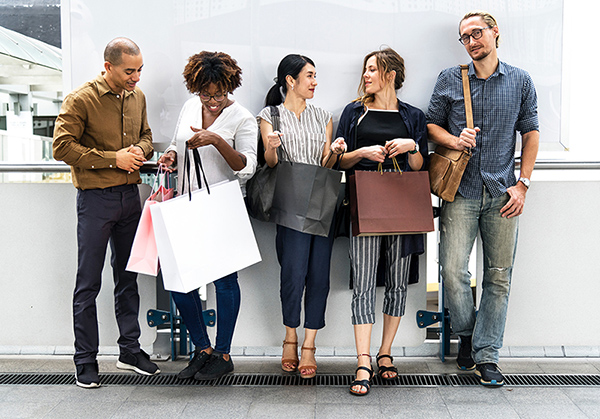 5 Ways to Capitalize on Your Holiday Marketing Strategies
Written by Sophie Macdonald

 |   Read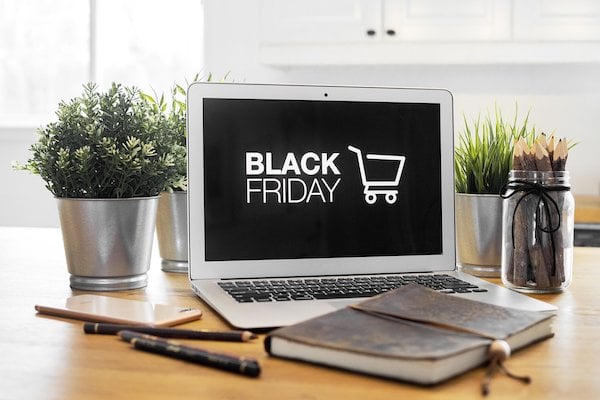 Holiday Marketing is Worth The Effort
Cyber Week, the holidays stretching from Thanksgiving to the following Monday, is the golden goose of retail revenue, and it lands right in the middle of the holiday season stretching from Halloween, right the way into the new year. CNBC reported that Cyber Monday (the Monday that follows Thanksgiving) is the single biggest day of the year for online shopping making it an essential focus for retailers.
BigCommerce reported in their blog, Black Friday: An eCommerce Survival Guide that "the few short days from Thanksgiving through Cyber Monday draw about a fifth of holiday sales all season long". This stat alone cements Black Friday and Cyber Week as unmissable marketing and revenue events for retailers, just as much as they are unmissable shopping events for customers. With approximately 58 million people shopping online and 51 million choosing to shop in-store, it's easy to see the value in retailers tapping into that revenue through marketing campaigns.
So there's no doubt that tapping into Cyber Week is a key revenue agent for retailers. For these reasons and more, we're focusing this holiday marketing blog on the single biggest revenue weekend of the year, although the tools you take away from it can be applied for pretty much any event!
So how do you get your store noticed in a sea of marketing during a busy holiday period, and how do you do it quickly?
If you're unsure where to start, sometimes it's best to take your cues from the best trends of recent years. Consider 2017 the year of personalized, holiday-themed email flows and curated gift guides.
But before you consider how you can approach the ideas from previous years, check out the following tips picked to help you prepare for the impending Cyber Week madness.
A Holiday Marketing Plan to Showcase Your Brand
A 2015 study by the National Retail Federation suggested that effective marketing of your brand before and during Cyber Week can increase sales by up to a shocking 30%, this even increases to 40% in some industries (such as jewelry). Use this knowledge to your advantage! Even if you're behind on your email marketing, you could try to find a moment to create a series of email flows that offer exclusive discounts and deals for your store during the Cyber Week chaos.

This is a great time to mention that Marsello's email templates library is a great place to find ready-made templates that will allow you to easily design and send emails even in a time-crunch.
Just to be thorough, here's an example of a manually created email flow which could be the the push you need to see holiday success and marketing ROI.
Let's break these down:
Email 1:
Campaign Launch! Announce your enticing Cyber-focused deal/sale and give a clear call to action to your customers to shop with you – an idea for a first email is a gift-guide or staff-picks announcement.

Include some branded, appropriate and fun graphics to make your email instantly recognizable as a Cyber Week related email which is also linked to your brand.

Add another call to action at the bottom which suggests the customer checks out more products or visits you in-store at a list of your brick-and-mortar locations.
Extra note: you could segment this email flow so that those who are making a first-time purchase are offered a similar email immediately after their purchase, but their email includes a coupon code valid only for cyber-week, incentivizing them to shop again with you in the near future.
Email 2:
Your call to action needs to remind your customers that your sale or deal is ending soon and convince them to shop before it ends. A simple 'Our sale is ending soon/ on [date/day of the week]. ORDER NOW!' is a tried and true CTA.

Your cyber-week visuals for this should be fresh and attention-grabbing, reminding your customers that you're creative and current.

Include your shipping costs or terms so that your customers are reassured about their shopping experience with you.

Email 3:

Your sale ends today, tomorrow, or in [X] hours. With an imminent end, remind your customers that this is the last day to shop and they shouldn't miss out.

Graphics and images could be changed to include themed gift-guide ideas or suggestions from popular purchases throughout the week.

Marsello offers an email flow option which shows the customer similar items to those that they've previously purchased. Including smart AI that personalizes the email will help your customers to feel as though your items meet their needs.

Email 4:

Thank those of your customers that made a purchase during Cyber week for shopping with you. Or you could send everyone a reminder of the next holiday in your calendar or that it's simply coming up to the festive season and now is the perfect time for them to get on top of their shopping.

You can always add themed graphics which say thank you but why not show off some of the top-sellers from the week if you haven't used this already.

If there are any delays in shipping or updates, make sure to let your customers know why this is the case.
Get Creative & Be Consistent
We've compiled a shortlist of these 5 ways that you can make the most out of your marketing and see results from just a few quick changes:
1: Add themes and graphics to your website and social media marketing.
Whether this is just updating your website's banner with a cute graphic that includes some of your products, or a fully adapted homepage/landing page, the end-game is to narrow your customers' focus onto the products you're hoping they will buy. Some stores even use a product countdown or time-until-sale-ends timer so that customers feel the pressure to shop and avoid missing your store's deals.

Australian pet-product store, Peticular, is a seasoned pro at seasonal and festive marketing. Check out the way they've used social media to advertise their Halloween-specific items by including this adorable photo of a bandana-wearing pooch. They are also quick to update their store and email marketing with similar graphics which show off their brand but also their products.
We love that they've cleverly included the item's price, clearly displayed with the additions of a 'products shown' button below the image. Peticular have also gone the extra mile and included a link in the description to even more bandana designs. They do a great job of using their marketing to show off their in-season and cutest items. We recommend keeping an eye on them for inspiration.
One key part of your holiday marketing to remember is making sure that your images are optimized and meet the needs of your customers. Think of all those stores with beautifully branded festive images and how much more inclined you are to buy from them.
2: What deals can you offer in terms of shipping?
Maybe free shipping isn't an option, but what if customers are spending over $100? In a survey conducted by BigCommerce, 80% of Americans cited shipping costs and speed of shipping as a major factor in determining where they shop, with 66% deciding not to buy entirely because of shipping costs. Even a small token to show that you understand this could be the difference between a sale or not.
While you may not be able to offer free shipping, no matter the amount of a customer's purchase, perhaps you could offer it to local buyers and specific locations, or perhaps you simply offer fast-tracked shipping with a tracking code. What about free returns? Giving your customers a sense of security over their online purchases will make them feel even more justified in their choice to shop with you.
Consider creating a seamless shipment and tracking system so that your customers feel your support, even at the busiest times of the year. One example of this as a store ad-on is Aftership. Basically, you're giving the power back to your customer to follow where their item is at, and when to expect it. Cut yourself out at a middleman and forget the days of chasing couriers.
3: Be clear about what your deal or sale terms are.
Your customers are less likely to buy from your competitors if they feel the sense of urgency that the impending end of a sale brings, particularly if they've shopped with you before and trust you to look after them at such a busy time of year.
While we're talking sale ends, don't be afraid of extending that sale as well. Sometimes giving people an extra dale to check your deals out is the extra push they need to make a purchase. There's a lot of demand in the days that follow on from holidays – give your customers a little push and remind them why your products are worth the extra purchase.
Giving a clear explanation of your timeline shows that you're only doing this deal for a limited time, even if it's a little beyond that of other store's sales, says to your customers perhaps this is the best time for your customers to hunt down that item they've wanted for so long or to tick another item off their gift-list.
It's worth a quick mention that a flash sale or one-day deal isn't outdated. With the rise of websites that offer a deal for just one day, there's room to compete, just remember to keep it on theme. Cyber week means that it's cyber exclusive so this is a great time to out some select items on sale and advertise them through your emails and social media with that theme present. BigCommerce agrees – it's the prime time "to capture the target market's attention and up-sell your other products."
4: Speaking of gift lists, why not spice up your blog as a form of gift guide?
Gift guides were the go-to marketing form of 2017 and for good reason – they work! They're a simple way to show off your most appealing, beautiful or theme-appropriate products and to funnel your customers to your site. They also boost customer confidence, which leads the way for customer loyalty.
A shopping guide says to your customers, "I understand what you need, why you're here and how I can make your life easiest for you." It's a low-key 'look no-more' that your customers will find easy to navigate, so the more inviting you make your gift guide, the more successful it's likely to be. Besides, this is one of those cases where everyone is doing it, and you should too but because of that, you need to stand out.
Check out this example from Anthropologie who have a whole landing page dedicated to 'gifts' that sits in their navigation. Their products are all beautifully displayed in a similar style with clean lighting, pastel backgrounds, and essential details.
Gift guides don't need to be restricted to just your website, they make an effective email flow with a clear call to action that says 'Shop now and score great deals on these products, and more!'. Great Lakes Northern Outfitters, a Minneapolis-based men's apparel store, did a great job of this last year. The following email shows a careful selection of their favorite items. They followed these up with links directly to the items which corresponded to the numbered item from the photo.
5: Create and promote a loyalty points system.
Offering your frequent shoppers and brand-lovers an incentive to shop in the form of holiday season loyalty points is a simple way of winning customers back and developing customer loyalty. If you're running a loyalty program (if not, check out Marsello's easy-to-use loyalty program), you've already got access to a golden egg in the form of loyalty. If you haven't tapped into this yet, make it a priority. As BigCommerce point out, customer loyalty is a multi-faceted focus point with long-game benefits.
Customers love to feel special, so let them feel appreciated and looked after in the form of exclusive deals but look beyond the short few months of the holiday season. Use this busy time to direct your customers to your loyalty program, incentivize them to join with exclusive deals or a limited time points bonus for first-time buyers who sign up.
It can be tricky to know what deals or offers will best benefit your store in particular. Marsello has you covered here too! Marsello includes smart suggestions to recommend the optimal reward settings for your particular store, offering your customers the ideal rewards.
Our top tip? Make sure that you can keep up with that marketing from now until the end of your promotional period.
Automation is the best way to do this – take some of the pressure off yourself by scheduling as much of your marketing as you can. Clearly branded email campaigns with simple, enticing call-to-actions, scheduled SMS campaigns, boosted campaigns, loyalty points promotions are all ways that you can ramp up your marketing... and, let's be real here, a little planning before the madness begins can go a long way to easing the stress of a busy holiday period.
Just remember the key is to show off your brand in a stand-out, flattering and appealing way. Offer deals where possible, and give your customers incentive to remain loyal throughout the rest of the holiday season.
And if you haven't gotten a head-start on your holiday marketing yet, get started with a deep-dive into campaigns and the templates library.
Published Nov 15, 2018 12:00:00 AM