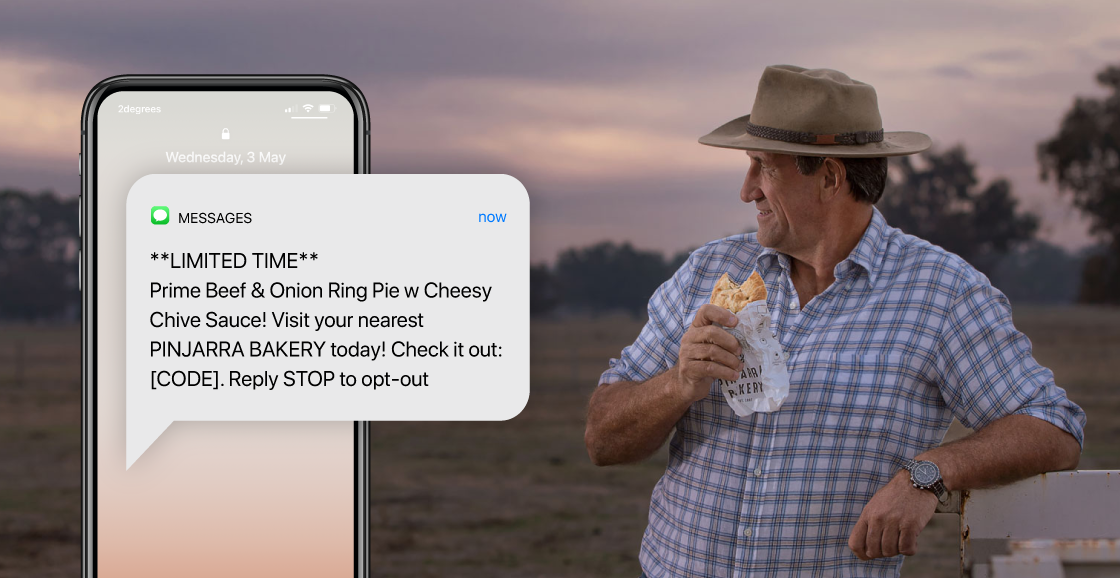 How Big-Box Merchants Are Dominating With SMS: And How You Can Too
Written by Alice Cresswell

 |   Read
Quick links:
---
Massive international businesses like Dominoes, Sephora, Uber, and Airbnb are all using SMS to increase their revenue and efficiency. By leveraging text marketing, they have been able to reach their customers, boost engagement, and drive sales. If SMS marketing didn't work, these brands would not be using it.
So what do they know that we don't?
We've looked at some of the world's most successful brands to look at the anatomy of an SMS strategy that converts.
What did we learn?
1. The science behind running high-performance SMS marketing campaigns actually isn't as complicated as it looks.
2. By not leveraging SMS marketing, we're missing out on a powerful tool that can help us reach our business goals faster and more efficiently.
So, we've wrapped up the know-how in this article, so you can see how they've cracked it. Inside you'll find practical tips and strategies that you can use to create high-performance SMS campaigns that deliver results.
Best of all, it won't cost you much to give the big-brand tricks a go.
---
1. They use the right tool for the job
Big box retailers aren't afraid to try something new or unorthodox if they think it will get the job done. They just ask—what is the best way to reach our customers to achieve this goal?
This is one of the biggest perceived challenges for SMBs. When you're time-poor, it's easier just to stick to what you know.
The reality is, it doesn't cost much (time or money) to test a new channel like SMS. And the learnings are worth their weight in gold. If you chat to one of our SMS experts, you can even be in to win 1000 free credits to play with.
Email or SMS?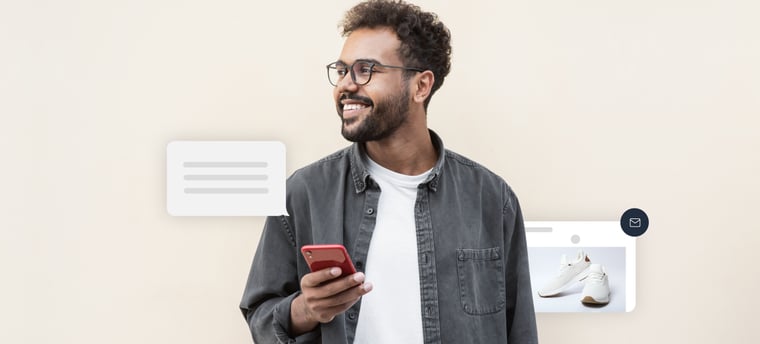 When choosing between sending an email or sending a text, the main consideration should be time. Does the customer need to act on this right away? If so, use SMS.
If you're running lots of these time-sensitive campaigns, though, be careful that you're not overloading your customers. SMS is extremely targeted and almost always opened, so it should be used sparingly for one-off blast campaigns. We'd recommend sending no more than 2 of these to your customers per month.
Another good way to use SMS is for notifications. These only trigger when customers act, so they won't be as intrusive or annoying (customers will understand why they're receiving the message). While emails can be used too, they can sometimes get lost in the inbox. SMS will ensure important messages get where they're meant to go in a near-instant fashion.
| | | |
| --- | --- | --- |
| | Email | SMS |
| You've got a special offer for your top customers, but it's only available today. | | ☑️ |
| You want to showcase a range of new products. | ☑️ | |
| Delivery updates and order notifications. | | ☑️ |
| You want to let customers know that they've just unlocked a new reward in your loyalty program. | | ☑️ |
Chatbots or SMS?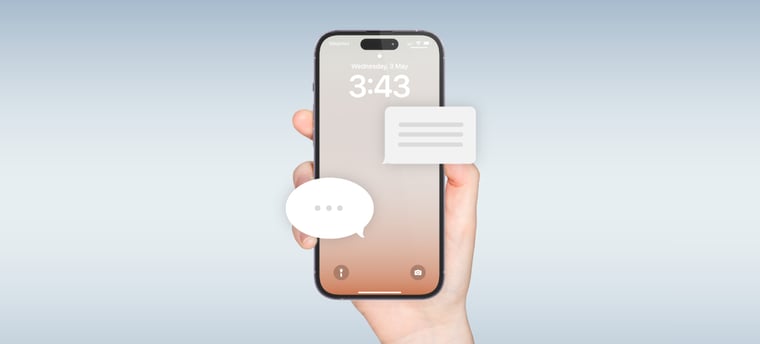 Chatbots are great when a customer is looking for answers in real time. They work well on messaging apps (Messenger, WhatsApp) and on your website. This is mostly inbound, although you may have a chatbot notification to communicate something when customers visit your online shop.
SMS is better for outbound notifications, like when you're running a sale or have a personal, time-sensitive invitation or offer to share. You can also use SMS for automated messages, for example, let a customer know delivery updates on their order.
| | | |
| --- | --- | --- |
| | Chatbot | SMS |
| A customer needs to find something on your website. | ☑️ | |
| Let your customer know about a deal in-store. | | ☑️ |
| Send a special offer to customers who haven't shopped in 60 days. | | ☑️ |
| A customer wants to learn more about your shipping policy. | ☑️ | |
| A customer wants to receive an update when their order is delivered. | | ☑️ |
Digital advertising or SMS?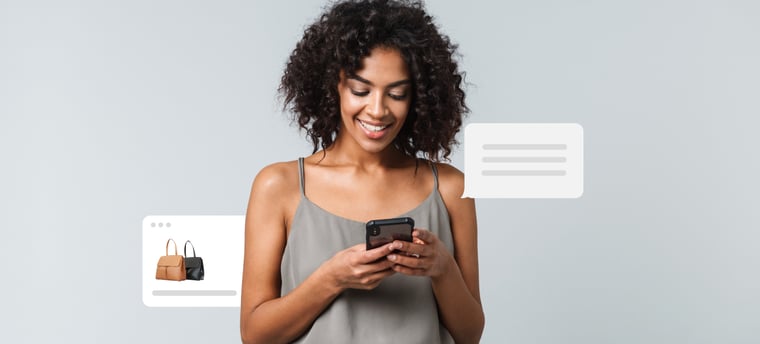 I've heard merchants say, "Why would I send a text when it's so much cheaper to run ads on social media?" I'd respond to this in two parts.
Firstly, is it really cheaper? On average, it costs $17.60 to reach 1000 people on Facebook. For Instagram, it's $8.30. SMS sits almost bang in the middle—from around $10.00 per 1000 recipients. And that's not even taking cost per conversion into account.
Secondly, it depends on what you're trying to achieve. For example, SMS can drive conversions through high personalization. You have more scope to get really specific to the customer; you know more about them because they're in your database.
You could use this same idea for secret menu items or order freebies too.
| | | |
| --- | --- | --- |
| | Digital Advertising | SMS |
| A brand awareness campaign to introduce new people to your brand. | ☑️ | |
| Retargeting ads to remind people about specific items they were browsing. | ☑️ | |
| An abandoned cart notification letting the customer know there's a 10% discount code in their inbox. | | ☑️ |
---
2. They use customer data for lazer-focused personalization
If you're tracking sales (i.e., if you have a digital POS system and/or an online store) you own a lot of customer purchase data. Now, let's put it to use!
I've just been looking at a merchant account where they've automated more than 25% of the revenue. That's purely just from sending campaigns when customers hit specific criteria or make a particular action.
This business is sending automated emails and SMS messages to customers who haven't shopped in a while, giving them a small discount, and generating revenue from that.
They've also got automated SMS campaigns going out to their loyalty members, letting them know when they have points they need to redeem, or when they've unlocked a reward.
This is exactly what the big brands do—they put their data to work. It's really exciting seeing smaller retailers take that concept and run with it. The set-up time is so minimal, especially because SMS doesn't require any design work. And the results are incredible.
There are also businesses who are dipping their toe in the water, giving SMS a go with a one-off campaign, and being absolutely blown away at the impact.
Pinjarra Bakery is an example that comes to mind. This is an example of a merchant taking a step back and thinking: what's the best channel for this campaign?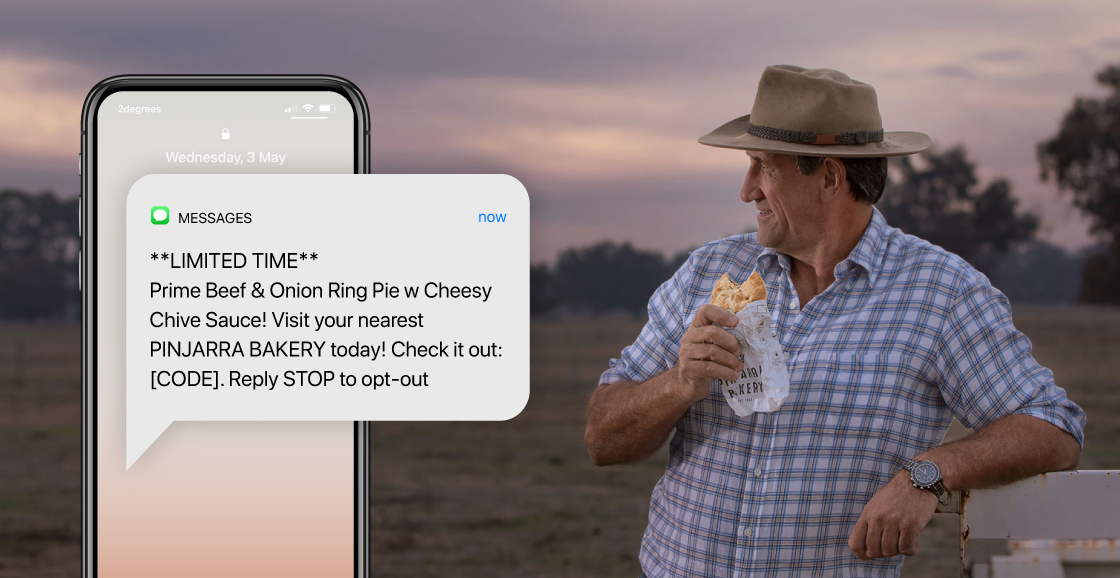 Every month or so, they'll make a once-only, off-menu meat pie. They wanted to let their regulars know about it, but the promotion needed to reach them at exactly the right time.
So they sent an SMS, just before lunch time, to encourage customers to come in and try this one-off pie.
After just two SMS campaigns contributed to 15% of revenue over a 3-month period… it's safe to say, SMS marketing is yet another Pinjarra success.
"Sometimes, I've got to look twice and go—Is this actually real?"
"Sometimes, I've got to look twice and go—Is this actually real?"
- Daniel Pantaleo, Pinjarra Bakery
Another bonus learning: Don't just track customer purchase data, track the brands and products they're buying too. With SKU-level data, you can pitch co-marketing campaigns to wholesalers, negotiate better stock prices, and just generally deepen your relationship with your vendors.
---
3. They give compelling reasons for customers to opt in (and stick around)
If you already see the value in texting your customers, your next challenge is: how do build my SMS database?
The big brands know that people will sign up to get an offer, but will opt out if they aren't promised continuous benefits. If you want people to stick around (and you want to keep reaping the rewards of high conversion rates), you have to make an offer they can't resist.
Case study:

Sephora
Sephora has a finely-balanced strategy to keep a regular stream of SMS subscribers coming in, while sending exclusive offers and insider info to keep them there long-term.
Opt-in incentive: Sephora uses a 10% discount code to get customers signed up for SMS marketing.

Continuous benefits: Then, Sephora shows the value of being on the list. Their SMS subscribers and beauty insiders get access to all sorts of exclusive offers, as well as being kept in the loop with new stores and events.

Case study:
Domino's
Domino's takes a slightly different approach. The incentive to sign up is access to the deals themselves… and they're very good deals.
Opt-in incentive & continuous benefit: Exclusive access to time-sensitive deals.

These deals are so good, you wouldn't find much better. While smaller retailers and hospitality businesses can't compete with the big brands on price, you can still use this method. Even if you don't want to offer 50% discounts, your database will still appreciate a $5 voucher or small freebie.
Finally, to make a lasting impression on your audience, don't be afraid to lean on your customer experience, product quality, and level of service as your point of difference in these kinds of campaigns.
---
How SMB Merchants Can Leverage SMS Marketing
Build Your SMS List: Start by building your SMS list by obtaining your customers' opt-in consent. You can do this by offering a discount or promotion in exchange for their phone number.
Expire Discount Codes: When you use discount codes for campaigns, make sure you set an expiry date to make the offer time sensitive.
Personalize Your Messages: Use customer data to personalize your SMS messages and offers. This could be based on their purchase history, location, or interests.
Time Your Messages: Send timely and relevant messages to your customers to maximize their impact. This could be about promotions, new products, or special events.

Keep It Short and Sweet:

Keep your messages short and concise, with a clear call-to-action. This will encourage your customers to take action and engage with your brand.
---
Meet with one of our experts and be in to win 1000 free SMS credits.
Discuss how SMS could work best for your business. Meet with an SMS expert before the end of June and be in to win 1000 SMS credits.
Standard T&Cs apply. Additional competition terms: 1) Offer not available for SHAFT-regulated merchants. 2) To be eligible, you must book and complete a call with a Marsello SMS expert before UTC 11:59pm, 30th June, 2023. 3) Only one entry per eligible business will be accepted.
---
Read more: 7 Steps To Building A Profitable Loyalty & Rewards Program
Published May 18, 2023 3:14:52 PM