Loyalty Program Designs to Increase Customer Loyalty
Written by
Sophie Macdonald
 | Read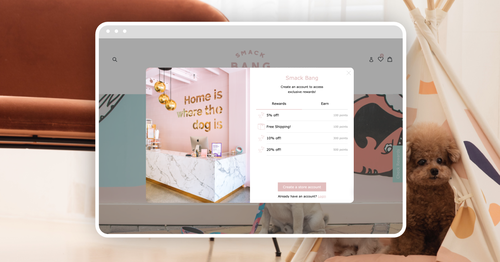 With Marsello, there are a variety of options for loyalty widget and tab designs which give you the ability to adapt the designs of your loyalty program to best suit your store's brand, encourage customer
Loyalty Widgets That Show Off Your Brand
Widgets are used in place of loyalty explainer pages and are readily available on retailers' eCommerce stores or through email updates that brick-and-mortar loyalty customers receive. With widgets being a core representation of your loyalty program, we know how important it is that they embody your store's brand and to help you customize widgets that really show off your store, we've added three new loyalty widget design options to Marsello.
Let's take a little look at each of the available options and how some retailers have integrated them into their loyalty program designs.
Center Panel
Having your loyalty widget pop up in the center of your screen ensures that it's front-and-center when your customers curiously check out your store's loyalty options. They can easily navigate through your rewards and how they can earn points, ensuring that they feel informed and that your rewards are easily attainable.
Check out what Wellington-based retailer, Smack Bang, has done with their outstanding designs and generous loyalty program. With offers such as discounts on orders and free shipping, the team at Smack Bang are ensuring that their customers keep coming back to earn points and redeem rewards, while also offering a referral program that ensures they continue to acquire new customers who fit a similar customer profile to their current customers.
Floating Panel
This widget design slides in from the side of the viewer's screen. With smaller image size options, rounded corners, and a 'floating' appearance, this eye-catching display will be sure to inform and entice customers.

We love what Good Dog have done with their widget design, opting for a cute dog-bone print as their primary image and including their store name. With a simple set of percentage discounts as their rewards, Good Dog makes it easy for their customers to earn rewards, and to decide which rewards they'd like to redeem.
Slide Panel
Similar to the floating panel, this crisp design was created with sharp lines, defined corners and sitting flush against the side of the page of an online store. You'll notice that the image option for this widget is also small, creating a compact widget that suits fresh, clean branding. NatureMills, a Californian natural and organic food retailer, is a wonderful example of this widget style with clean, on-brand imagery and colors, generous rewards, and simple design choices.
Loyalty Tabs To Encourage Customer Interaction
The loyalty tab is also customizable! This great little addition to your store is the initial view that customers have of your loyalty program, encouraging them to explore your loyalty options, shop with you time and time again and to understand when they can next redeem a reward or earn points. The tab is like a sign saying, "welcome, come on in', to your potential and current loyalty customers.
Let's take a quick look at the new design types.
Resting
The resting tab is a rectangular shape with rounded upper corners. You can add an icon and/or text to this tab style and design where it will sit on your online store, although its placement is restricted to the edges of the screen, this means that your customer will always be able to see the tab as it's connected to the edge of your online store.
Circle
The circular tab is smaller than the other options, designed to be discreet yet eye-catching. It floats on your online store which means that you can place it almost anywhere on your online store and it will 'float' down the page as the customer scrolls. Although you can add an icon to this tab, you cannot add text.
Floating
The floating tab design is rectangular and features rounded corners; it's also 'floating'. With the ability to add both text and/or icons, this tab is a great way to attract customers to your rewards through a call-to-action such as 'see our rewards'.
Published May 26, 2020 12:00:00 AM