Introducing One-off Email Campaigns, giving you the power to send single emails to your customers and engage with shoppers in countless ways. To name just a few ideas: newsletters, promotions, or new stock updates to your entire database, or just to a certain customer segment. You'll find it under 'Campaigns' in your Marsello admin.
Let's drill down and see what this new feature means for the future of your email marketing.
Target specific groups with behavior-based segmentation
If you're going to put time and effort into developing compelling email marketing (and you should!), you want to make sure you're getting a notable return on investment (ROI). Much like setting your audiences with paid advertising, directing your email marketing to specific segments based on customer's shopping behavior is a powerful, and some would argue essential, tool that will go a long long way to helping you retain, engage and convert your customers.
Above, you can see an example of Marsello's customer segmentation grid. This calculates customer segments for you based on an industry renowned calculation known as RFM – organizing your customer database based on their individual purchase recency, frequency, and monetary spend. Learn more about customer segmentation here.
Creating your one-off emails is simple. With email templates ready-built with your logo, you're already one step closer to having beautiful and recognizable email flows made from scratch. Marsello's drag-and-drop email builder also makes adding your content super easy.

Simply click the email block you'd like to add, drag it into your email where you'd like – no design knowledge necessary.


Features to include in your email designs
Product recommendations block: increase the chances of your customers completing a purchase by recommending products to each customer based on products they've bought previously and the purchase histories of other customers just like them.
Referral program merge tag: increase customer referrals by including your customers' unique referral link in emails, making it simple for them to refer their friends and earn rewards for doing so.
Social media links: increase your social media following by including your Facebook, Instagram and Twitter pages in your email campaigns.
When you've finished creating your one-off email campaign, send it when the time best suits you! You can either send the email immediately or schedule it for a time that would be most likely to resonate with your customers – automating your emails to trigger as a result of certain actions or based on timing is proven to have a drastic effect on your open rates so Marsello gives you the flexibility to set this to suit you and your customers.
Use real-time reporting to maximize ROI
To fully understand your marketing and if it's getting the results you intended, you need to understand your reporting. How many of your sent emails have been opened (open rate)? How many of the customers who opened those emails, then went ahead and clicked the CTA (click-through rate)? Finally, what proportion of your emails directly resulted in a sale (conversion rate)? There are plenty of metrics to measure your email marketing success by, but we want to be sure you're getting exactly the data you need to succeed.
For every email campaign you send, Marsello provides accurate real-time reporting, giving you insight into statistics like those mentioned above. You'll also see stats like:
Revenue generated from your campaign

Number of orders

Total number of emails sent (helping you to track database growth)
How retailers are using One-off Email Campaigns:

Everything you need to sell more in-store and online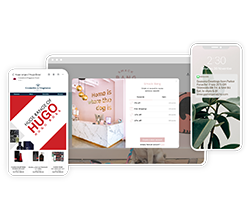 See more
Subscribe
Stay up-to-date with popular content to help grow your retail store.