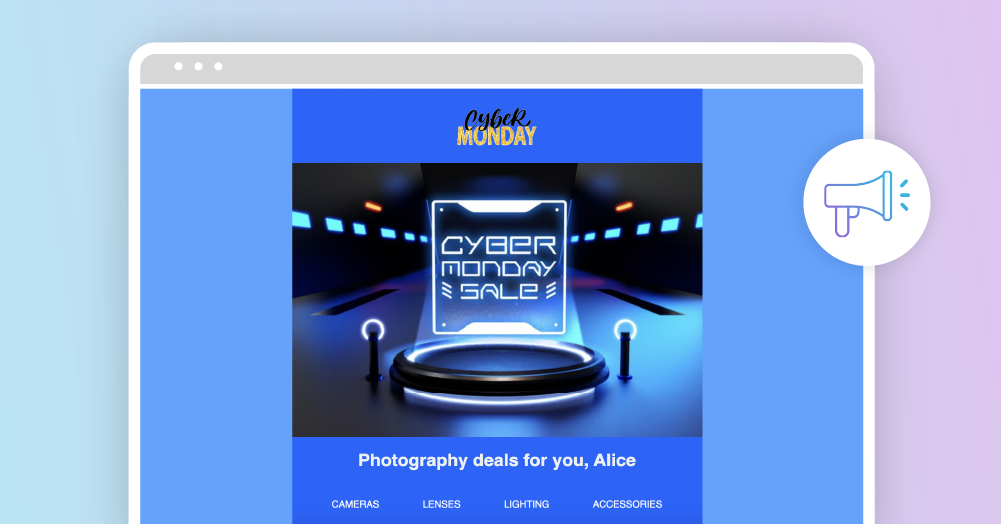 Top 8 Marketing Hacks For Black Friday/Cyber Monday Campaigns
Written by Alice Cresswell

 |   Read
BFCM marketing hacks big-box retailers don't want you to know 👇

Black Friday is creeping up fast. But while we're still a decent way out, here are 8 of the best marketing tips you should be considering in your campaign planning.
These strategies are used by some of the world's biggest and most successful retailers; however, they're all actually incredibly simple. Some of these tactics can even wait until the last minute (if you're "deadline driven" like I am!) and they'll still be high impact.
---



Quick Links:




---
Run pre-Black Friday sales

Black Friday is BIG. It has global awareness, with merchants participating in countries in and outside of Canada and the US (even those that don't recognize Thanksgiving). Needless to say, it's on everyone's minds for months in the lead up.
So—why not run sales before the actual day? Savvy retailers are using this strategy to capitalize on the hype without shouting in the crowd at peak time.
For example, Rubber Monkey, a technology retailer, runs a VIP Black Friday "Countdown Campaign" with several pre-Black Friday sales ahead of the big date.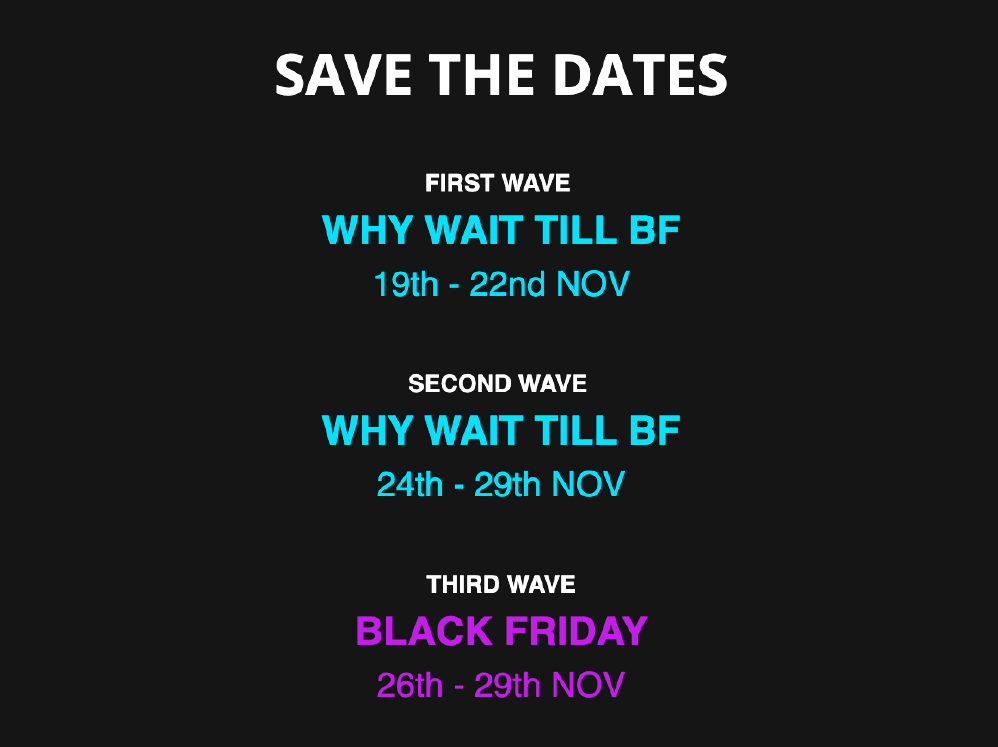 Rubber Monkey's lead-up campaign emails included dates for not one, not two but THREE separate Black Friday sale dates.
Alternatively, in lieu of running a multi-stage sale, simply send Black Friday / Cyber Monday previews. Tease your database, give them a sneak peek of what's around the corner, and build hype.
You can also include a Google Calendar or Outlook Calendar invite, so your subscribers have your sale top of mind and receive automated reminders directly from their calendar app.
Segment your database for personalized deals

A blast to all customers is not always an effective marketing strategy. Instead, segment your database by type of products purchased. For example, if you're a technology retailer, you could create segments for "Photographers"—people who most frequently buy photography equipment.
Send targeted Black Friday or Cyber Monday campaign emails and SMS messages to those segments, adding only products from their preferred category. Of course, you can add a "See All Deals" call-to-action below your product blocks to pull in more general interest to the broader sale categories.
For higher impact, start strong with a personalized subject line:
"Alice, get 60% off everything photography! 🤑📸"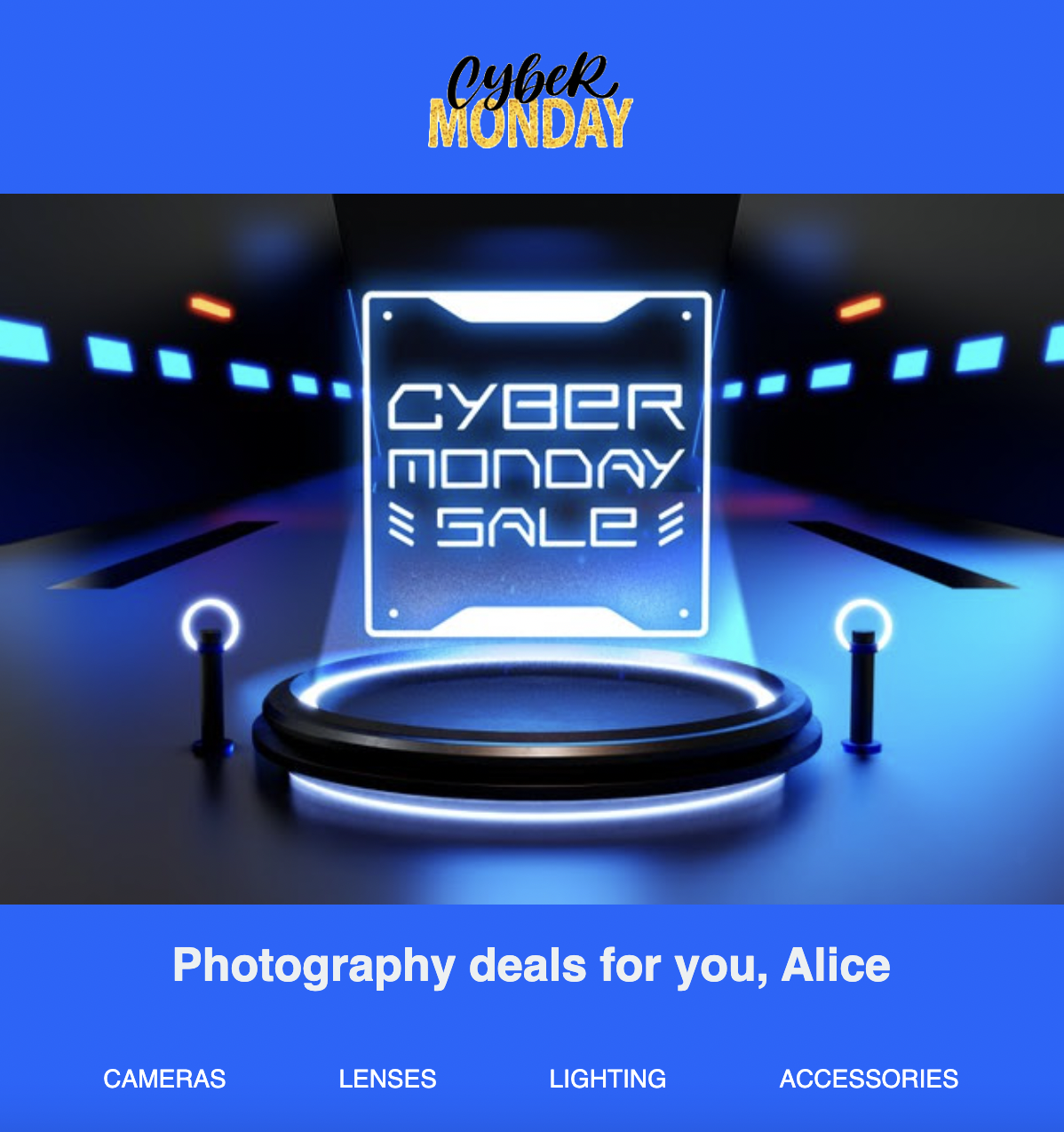 I love how this Cyber Monday email jumps straight into product collections from the category I'm most interested in: photography.
Add urgency with a countdown timer

Ah, the old FOMO trick. Let your subscribers know when your sales start, so they don't miss a deal. Using a dynamic, live countdown timer in your emails will capture visual interest, and drive urgent action.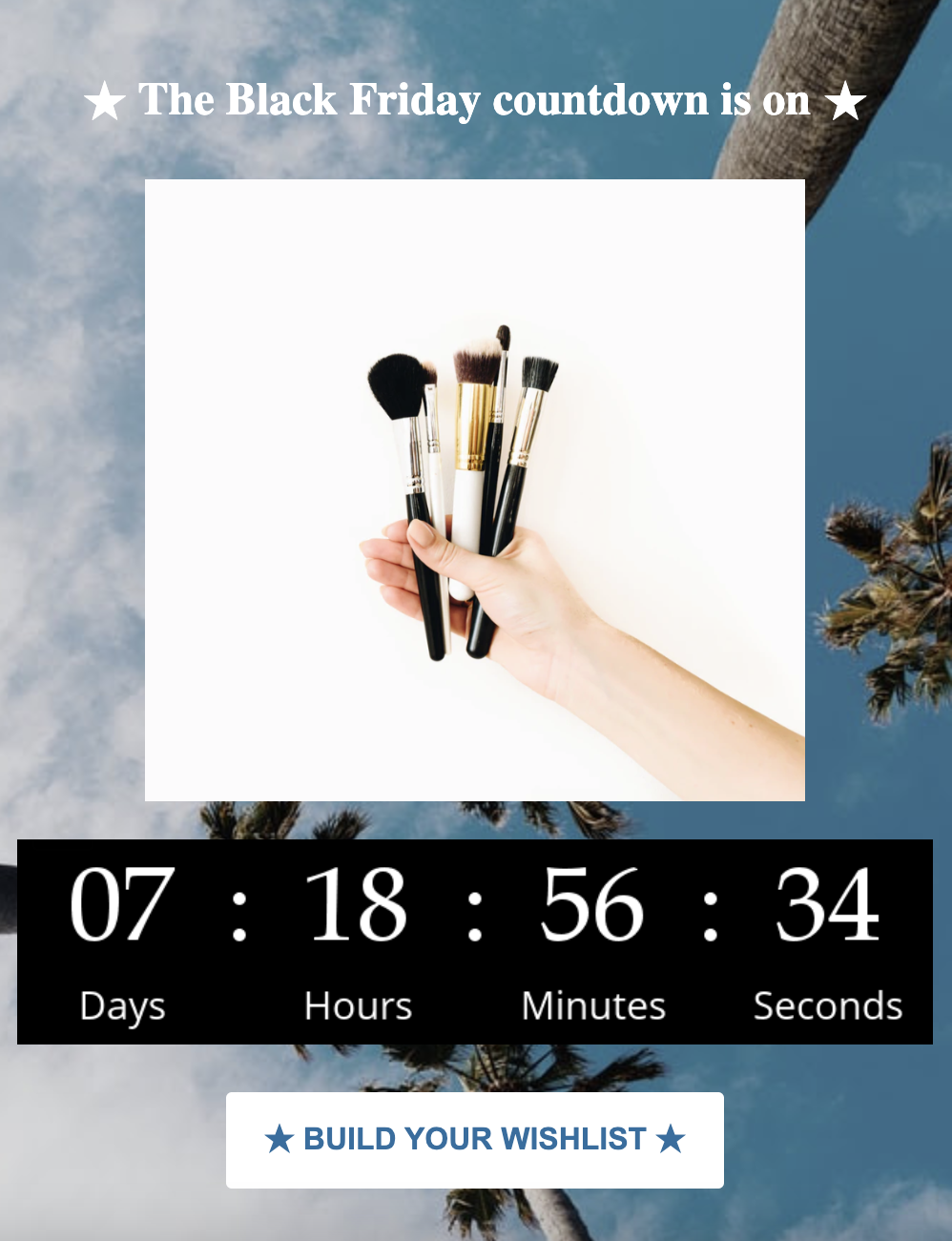 Drag-and-drop the countdown timer into your campaigns with Marsello's email builder. You can customize your timer to match your brand and campaign specs. I also love how this email uses a 'Wishlist' call-to-action—getting subscribers engaged with the sale in advance.


Leverage the 98% deliverability of SMS

Did you know…
75% of consumers want to receive text messages with special offers
90% of SMS messages opened within three minutes of being received
Scott Home Delivery uses SMS for their Black Friday campaigns, with incredible results. Some of their campaigns see up to a 26% click rate—much higher than the average email click rate (around 3%).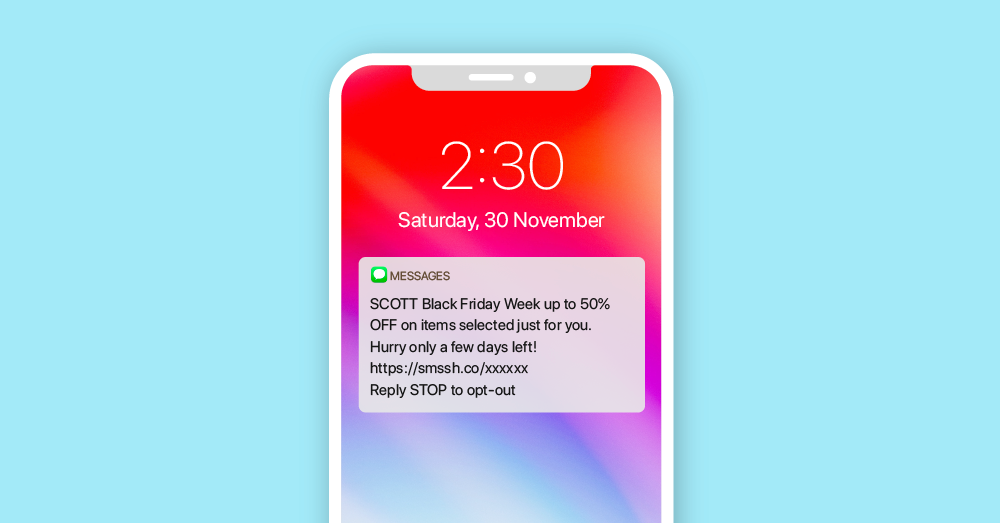 When used in the right context, SMS remains one of the most powerful marketing tactics on the block. The key? It's really not rocket science: it all comes down to following the tried-and-true recipe for success:
There's one clear offer (50% off)
Urgency (Only a few days left!)
A CTA and link to drive conversions
And there are instructions for how to opt out (a necessary inclusion)
Pro-tip: Get even more personalized and use merge tags in your SMS campaigns—include loyalty points balance, first name and more.


Send product recommendations with a discount code

You don't have to discount specific products, but you could offer a discount code. That way, you can send an email with product recommendations to your customer database, and offer a discount code so they can go and spend it on the products you know they'll love.
Marsello's product recommendation algorithm uses the same model as Amazon. We use customer purchase data to determine which products they're most likely to be interested in buying next.
You can drag-and-drop this pre-built block into any of your Black Friday campaign emails. Beyond that, we recommend using this feature in all kinds of email campaigns!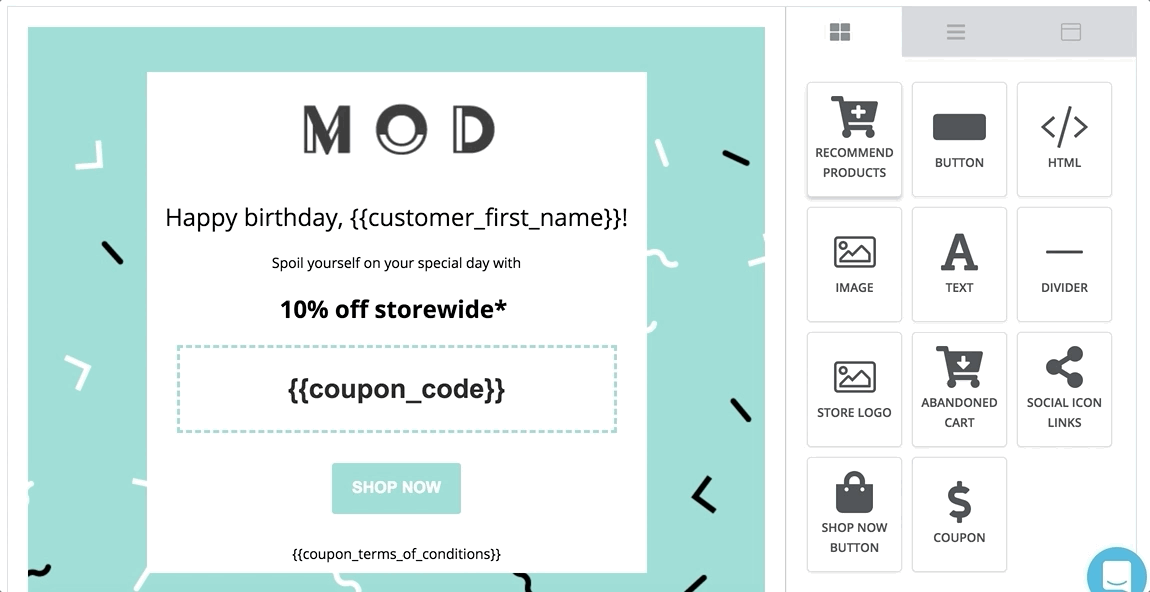 Here, we show how you can drop the block into an automated Happy Birthday email using Marsello's super easy email campaign builder.


Run VIP offers to your existing customers

Send exclusive Black Friday deals and offers to your existing customers. Rubber Monkey sent customers an extra $10 voucher to use over and above their Black Friday purchases.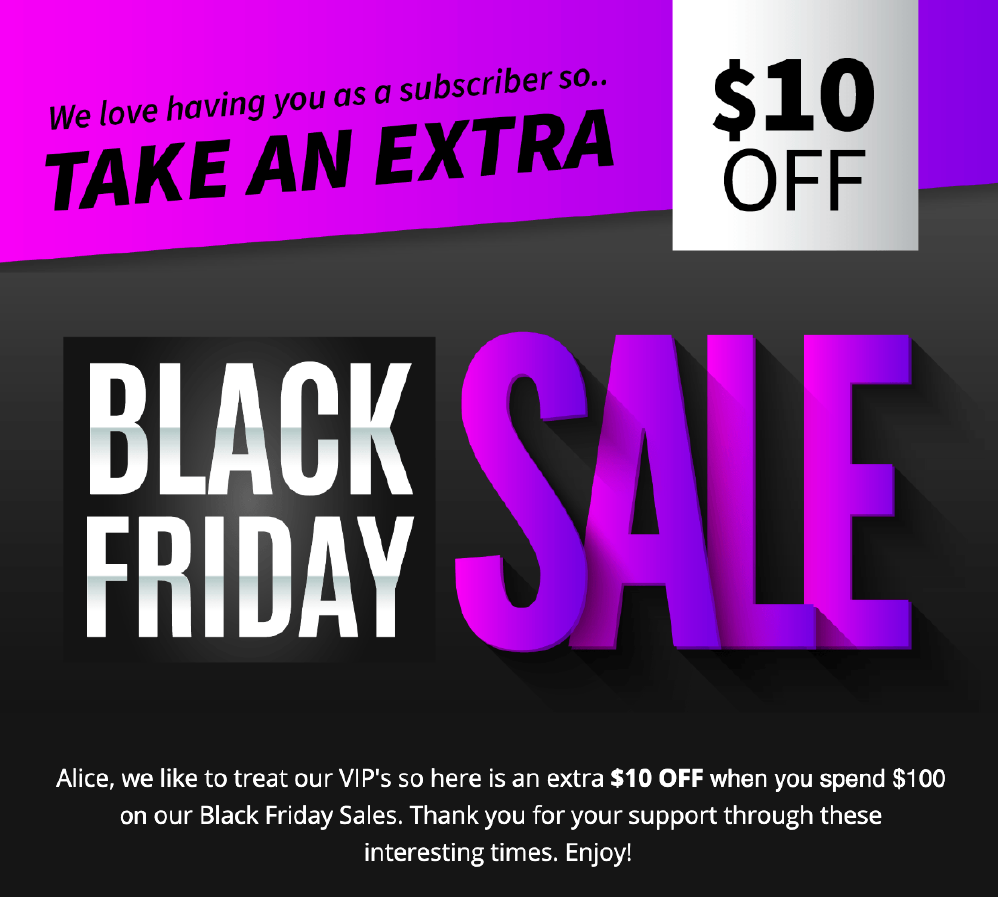 Rubber Monkey's additional VIP Black Friday offer to their email subscribers.


Set up automated Abandoned Cart reminders

Don't let those Black Friday deals sit idly in customer carts. Use marketing automation to set up automatic abandoned cart reminders. Use triggers to set up a delay—around one hour is usually about right for a one-day sale, but you can test what works best with your customer database.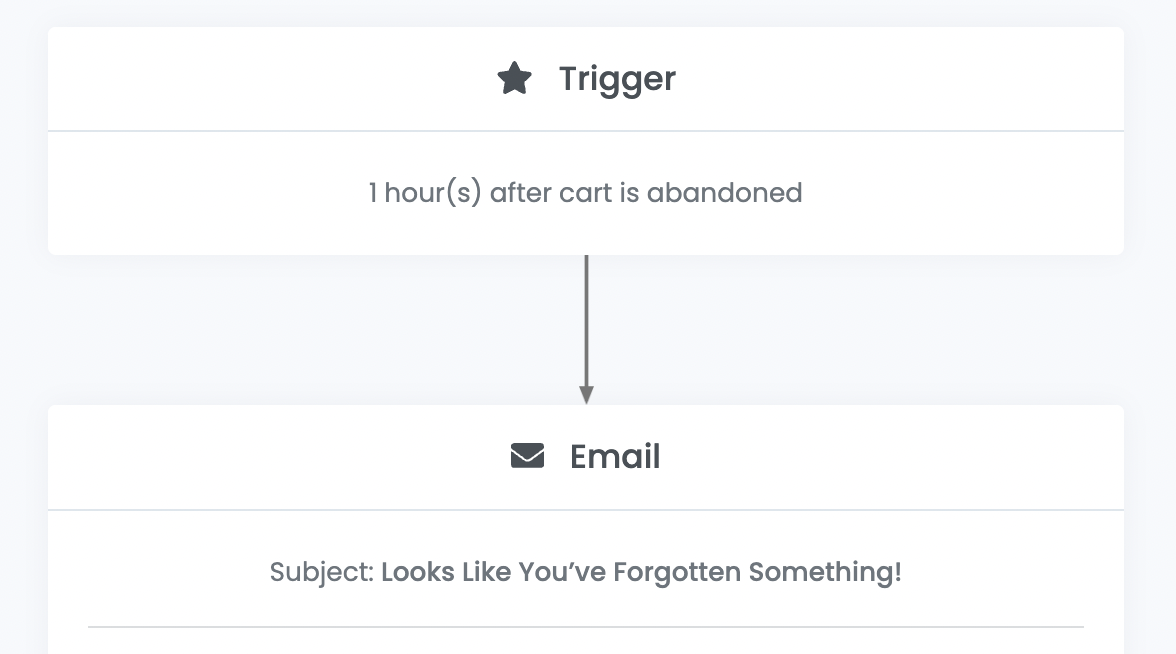 Take a look at Ozzie Collectables' Abandoned Cart campaign, for example. This series of three emails has an overall conversion rate of 28%. In fact, automated email flows alone are generating 38% of their total revenue.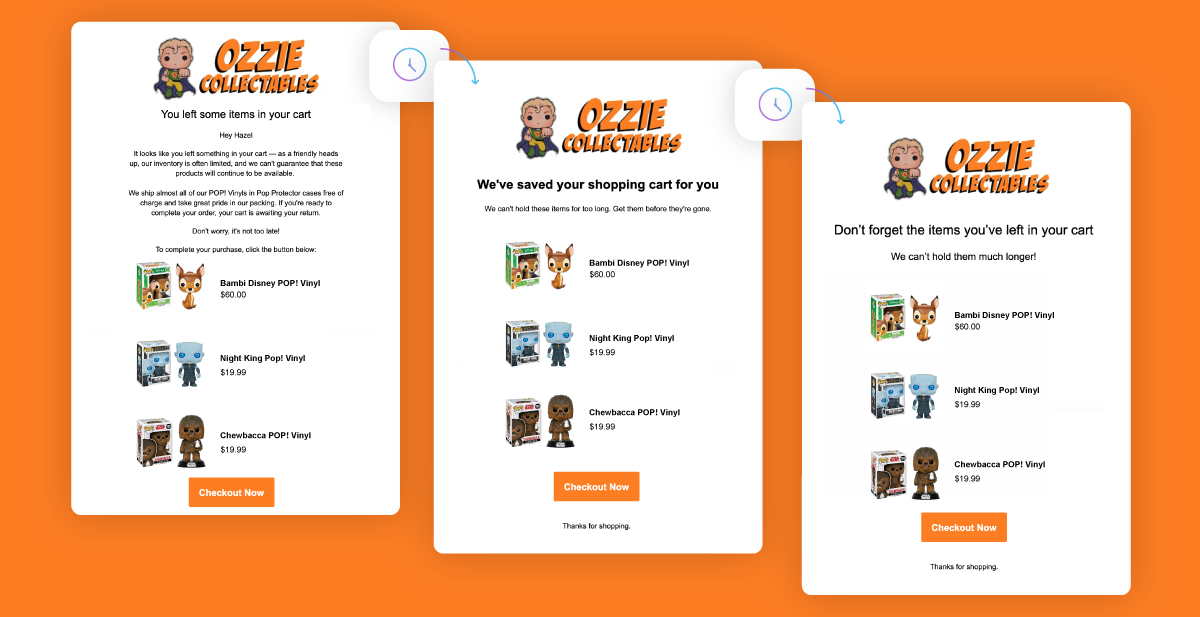 Marsello has a collection of pre-built email templates you can add to your Abandoned Cart flows. You can even tweak your flows in the days around Black Friday / Cyber Monday to include more relevant, urgent messages.
Last but not least, build your customer database!

Think bigger than Black Friday. Collect customer details over these heavy traffic periods to build your list of re-marketable customers.
According to the Pareto principle, around 80% of a business's profits come from just 20% of its customers. That means regular customers, who buy from you again and again, are worth A LOT to your business. And they're cheaper to market to as well.
The other 80% of your customers only make up the remaining 20% of your profits. These customers include your one-time shoppers, infrequent visitors, and any other more casual consumers.
It's more expensive to acquire new customers to retain them, so make the most of your campaign spend and continue selling to Black Friday participants long after November has been and gone.
Read next: Social media planning for BFCM - 7 Best Practices to Implement


Marsello: All your Black Friday marketing, in one place.
Send email and SMS campaigns to customers
Create set-and-forget marketing automations
Schedule social posts and track sales
Track the direct impact of all your marketing on revenue
Build a customer database
Published Aug 5, 2022 11:16:41 AM