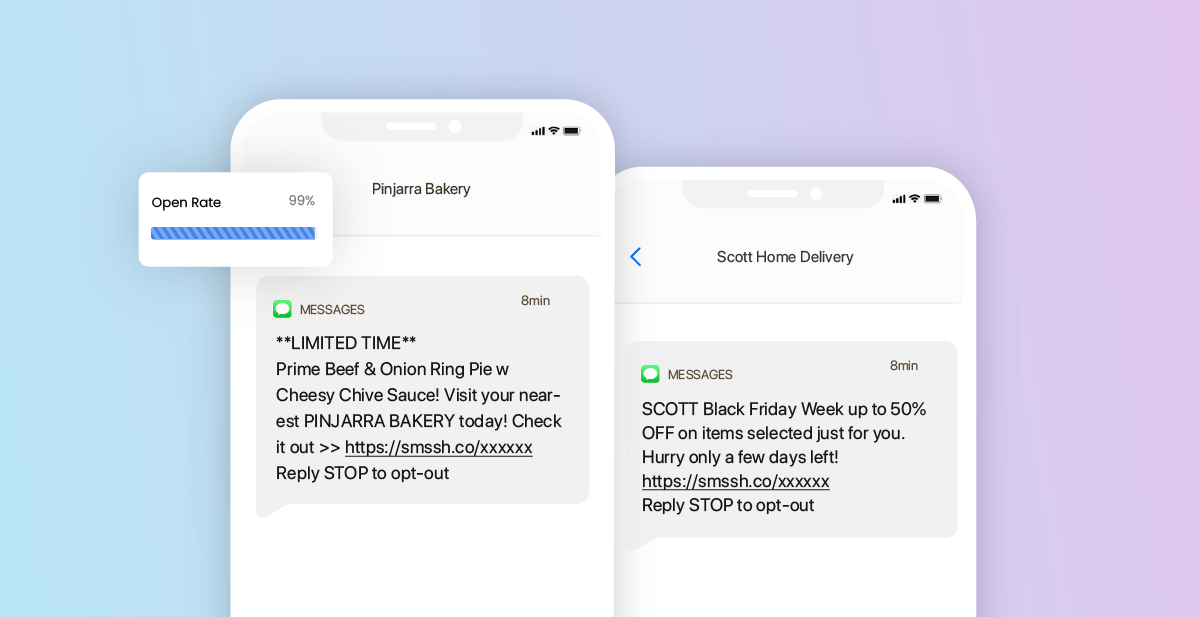 SMS: Have you forgotten about this powerful marketing tactic?
Written by Alice Cresswell

 |   Read
SMS might feel like a throwback, but savvy business owners are still using this direct, punchy channel to drive revenue.
There are an overwhelming number of marketing and advertising channels these days. You'd be forgiven for thinking you have to invest in every latest and greatest platform or social media app to reach your audience.
Email, SMS, Display Ads. Snapchat, TikTok, Facebook, Instagram, Pinterest. Each one of these has taken the advertising world by storm at some point.
Of course, as business owners and marketers, we need to keep our finger on the pulse. But we also need to step back and think—Who is our customer? What is the purpose of this campaign? What channel is the most effective and appropriate way to deliver this message?
Let's explore examples of when SMS might be the most effective channel for your campaign. Together, we'll look at how businesses across different industries can see success from SMS (including several examples of real merchant campaigns) and round off with some inspiration and ideas for SMS campaigns.



---

Quick Links:


---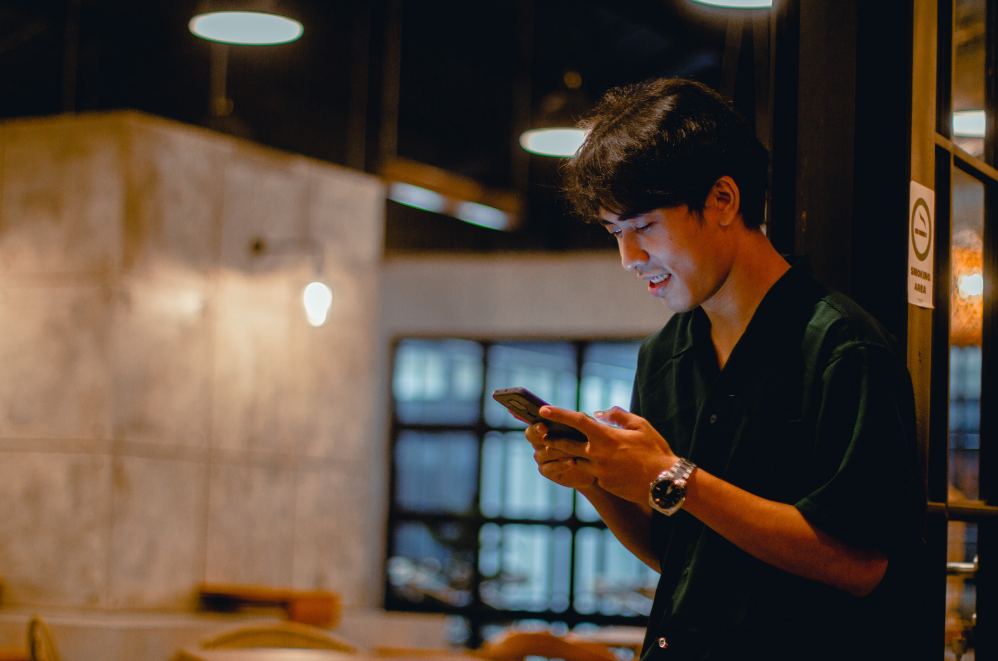 "I've got to look twice and go—Is this actually real?"

– Daniel Pantaleo, Pinjarra Bakery
No, this is not a line from a 2am infomercial.
This is a real quote from a real Marsello merchant who couldn't believe the results he saw when he sent an SMS campaign.
There's a common misconception out there about SMS—that it's a spammy, outdated marketing channel. However, SMS is often misunderstood.


2 things you must understand before you try SMS
It works best if the offer is time-sensitive, so if your campaign doesn't drive urgent action you won't see as much impact.
It has a high delivery rate (98%) but that doesn't mean people who open it will engage. Your message must be enticing, concise, and clear.
Think about the SMS messages you get that are helpful, and those that aren't. It's highly likely that the most helpful ones are transactional - an update on a parcel delivery, for example.
The least helpful SMS messages are probably generic promos - a hairdresser you went to once, over two years ago, who keeps blasting you with offers that aren't relevant to you.
The trick is to make your offer as personalized and urgent as possible, so much so that it's as helpful and welcome as a transactional SMS. Maybe even more so.


The best SMS campaigns we've seen yet


Hospitality: Pinjarra Bakery

Every week, Pinjarra Bakery invent a wacky meat pie flavor. They've been doing this for years. But one day one of the owners, Daniel, decided to try this offer out with an SMS campaign.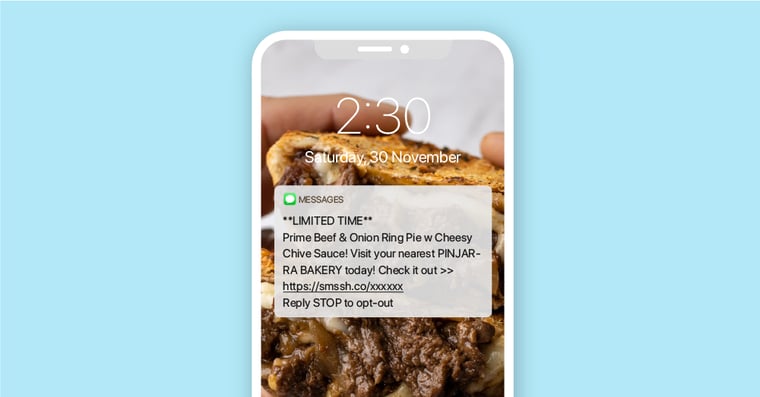 Simple right?
50.1% of those SMS messages sent converted to a sale. That's HUGE.
Here's why it worked:
It's urgent.
It was sent just before lunchtime.
It was sent to regulars (those most likely to be closest to one of their stores).
It includes the merchant name (too often, SMS campaigns leave this key element out!)
SMS was the perfect tactic for this campaign. The time was right, the audience was right, the offer was right.
We were on a call with Daniel, and he told us he just couldn't believe it. The revenue Pinjarra got from an SMS that took a few minutes to write and send was astonishing.
Daniel could define the perfect audience using Marsello's custom segmentation. He used the built-in SMS wizard to make sure the SMS met best practice. Then he was easily able to test and measure the direct impact of his first SMS campaigns on revenue.
He saw it worked. Now, SMS is becoming an integral part of their marketing strategy.
Like many merchants, Daniel is keen to keep his business up to speed with marketing tactics and technology.
Retail: Scott Home Delivery

Scott Home Delivery uses SMS for time-sensitive campaigns, with incredible results. Some of their campaigns see up to a 26% click rate — much higher than the average email click rate (around 3%).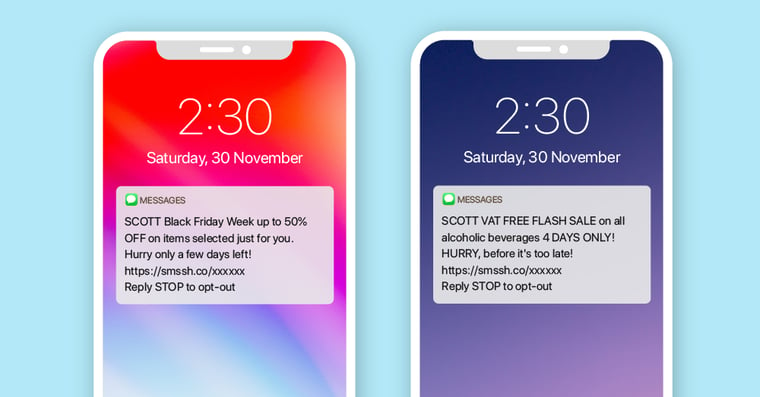 The two campaigns above are amongst the top performers; however, Scott Home Delivery regularly uses SMS for exclusive offers and limited-time-only campaigns. In fact, SMS makes up more than 40% of all revenue generated from their Marsello marketing campaigns.
Both of these campaigns follow a tried and true formula:
The sender's brand name is stated upfront for immediate recognition
There's one clear offer
One call-to-action
Urgency
A link to drive conversions
And there are instructions for how to opt out (a necessary inclusion)
Using this recipe, Scott Home Delivery has found that SMS is an even more powerful marketing tool than email.
Did you know?
According to
Business.com
, SMS messages have an average response rate of 45%, compared with an average email response rate of just 8%. Why? When we're given a strict character limit, we drill down to the essence of the marketing message and give a single, clear call-to-action.
Is SMS right for my business or industry?
Hospitality
The benefits of SMS are abundant in hospitality. SMS is well-suited to last-minute discounts and exclusive or limited-time offers—all great tactics for restaurants, cafes, and bars. Location segmentation can provide relevant offers to the right audience, and scheduled sends can ensure the messages are delivered at the right time.
Retail
SMS is widely used in transactional retail communications. Delivery updates and other important transactional messages are a common use of this direct channel, as emails can get lost to spam filters. However, there are also wider marketing use cases for SMS in retail. One example is using SMS as part of a loyalty or customer marketing strategy: using the channel to provide VIP offers, exclusive discounts, loyalty points updates, and more.
Grocery
SMS works well as a direct channel for transactional communications such as delivery updates. But, like retail, grocery stores can also use SMS as a broader loyalty and customer marketing channel. Small-to-medium grocery stores can use SMS to enhance their loyalty programs and provide a rich, personalized customer experience.
Healthcare & Pharmacy
SMS has a high deliverability rate (98%), and most messages are read within minutes. This makes SMS the perfect tool for important transactional messages such as script updates and appointment reminders.



Want to future-proof your marketing?
Jump onto a call with us. We'll listen to your goals, learn about your business, and help you set your marketing strategy in motion.
Some SMS campaign ideas to get you started
1. Send a Personalized 'Welcome' Message
When customers sign up to your marketing list or loyalty program, welcome them and thank them for joining. You can even send a discount code or freebie for signing up—see how Taco Medic do this with huge success.
2. Send Time-Sensitive Abandoned Cart Reminders
We know that the best SMS campaigns have a clear call-to-action, and are time-sensitive. Ozzie Collectibles uses automation to remind shoppers about their abandoned cart, but adds in a follow-up email that their cart will only be saved for a limited time. This adds urgency and increases conversions.
3. Deliver VIP Offers
Use SMS to promote exclusive offers to your loyalty customers, or other customer segments. This could include exclusive access to new product releases, invitations to closed events, discounts to mark special occasions, or any other time-sensitive offers.
4. Run Customer Feedback Campaigns
Every once in a while, send an SMS with a short poll or survey (as best practice, offer an incentive for a higher response rate and more engaged, thoughtful responses). Customer feedback is highly valuable—you can get a temperature check on your customer base, and catch negative feedback before it turns into a negative review. You can also gain more insights, such as consumer preferences or market trends.
Give your SMS campaigns new life with Marsello
Published Jun 16, 2022 8:59:28 AM