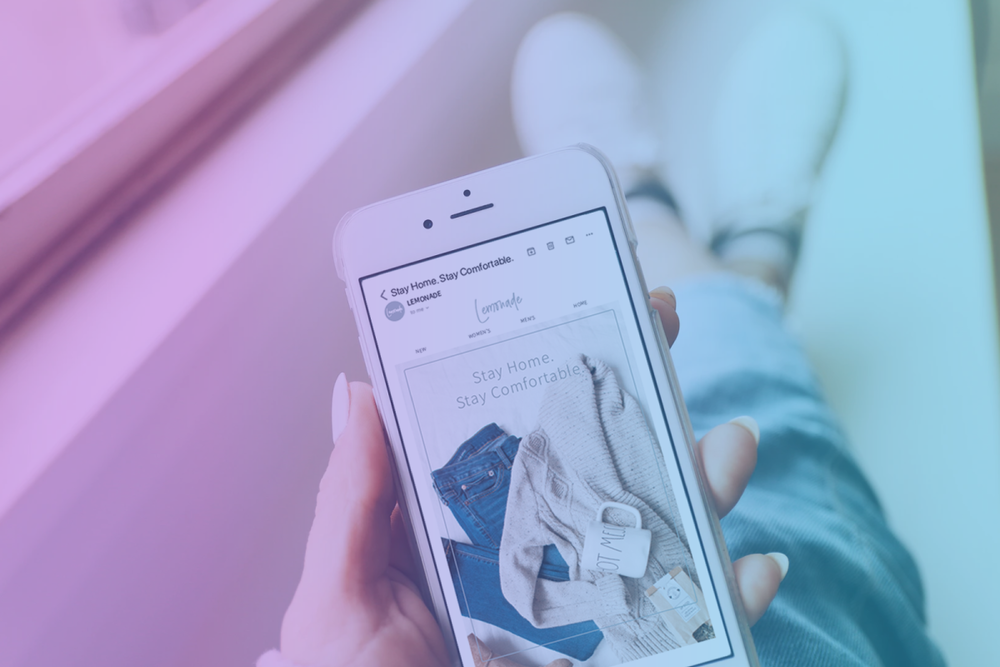 How to Encourage Ecommerce Sales Amidst the COVID-19 Pandemic
Written by Francesca Nicasio

 |   Read
No matter what type of retail store you have, there's a high chance that your business has been severely affected by the coronavirus pandemic.
Cities all over the world are enacting 'Safer at Home' orders and quarantine measures, and these actions have left many retailers no choice but to temporarily shut down their physical operations. Some countries are even requiring businesses to close unless they're deemed an essential service.
With most consumers staying home, it's quite evident that the only way to reach them is through digital channels.
Here are some tips on how to use online channels to encourage sales and engagement during this period.
1. Keep your channels tightly integrated

If you have an existing brick-and-mortar store and want to bring your sales online, the first step you should take is to integrate your online and offline systems.
Doing so will help you set up your sales channels correctly, so your inventory and sales data will be synced between your physical and online stores. Plus, you'll save time from having to re-enter your product information and you can eliminate human error due to doubling up on data entry.
It's best to use systems that are already compatible with each other, so get in touch with your POS solution provider and ask them about the eCommerce platforms that they integrate with. Be sure to discuss the types of data that are synced between systems and talk to your provider about how to get set up quickly and efficiently.
For best results, choose solutions that can also connect to your marketing software, so you can seamlessly launch email, SMS, and customer engagement campaigns for driving sales.
Pro tip: Did you know that Marsello integrates with leading POS and eCommerce platforms? Connect Marsello to your existing solutions so you can easily automate your loyalty marketing efforts and deliver a seamless customer experience.
2. Promote relevant products

The needs of your customers during the current coronavirus health crisis have shifted, so your marketing has to evolve along with these changes. Part of doing that involves promoting products that are relevant to what your shoppers are experiencing.
Go through your current catalog and look for items that consumers need at this time. For example, if you're a furniture retailer, then now would be a great time to promote your office products, since most people are working from home. Selling books or gift items? Look for products that people would help people navigate what could be a high-stress situation.
Here's an example from the crystal store Energy Muse. Since many people are experiencing coronavirus stress and anxiety, Energy Muse recently sent out informative content on how to use the crystal Black Tourmaline to alleviate negative emotions.
What's good about Energy Muse's message is it led with informative content. Rather than a hard sell, the email's first call to action took people to a video in which Energy Muse's founder-led viewers through a guided visualization to relieve stress and anxiety.
And should people choose to purchase the crystal, there's a second CTA towards the lower part of the email.
Note: While this tactic can be effective, your marketing efforts shouldn't be exploitive. For example, if you're an apparel retailer that's suddenly selling hand sanitizer, you'll only forge distrust with consumers – and potentially get your ads banned.
Sites like Facebook are prohibiting exploitive tactics in ads by banning promotions for things like face masks.
If you're planning to market relevant products, stick with items that are already in your catalog or ones that are truly in line with your brand.
3. Tap into influencer and community marketing

Digital content consumption is likely to increase in the coming days and weeks as more people turn to the web. Consumers are spending more time on websites and social media – with most doing it to pass the time, keep up with the latest news, and seek inspiration and entertainment.
Consider tapping into that online attention by teaming up with influencers or even your existing customers. Send them product samples or create joint content pieces together.
Encourage your community to tag you in their posts. Emphasize the fact that with many businesses being forced to close, customer engagement (even if it comes from no-cost actions like liking or sharing posts) goes a long way.
Check out this post from home decor store Pretty Little Home, which thanks customers for the support that the community has shown the business.
"Whether it's a like, tag, share, or order on the website... It really means the world especially at a time like this," read the post.
4. Spread the goodwill


We've known for a while that good deeds and corporate social responsibility can drive customer engagement and loyalty. That's why if your business can afford it, consider launching an initiative designed to help those in need during this crisis.
It can be a charitable campaign, a special offer for the less fortunate, or even a job opportunity. One brand that's doing this well is the fitness store Gymshark. In light of the COVID-19 pandemic, many gyms have been forced to close their doors, resulting in trainers and fitness instructors losing their source of income.
To help out, Gymshark announced that it's offering an hourly rate to personal trainers struggling to find work. Trainers would be doing online workouts in partnership with the brand and earn money while they're at it.
The post was widely shared on Instagram and thousands of people liked and commented on the post.
5. Constantly reassure your customers

Building trust is more important than ever. You won't be able to drive sales if shoppers don't feel safe and secure buying from you. That's why you need to constantly reassure your customers about the health and safety precautions that you're taking to keep everyone safe from COVID-19.
How often are you cleaning and sanitizing your store? What are you doing to protect your staff? What measures are you taking to protect your customers? Be specific and outline everything in your customer communications assets (e.g., email, social media, in-store signage).
A good example of this practice in action comes from LA Cafe in Downtown Los Angeles. While the restaurant is closed to diners, LA Cafe still accepts online orders that can be picked up or delivered.
To make people feel safe about ordering, LA Cafe published a detailed post outlining everything that it's doing to address COVID-19 concerns.
6. Run promotions

If sales are slow (and they likely are during this period), it may be a good idea to run a promotion to entice people to buy.
Do note that you'll be competing with plenty of other brands for shoppers' attention, so you want your promotions to be as relevant as possible. The best way to do this is to send offers based on each customer's shopping history and brand interactions.
Consider the case of the designer footwear retailer Bulo Shoes, which couples Marsello's loyalty program with email marketing automation to send marketing messages that are always on-point. With Marsello's help, Bulo Shoes' automated emails are set up in segments based on customers' previous behaviors. The store runs separate automated campaigns for first-time customers, abandoned cart recovery, lapsed customers, and to wish customers 'Happy Birthday'.
By sending automated emails that are triggered by customers' actions, Bulo Shoes are able to reach out to customers in the most relevant and timely way, and thus maximize both revenue and customer engagement.
What if you can't sell or fulfill orders?

The new measures and policies around COVID-19 have been particularly tough on SMBs that are deemed "non-essential". In addition to store closures, some businesses have been forced to shut down their offices, facilities, and fulfillment centers to slow the spread of the virus. In such cases selling and fulfilling orders – even those made online – isn't achievable at this time.
If you're in this predicament, try the following tactics:


Delay shipments and offer generous rewards
If you can still technically sell online but are unable to fulfill orders, you could run special promotions to get people to buy. That's what Madame Fancy Pants, a Wellington-based retailer is doing. Due to the coronavirus, the team at Madame Fancy Pants are unable to ship out products in the time being. But they're still taking orders online, with the commitment to fulfill those orders once isolation measures have been lifted.
To encourage people to buy, Madame Fancy Pants sent out a one-off email campaign using Marsello. The email lets their customers know that Madame Fancy Pants will be rewarding shoppers with double loyalty points for their full-priced purchases.
Enable Wishlists
Another tactic for keeping your customers interested and excited while you're unable to fill their orders is to allow them to create wishlists of the items you usually stock. Check out our recent blog on top apps for Shopify for ideas on which apps you could use to integrate this feature into your store.
Wellington-based pet products retailer, Smack Bang, have done a wonderful job of communicating this recent update with their customers through their social media channels. Check out this Facebook post (note that they've even pinned it to ensure customers see the update) that lets their customers know that although they've had to shut up shop with the COVID-19 lockdown enforced in New Zealand, their customers can now create wishlists on the Smack Bang online store.
Consider digital products
If possible, sell digital products like ebooks, digital art, online consultations, or even courses.
One retailer that's currently promoting digital products is Vroman's, Southern California's oldest independent bookstore. Like many other retailers, Vroman's had to temporarily shut down its operations because of the coronavirus.
To continue driving sales, Vroman's is encouraging shoppers to purchase its ebooks and audiobooks instead, and the bookshop provides instructions on how to do this on social media and on its website.
Sell gift cards
If you're not offering gift cards online yet, now is the time to sell and promote them. Digital gift cards give your customers the chance to support your business so you can secure much-needed income. In turn, your shoppers can enjoy your products and services once this crisis is over.
Consider the example of Pink Marble Studio, which offers lashes, nails, and waxing services. The company recently started offering gift cards online that customers can redeem at a later time.
Retail tip: For more results, sell these gift certificates at a discount rate to further entice your customers to make a purchase.
Keep up with social media and content marketing
Just because you can't sell online, doesn't mean you can't connect with your customers. Maintain an active presence online by regularly updating your social media accounts and sharing valuable, 'non-salesy' content with your audience.
Doing so will help you grow your platform, traffic, and follower counts so that when business picks up again, you can hit the ground running.
We love this example from Australian wholefood retailer, Bare Wholefoods:
Bare Wholefoods cleverly show that they're still actively and safely delivering customers' orders with a photo of outgoing orders ready for shipping. They add a message of genuine gratitude to their customers for their continued loyalty and support. Updates like this help customers to feel confident that they will get the products they've ordered, and also gives them the morale boost of knowing they're helping support the local economy.
Notify customers with stock updates
Chances are you'll find that changes to shipping or production translate to slower restocking times – you may even find yourself out of stock or running low before you can restock, but there's plenty you can do to keep your customers shopping with you.
We've mentioned using wishlist tools that enable customers to create lists of items they'd like to buy that aren't currently available, but that's just the tip of the iceberg! Why not let your customers know when their desired items are back in stock and actively prompt them to shop with you.
Online multi-brand retailer, The Iconic does a great job of this. When an item or size is out of stock, customers with a registered account are prompted to automatically at the item to their wishlist and sign-up for a 'back in stock' email, all through a beautifully designed pop-up. Notice the clever addition of product recommendations that may get customers to shop in that session anyway.
It's tough, but hang in there
We know that the current retail environment can feel far from ideal. The best thing to do right now is to focus on things we can control. If you're a retailer, these include your customer communications and marketing messages; do your best to stop on top of them, so you can keep driving sales.
Published Apr 2, 2020 12:00:00 AM