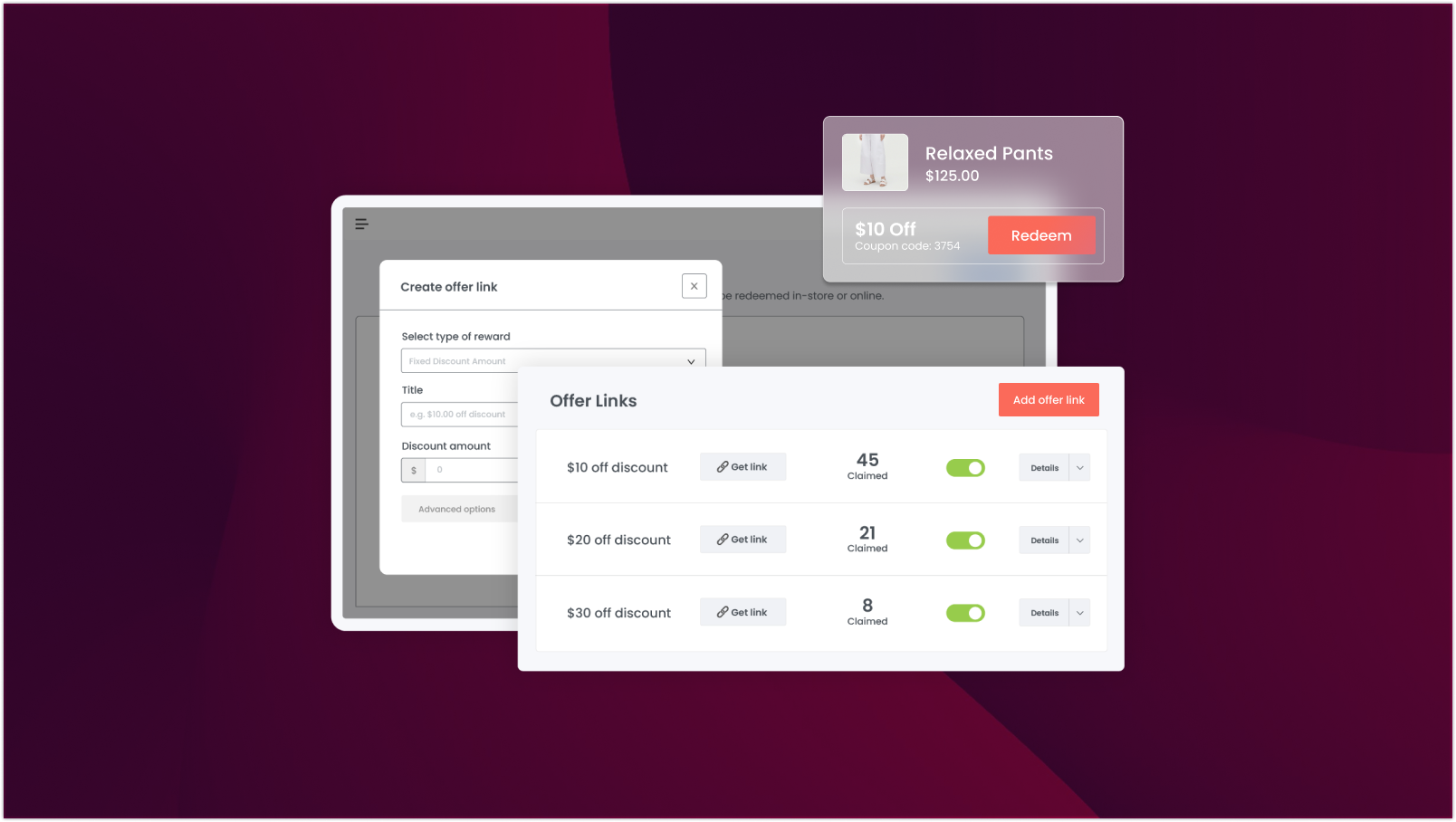 The Marsello & Klaviyo Integration: How Does it Work?
Written by Max Crosse

 |   Read
Marsello has integrated with Klaviyo to create the ultimate customer marketing platform.
In the fast-paced world of retail and eCommerce, one constant remains: your customers. However, in today's highly competitive retail environment, customers are inundated with irrelevant promotional emails, making it harder than ever to cut through the clutter and get them shopping.
By connecting Marsello to Klaviyo, you can harness your in-store loyalty and order data to create detailed segments and run more effective campaigns in Klaviyo.
Let's explore the integration in more detail.
---
What is Klaviyo?
Klaviyo is a unified customer marketing platform designed to help engage customers and drive sales with email campaigns, SMS, and more. It's one of the few email marketing services designed specifically for eCommerce, and with an impressive database of over 110,000 paying customers, it's no wonder brands choose Klaviyo to manage their campaigns.
Here are a few benefits Klaviyo has to offer:
Segment your database using historical data and real-time behaviors for targeting

Build coupon codes for automated flows and campaigns

Use built-in templates and automated emails for simple workflow management

Accurate reporting and attribution for each campaign and channel
Not using Klaviyo? Discover more about its features and benefits here
---
What is the Klaviyo loyalty integration?
The Marsello and Klaviyo integration combines Klaviyo's advanced email marketing features with Marsello's omnichannel loyalty software to create the ultimate marketing platform.
Marsello's point of sale data is the key factor here, syncing in-store loyalty and order data to Klaviyo customer profiles in real-time, empowering your team to personalize your marketing with the latest insights from both your eCommerce and POS channels.
---
Why connect Klaviyo to your Marsello account?
Because Klaviyo does not integrate directly with POS systems, you're only using a fraction of the customer data that's available to you.
When you integrate Marsello with Klaviyo, you can bridge the gap between your POS and eCommerce data, providing you with valuable insights into customer purchase history, spending behavior, and preferences. This connection enables you to centralize your customer data and create a more seamless omnichannel shopping experience.
"We have many customers that shop with us in both channels and expect a seamless loyalty and marketing experience."
Hayley Greenstein, Managing Director at LEGO® Certified Stores
---
How do Marsello and Klaviyo work together?
Marsello's customer loyalty and order data gets synced to Klaviyo in real-time. This enriches Klaviyo customer profiles with omnichannel insights, enabling better segmentation for more effective, tailored marketing campaigns.
Here's what you can do with Marsello and Klaviyo connected:
Push customer properties to Klaviyo profiles: Sync customer properties into Klaviyo, enriching customer profiles with relevant data.
Sync customer events to your Klaviyo account: Use events to automate timely and targeted emails based on your customer shopping behavior, loyalty engagement, or feedback responses. These events are dynamic and sent to Klaviyo in as close to real-time as possible. Sync events like POS and eCommerce orders, loyalty activities, and feedback responses.
Sync your loyalty and order data into Klaviyo: Seamlessly transfer POS and eCommerce loyalty and order data to Klaviyo customer profiles in real time for a complete view of customer spending behaviors. Understand who your customers are, and how they like to shop.
Create omnichannel offers and coupon codes to use in Klaviyo campaigns: Generate omnichannel discount codes for your campaigns and automatically load them against specific customer profiles. Give customers the flexibility to redeem their coupons in-store or online.
Create more detailed customer segments for campaigns in Klaviyo: Utilize your in-store and online data to create targeted customer segments and workflows in Klaviyo. Harness your segments to run more personalized campaigns that go way beyond your VIP database.
---
Diving deeper into event sets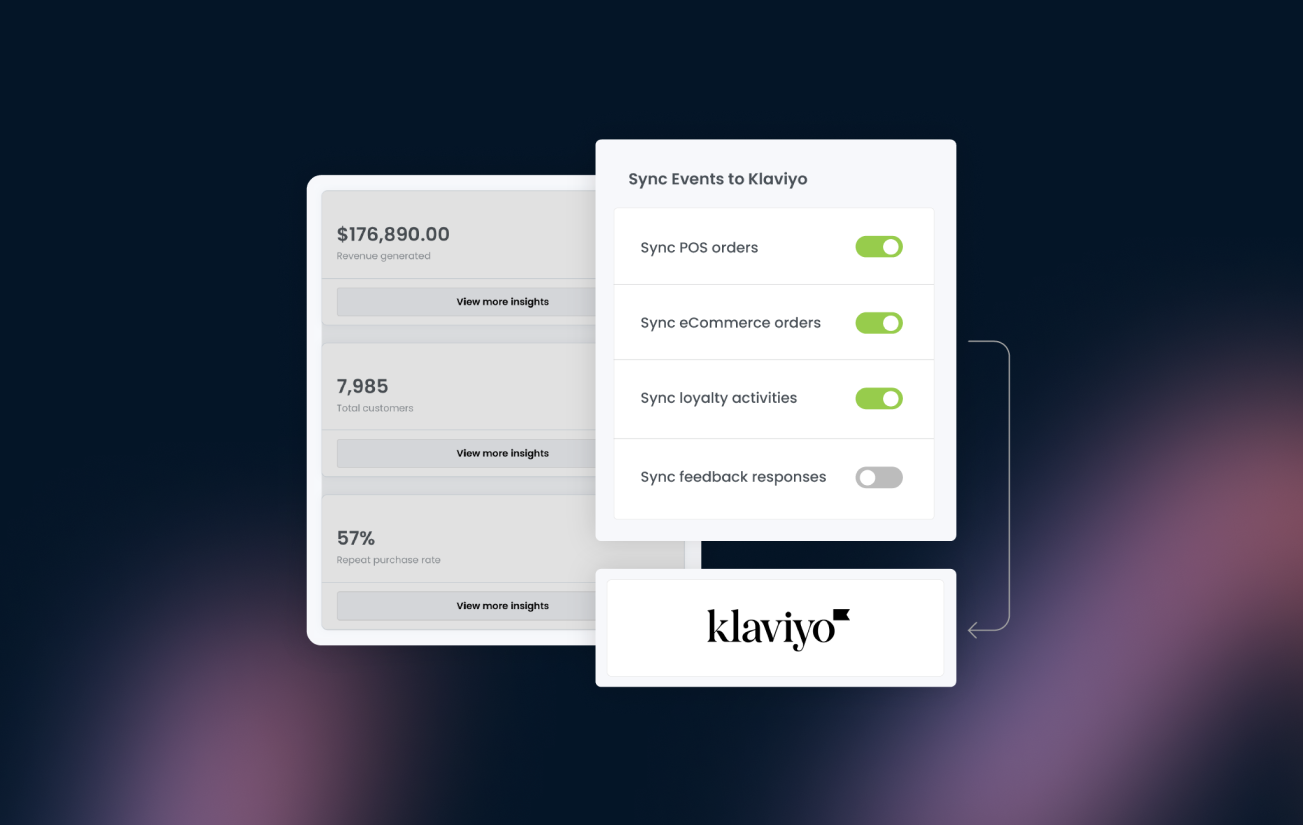 When you connect Marsello and Klaviyo, you unlock a treasure trove of valuable loyalty and order data such as purchase site, order total, product selections, and more.
Let's learn more about the specific data sets that get synced to your Klaviyo profiles.
POS and eCommerce orders
By syncing your POS and eCommerce order events into Klaviyo, you can create a 360-degree view of your customers' spending behavior with your business. With this data, you can create targeted segments and automations based on in-store and online orders, enabling further personalization of your email marketing efforts.
Loyalty activities
Using Marsello's loyalty program, you can encourage customers to return by rewarding them with loyalty points for each purchase they make. Sync loyalty events into Klaviyo to create custom segments and automations based on loyalty program engagement, then use customers' loyalty profile information to further personalized your marketing efforts. For example, when a customer claims a coupon but hasn't redeemed it, you could send a follow-up email that recommends products and encourages them to shop.
Feedback responses
Finally, using Marsello's customer feedback features enable you to measure customer satisfaction with their shopping experience, helping you keep track of what you're doing well and how you can improve. Sync feedback responses to Klaviyo to help measure customer sentiment. Create segments and automate follow-up emails to help nurture customer relationships with your brand.
Learn how to use Marsello properties and events in Klaviyo
---
How to connect Klaviyo to your Marsello account
Now that you know how Marsello's loyalty and order data can empower your email marketing campaigns, here's how to enable the Klaviyo integration within Marsello.
In your Klaviyo account, you will need to generate a new API key with Full Access to Profiles.
To create an API in Klaviyo
Navigate to API keys under your

profile settings

Enter "Marsello" as your Private API Key Name
Under Select Access Level, select Full Access Key
Click Create. This will generate your new API key.
Copy this key and keep it ready to paste into your Marsello add-on settings.
If you haven't already created a Klaviyo account, you can do so here.
How to enable the Klaviyo integration in Marsello
First,

log in

to your Marsello account

In your Marsello admin, navigate to

Integrations > Add-ons
Find Klaviyo in the list of add-ons and click Connect
Under 'Klaviyo API Key' paste your Marsello API key, or follow these instructions

to create one.
Click Save. Your Marsello & Klaviyo accounts will now be connected.
---
Final words
Integrating Marsello and Klaviyo creates a more cohesive customer marketing experience, unlocking new levels of customer engagement, satisfaction, and loyalty.
This powerful integration brings together the best of both platforms, combining Marsello's in-store POS data with Klaviyo's advanced customer marketing tools to help you understand your customers and increase engagement with highly-personalized marketing campaigns.
Now that you know how Marsello's POS data can enrich your Klaviyo campaigns, it's time to get connected.
Next read: 5 Klaviyo Integrations Every Retailer Should Be Using
Published Aug 16, 2023 1:20:24 PM