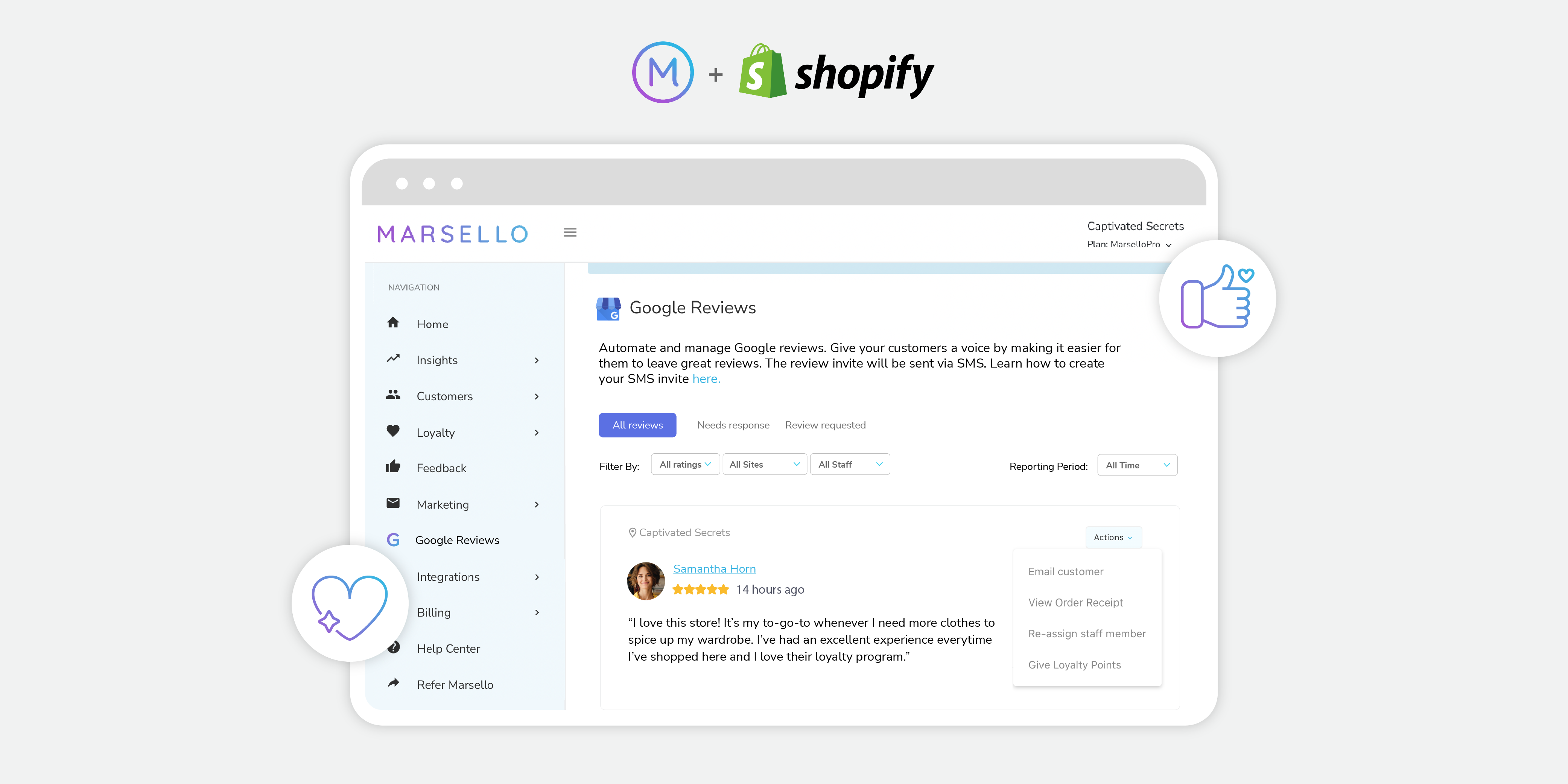 What's new for Marsello x Shopify retailers in 2022?
Written by Sophie Macdonald

 |   Read
Retailers need to know the tech they invest in will meet their needs and help their businesses grow while also adapting to current trends. In response to changing customer shopping trends, 2021 saw more retailers than ever move into the eCommerce space, and the importance of creating a cohesive shopping experience across in-store and online locations was highlighted again and again. To master this, retailers have needed faster websites, smarter tools, and better connectivity between their different store types.

To meet the growing needs of omnichannel retailers, Shopify released several exciting changes in the last 12 months – from Themes 2.0 to Shopify Flow. To build on these additions and create more and more marketing opportunities for Marsello x Shopify retailers, we released several complementary features that are helping retailers make the most of their retail toolkit.
Let's dive in and discover Marsello's latest features and biggest updates for Shopify users.


What features has Marsello released for Shopify users?
The last year saw the development of several stand-out features, and many of these were designed specifically for Shopify powered-retailers looking to grow their business with smart marketing.
Introducing Marsello's biggest releases of 2021 and a sneak peek of what's to come very soon:



Shopify Theme Extension – Product Recommendations:




The announcement of Themes 2.0 at the Shopify Unite 2021 conference was a cause for a flurry of excitement. With some sources calling it Shopify's biggest investment in their platform to date, Themes 2.0 opened up a world of opportunities for retailers looking to create their perfect online store, edit and customize themes, and prioritize user experience.
To meet the needs of fast-growing retailers who need smart, data-driven marketing tools, we developed a product recommendations extension for Shopify Themes 2.0 users. With this tool, users can add personalized product recommendations to their eCommerce store to encourage bigger cart sizes, improve customers' online purchase experience, and help customers find products they'll love.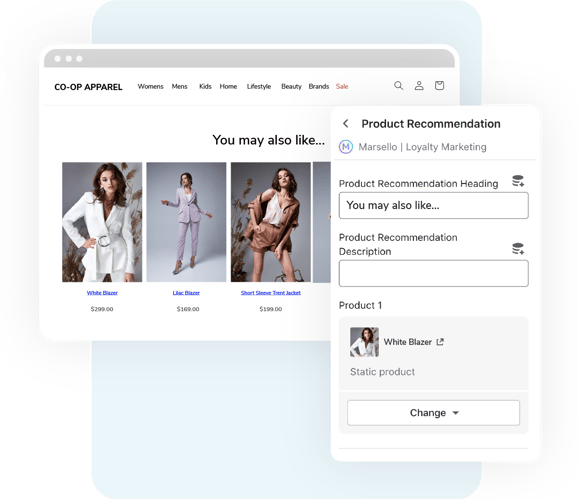 Marsello's product recommendations are powered by our purpose-built, data-driven product recommendations engine that recommends products based on buyer behavior and purchase history. And the potential doesn't stop with data-driven recommendations either. Retailers can also select specific products to implant into the recommendations block and encourage sales of specific products.
Learn more about our Shopify Theme extension – Product recommendations.
Marketing Extensions:




Shopify's extensions feature allows merchants to integrate tools and apps into their Shopify admin almost as if they were in-built. There are countless options to choose from merchandising to stock management; however, none would allow you to create loyalty points campaigns designed to multiply customers' loyalty points on purchases automatically – this is where Marsello's Marketing Extension for Shopify comes in.
Shopify Marketing Extensions users can now create points campaigns in their Shopify admin with the Marsello marketing extension, reducing steps to creating and managing loyalty points campaigns that boost customer loyalty. For example, to increase customers' motivation to make purchases, you can easily create campaigns where customers earn double loyalty points during a set promotional period directly from the Shopify admin.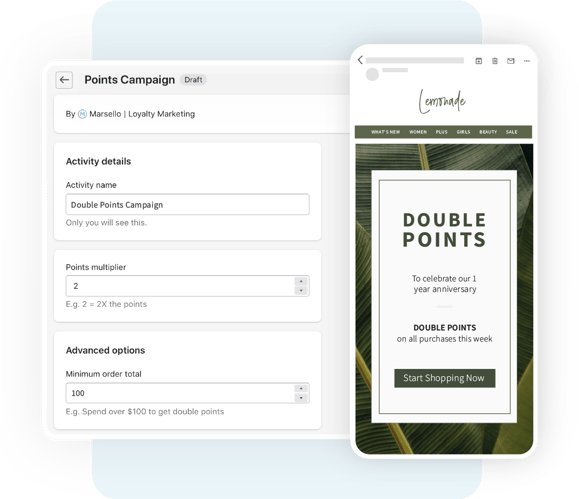 Loyalty points promotion campaigns are a great tool to help promote and encourage engagement with your store's loyalty program. You not only give customers an extra reason to shop and increase their cart size, but points campaigns are a great alternative to running a sale or discount and help your customers to feel appreciated and respected.



Marsello's Shopify Flow connector:




2021 was a big year for marketing automation – in fact, one study found that 51% of companies were reportedly moved to or were already using marketing automation in some way by 2021. This increased demand for automated marketing capabilities saw the perfect opportunity for Shopify to release Shopify Flows for their Shopify Plus users - in our opinion, one of the most exciting features released in 2021.
To help Shopify Flow users tie their loyalty program to customer activities, we released a Shopify Flow connector designed to augment the potential for loyalty marketing. Customers can now earn loyalty points for actions like leaving Google or social media reviews, purchasing specific products, or even purchasing at a particular store location through carefully crafted flows and triggers.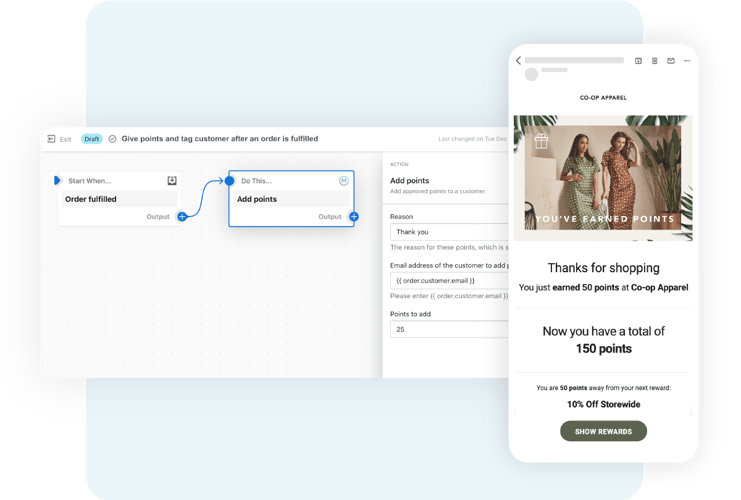 Learn more about Marsello's Shopify Flows connector in our launch blog.



Google Reviews:




Do you request Google Business reviews from your customers? Do you manage and respond to the reviews left about your business?
Google Reviews are integral to helping business owners improve their Google ranking and appear higher in search results, which, in turn, plays a huge role in influencing customers' purchasing decisions.
To help you collect, manage and respond to reviews, we've developed a Marsello-powered Google Reviews marketing feature. A soon-to-be-released addition to the Marsello toolkit, consider this your sneak preview into our latest tool for retailers who want to increase their presence through local SEO and Google recommendations.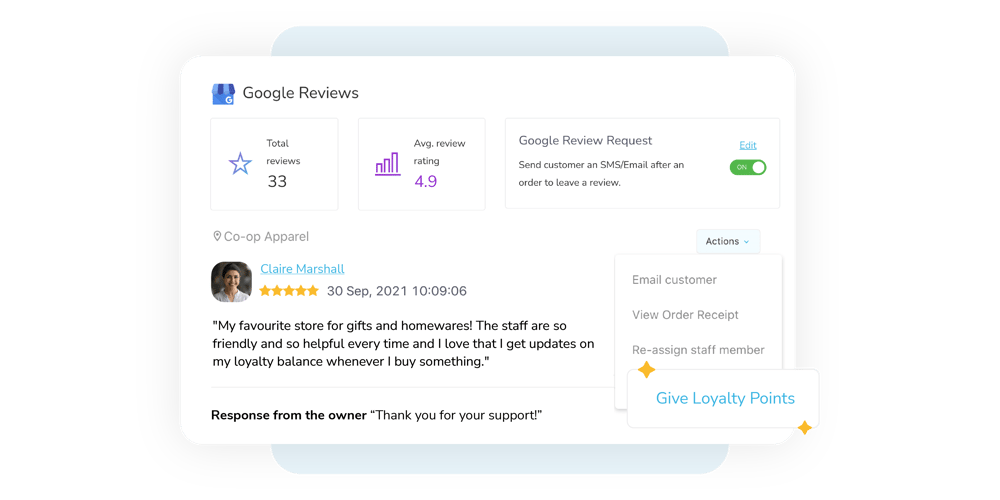 Marsello's Google Reviews feature will make it easy to automate the review process and create a consistent flow of quality reviews that increase online visibility and help to acquire new customers.
With email and SMS automations built into your Marsello admin, it's easy to promote and generate Google reviews as soon as a customer makes a purchase (when their experience is fresh in their minds). You can then easily track, manage and respond to reviews directly from your Marsello admin. Subscribe to our blog and emails to stay up to date with each new release as it happens.




What's changed for the Marsello platform?
One of Marsello's biggest updates within the last year has been to implement a new look and feel for our existing app. Since June 2021, we've been launching a variety of improvements to the Marsello admin to save you time and make your life easier. With a cleaner design and faster tech, new-look Marsello will now launch universally in April 2022, and we can't wait to hear what you think.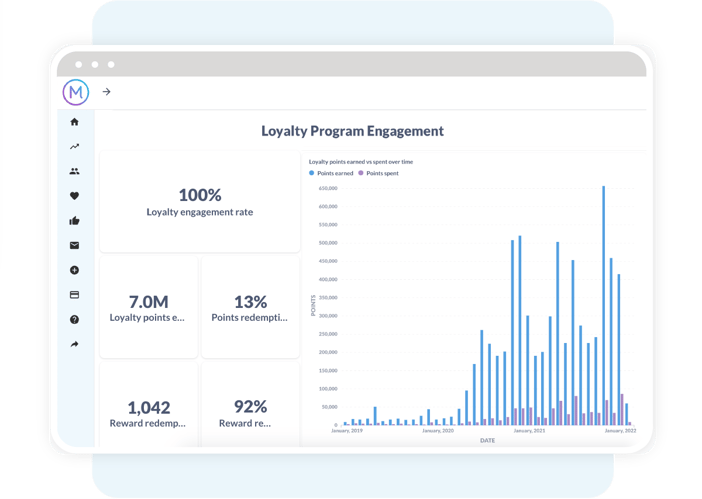 Can't wait? Get access to new-look Marsello now.


How can Shopify merchants make the most of their Marsello marketing?
Hopefully, you're familiar with Marsello's core features. If not, let's recap quickly with just a few bullet points:


Customer loyalty marketing

– use a branded loyalty program, automated notification emails, varied reward types, and achievable earn options to garner customer support and engagement. And you can build customer relationships that span a lifetime with VIP tiers that segment your loyal customers based on their purchase history.

Learn more here

.
And Marsello has much more to offer our Shopify users too – just think of the combination of possibilities! What if you were to create a custom Shopify Flow that rewarded your customers with loyalty points when they leave a 4-5 star review? Or, if customers shopped during an annual secret sale, you could reward points to purchases over a set price! Get creative and start delighting your customers in all-new ways with all new experiences.

Get in touch with our team to learn about Marsello's full product offering for Shopify.


Final words

The last two years have seen tremendous growth for retail and eCommerce technologies – and that growth doesn't seem to be slowing down. That's why meeting the growing needs of retailers in the retail and eCommerce market is at the forefront of platform and tech providers like Shopify (and Marsello).
To help our Shopify-powered retailers achieve their goals, grow their business, and stay ahead of the competition, we needed to continue to innovate with Shopify's product offering in mind. And we don't plan on stopping in 2022.
From automated campaigns and complete customization to set-and-forget style flows and fully integrated customer loyalty programs, the future is looking bright for Marsello x Shopify retailers. Book a demo today to grow your business with Marsello.


Published Feb 9, 2022 4:43:06 PM