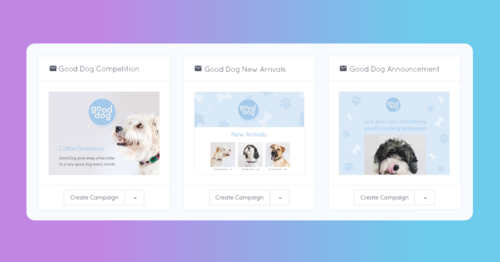 Discover Email Campaign Templates Designed for Customer Engagement
Written by Sophie Macdonald

 |   Read
With a variety of options to choose from, Marsello's Email Campaign Templates Library gives you numerous designs for creating stylish newsletters, announcements (such as sales and promotions), updates on stock, and more using the One-off Email Campaigns feature! Each template is designed so you easily create beautifully on-brand emails that see results, without hours of effort and edits.
Let's dig a little deeper and learn about each template type.
Basic Templates
With full customization available, the basic email templates allow you to edit the design of each email so that it best suits your store's brand, helping your customers to instantly recognize who they're receiving mail from. You'll have the flexibility to create emails that truly embody your store without having to start those email designs from scratch.
Themed Templates
Created by professional designers with years of experience in email marketing, these templates are ready for you to simply add in your store's branding and relevant content, review, then send! With everything from color palettes to fonts, themed templates are designed to do the hard yards for you.
Custom Templates
This is where things get really exciting! You can now create your own custom templates, allowing you to save the designs of emails you know your customers love so that you can use those designs again in the future. Either save a previous campaign as a template or start from scratch and create your own email marketing masterpiece.
Final Words
Email templates allow you to easily replicate the same style throughout your communications and create a recognizable experience for your customers. In turn, your customers look forward to your emails and the likelihood of them engaging with your communication efforts increases. Increase your email marketing ROI and start exploring and designing emails that excite new shoppers and loyal customers alike.
Excited to start using email templates? Learn how to navigate Marsello's Email Template Library and get ready to start using them for yourself.
Published Jun 3, 2020 12:00:00 AM