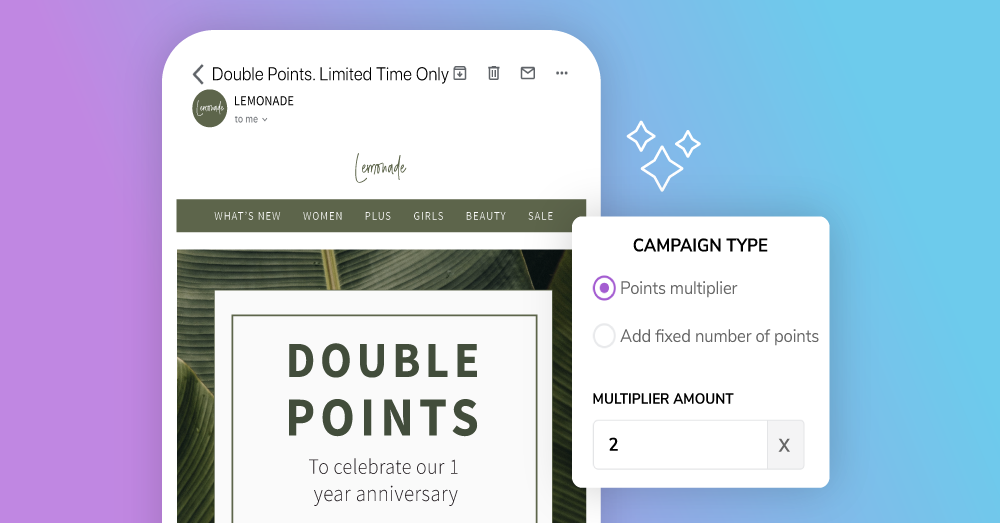 How Points Campaigns Can Help You Increase Customer Loyalty
Written by Sophie Macdonald

 |   Read
Points Campaigns are the perfect tool to have up your sleeve to help drive sales on those quieter days or celebrate a special event (like a holiday).
With Points Campaigns, you will not only have the ability to run campaigns that offer extra-points-per-purchase (set over specific timeframes) – you'll also easily be able to market these promotions to loyalty program members and track the success of your campaign with real-time reporting. Your customers will be compelled to not only shop at your store, but they will also be tempted to spend more, especially with extra bonuses like the ability to add minimum spend requirements.
Let's take a closer look.


How points campaigns work alongside promotional campaigns in Marsello

The Points Campaigns feature will give you the ability to run Points Multiplier or 'Fixed-points Amount' campaigns during set timeframes. This new campaign type is found under the Campaigns dashboard in your Marsello admin.
And the options are endless!
Double points promotions are a common go-to (as you'll see in the following email examples), however they're not the only option! Points Campaigns are a powerful tool for encouraging a positive change in shopping behavior. We've put together just a few examples:
Why not encourage customers back to your brick-and-mortar store with in-store only points promotions (when you can re-open your store if you were forced to close as a result of COVID-19, or if you're finding traffic slow). With the new Points Campaigns feature, advanced options will allow you to decide which of your sites a customer must shop at to earn bonus points.

Do you find your store has a midweek quiet patch? Offer bonus points that delight your customers and incentivize them to shop on those quiet days e.g. offer shoppers an extra 50 points exclusively on Tuesdays. This is called a 'Fixed Points Amount' campaign.

Do you celebrate your store's birthday? Why not promote the event with a points promotion and campaign that encourages your customers to celebrate with you and receive bonus points for a limited time. Encourage your customers to spend more by setting a minimum spend amount per order.

Are you just about to launch a loyalty program? Add even more excitement and incentive for your customers to join by offering bonus points for your loyalty program's first month! Simply specify the start and end dates of your campaign.
One powerful way to promote your points campaign is through Email and SMS. It's important to note that these should be scheduled to coincide with the timing of your Points Campaign.


Read more: 7 Steps To Building A Profitable Loyalty & Rewards Program


Merchants using points campaigns to drive customer engagement


Let's take a look at how some merchants are using points promotion campaigns to attract customers and encourage purchases.


Urban Outfitters Offers Double Points
Urban Outfitters recently made the effort to delight and excite their loyalty program members! The multi-national, powerhouse brand offered double points for all online purchases of homewares for a limited time, helping them to capture customers at a time when many can't access brick-and-mortar stores (no thanks to Covid-19) and online sales have seen a remarkable increase.


Urban Outfitters cleverly teamed their promotion with an email campaign that features stand-out design decisions like GIFs and high-quality images. By not specifying exactly when the offer ends, UO also cleverly creates a sense of urgency that the deal won't last long and that customers should shop soon. Notice that they keep the images simple with minimal text and the focus being on the essential details and then product examples that encourage the customer to shop. Campaigns like this really stand out and help to see high conversion rates and quick returns on investment.
It's all about timing too! And we don't just mean when the emails are sent and received. Urban Outfitters are cleverly offering this deal on homewares at a time when customers are spending a lot of time at home and likely to be intrigued by a refresh of their home decor.
One Love Organics Shares All The Details
One Love Organics like to keep things simple when it comes to design. Their branding and visuals are always fresh and inviting with stylish design choices and color palettes that pop when paired together. ONO's recent points promotion campaign was no different.



They not only encourage their loyal customers to shop with them by offering an undeniable double points promotion to their Love Club loyalty program members, but they also provide the exact time that the deal will end. They then go the extra mile by adding (in a complimentary banner above the core content) that customers who spend more than $49 will receive free shipping!! It's incentives like these that customers just can't turn down, and One Love Organics are nailing it!
Final words

Looking forward to promoting your loyalty program by sending your first Points Campaign? Learn all you need to know from our help center article on creating a points campaign and make sure to check out the pre-built 'Double Points' email campaign template.
We'd love to see what campaign designs you come up with – if you have a Points Campaign that you're proud of, feel free to let us know in the comments below.
Published Aug 11, 2020 12:00:00 AM