International swimwear brand, Triangl, has mastered a stylish yet impactful retail email marketing strategy. The results speak for themselves! Since sending their first campaign using Marsello, Triangl's US-based store has seen as high as a 1,051% revenue growth (directly attributed month-on-month from their email marketing) and a 973% increase in average monthly order rates. And by achieving 5,182x ROI in just 1 year, the world-leading swimwear retailer is proving they are experts in curated email marketing and consistent branding.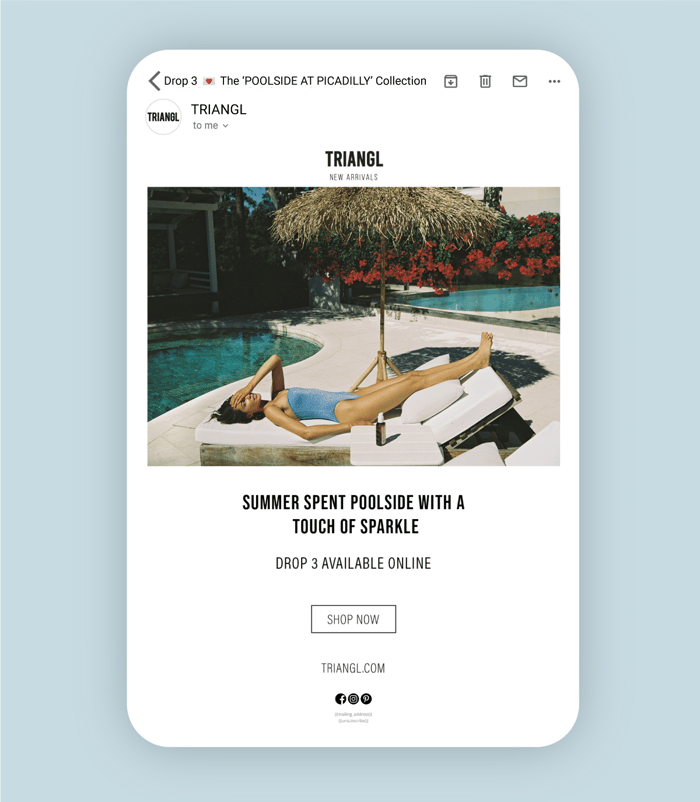 Triangl's email campaigns are designed to draw attention to the products featured, and their strategy works! With clean, minimal content and bold, eye-catching imagery, Triangl cleverly draws the reader's eye to the main feature of the email (the swimwear) and then almost immediately directs customers to their website to 'SHOP NOW'. They also clearly include the store's URL and social media tiles, further encouraging customers to engage with the email, click links, and ultimately, make a purchase.
Triangl's emails are recognizable too! Their brand is iconic and it's essential that each piece of their communication represents this. It should come as no surprise then that each campaign follows a distinct pattern, helping to meet customers' expectations and create a memorable customer experience.
Each email campaign forms the following pattern:
· The brand's logo featuring their name, 'Triangl', features at the top of each email; this is then followed by a 1-2 word subheading.
· Next, a large campaign image with on-brand, beautiful, summery colors that compliment the collection being promoted.
· A short heading that is tied to the subject line or collection name.
· A description of the swimsuit or collection featured in the image, or an update that a new collection has launched.
· And finally, a 'SHOP NOW' call-to-action, followed by the store's URL and social links.
The design consistency across each email campaign means that once familiar with the brand's communications, customers instantly know that they're looking at an email from their favorite swimsuit retailer and that it could be time to make their next purchase. This consistency also creates a compelling push for customers to look forward to each campaign, adding to their customer experience and helping to develop feelings of trust and excitement – fostering customer loyalty.
The campaign featured above saw impressive results too! With a 15.6% click rate, 99% delivery rate (when you consider the global audience, that's huge), and 7.4% click-to-conversion rate, the June 2020 campaign is a perfect example of the brand's recognizable, aesthetically pleasing emails seeing powerful results.
Triangl is committed to delivering marketing content that their customers value and they've made sure to emphasize the importance of community within their marketing strategy. Whether it's one-off email campaigns or automations, the team at Triangl carefully plans each marketing decision with clear goals in mind. We love how Triangl's emails are not only an inspirational example, but they're also helping to create a community of brand advocates.
How Triangl make the most out of their integrations:
By integrating their eCommerce (Shopify Plus) with their in-store POS (Vend), Triangl is able to sell to customers throughout multiple sales channels, helping them to become a true omnichannel retailer. Shopify Plus is quickly becoming the go-to eCommerce provider for many big brands who seek a sleek, customizable, and stand-out experience so it's no wonder that Triangl is also part of that community. By seamlessly integrating their sales channels with their marketing, Triangl ensures their marketing engages customers no matter where they shop, which is no small feat and ensures a recognizable brand experience worldwide.
Triangl has this to say about their Welcome Email Series:
"The increase in our results was also driven by improving our Welcome Email Series where the content seeks to build community, encourage user-generated content, showcase new arrivals, engage customers in upcoming releases, and get involved in our Travels via the Blog."
Published Jun 15, 2021 4:27:17 PM