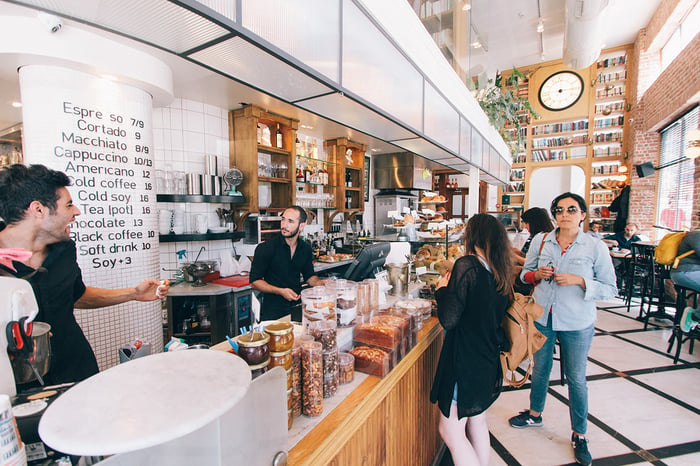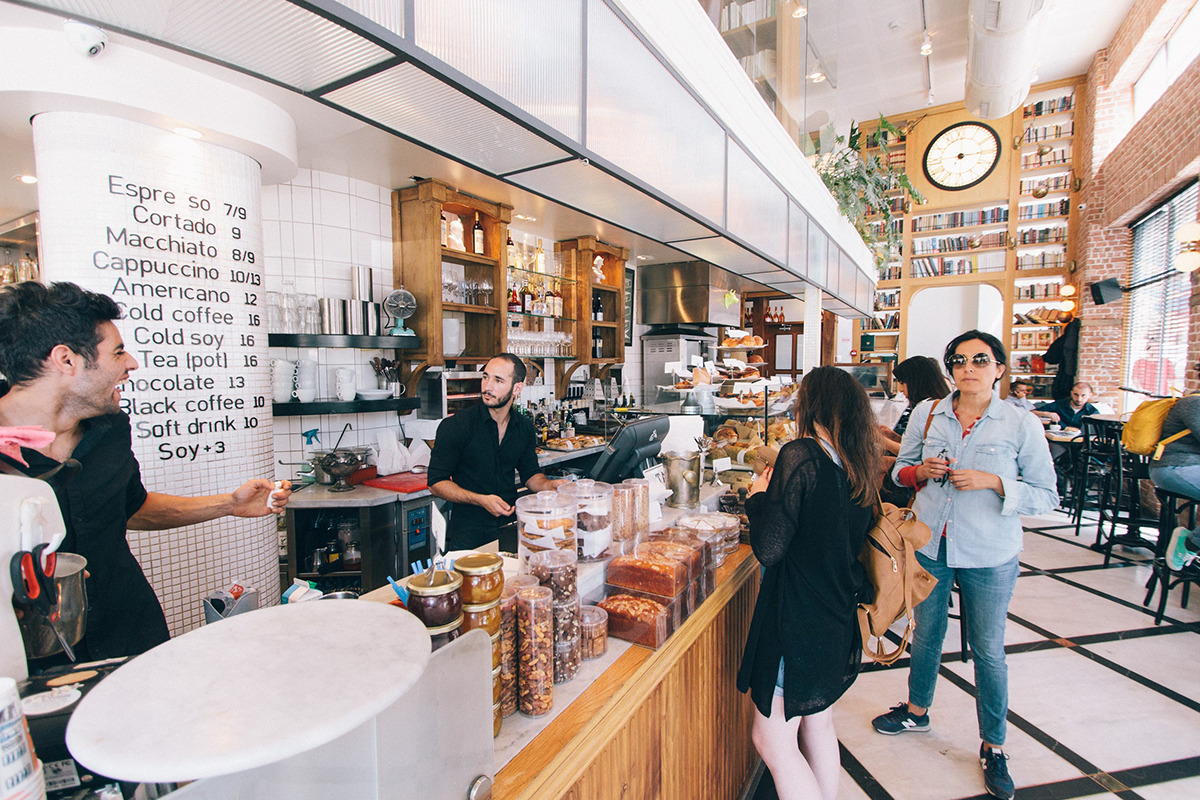 There's one ingredient that's absolutely critical when you're starting a business: momentum. Having that initial drive helps push your initiatives forward so that you can build on your efforts and continue to grow.
In retail, one of the best ways to gain momentum is to generate your first key sales. Getting customers early on not only puts money in the bank (so you can re-invest in your growth), but it gives you the motivation to keep going.
So, how exactly can you drive your initial sales? We've put together 10 ideas to help you gain paying customers as you kick off your biz. Check out the pointers below and see which ones are the best fit for your retail business.
1. If possible, ramp up your marketing before launching your products
Aim to build your audience even before you officially launch your business. You can do this by creating a website or social media account, and then posting high-value content that appeals to your target audience. You could also join relevant groups or forums and start connecting with their members.
Doing so benefits you in a couple of ways. For starters, finding an audience prior to creating your product or business enables you to validate your ideas and determine if there's a strong demand for your offerings.
What's more, building an audience early on paves the way for a stronger launch. If you already have an email list or existing social media followers, then you can unveil your products to an audience who already knows who you are, and are thus more likely to buy from you.
Andrew Alexander, the owner of FindaBusinessIdea.com, put this strategy to work in his own business and has seen tremendous results.
"In 2011, I was making posts on niche forums, Facebook groups, and other niche websites," he explained.
"Three years later when I released a program of mine… I already had people who were familiar with my name and what I wrote about, so the content I put out there (before I even had a product) allowed me to get my first $1,200 in sales within the first few weeks of launching my business."
2. Be clear about your unique value prop
One of the biggest challenges when it comes to getting your first sales is standing out in the marketplace. If your company is brand new, it can be difficult to win over shoppers, particularly if you're selling something that people can buy elsewhere.
An effective way to get around this is to identify your unique value proposition (UVP) and then market to a specific niche that would benefit from your UVP. Doing so enables you to be more targeted with your messaging and positioning, which then allows you to cut through the noise, so you're speaking directly to your niche.
Jonathan Prichard, the CEO and Founder of MattressInsider.com says that finding his business' UPV and niche helped keep his business from sinking.
"When I began my mattress company, I almost went bankrupt selling the same thing every other mattress company in America sold, which made it difficult to stick out. Luckily, I found the custom mattress size niche and was able to reposition the business before we went under," he shared.
Jonathan's key advice is to showcase your UPV in compelling ways. "It's a no-brainer that this is going to make you stand out from the crowd to draw people in for your initial sales. If you don't stand out in the market you're entering, you're not going to get those sales that will keep you afloat, thriving and motivated."
3. Tap into your existing network
Your current network could hold the key to unlocking more momentum in your business. If you haven't done so yet, start reaching to your friends, family, and existing supporters to see if they can help spread the word or send shoppers your way.
This step doesn't have to be complicated. As Kathleen Cutler of Bespoke Commerce notes, you can get going with just a pen and paper.
"Write down your most connected friends and family who've bought from you in the past," advises Kathleen. "Email them directly to ask who they might know who'd be interested in your eCommerce shop. Follow up with the referral leads directly with highly targeted and personalized communication."
4. Create a stunning storefront
As a retail business, your storefront can either drive traffic and sales or send people packing. This is why it's important to keep your window displays attractive and enticing. Here are some general guidelines to keep in mind:
Always have fresh merchandise and themes – See to it that your storefront keeps up with seasonal trends. Update your displays every week or two with new merchandise to give customers reasons to check out your store.
Keep elements at eye level – Decide on the products or elements that you want to draw attention to, and then position those key components at eye level. This ensures that people will immediately see the most important elements of your displays.
Avoid clutter – Overcrowded displays can cheapen the look and feel of your merchandise. Prevent that by keeping your display clear and uncluttered. The objective is to use your best products to attract customers, and encourage discovery while they're inside your shop.
Here's a great example of a display following the above best practices. Created by Lenka's Alterations, the window display incorporates elements of the spring season and uses key pieces of merchandise at eye level to draw people's attention.
For eCommerce stores, your homepage is the online equivalent of a window display, and the same design principles apply. Be sure to showcase your seasonal products and new arrivals, and avoid cluttering up the page with unnecessary information.
Francesca, an online jewelry retailer, always has a tastefully-designed homepage banner that showcases the brand's latest collections. Check out Francesca's most recent homepage below:
5. Collaborate with other companies
Consider tapping into the audiences of other retailers and brands. Identify non-competing companies that share your target customers and see if you can team up with them. Collaboration between brands and retailers is becoming an increasingly popular strategy, particularly when it comes to eCommerce companies teaming up with physical retailers.
Case in point: Segara, an eCommerce store specializing in swimwear. Segara already has a decent online presence, but the brand is also making waves offline thanks to partnerships with brick and mortar retailers.
Last year, Segara teamed up with minimalist retailer Cuyana for a "pop-in" event in-store, enabling them to gain key offline sales and further grow the Segara brand.
6. Team up with influencers
If the idea of partnerships appeals to you, then consider teaming up with social media influencers. Research shows that 92% of consumers trust influencers more than traditional celebrity endorsements, which means that building relationships with the right individuals can pay off for your brand.
If it makes sense for your business, start identifying social influencers who can amplify your messages. Use tools such as Peg, Reachbird, and Scrunch to find the right people and create outreach campaigns.
You can engage influencers through a number of ways, including:
Free products

Content collaborations

Sponsored posts
For best results, throw in a special offer or discount that influencers can promote to their followers. That's what Lokus Nutrition did when they ran their influencer campaign.
"We targeted Instagram users with audiences that matched our desired customer. We reached out to them directly and engaged an Influencer Marketing Agency to help," explained Paul Miller, president at Lokus Nutrition. "We [then] offered a 10% discount code for our Instagram influencers to use in their posts."
7. Tap into relevant groups and websites
In addition to sending freebies or discounts to influencers, see if you can apply the same strategy when reaching out to websites and social media groups.
According to Paul, they also reached out to Facebook groups whose members matched their target market and offered a discount for all group members.
The Lokus Nutrition team also reached out to websites that were coming up with gift guides, and sent those sites free products to sample, review, and include in their guides.
Consider doing something similar in your business. Identify groups, forums, or websites that are frequented by your target audience, and then explore partnership opportunities with them.
8. Encourage referrals
Create momentum and drive additional sales by encouraging your current customer base to refer your brand to their network. To streamline this process, use a referral program that makes it easy to track referrals and rewards.
Buda Juice, which sells organic cold-pressed juices, implements this strategy quite well. Buda Juice has a referral program that rewards members with 50 loyalty points (the equivalent of $5) for every friend who successfully makes a purchase.
The program not only attracts new customers, but it lets Buda Juice reward its existing patrons, which builds goodwill and brand loyalty in the process.
9. Consider online marketplaces
It's worth considering if marketplaces like Amazon, Etsy, and eBay are good sales channels for your brand. These websites reach hundreds of millions of users daily, so with the right marketplace strategy, you can drive additional sales.
Each website is different, but here are a few general pointers for how to succeed in online marketplaces:
Craft compelling listings – Make your product listings as compelling as possible by using attractive images and rich media that showcase your items from various angles. You should also craft unique and compelling copy to effectively communicate the features and benefits of your items.

Optimize your listings for search – You want your products to show up on relevant searches, so optimize your listings by incorporating targeted keywords in your titles and descriptions. Just remember not to overdo it! The key is to write for people, not bots.

Build up a strong seller reputation – Marketplaces like Amazon, Etsy, and eBay strongly favor sellers with high ratings and reviews. So, strive to build a stellar reputation by selling high-quality products at fair prices, and by providing excellent customer service.
10. Win back lost sales
Are shoppers leaving your website without completing their purchases? Don't let those potential key sales slip away. Implement abandoned cart email campaigns to remind shoppers about the items left in their basket.
Take a leaf out of LITVA'S Jewelry's playbook. Whenever someone adds an item to their cart but leaves without completing the sale, LITVA'S sends an email to give the customer the opportunity to finish their purchase.
Bottom line
Gaining your first key sales may seem daunting, especially if you're just starting out, but it's completely doable! With a bit of resourcefulness and creativity, you can start winning over those initial customers and obtain momentum you need to keep going.
Good luck!
Published Apr 10, 2019 12:00:00 AM