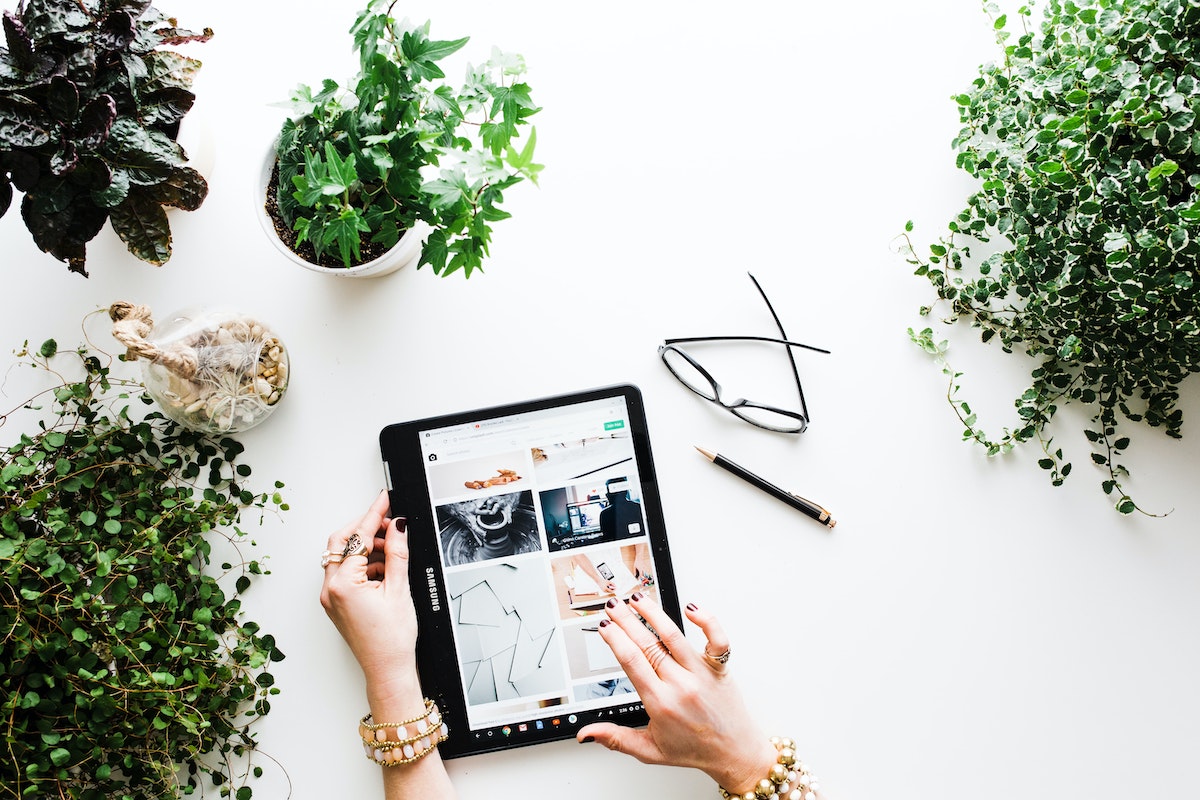 What is marketing automation & how can retailers take advantage of it?
Written by Tania Hack

 |   Read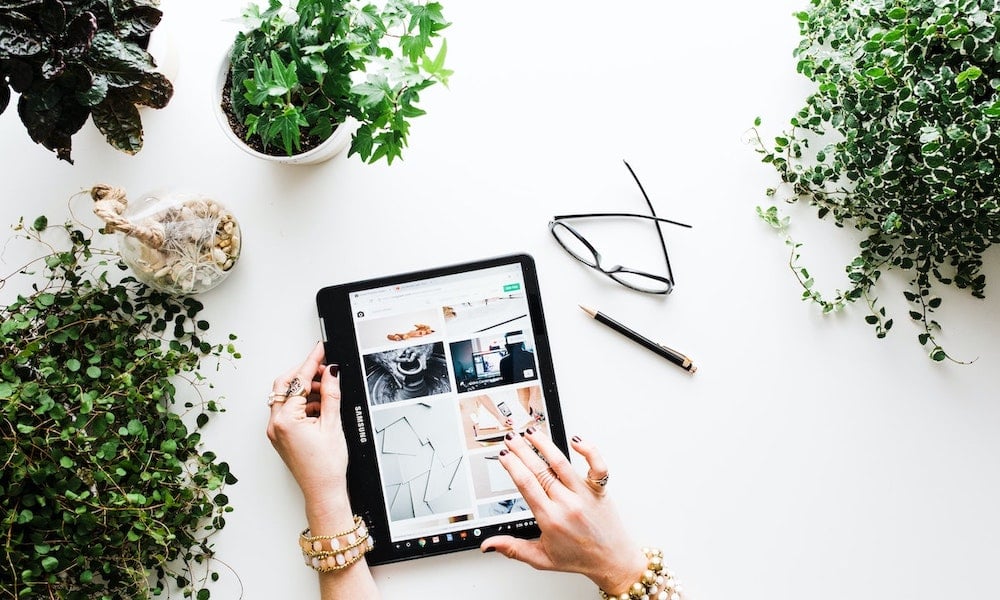 With marketing automation, you can reach the right customers at the right time with the right information to drive sales. Whether you have retail stores, an eCommerce site, or both, automated marketing can help build and maintain effective marketing systems.

Once turned set up, automated marketing systems can help you stay in regular contact with your customers while building customer loyalty with data-driven content such as product recommendations. With frequent contact designed to foster customer loyalty, retailers can actively drive customers back in-store or online (known as customer retention) with minimal ongoing effort.
Essentially, automated marketing is the curated combination of strategic marketing and software, and a good automation system will allow you to stay front of mind with your customers while improving your relationship with them. And once it's all set up, marketing automation software keeps running in the background as always-on marketing.
Quick links
What is marketing automation
Automation software allows you to send timely emails and SMS campaigns based on your customers' behavior. 'Triggers' are linked to specific behaviors or actions, like an initial purchase or an abandoned shopping cart– in turn, this automates a communication (email or SMS campaign) that includes targeted and action-relevant information designs to encourage a purchase.

By understanding your customers and their 'journey' with your store from lead to loyal customer, you can set up automated campaigns that engage shoppers at any number of key moments. This could be when they are most likely to re-purchase or even recapturing them before they churn. With automated systems, this all happens automatically with the help of triggers, ensuring you never miss an opportunity to engage with your audience.

How does marketing automation software work?
Marketing automation works by following your customers through their journey and engaging with them at set key moments (triggers). The first key moment is after the customer's initial purchase. Once completing their first purchase, shoppers have established a positive view of your business and are likely to buy additional items. You can use this information to reach out to these high-value customers and encourage them to shop with you again. Another effective time is when customers have placed items in an online cart but have not completed the purchase.

The second phase of automation is the follow-up to these emails. If the emails have not encouraged your customers to initiate a purchase, you can send reminders and limited-time discounts to further prompt them to shop.

Other key moments could include birthdays or anniversaries. Automated marketing doesn't stop at obvious triggers too. With customer segmentation, the options for customer retention see massive expansion. For example, you could create an automated campaign that triggers when customers from your 'best' customer segment make a purchase, thanking them for making a purchase, encouraging them to share their experience on social media or in a review, and offering them an exclusive VIP discount for their ongoing loyalty. Or you could tailor your automated birthday flows so your best customers feel a little extra love on their special day by curating a birthday automation specific to that segment.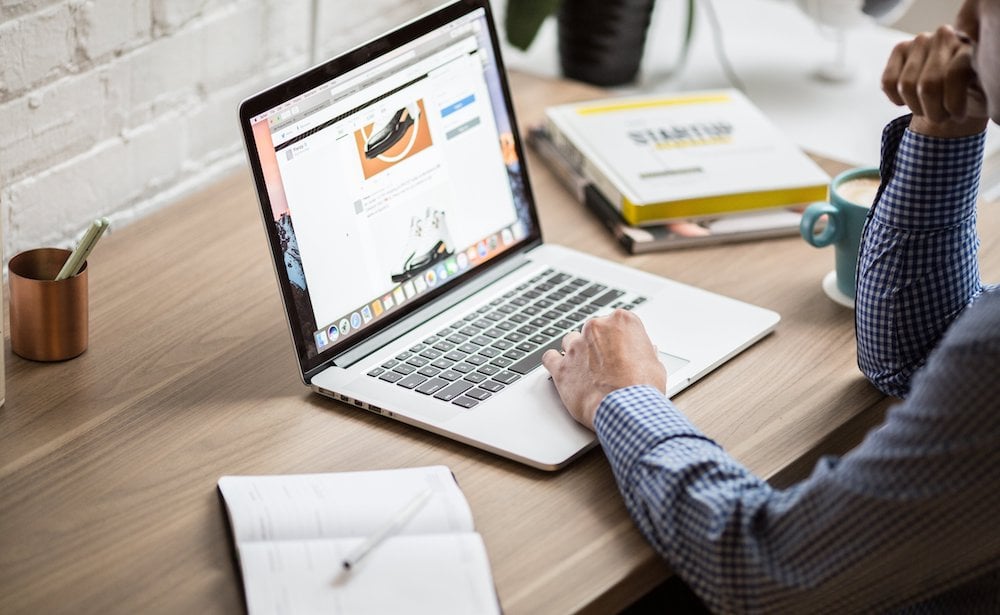 The advantages of marketing automation for eCommerce businesses
1. Saves time while nurturing customer relationships
eCommerce marketing automation will save your business so much time. Rather than using valuable and limited resources to build countless campaigns, you're able to implement personalized, perfectly timed marketing that feels authentically engaging but also requires minimal upkeep.
Personalization is an easy addition too. Most campaign builders use drag-and-drop modules or blocks to make building campaigns as straightforward as possible. Easily include personal details like merge tags (which automatically include the customer's name) or recommended products (based on previous purchases) to improve the relevance and effectiveness of your marketing.
Automated marketing also ensures your messages are timely; special offers for birthdays or follow-ups for unredeemed discounts send personalized campaigns as soon as the customer 'enters the flow' by completing the set trigger action. With eCommerce automated marketing, spending time checking on client data and then sending relevant emails is a thing of the past.
2. Provides personalized experience
Customers don't want to receive marketing materials that aren't relevant to them. It's frustrating and may even decrease your open rates as customers lose interest or feel spammed. Instead, creating personalized marketing means that your customers are more likely to open your emails time and time again, engage with the content and complete a purchase (thereby increasing their loyalty).

Simple examples include using your customers' names in the subject line of your emails. You can also insert recent purchase information if asking for feedback or suggested products based on previous buying behavior.

Another great example is including abandoned cart information to people to encourage customers to finalize their purchases. Ozzie Collectables do precisely this by using automated email flows to remind customers about the contents of their abandoned cart. Ozzie Collectable sends a total of three emails within this flow (if the customer hasn't already gone back and finalized their purchase).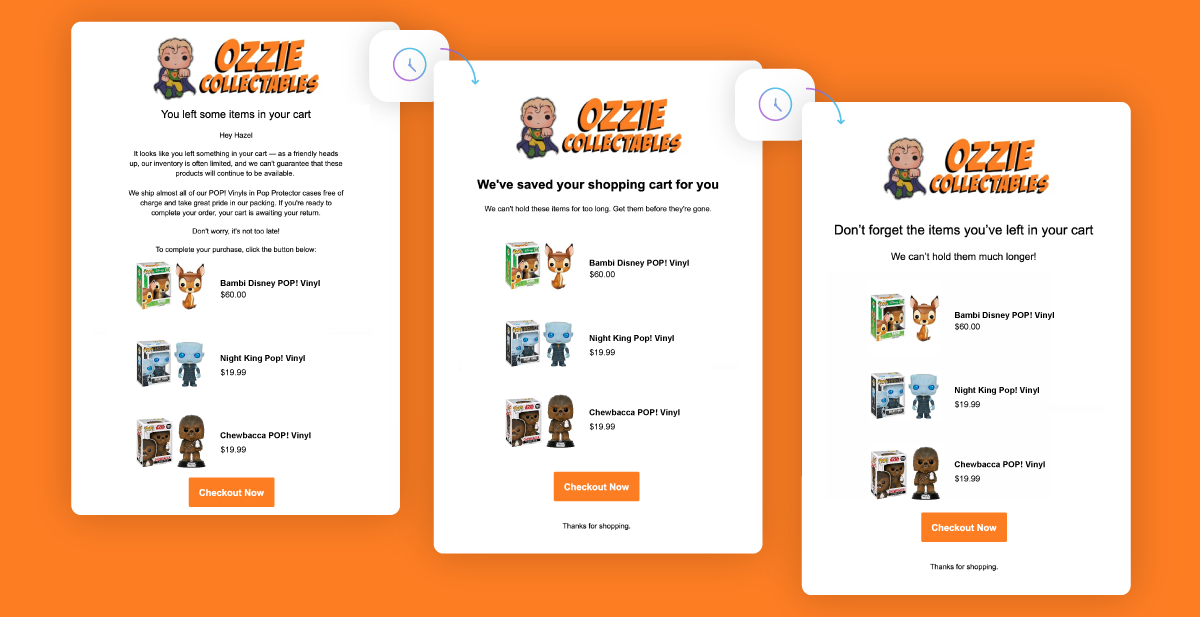 Ozzie Collectables have seen outstanding benefits from making the most of automated marketing. While seeing 214x ROI with their Marsello marketing, it's automated email flows that have generated 38% of their total revenue. Read their success story and others like them.
3. Advanced reporting helps decision making
When do your customers want to hear from you? What kinds of emails drive a higher sales volume? Are there segments of your audience that just need a reminder, not a discount, to encourage purchases? Are your customers reading your emails and then heading in-store to purchase?

Advanced reporting of your marketing automation can answer all these questions and more. It can help you better understand which pieces of content your audience is responding to. This can help you further refine and improve your marketing.
4. Helps improve revenue
Marketing and eCommerce automation is an easy way to increase average customer revenue with fast results. As well as improved loyalty, staying front-of-mind with your customers will also help increase the revenue you generate from each customer (also known as customer lifetime value).

One way to do this is through discounts to price-sensitive customers. Discounts work best when they're curated and not offered with a blanket approach – basically, you don't want to offer all your customers a discount because some will buy your products at full price with just a simple nudge in that direction. Automation can be used to offer exclusive, limited-time discounts to customers who might need this extra incentive, and you can best find this customer data with the advanced reporting we mentioned above.

Automated follow-ups and reminders can also drive purchases and revenue. These can be related to sales, loyalty points, or special offers. By excluding customers from your automated flows as soon as they complete a purchase or utilize an offer, you're ensuring that customers only receive relevant marketing and that you don't accidentally lose revenue with single customers receiving multiple discounts. But the best part? You'll be able to build this exclusion into your email flow, making your reporting accurate and ongoing management of recipient lists hands-free.

5. Improves customer experience and lifetime value
Acquiring new customers can be expensive. In fact, it's around 5x more expensive to acquire new customers than it is to keep existing customers. So rather than investing all your marketing spend into building new customer relationships, you are better off spending money to improve customer experience. This increases the customer lifetime value as their loyalty grows and customers stay with you, spending more over an extended timeframe.
Marketing automation can provide a better experience for your customers by ensuring they are informed and engaged at every touchpoint. Whether it's an update to their loyalty point status or special offers, any information that will improve their interactions with your business are valuable assets to an automated marketing strategy.
6. It helps marketing across multiple channels
Your customers are moving across the internet, from email to social to websites. Being able to automatically reach them across all these platforms can help reinforce messaging.

Your audience will need to hear from you multiple times before taking action. Reaching them on different channels means that this doesn't have to be done all in their email inbox and gives you the freedom to be a little creative with your different campaign touchpoints. Syncing the audiences you use for Facebook advertising with your marketing lists ensures coherent and consistent messaging across platforms. Just make sure that all of your marketing efforts feel seamless and recognizable, thereby adding to their customer experience.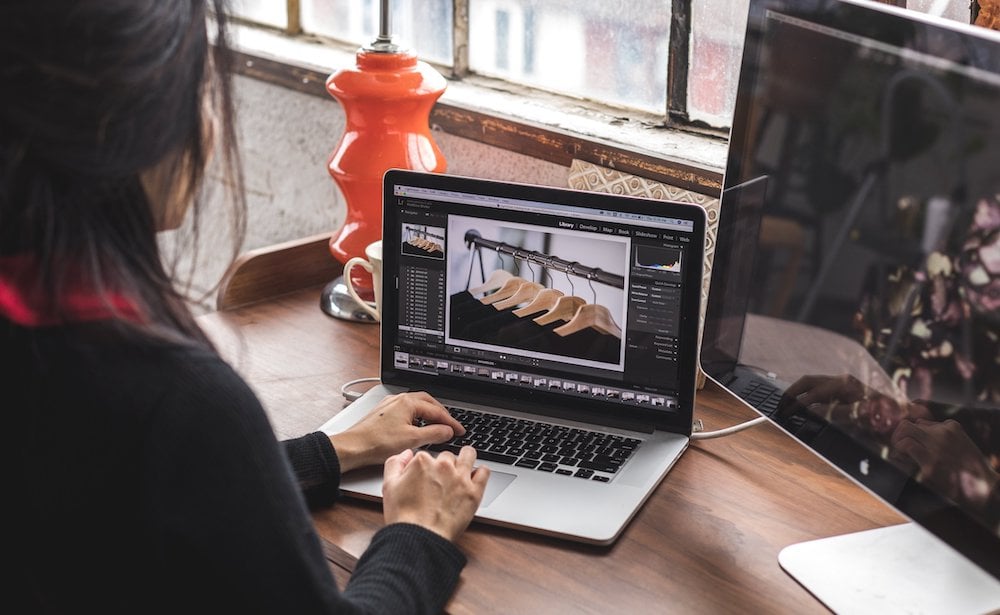 The advantages of marketing automation for brick-and-mortar stores

1. It builds an effective workflow
Retail marketing automation can help you nurture your customers. With good segmentation and data, you can understand the warm leads that need a little prompting to come in-store, and you can create campaigns that update loyal customers who just want to know about new products that have landed so they can be first in line at your door.

With automation, you can also learn which incentives and reminders help to bring customers in-store and which communications or content doesn't work as well as expected. Results-focused experimentation will also help you tailor your automated promotions, time-sensitive emails, and directive prompts to best suit your audience. It's these insights that you can use to build workflows that are guaranteed to see the results that you're hoping for – whether that's increased sales, improved loyalty, or just brand awareness.
2. Helps build interaction with customers
Building loyalty can be a crucial driver in retail success. You want to ensure your customers think of your store as the first port of call for your product offering. Customer loyalty can decide the fate of a retail store.

Retail marketing automation combined with loyalty marketing, sales, customer experience, and data-driven triggers will help you develop your customer relationships. By keeping the conversation going throughout all channels (emails, SMS, social media, etc.) and touchpoints, you're able to strengthen the customer's connection to your business and improve their confidence that your store is the answer to their needs.

Whether you're creating complicated automations based on customer segments, their needs, and specific behavioral triggers, or you're simply automating an "It's on its way" shipping email, it's the curated communication and dedication to improved customer experience that's going to see results.
3. It helps provide an incentive to loyal customers
Incentivizes offer a powerful opportunity to draw customers in and increase engagement. It's simple really. By offering loyalty points, special products or events, or limited-time discounts, you encourage actions like purchases or the creation of loyalty profiles, which are trackable events and easy to follow up with more incentive-driven communications. It's about ensuring your automations offer the right encouragement to the right customers at the right time, driving their behavior with perfectly planned messaging and CTAs.

By using customer data you can track who your most loyal customers are and reward them. But improving customer loyalty isn't just restricted to those customers who already love your brand. Don't forget your at-risk or inactive customers. By analyzing your customer data, you can track those that need an incentive to repurchase to help develop their loyalty. Win-back campaigns are a powerful tool for encouraging customers back to your store when they haven't shopped with you for a specific amount of time. If you know your average customer purchase frequency is around 10 days, you could set up an automated win-back email that triggers when customers haven't shopped for 30 days, offering them a discount or reminding them of your fantastic product offering.

Our Bralette Club does just that!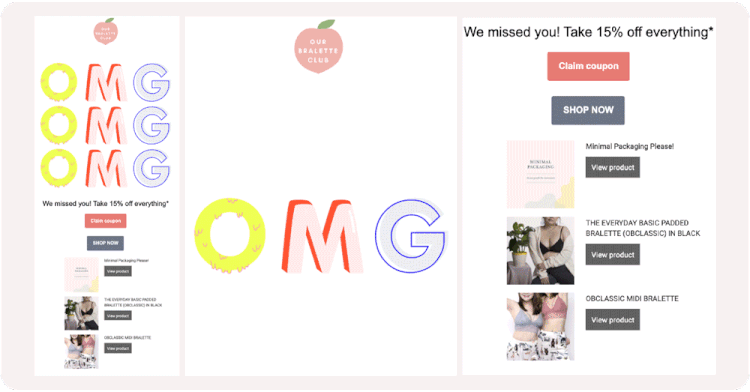 With eye-catching graphics animated into scroll-stopping GIFs, data-driven product recommendations, undeniable discounts, and beautiful, recognizable branding, OBC has been able to re-engage at-risk customers, see open rates sky-rocket, and generate revenue that could have potentially been lost had they not made contact.
4. Increases feelings of ownership for customers
Humans enjoy feeling a part of something bigger than themselves. We also often identify with the places we shop or the brands we purchase. Using personalization and segmentation can help you craft emails that create a sense of belonging in your customers.

Building this sense of belonging, or ownership builds customer loyalty to your business. And as we've said, loyal customers spend more over time and are more likely to become brand ambassadors, recommending your products to others.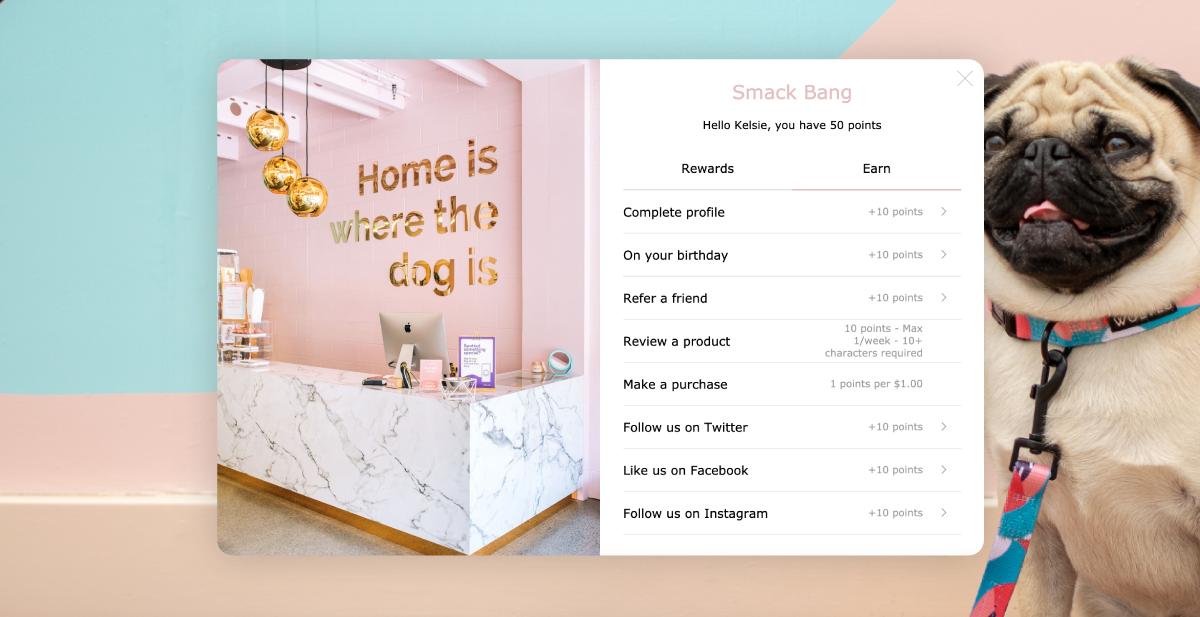 Pet product specialists, Smack Bang, know all about this. They've seen increased loyalty indicators results such as a 100% loyalty engagement rate, and a reward redemption rate of 38% but the results don't stop there! Smack Bang knows all about the importance of timing and, during Wellington, NZ's COVID-19 lockdown, they took the time to update the design of their loyalty widget. With a fresh new look and added incentives, they were able to ensure they stood out to customers both in-store and online, encouraging more sales while also maintaining their world-class loyalty engagement rate.
5. Improved sales in retail
Email marketing can drive traffic in-store and online by utilizing relevance and value. By reaching out to your customers at the right time, you're more likely to bring them to your retail store. This relevance can be related to loyalty point promotions, special offers, or new product launches. Think of it like this: only make contact with your different customer groups when there is something relevant to them. This will increase your email marketing success from open, click, and engagement rates, to directly attributable revenue.

Retail sales increase when you provide value to your customers throughout your campaigns. Just make sure to tailor the messaging to provide what each market segment perceives as valuable.
Final words
Marketing automation can help both retail and eCommerce marketing teams achieve sales and traffic. With systems designed to maintain contact with your customers, you can build loyalty and increase ROI. Automating these systems frees up your time and ensures contact is made at the right time.

At the end of the day, you want personalized, timely marketing that excites your customers and improves their experience – but you want this to happen automatically. It's about using your customer data to create a curated and specific experience that feels intentional to your customer, with minimal upkeep required from you after the initial set-up. Thankfully, if your marketing service provider has your back, the basics of these automations will be largely set up for you, and easy to add your own branded, personal touch. Learn more about Marsello automated campaigns and all our other features, reach out to our team through the chatbot, or book a demo.
Published Jul 21, 2021 2:28:56 PM