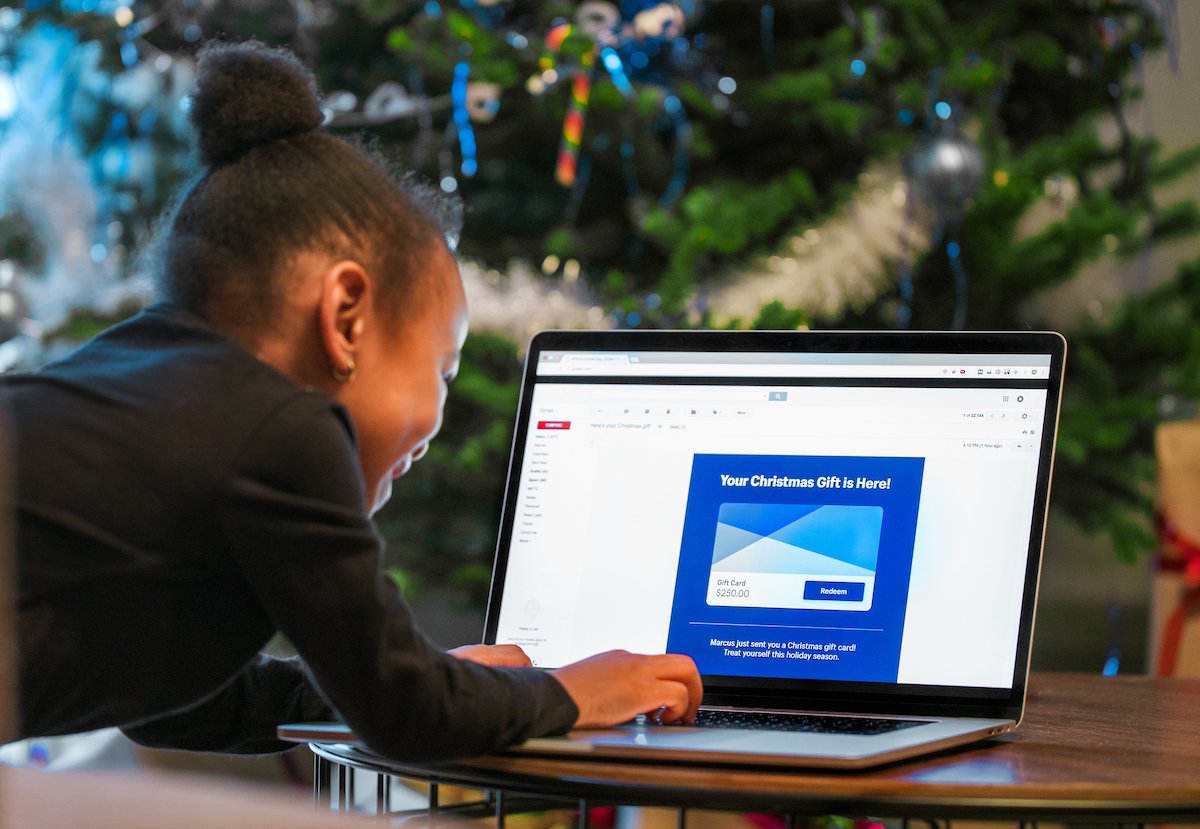 7 Ways to Create Holiday Campaigns That Convert
Written by Francesca Nicasio

 |   Read
Email may not be the newest craze in the world of digital marketing, but it continues to prove itself as the most effective channel for omnichannel businesses, particularly during the holiday season.
As marketing powerhouse Neil Patel has mentioned, email has nearly three times the number of accounts as Facebook and Twitter combined – 2.9 billion! Campaign email marketing continues to grow at a phenomenal rate, however, it's essential that any business owner or marketer understands the anatomy of a good email and takes note of evolving trends.
The popularity and effectiveness of email marketing are undeniable, and while that's generally a good thing, it also presents one obvious challenge: because email is so popular, it can be difficult to stand out in the competition while staying true to brand messaging.
So how can you ensure that your emails make the cut?
To help answer that, we're putting the spotlight on a handful of email promotions that you can use as inspiration for your own holiday marketing campaigns.
Retention first


Before you can start your holiday email marketing campaigns, it's vital that you get your customer retention strategies sorted. Why? Because these are the long-term marketing tools that will keep your holiday season customers coming back throughout the remainder of the year.


Consider some of the following retention strategies:


Incorporate themes into your emails
This may sound obvious, but many merchants continue to send uninspired and generic emails during the holidays. Don't be one of them! Write and design your emails in such a way that they embody the holiday that you're celebrating while staying true to your brand and excite your customers along the way.
So if it's Christmas, your campaigns should reflect the joy and cheer that people experience around the season. If you're sending emails for Black Friday and Cyber Monday, then your design and messaging should bring about excitement and a sense of urgency.
Go through your marketing emails and ask yourself the following questions:
Do they contain key holiday terms? (e.g., 'gifts', 'happy holidays' or 'it's Christmas')

If not, have you considered adding a seasonal emoji to make your message more in line with each holiday?

Is your color palette in line with the holiday you're celebrating but also complementary to your branding? (e.g., black and white for BFCM, red and green for Christmas)

Is the design of your email relevant to the season?

Is the written and visual content of your email relevant to the season?

Are you positioning your products as holiday purchases? (e.g., 'Dresses for your next holiday party' vs just 'dresses')
Here are a few holiday email examples you can use as inspiration.
OSMOSE creates an immersive theme for Chinese New Year
OSMOSE, a Singapore-based specialist in women's fashion, knew that Chinese New Year was the perfect holiday to market to their current customers. The overarching theme of their email was the color red, which is considered a symbol of luck and prosperity during the hugely popular holiday. In fact, red is the official color of Chinese New Year. They encourage email recipients to "paint your wardrobe red" to "welcome a prosperous new year". Check out their gorgeous customized email flow below.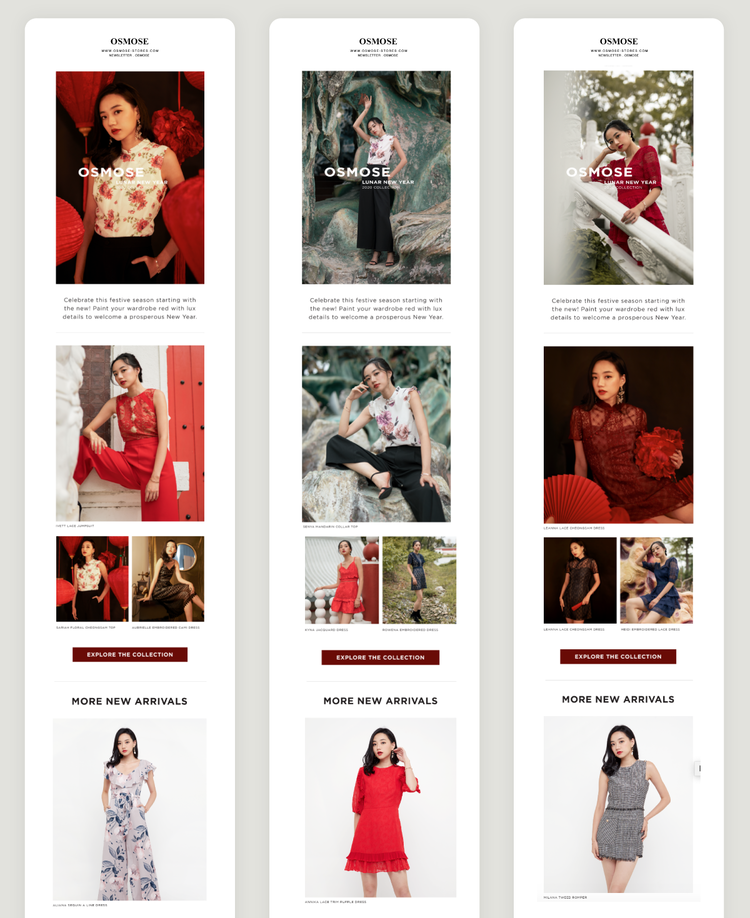 Area 51 keeps customers informed with holiday season in-store hours
When the holiday season came nearer last year, Area 51 took the opportunity to remind their customers of their hours over that season, but they also sweetened the deal by offering 20% to their online customers, making sure their customers knew that online shopping at Area 51 was still an option.
Brandini Toffee creates a holiday-themed product

Brandini Toffee knows the importance of personalized marketing and carefully curated customer service – and they know that these two things go hand-in-hand. To encourage customer engagement and create a personalized, holiday-themed shopping experience, Brandini created a Christmas product called 'Red Box' which included 1lb and 2lbs of their famous toffee. They then made the deal all the sweeter by adding free shipping on orders over $70.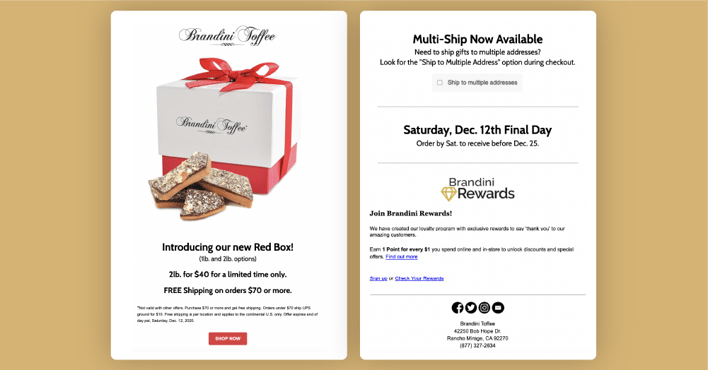 Alex and Ani positions their existing merchandise as gifts
Alex and Ani took one of their mainstay products and positioned it as a holiday gift. With the adorable content, beautiful design that fits their branding, and their three top products, Alex and Ani curated a stand-out email sure to be successful with their new and returning customers.
Allbirds offers a holiday-themed giveaway to incentivize purchases
Last Christmas, sustainable sneaker company, Allbirds, went above and beyond in offering customers a festive deal – they created a festive-themed version of one of their products: Christmas shoelaces. These were added as a special offer for customers who shopped during the holiday season, but not before customers were reminded to make sustainable choices with their gift-giving and purchases. We love the way they've included their branding, marketing, calls to action, and ethos into one snappy and beautiful email.
UGMONK created a holiday gift guide with clever segmentation
When UGMONK released an email gift guide last year, they didn't just stick to the mainstays of 'gifts for mom' or 'his & hers' organization. With guide sections such as 'cozy comforts' and 'mountains', they were able to curate a guide that would appeal to anyone.
PRO TIP:Did you know that Marsello's holiday email flows come with seasonal templates? No need to design an email from scratch; just take on of our best-practice templates, designed to keep your customers coming back, and then tailor to your business.
Personalize your campaigns
A well-written and beautifully designed email won't be effective if the content is irrelevant to the recipient. That's why you should always incorporate personalization into your campaigns.
Studies show that eCommerce emails with personalized subject lines have 29% higher open rates so really it's a no-brainer – personalization and loyalty go hand-in-hand. And with the growth of email marketing (expected to reach an astounding 4.3 billion users by 2022!!), you should be utilizing every tool at your disposal to help you increase open rates and stay at the forefront of your customers' minds.
So consider incorporating tricks and tools like customer segmentation, purchase history included in email content, and wish lists. Being able to easily tailor the content of your messages to each user will help you to reach them on a personal level and improve customer engagement drastically.
Take a leaf out the playbooks of these companies:
Yuccs uses clever customer segmentation to target different groups
Spanish shoe designer, Yuccs, are leaders in creating stylish, comfortable sneakers that bridge the gap between function and fashion. Because of this, they have a clear vision for their brand and how they present it to their customers. During the holiday season, Yuccs created a similar email campaign but with notable differences that catered to two separate audience segments: loyal customers and Facebook leads!

Both emails were Black Friday-themed and both were marketing the same products, however, the images and messaging were designed to cater more to the specific customer groups. Loyal customers were given the benefit of the doubt with 'you already know' messaging. They were encouraged to make the most of undeniable holiday prices and get organized for Christmas. Meanwhile, the segment created from Facebook Leads received an email that encouraged them to make a purchase and convert to loyal customers with the message "take advantage of our most exclusive discounts of the year".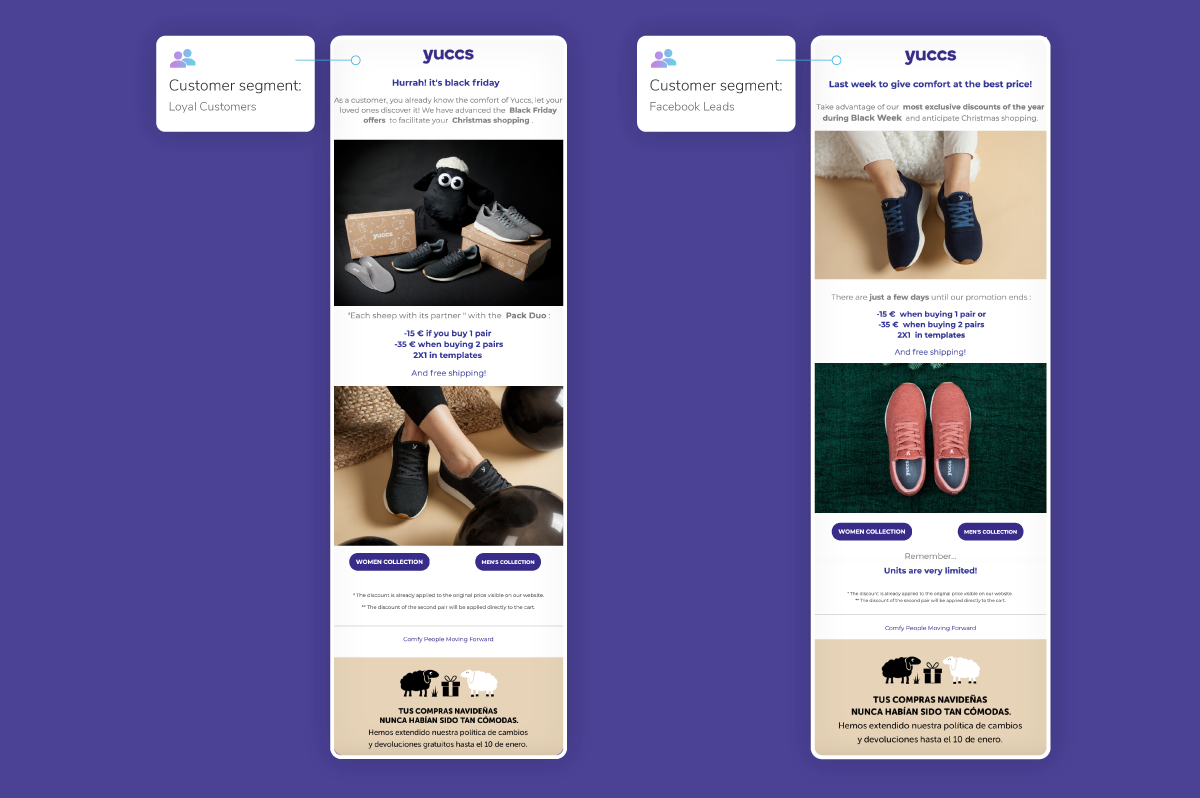 Federation + recommends products that shoppers might like based on their browsing activity
Federation + is an infamous streetwear brand in New Zealand, and a large part of this is their dedication to forming a distinguished, stand-out brand that excites customers both in-store and online, creating a seamless omnichannel shopping experience.
Good email marketing stands out while also encouraging customers to convert. It's that simple. There are plenty of tactics to mastering this, and one of the simplest is using smart product recommendations. Federation + does this by adding a 'product recommendations block' to their welcome email, encouraging customers to make a purchase with a 10% discount, followed by showcasing products that are similar to the others that customer has viewed and that customers like them have previously purchased.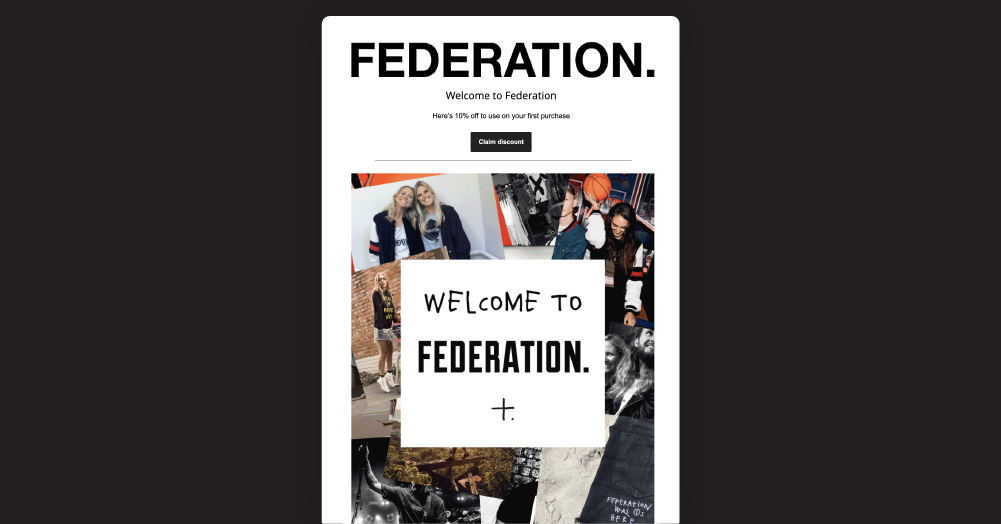 Barebones recommend products based on previous purchases
If you're marketing to existing customers, then use their purchase data in your product recommendations. This is a good way to show customers that you're paying attention to their shopping habits. And if you implement this strategy in a friendly way (like what Barebones is doing in the example below), you'll encourage people to continue shopping at your store.
PRO TIP: Marsello's holiday email flows make it easy to send personalized product recommendations. Simply drag and drop the product widget onto your email, and it will automatically populate with the top 3 items that your customer is likely to purchase, based on their shopping history, and the shopping histories of customers like them.
Run compelling and creative offers
In an age when numerous brands are vying for shopper attention, it's imperative that you craft offers that are both compelling and creative.
There aren't any one-size-fits-all promos that would work for every campaign, as your offers would depend on your customers, merchandise, and objectives. For example, if you're trying to move slow-moving inventory, then multi-buy promotions (e.g., "BOGO," Buy 2 get 1 free, etc.) would be the best offer type. On the other hand, if the goal is to increase order values, then conditional offers (e.g., "Free shipping on orders over $75") would be a better way to go.
Have a think about the right type of offer for your campaign, and once you've decided on the type of promotions to run, inject holiday some themes to make them relevant.
Consider the following:
Flynn Skye shows shoppers how much they're saving
You know what they say, showing is better than telling. Apparel retailer Flynn Skye puts this nugget of wisdom to good use by creatively "slashing" their product prices. Check out the image of their email below and you can clearly see the original price crossed off and replaced with their promotional pricing.
Fossil uses some holiday puns
Last year, accessories store, Fossil, created vibrant and on-brand emails with a cute differentiator – a stand-out, festively decorated pun. They wished that their customers "have a tree-mendous holiday" and then drew attention to their early access sale and perks such as gift wrapping.
Witty content, cute imagery, on-theme colors, and simple design make this email stand out to customers and invites them to shop.
Girlfriend Collective runs a giveaway
Meanwhile, the team at Girlfriend Collective ran a giveaway and used email marketing to promote it. The subject line was direct to the point and powerful: "Free stuff! (It's giveaway time.)" and the body of the email touched on the holiday season, with the lines like: "The holidays are stressful. Giveaways aren't."
Animate your emails
A cool way to stand out is by incorporating a bit of animation in your messages. Why not insert a moving GIF image in your holiday messages, to really get them to pop? Have a look at the following example:


Búl's Colorful Flash Sale
We love the way Australian retailer, Búl, uses GIFs and block coloring to stand out while staying on-brand. Check out their gorgeous spring sale email (leading into the Australian holiday season)! It not only showcases their beautiful clothing but also their stylish email design is simple, easy to understand, and clear in intent. And it's so simple! P.s. notice their addition of Afterpay, allowing customers to 'wear now, pay later'. A fantastic way to entice customers into making a purchase now.
The Vans Holiday Gift Guide GIF
Vans really know how to stand out with their customers when it comes to creating the best holiday emails. They took the opportunity to stand out and show their creative "off the wall" brand with a GIF featuring a skater and some subtle holiday imagery. While this may not be great for mobile optimization (which is incredibly important for avoiding spam filters), Vans is a hugely popular retailer which means they have a little bit of freedom to play with less-optimized email content because their customers are likely to recognize their emails.
Instill a sense of urgency
Urgency can give your promotions an extra boost, so find ways to use it in your campaigns. Things like a looming deadline or fear of missing out (FOMO) can really drive people to act.
Use these emails for inspiration:
BioLite reinforces that sense of urgency with sale dates
Being clear about your sale terms and timing can give your customers the sense that they should buy sooner rather than later for fear of missing out.
BioLite has created this sense of urgency by reminding their customers exactly when their sale ends and leaving that reminder in bold. They've then gone the extra mile and suggested some of their categorized top picks.
Udemy uses a countdown
Want to get more visual with your FOMO messaging? Countdowns can do wonders. If you're running a promotion that's approaching a deadline (ideally 24 hours or fewer), throw in a working countdown in your emails so recipients know exactly how much time they have left before the deal is gone.
Here's a great example from the online course provider, Udemy:
Optimize the timing of your campaigns

Timing may not be everything, but in email marketing, it's pretty darn important. Showing up in someone's inbox at just the right time can mean the difference between a conversion or a missed opportunity, so optimize the scheduling of your emails as much as possible.
The best way to do this is to rely on your subscribers' data. Pay attention to when people are opening your messages and visiting your website, so can determine when to schedule your emails.
Read our email marketing best practices guide to learn more about suggested timing.
Evaluating previous campaign performance can also help. Do morning emails work better than messages sent in the afternoon? What about weekdays vs. weekends? Go through your past campaigns and see if you can spot patterns around timing.
Industry data can also offer insights that you can use in your campaigns. Does your email marketing provider have any data on which email time-frames work best?
Below is an excellent case study of email timing optimization done right:
eBags increases conversions by 65% thanks to timing optimization
Online luggage supplier, eBags, decided to switch up their email schedules by optimizing their timing based on when each subscriber signed up to their list.
According to Econsultancy, eBags "carried out research based on the hypothesis that if users were available to sign up to an email list at a certain time, then they would be far more receptive to receiving an email at the same time as when they signed up."
The experiment proved to be a success. As Econsultancy reports, eBags saw the following results after the experiment:
Increased click-through rates by 20%

Increased conversion rates by 65%

Increased average order value by 45%

Increased overall revenue per recipient by 187%
The moral of the story? Well, there's a couple! Don't be afraid to experiment based on your customer data, and optimize your emails to suit that data. If you know that you see the best results from emails that are scheduled for 10 am on a Tuesday, then schedule away! If you're not sure when to schedule your emails, fret not …
Marsello analyzes the shopping habits of customers at your store (and at businesses similar to yours) and then recommends the best time to send your emails.
Final words
Email marketing can elevate your campaign performance, but only if you do it right. To boost your marketing success this holiday season, keep your messages relevant and personalized and throw in some compelling offers for good measure. To top everything off, optimize the scheduling of your messages you can get in front of your subscribers at the perfect time.
Published Nov 1, 2019 12:00:00 AM