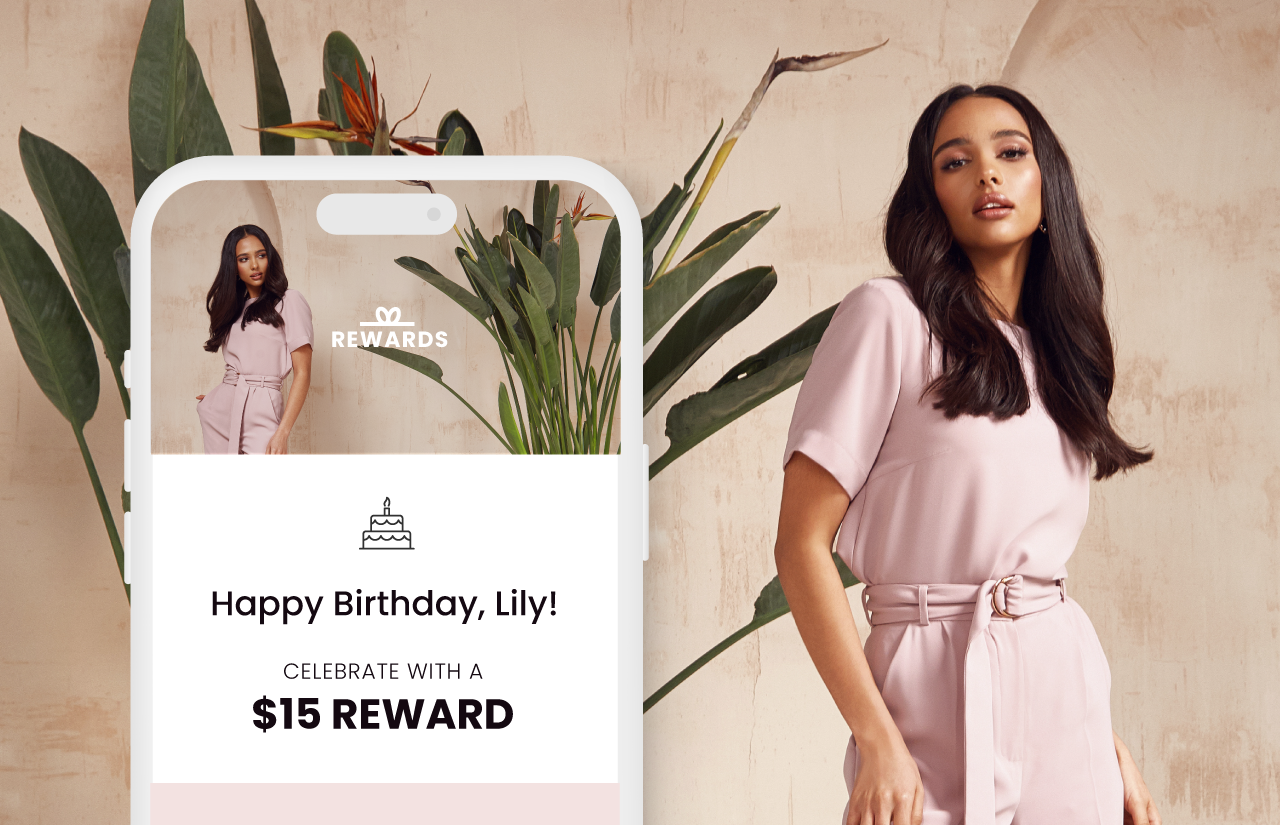 Rewards and Promotions: Treat Your Customers on Their Birthday
Written by Francesca Nicasio

 |   Read
As it turns out, there are very good reasons for you to treat your customers on their birthday. A study by Vibes found that 77% of mobile consumers state that receiving surprise points, exclusive messages, and birthday/anniversary content "would have a major impact on their brand loyalty."
Birthday campaigns also tend to perform better. Research by Experian revealed that compared with promotional emails, birthday messages:
have a 481% higher transaction rate

generate 342% more revenue

have a 179% higher unique click rate

See an 89% higher open rate.

These numbers tell us that birthday email campaigns can be a huge treat – for both customers and brands. So, it's worth investing the time and effort to make your birthday initiatives shine. Read on for ideas and tips on how to do just that.
What are the benefits of birthday rewards for your business?


The biggest benefit of birthday rewards programs is that they are a win-win strategy. They put the focus on the buyer experience which benefits your best customers while simultaneously increasing revenue and loyalty.
There are several key reasons why birthday rewards should be part of your overall loyalty program strategy:
Firstly

,

birthday rewards programs

increase customer loyalty.

84%

of customers opt to stay with a brand that surprises them and takes a customer-centric approach. Who doesn't like being spoiled on their birthday!

Secondly

, loyalty programs (that include things like birthday surprises) are proven to improve customer retention rates. Even a small increase of 5% in retention can boost profits by a whopping

25-95%

.
Lastly, you can gather personalized data on your best customers. This allows you to personalize customer experiences and again improve loyalty.
By adding birthday rewards to an existing loyalty program, you can personalize customer experiences, gather data on what campaigns are resonating with which customers, and re-target loyal customers who redeem rewards.
Read more: 7 Steps To Building A Profitable Loyalty & Rewards Program
How to prevent birthday rewards abuse
You might be asking "what if people sign up to our birthday points program with a fake birthday?".
We have three suggestions to help stop birthday rewards point abuse.
Apply a "cooling-off" period when people sign up to your loyalty program, i.e. don't let people put in a birthday date that is within the first month ("What a coincidence, my birthday is TOMORROW!"). This will deter people who want "quick points" or instant freebies and then disappear.
If you are using a points system, make it less than the points they receive for making an actual purchase while still being valuable.
For birthday programs where you give out a freebie, make it a surprise! Don't explicitly say what free item they will receive before they sign up. That way people will be less likely to sign up for that one specific item and you can still treat your loyal members.
Ultimately, there will always be people who want to take advantage of free points. The benefits you get from creating positive customer experiences for your loyalty club members will almost always outweigh the potential for rewards abuse.
Examples of Birthday Rewards Campaigns


When you do it right, birthday rewards campaigns can improve customer retention, loyalty, and engagement. Whether it's sending specialty coupons, giving out freebies, or something a little more creative, these examples hit the nail on the head.

Send a one-off special discount and build excitement


This one can seem to be a low-hanging fruit of birthday rewards, however, special discounts are known to yield quick results and valuable data when implemented correctly. If you're new to birthday campaigns, consider starting things off with a special discount that shoppers can use on the month of their birthday.

It's simple, straightforward, and easy to test. Just make sure to create unique promo codes for each celebrant, so you can track who's redeeming your offers.



Offer free products on special occasions


Alternatively, you can opt to give shoppers a freebie on their special day. Some examples of brands that offer birthday freebies include Starbucks and Sephora. In fact, birthday freebies are growing increasingly common. Australian burger joint Hello Harry's openly offers their customers a free birthday burger… with a small caveat that protects the business – the birthday burgers are free up to the value of $12.

Freebies are a great option if you want to encourage your customers to try your products or if you have samples and surplus stock to give away.
Offer creative rewards to encourage engagement


Here's the not-so-great reality of loyalty or rewards programs: while many consumers sign up for them, not everyone participates in all the programs they join.
A 2018 survey found that almost "two-thirds of respondents actively engage with less than half the loyalty programs to which they are members." The survey found that only 18% actively engage with all their rewards programs.
If your loyalty or rewards program is suffering from low engagement rates, consider incorporating birthday rewards to stir things up. When implemented correctly, this tactic can fuel engagement among your members and put your brand back on their radar.
Anna Beck, a Shopify Plus-powered Jewelry store with multiple resellers and stores, has done a great job at subtly incorporating birthday rewards into their loyalty program to incentivize customers but not create so much buzz that they risk sign-ups for just that reason.

Members of the program automatically get 20 points on their birthday, but with 100 points for creating a profile and 25 for completing their profile information, it's easy to see how customers quickly earn enough points to reap the rewards.
Since they started using Marsello, Anna Beck has experienced a 728.33% increase in revenue, directly attributable to their loyalty program. And even better, they've developed a really thorough understanding of their customer database and how to convert them into loyal customers. They had this to say about developing their loyalty program with Marsello:


"​​Through the data, we've found that we have incredibly loyal customers. Once they make their second purchase, they are highly likely to be lifelong customers. Marsello allows us to easily reward those loyal customers for sticking around, it was a no-brainer. Anna Beck has only been an online retail brand for a handful of years, and a loyalty program was the natural next step."


Another great example comes from Smack Bang, a Wellington-based pet products specialist is one brand that's using a powerful loyalty program to its advantage. With a 100% engagement rate and 6x ROI, the addition of loyalty marketing to SmackBang's all-over marketing tech stack really helps them to capture customers' attention time and time again.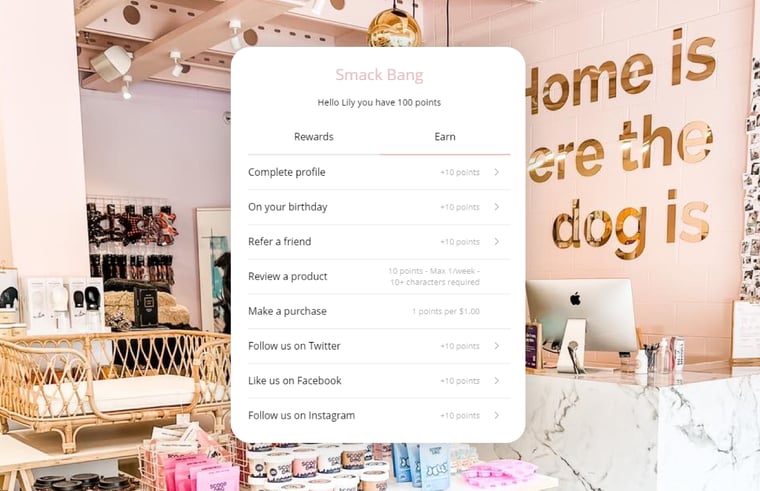 Loyalty members earn points for actions such as creating a profile, referring a friend, reviewing products, making purchases, and engaging on social media. And the benefits include % discounts off as well as first-looks at product releases.
The Smack Bang team makes sure to keep their loyalty program members up to date with emails regarding product releases, business updates, sales, events, and more! By keeping regular contact with their customers, they set the expectation that the more loyal a customer is, the better deals they'll get. And we love that SB lives up to this expectation!


Create a sense of mystery and surprise your customers


Want to keep shoppers on their toes or still trying to figure out which reward type is the best option? Consider offering a range of rewards and surprises that your customers can enjoy on their birthday month.
That's what the lingerie retailer ThirdLove is doing. Members of their 'Hooked' loyalty program get an annual free birthday gift, which remains a surprise until the customer's special day. According to the company's website:


"We're not ones to spoil a surprise! While we won't tell exactly what they are, they'll change regularly and might be a freebie, a discount, or a little something special just for you."


Surprise freebies are a wonderful way to keep your customers excited, but our tip? Don't be tempted to fall into the trap of 'pawning off' your hard-to-sell stock on these customers. Make sure your birthday freebies are worth the hype and keep shoppers wanting more.
Celebrate your business's birthday and say thanks to your customers


A nice twist to the concept of birthday rewards is to celebrate your brand's birthday. This is a good way to mark an important milestone, and it gives you the opportunity to thank customers – both new and old.
Bare Wholefoods, a Sydney-based cafe, did just that when they celebrated their 4th birthday.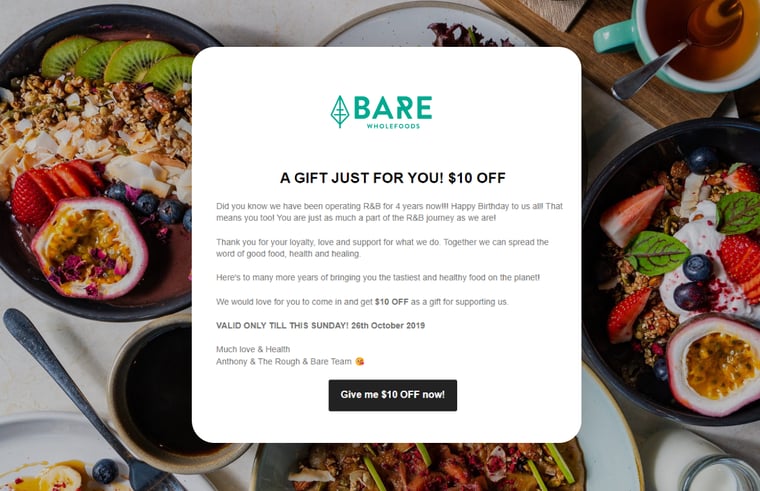 To mark the occasion, Bare Wholefoods sent a pre-birthday email to their customers, which included a $10 discount code along with a sincere message of appreciation. The result? The small but mighty campaign saw a 6.59% conversion rate!
By celebrating their own birthday, Rough & Bare was also able to show appreciation to the customers that keep them going – and this is such a powerful message in the wake of significant changes brought about by COVID-19.
Tips for implementing birthday rewards


We've talked about the different types of birthday rewards you can offer; now let's discuss how you can take your campaigns to the next level. If you're looking to start or further optimize your birthday rewards initiatives, follow these best practices to ensure that your efforts hit the mark:
Integrate birthday perks with your loyalty or rewards program


While it's certainly possible to offer birthday rewards to non-loyalty program members, your campaigns will perform far better if they're incorporated into your loyalty program.
Roping birthday rewards into your loyalty program enables you to build data-rich customer profiles. Having your shoppers' purchase histories, shopping activities, and birthdays in one place means that you have a clear view of who each customer is. That, in turn, can enable you to improve and personalize their shopping experiences even more.
LEGO Certified Stores South Africa has done this to great success!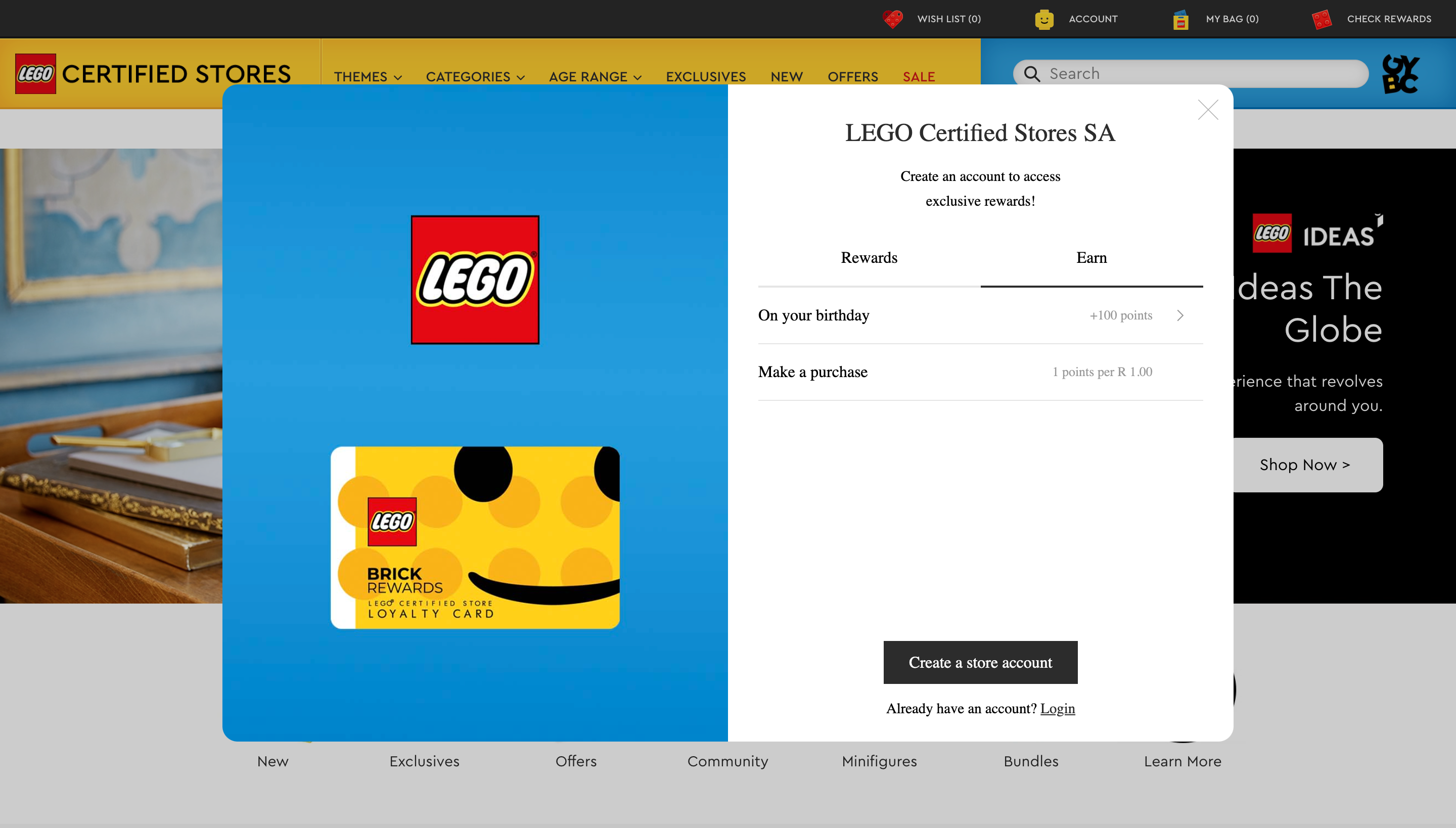 By awarding customers points on their birthdays and for purchases, LEGO creates a feeling of scarcity but customers also quickly rack up the points with each purchase. This means that when customers earn a reward, it feels all the sweeter!
Automate your campaigns


Keeping track of everyone's birthdays and setting up individual messages isn't just tedious, it's impossible as your business grows. Campaign automation is not only a remarkable time-saver – automation as a whole (along with personalization) has actually been pinpointed as the future of marketing.
Thankfully, Marsello has done the hard work for you and already has a number of pre-made automated flows that are easy to review and enable. One of these automated flows includes a Birthday Flow which automatically triggers an email sequence to engage customers on their birthday month. This pre-designed email series is populated with an offer of a small discount and is already tied to your customer database, so there's no need to manually configure the campaign.
Just take a look at this example from Nigerian shoe retailer bCODE: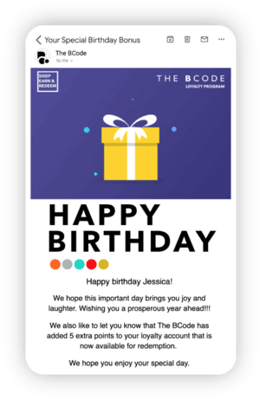 Notice that they've given their customers a lovely surprise by automatically adding 5 points to their account to celebrate! We love that this campaign stands out, has a compelling subject line, and gives customers value right away.
In fact, all of Marsello's automated campaigns are designed to be easily enabled in just a few clicks. Learn more about Marsello's marketing automation functionality or start a free trial and explore yourself.
Test your offers




While we can certainly recommend birthday rewards and ideas, ultimately, the performance of your birthday promotions will depend on your specific store and customer base. That's why it's important that you test and analyze different birthday promotions to see what works best for your business.
As mentioned above, coming up with unique promo codes makes it easier to monitor the performance of your offers, as well as the customers who are redeeming their rewards.
In fact, the NZ arm of international sporting goods specialists Merrell are pros are testing all of their marketing. They had this to say when we spoke to them about their Marsello-powered marketing.


"Marsello offers automations, loyalty, rewards, email campaign segmentation, SMS. All the tools that we knew we wanted to test in stages as our eCommerce and business grows. Step 1 was swapping from [our old provider] to using Marsello's email marketing campaigns. Step 2, we're using marketing automation. Step 3, it's loyalty!"


It was essential to the team to find an all-in-one tool that they could use to build their marketing functionality while also testing each and every change. And that didn't stop when it came to building their loyalty program and testing their promotional offers!
One way you can use birthday rewards to understand your customer engagement patterns is to test which different promo types (e.g., free shipping vs. 20% off vs. $5 off) your customer responds well too. Then, it's easy to apply similar logic to any other promotions and offers that you create in the future!
Integrate SMS marketing


While email is still the most popular channel for sending birthday promos and rewards, SMS is rapidly gaining steam – and it won't slow down anytime soon. Industry experts are predicting SMS marketing to grow by 52% by 2023.
As such, if you're thinking about using SMS marketing, customer birthdays present the perfect opportunity to touch base. Consumers will likely be checking their phones for birthday greetings, and having a timely text from your brand could serve as a pleasant surprise.
Just remember, SMS marketing comes with a few rules to keep in mind and not every merchant is eligible. To make sure you're doing everything right, check out our help center on SMS compliance.
Final words


Birthdays can be a real treat not just for your customers, but for your brand, as well. So, take the time to create campaigns that make your customers feel appreciated on their special day.
Need help doing just that? Check out Marsello's customer loyalty features and discover how you can engage each customer on their birthday and beyond.
Make sure to check out our comprehensive loyalty guide to ensure your loyalty marketing is up to date in all areas.
Published Apr 15, 2019 12:00:00 AM