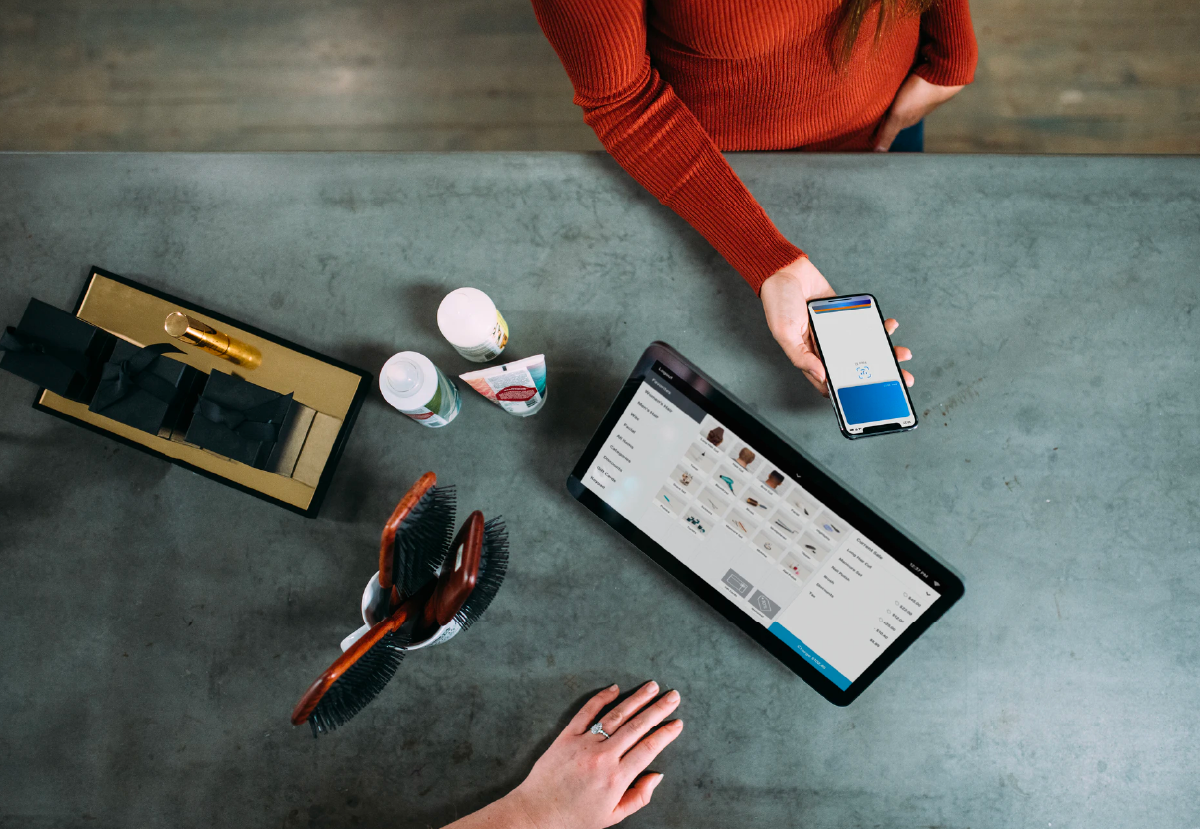 A Guide to Marketing Across Multiple Channels
It's one of the biggest buzzwords in retail and marketing, and one that all businesses should be paying attention to.
Omnichannel.
Industry data shows that marketers using three or more channels in any one campaign earned a 287% higher purchase rate than those using a single-channel campaign.
With numbers like this, retailers have few reasons not to embrace the power of omnichannel marketing.
In this post, we're going to define omnichannel marketing, why it matters, and how to implement your own omnichannel marketing strategy for better customer engagement and sales.


What is omnichannel marketing?

Simply put, it's a retail strategy that involves the complete integration of all offline and digital channels. It denotes a customer-centric approach by prioritizing seamless, high-touch shopping journeys that take place across multiple channels.
With seamless channel integration, customers can easily complete actions like checking inventory levels online before turning up at their local store. And it's shopping experiences like these that positively influence customer loyalty and helps to create brand advocates.
Omnichannel marketing ensures that customers receive a cohesive shopping experience. All sales and marketing channels operate in sync with one another to build trust and brand engagement.
The difference between multichannel and omnichannel marketing

Don't confuse omnichannel marketing with multichannel marketing.
While both involve coordinating marketing strategies that span several channels (such as eCommerce, social media, SMS messaging, and mobile apps), the execution is very different.
Multichannel puts the product, rather than the customer, at the center of marketing activities. So, while multichannel marketing allows consumers to engage a brand via several channels, they cannot transition seamlessly between them. This silos messaging and keeps it static, rather than adapting to the needs of each customer.
In contrast, the channel integration of omnichannel marketing means that every message is relevant and tailored to your individual customer as they shop across multiple channels and devices.
For example, if a customer puts an item in their cart with the intent of coming back for it later, they might receive a push notification or SMS alert to let them know when that product is low in stock. They might also get a tailored promotion to entice them to purchase. It's these personalized interactions with customers which make omnichannel marketing efforts much more successful than a generalized multichannel approach.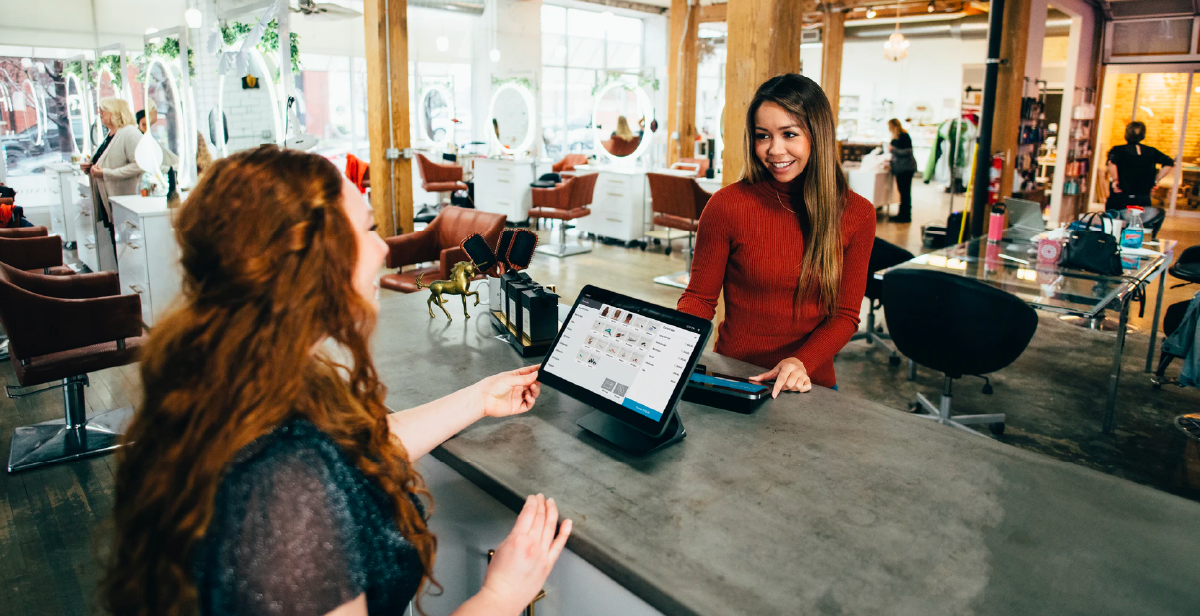 Why implement omnichannel marketing?

Here's a quick rundown of the advantages you can unlock from omnichannel marketing.


Providing a consistent experience across channels
If we think about our most negative retail experiences, they're likely to involve scenarios where retailers have obstructed rather than aided our efforts to shop efficiently.
As consumers show a growing preference to use multiple channels to execute their shopping journeys, it's never been more important for retailers to meet these expectations. According to a study by Invespcro, the most in-demand services are:
Checking product availability before arriving in-store (82%)
BOPIS (Buy Online, Pick-Up In-Store) (57%)
Having a customer profile stored across channels (50%)
Personalized shopping experiences (47%)
By implementing advanced omnichannel experiences like these, your customers have the freedom to shop how they want without barriers. This makes them feel empowered during their shopping journey and helps to foster trust in your brand.


Maximizing touchpoints with your customer
In the past, we would walk into a brick-and-mortar store, browse for a bit, and then make a purchase – often within the same visit.
Today, consumer behavior is very different. People want as much information as possible before committing to a purchase, especially if they are new customers shopping with a brand for the first time. This involves utilizing multiple channels to research and compare options.
Today, 82% of customers use their mobile devices to browse before purchasing at a physical store. By offering customers a unified experience across digital and offline channels, you can add a huge amount of value through engaging touchpoints that build brand awareness and customer loyalty.


Valuable data-driven insights
Seamless experiences across different channels mean more opportunities to gather customer data. Omnichannel integration allows you to follow the customer journey from beginning to end, meaning that you gain access to in-depth insights about who your customers are and what they're looking for.
It allows you to identify key buying patterns and personas within your target audience – including those you hadn't anticipated shopping with your brand. This makes it easier to deliver the appropriate messaging that coaxes prospective customers along the path to purchasing.
When you understand your customers, you have a much better sense of how to encourage repeat purchases. This is why retailers who use an omnichannel approach see 90% higher customer retention can those who don't.
How to start an omnichannel marketing strategy from scratch

Ready to kick off your omnichannel marketing strategy? Here are the steps you should take to set yourself up for success.


1. Start thinking customer-centric
Going omnichannel in your marketing is about more than just integrating your channels. For many retailers, it requires a fundamental shift in how your brand relates to its customers.
Why? Because what's most convenient for your customers might not be what's easiest for business. To make this transition effectively, you need to have everybody on board inputting customer success at the center of the shopping experience.
Making omnichannel campaigns run effectively is a lot of work, and requires serious consideration of every touchpoint within the buyer's journey.
For example, when your customer enters your website, does it have a responsive design that easily adjusts to mobile? Are your social media posts optimized to drive prospective customers to the appropriate product pages?
By having your operations, sales, and marketing teams evaluate your marketing approach step by step, you can ensure a positive omnichannel customer experience.


2. Know who your customer is
You might be surprised by how many businesses don't have an in-depth understanding of who their customers are. A study by HubSpot found that 42% of businesses don't run customer engagement surveys or collect feedback.
This is a problem because if you don't touch base with customers and get their feedback, you won't get insights into what they want and need. Collecting feedback also helps you determine the right demographics, so you can create more effective personas for your campaigns.
To put your customer first, you need to invest in gathering data that gives you the full picture of their activities and preferences, such as:
What problems does your business help customers to solve?
Through what channels do they like interacting with your brand most, and why?
Which kinds of content do they find the most useful/valuable?
You can accomplish this by using data from your CRM, or by running surveys across channels and asking for feedback at multiple points during the shopping journey.


3. Invest in the proper toolkit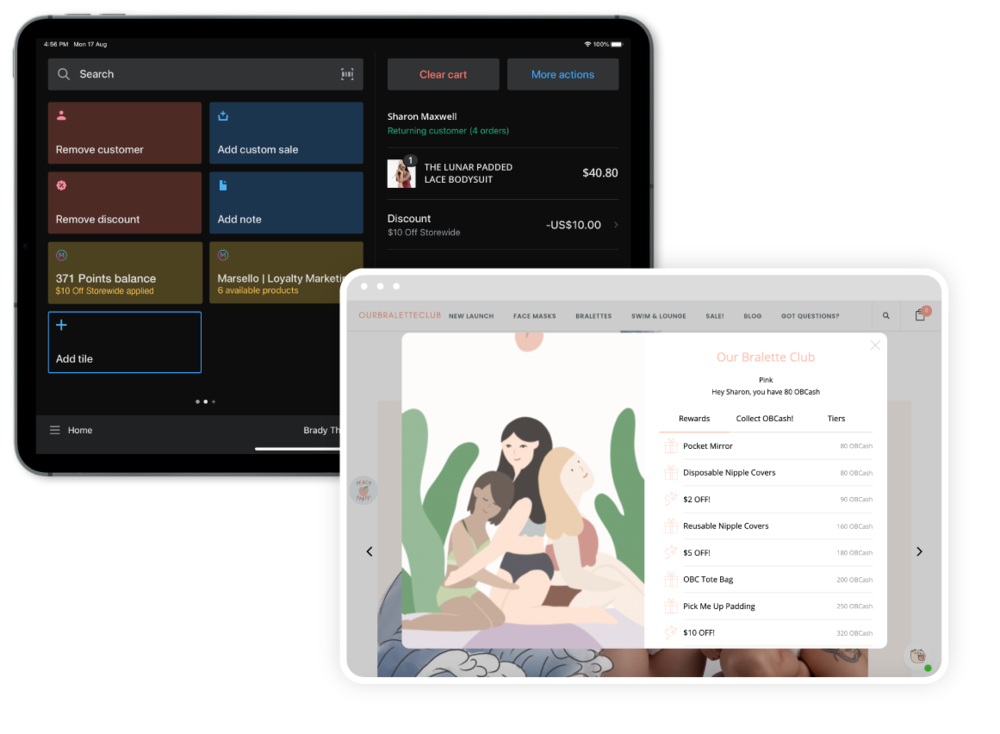 When it comes to omnichannel marketing, your strategy is only going to be as strong as the tools supporting it.
As well as helping you to generate and nurture more leads, marketing automation allows you to build personalized experiences for your customers by sending them targeted content that supports their needs. Best of all, the data captured from these workflows in the form of CTRs and engagement rates will tell you whether your efforts are hitting the mark.
This is where a solution like Marsello comes in handy. Our software serves as an all-in-one omnichannel marketing platform that combines email, SMS, and loyalty programs. Since everything is accessible on a single platform, data flows smoothly from one channel to the next, and it's easier to provide a seamless shopping experience no matter where your customers are.
Marsello also integrates with leading point-of-sale systems and eCommerce platforms, so you can easily sync your physical and digital stores as one.





4. Content, content, content

No matter how advanced your marketing software is, the content remains the backbone of omnichannel marketing. This involves everything from your social media content down to in-store signage
For example, let's say that your business is running a promotion that gives your customers 20% off storewide both offline and online. Your online store has a big banner on the home page publicizing the discount, and a promotional email has been sent out to your mailing list to spread the word.
But when customers walk into one of your physical store locations, there's no signage greeting them at the door to make them aware of the discount.
A lack of cohesion between your offline and digital marketing efforts can result in a lot of missed sales opportunities; if in-store customers don't know about the promotion until checkout, they're a lot less likely to maximize spending to get a better deal. This makes informative touchpoints essential for successful omnichannel retailing.
Want to see an omnichannel content strategy done right? Check out Federation, a streetwear brand that runs a powerful omnichannel loyalty program. Federation allows customers to earn and redeem points in-store and online, so shoppers are rewarded regardless of where and how they're shopping.
Plus, the program's content and messaging are consistent on all channels, so the customer experience always feels seamless and on-brand.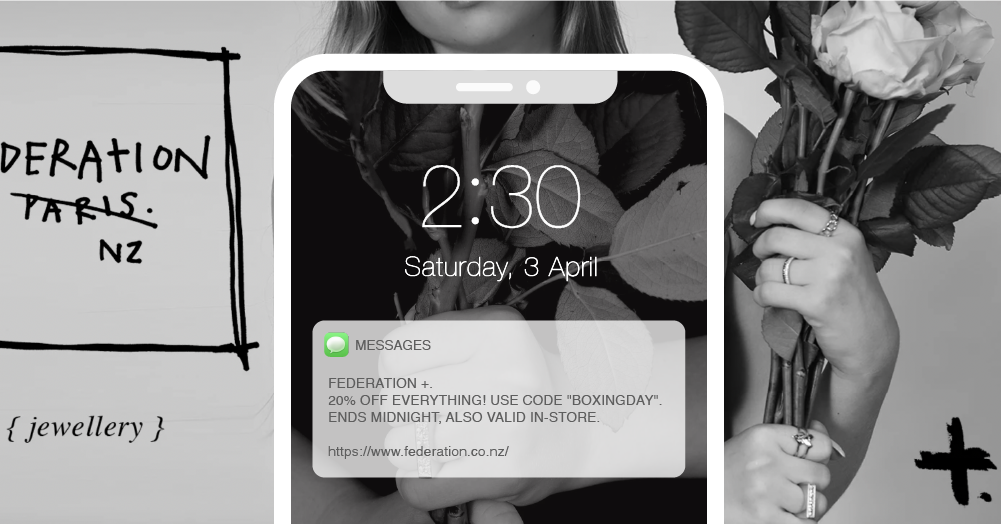 Another excellent example comes from the jewelry brand and clothing stockist, Katie Waltman. The store runs a comprehensive marketing initiative that covers loyalty, feedback collection, and email marketing. In doing so, Katie Waltman is able to connect with customers across multiple platforms.
Just like with Federation, the content and messages that Katie Waltman puts out there are consistent on all channels and devices. So whether people encounter the brand in-store, on their eCommerce site, or via email, customers are treated to the same look and feel.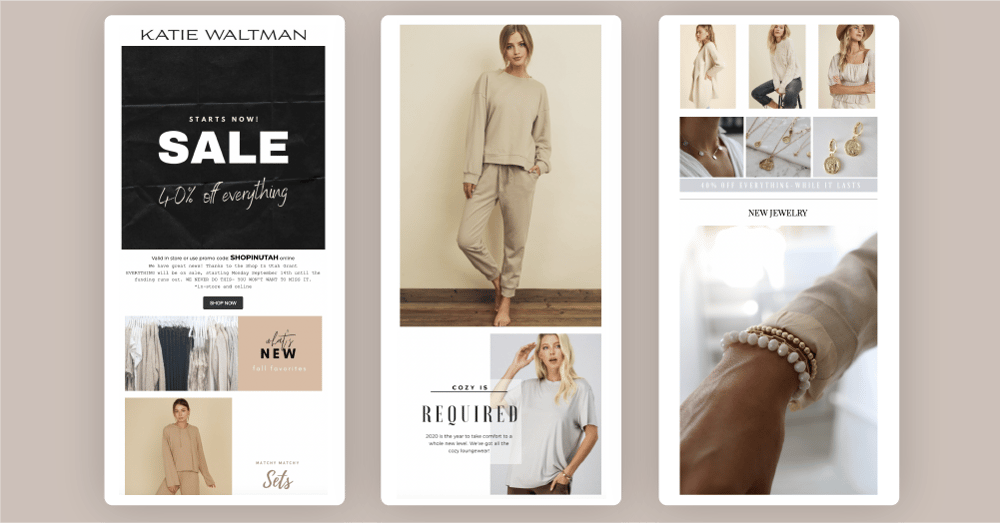 5. Segmenting your messaging
As we mentioned above, what separates multichannel marketing from omnichannel is that customers are not treated as a one-size-fits-all group.
The valuable data insights that omnichannel retailing gathers from across the shopping journey give you the ability to segment customers according to demographic data, shopping behavior, and the "warmth" of leads.
According to Epsilon, 80% of consumers are more likely to purchase from a brand that offers personalized experiences. In short, you can deliver the right content at the right time to enhance customer lifetime value.
For example, with the aid of marketing automation, you can set up specific triggers to target customers who've purchased certain items (e.g. "you might also like..." emails) or those who've been "inactive" for a certain period of time by sending an SMS with a link that allows them to set their communications preferences.
We can see this in action in Brandini Toffee, which uses Marsello to send automated marketing emails based on user behavior. One notable example? The Brandini team sends a campaign automated email geared towards shoppers who have abandoned their cart. To entice this segment to complete their purchase, Brandini Toffee sends a reminder email with a built-in product recommendations section that is automatically populated with similar products and items which the customer is likely to enjoy (based on their previous shopping behaviors).
Since they first created automated campaigns, Brandini Toffee has seen as much as a 583% increase in attributable sales and this campaign alone has generated 95% of the total orders generated by Brandini's automated campaigns.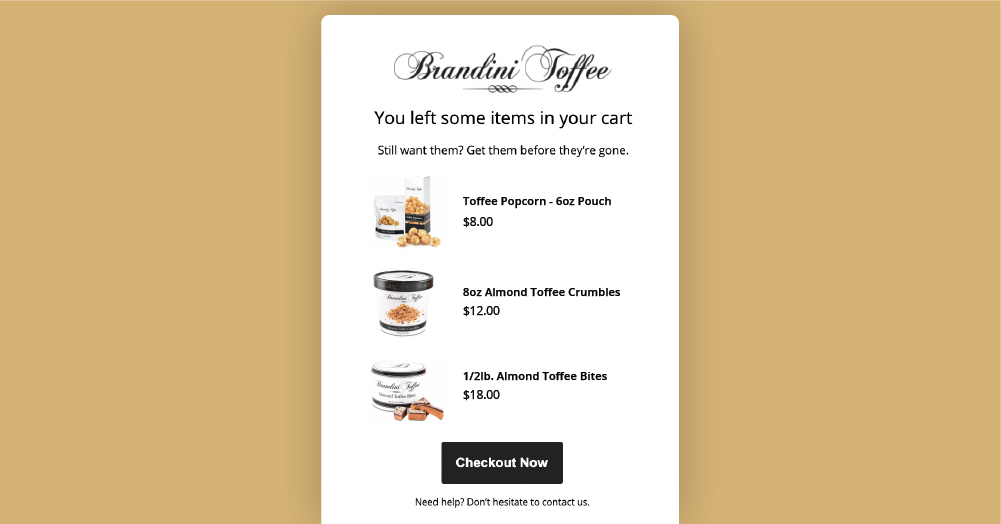 6. Track and analyze
The power of your omnichannel marketing efforts becomes more evident the longer they're in play. The more you invest in gathering and utilizing data from customer journeys, the more you can refine your approach to target exactly what it is your customers want.
This is why it's important to test and track different elements of your marketing strategy to find what appeals most to your customers. This includes A/B testing of different copy, subject lines, images, and CTAs to see which gets the best response.
It's also important to compare your content across channels to see what works for each medium – what works on email, for example, isn't necessarily going to resonate with your audience on Instagram.
By regularly analyzing the results of your omnichannel marketing campaigns, you can ensure that your business is using the very best formula to inform and excite your customers.
Final words

Implementing a thoughtful omnichannel marketing strategy is a big step up for retailers who are used to more siloed multichannel strategies. But if you want consumers to choose your business over the likes of Amazon, it's essential that you can facilitate seamless shopping experiences that allow customers to move between channels with ease.
At the center of successful omnichannel marketing is a core philosophy; it's seeing your customer as the center of gravity that your brand revolves around. So long as you stick to this core idea, the rest will follow.
Published May 11, 2021 2:34:19 PM