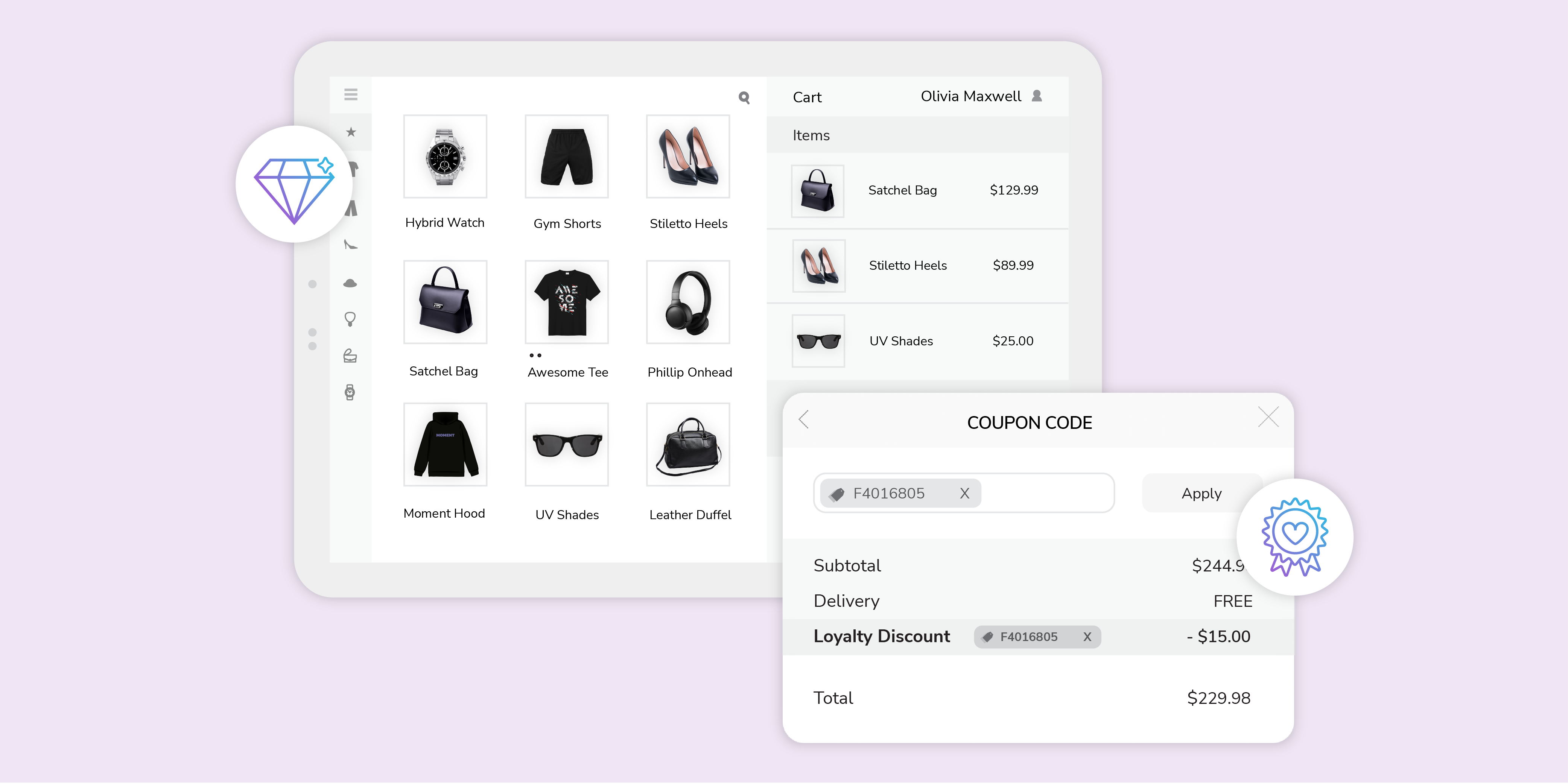 Redeeming loyalty coupons through a POS system
Written by Lucy Bekker

 |   Read
Quick Links:
---
On average, 65% of your revenue comes from your most loyal customers. Integrating loyalty coupons into your existing POS system lets you serve your best customers and reap the revenue rewards with ease!
Loyalty coupons are one of the best ways to encourage repeat buyers, increase the lifetime value of customers, and build the loyalty of your already happy customers. Customer loyalty strategies pay for themselves.
By combining loyalty coupons and your eCommerce or POS system, you can target your marketing, identify your best customers, award coupons and turn your business into a loyalty-building machine.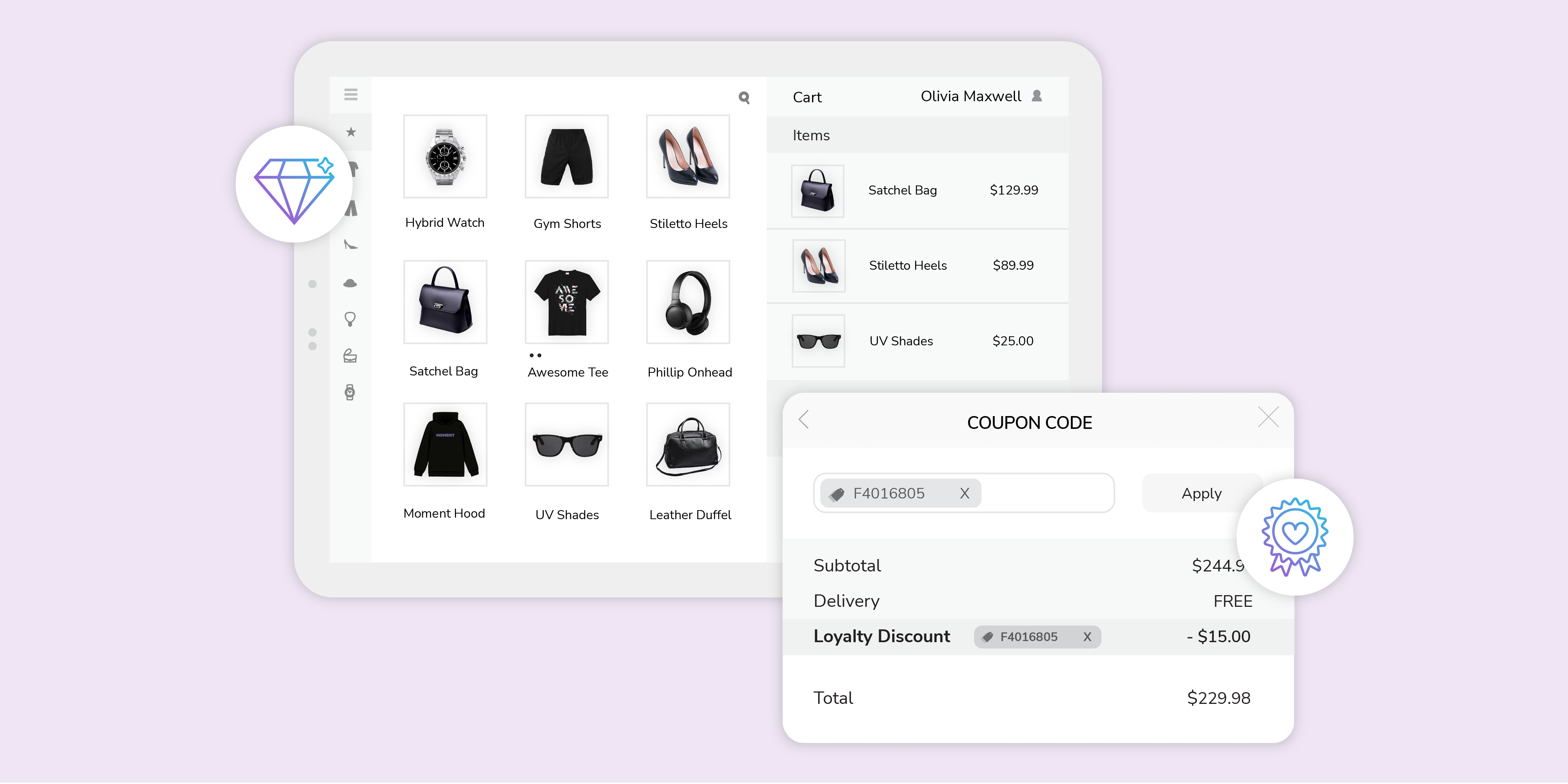 How do Loyalty coupons work?

Loyalty coupons, also known as customer coupons, are effective at driving repeat and loyal customers. Repeat customers spend 33% more than other customers, so it is worth focusing your marketing efforts on them specifically.
So how do they work?
Simple. Loyalty coupons encourage already loyal customers to be even better customers by improving their shopping experience. You can either set up customer accounts to add points and vouchers or give people discounts automatically when they meet certain criteria.
The easiest way to start giving loyalty coupons or rewards points is to integrate it with your existing Point of Service (POS) system.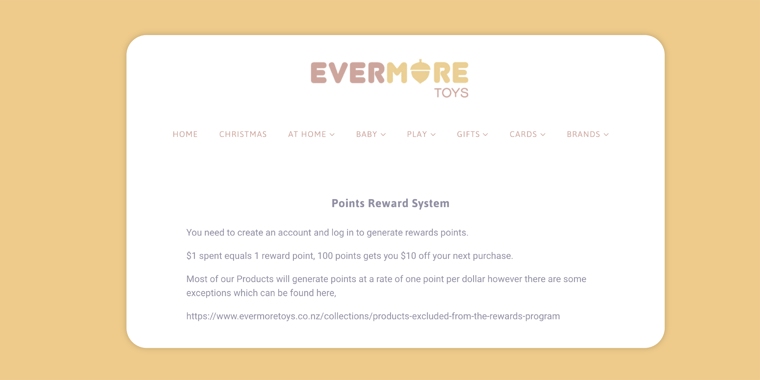 For example, ethical toy company Evermore Toys has customers that buy online and in stores. To simplify their loyalty program, they integrated Marsello directly into their POS systems (Shopify and Cin7) so customers can redeem points no matter where they shop. Using Marsello, their simple loyalty program resulted in a 156x ROI and a 738.87% increase in revenue.
You don't need to reinvent the wheel to integrate loyalty coupons into your business!
How does a POS system increase customer loyalty?
A POS system increases loyalty because you can use customer details to personalize their shopping experience. An all-in-one system makes it easy for customers to use loyalty coupons no matter where they shop with you and therefore improves user experience and loyalty over time.
1. By collecting customer data

One of the main functions of a POS system is to collect customer data. This allows you to create targeted marketing campaigns, personalize customer experiences, and identify your most loyal customers.

Your POS system is an opportunity to collect online eCommerce and in-store visitor details and turn them into repeat customers. The best way to collect details is in exchange for something valuable like in-store points and loyalty coupons.
For example, Merrell NZ cleverly maximizes every opportunity to encourage customer engagement with their brand. Their website has a simple pop-up form that encourages shoppers to leave their name, email, and date of birth in exchange for promotions and exclusive discounts.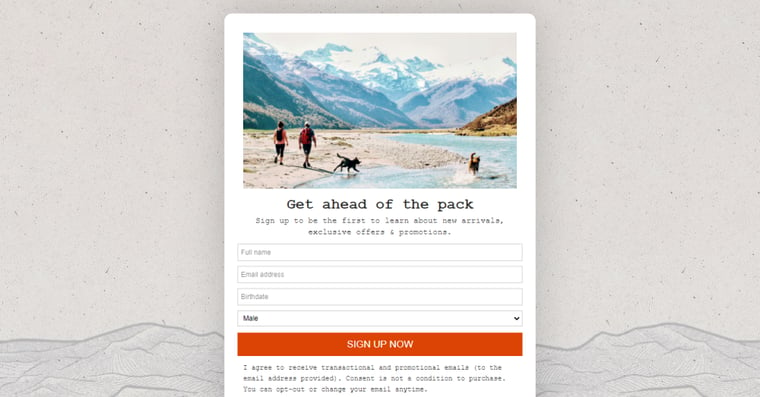 This pop-up has a sign-up rate of 25%, a customer engagement rate that you miss out on if you don't collect customer details with a POS system!
2. By providing personalized promotion

Once you have customer details in your POS system, you can create personalized promotions. The details you collect when a customer signs up mean that you can segment your marketing based on their behavior.
This behavioral segmentation is known as RFM segmentation, which stands for
Recency – When the customer last purchased from you.

Frequency – How often they buy.

Monetary – The amount they've spent.
In other words, you can maximize your marketing ROI and increase loyalty by knowing more about them.
Modern streetwear brand Federation + shows this in action with their segmented email campaigns.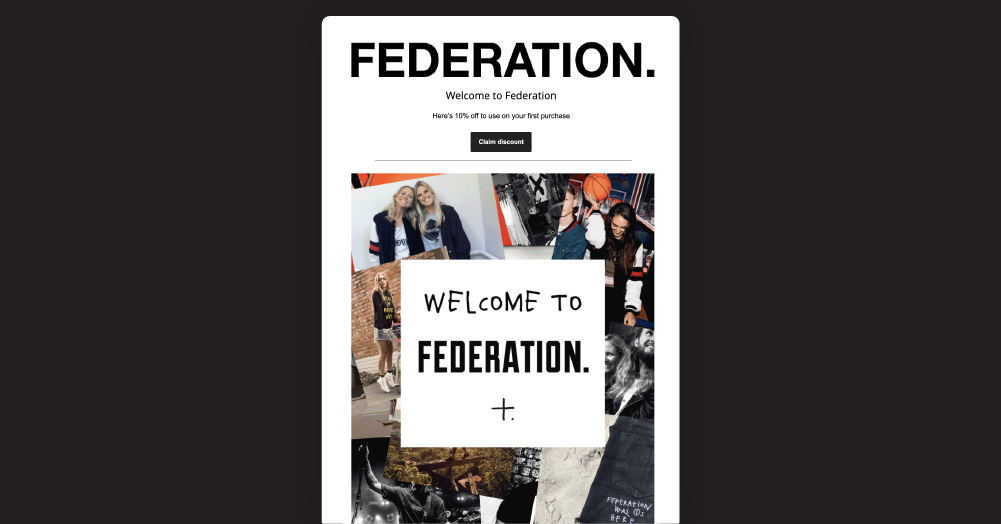 When shoppers first create a customer account with Federation +, they immediately receive the "WELCOME TO THE FAMILY" automated email campaign. The eye-catching email offers customers 10% off their first purchase and uses a product recommendations email block to suggest current top-selling products.
This campaign has seen a 19% conversion rate in just over 5 months, and almost 50% of the total revenue generated by their automated campaigns is directly attributable to their welcome automation!


3. By identifying VIP customers and rewarding them


75% of consumers say that they favor companies that offer rewards. Integrating a rewards program with your POS system will make it easy to identify and reward your already-loyal customers.
VIP programs are effective because they target customers who already have buy-in with your brand. Our Bralette Club runs an effective rewards program that makes this process extremely easy.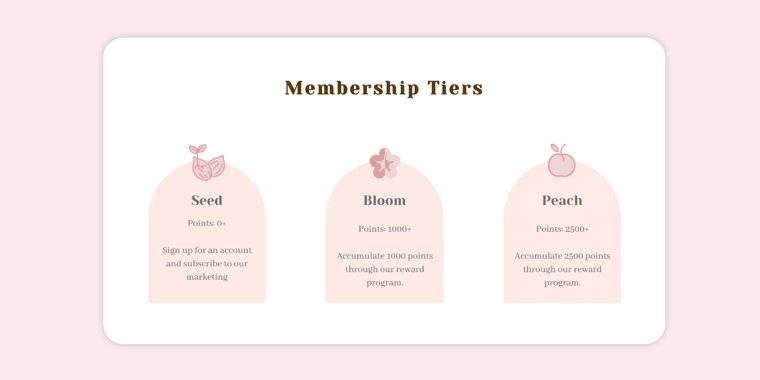 Through their all-in-one system, customers can sign up, earn rewards and in-store loyalty points and be part of the Peach Party community. The Our Bralette Club VIP loyalty program has an impressive reward redemption rate of 71% (in 2020) and has resulted in a 278% increase in revenue.


4. By providing a convenient customer experience

According to a study by eMarketer, the only thing online shoppers like more than customer reward coupons is a quick and easy checkout process. 83% of shoppers marked this as their top priority for loyalty.
This is why your POS system is so important for building customer loyalty! It doesn't matter how good your discounts and loyalty program is if the user experience doesn't deliver.
Different ways customers can redeem loyalty coupons through a POS system
Your POS system can encourage loyalty in many different ways. From in-store points to purchase order value increase, there is a loyalty coupon system to suit every business.


1. Through a points-based system


A points-based system is one of the most common types of loyalty coupons for retailers.
A rewards point loyalty program encourages certain customer behaviors. They can earn points for things like
Signing up for your loyalty program

For every dollar they spend

Sharing your brand on social media

On their birthday
For example, boutique dog brand SmackBang has an on-brand widget for their loyalty program. It seamlessly integrates with their POS system and lets customers see how many points they have and how they can earn more.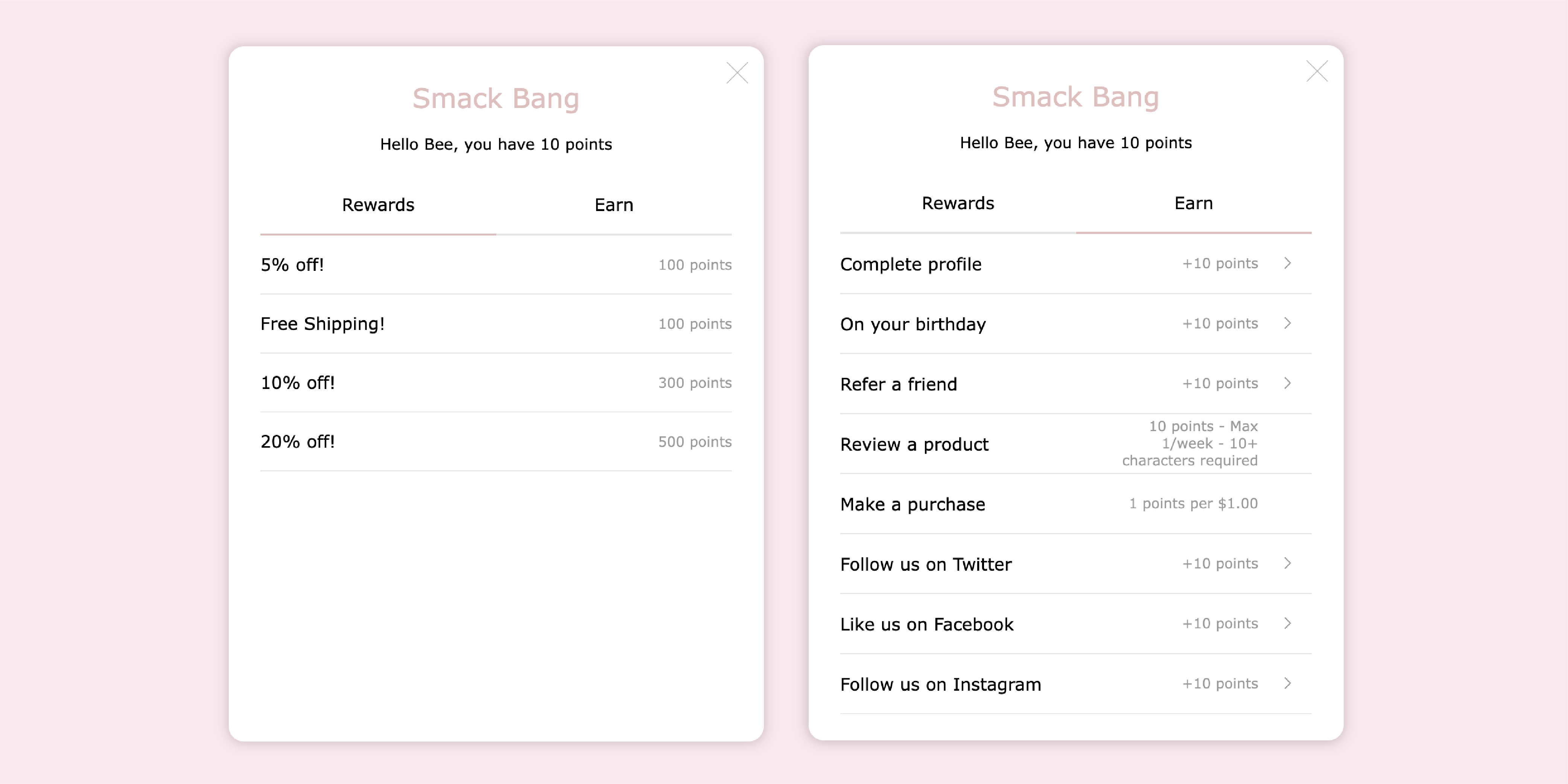 Their points system has generated $8,200+ for the brand, sees a 100% loyalty engagement rate, and a reward redemption rate of 38%.

Building loyalty with points systems works best when it benefits your customer as much as your business. Rewards create loyalty when you give your best rewards to your best customers.


2. Through an automatic voucher system


An automatic voucher system is where customers automatically qualify for a voucher when they meet certain requirements. 90% of consumers use coupons so it is an effective way to increase loyalty and amount per spend.
For example, you could add an automatic voucher when someone has made a purchase, reached a certain threshold, or joined your loyalty program.
If you are going to use an automatic voucher system, it is best to do this directly through your POS system. Physical vouchers incur production and distribution costs, whereas POS systems allow customers to easily access vouchers without delay
3. By providing discount vouchers
Everybody loves a good deal! Discount vouchers can be a great way to entice new customers, reward existing ones, and boost revenues for a short period.
However, offering discount vouchers too often can actually have the opposite effect. It can make it seem like you are a discounted brand.
For effective discounts, vouchers should:
Have a time limit or expiry

Be combined with personalized or targeted marketing campaigns (e.g. for first-time customers)

Be easy to use online or in-person (i.e. integrated with your eCommerce and POS system)
Instead of just discounting prices you could also add value.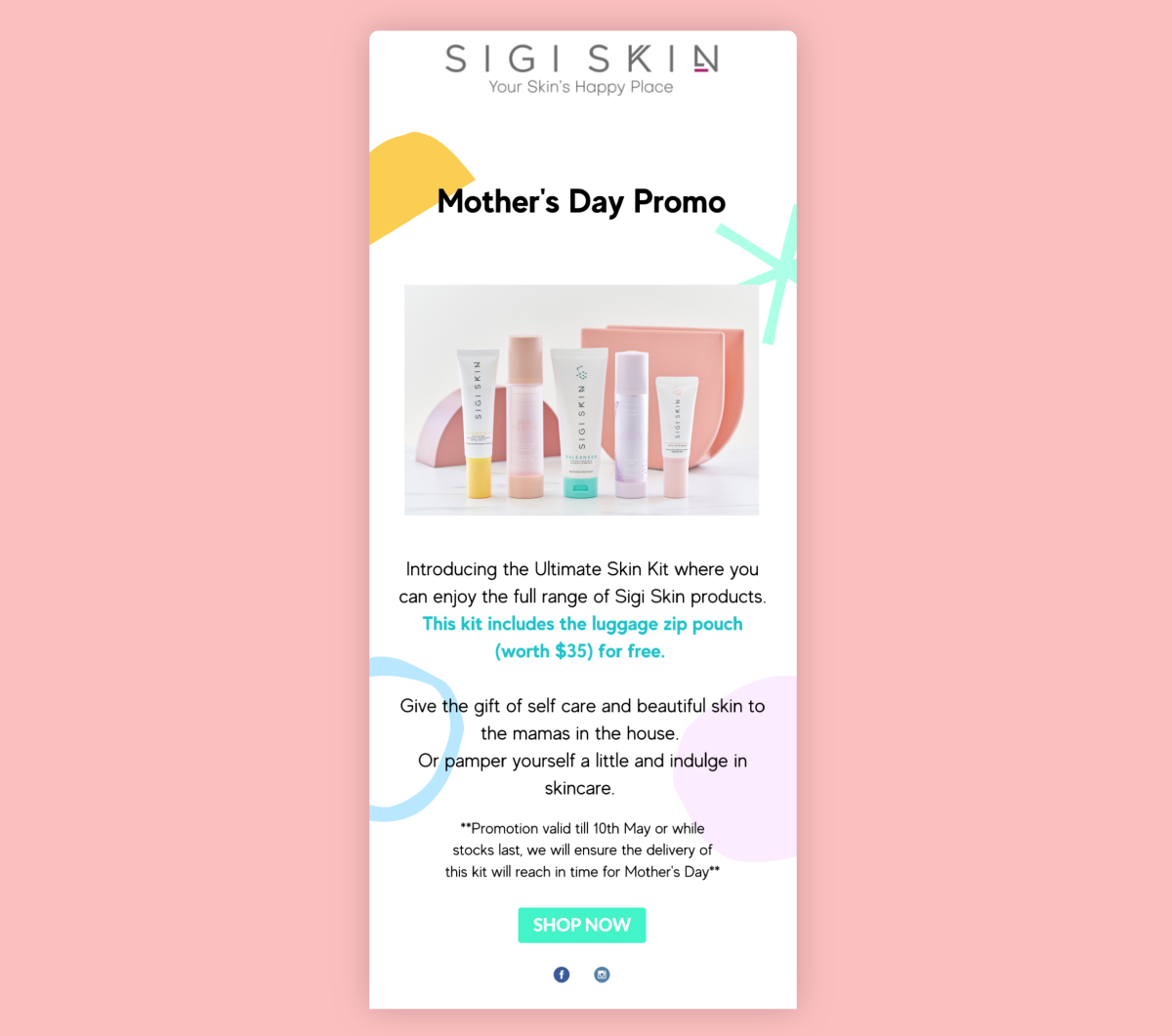 For example, skincare retailer Sigi Skin ran an email campaign for Mother's Day where instead of slashing prices they added a free makeup pouch. Their email campaign had an impressive open rate of 37% and a conversion rate of 19%, and, in the first 7 days since it was sent, the campaign saw a revenue increase on their usual daily sales of +48%.


4. By purchase order value
Loyalty coupons for purchase order value is a system where customers can qualify for rewards when they reach a certain amount in their cart or in-store.
24% of consumers would spend more to qualify for bonuses like free shipping. This benefits them as much as your revenue!
There are several ways you can use purchase order value as a loyalty reward:
$ amount off total cart

% off total cart

$ or % off a specific item

Get a free product

Get free shipping
The best part? All of these loyalty rewards can be integrated directly into your eCommerce or POS system with Marsello!


5. Through promotions

Running a points promotion is a great way to get a boost in loyalty points and sign-ups. Even your best customers need a little encouragement sometimes!
Your POS system will allow customers to easily earn and redeem points earned during your promotion. This positive user experience maintains a positive relationship over time.
An example of a points promotion was the double points promotion run by bCode. This shoe brand started a loyalty program for their existing business and wanted as many people to sign up as possible when it launched.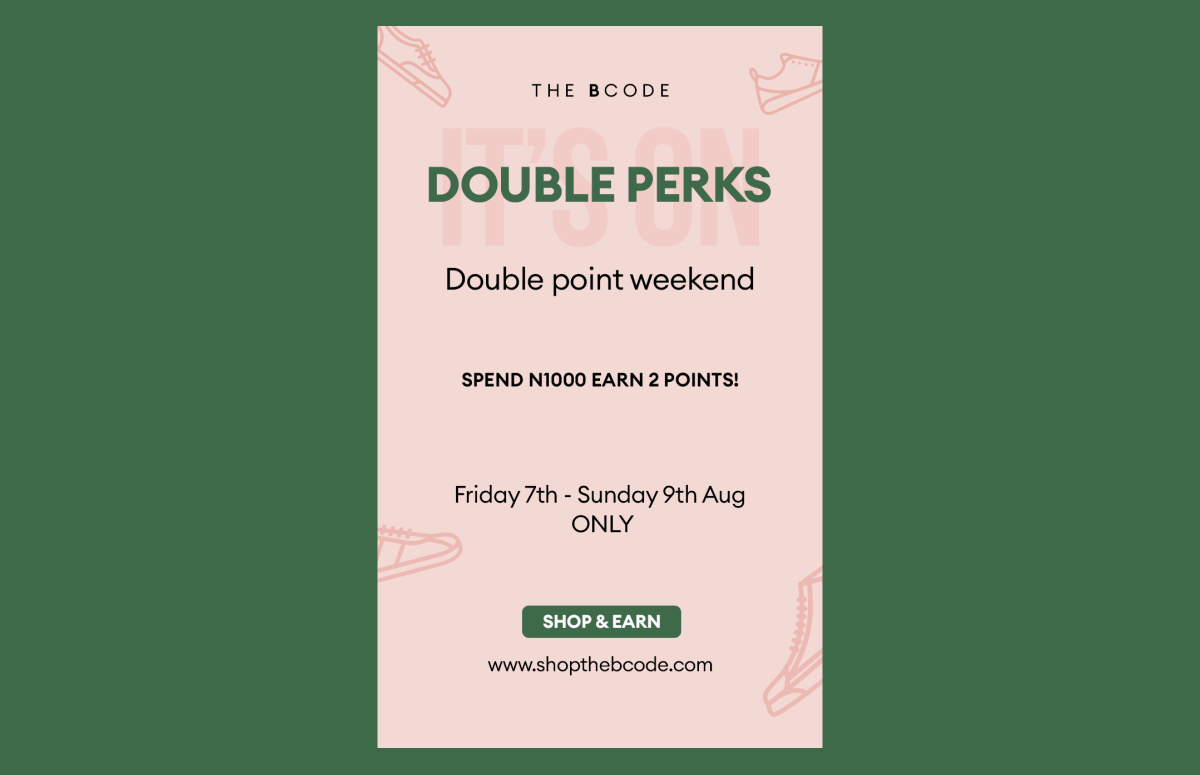 When they launched the online version of their loyalty program, they ran a points promo called "Double Perks weekend" which enabled members to earn double points on all purchases over a three-day period.
This resulted in a 94% increase in loyalty points spent by both new and existing loyalty club members.
Final words on redeeming loyalty coupons through a POS system
Loyalty coupons give your best customers even more reasons to rave about your brand. Whether you choose rewards points, loyalty programs, discount vouchers, or promotions, customer coupons will benefit your customers and increase your overall revenue.
Marsello lets you integrate simple, on-brand loyalty coupons and reward points directly into your existing eCommerce and POS system. Whether you sell online, in person, or a mixture of both, you can easily reward your most loyal customers with Marsello integrations!
Published Nov 30, 2021 4:39:09 PM