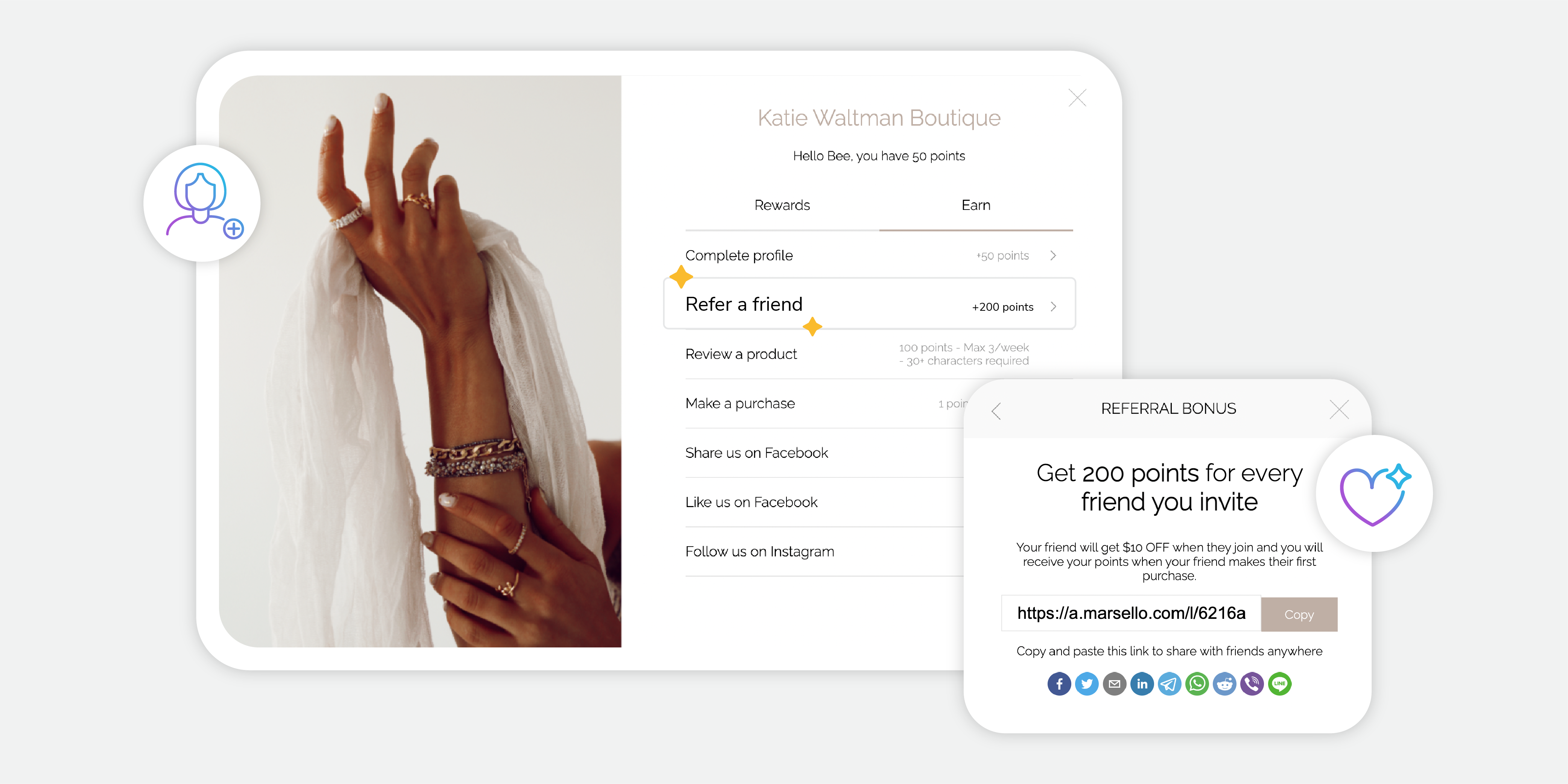 Ways to Incentivize your Customers for Referring Your Brand
Written by Lucy Bekker

 |   Read
Looking for a way to increase revenue and reward your loyalty program customers? Referral program incentives are the answer!
A referral program, also known as an affiliate program, encourages existing customers to share your brand with their friends in exchange for loyalty points or rewards. They work because people are as much as 4x more likely to make a purchase when referred by a friend.
Keep reading to find out how a referral program works, why they are so effective, and the steps you need to take to successfully run a referral program in your own business.


---



Quick Links:
---
How does a referral program work


Retail referral programs reward existing loyal customers for bringing new customers to your brand.
They work by incentivizing existing customers to tell their friends about your business by offering them points, discounts, or other rewards in return. Referral rewards programs also make the 'KnowLike Trust' (KLT) factor easier because loyal customers reduce barriers on your behalf and their positive relationships with your store and subsequent promotion of it help their referred friends to feel confident and inclined to shop.
If you set it up correctly, it is a win-win-win strategy for growing your business.
Firstly, your existing loyal customers see instant benefits because when they refer new customers, those referred shoppers use a unique customer code tied to your original customer. In return for each successful referral (tracked by their unique customer code) they receive tangible rewards.
Secondly, the new customers reap the rewards. They receive rewards or discounts for their purchase, as well as a good retail recommendation from someone they know and trust.
Lastly, your business sees huge growth in revenue and in customer loyalty. Did you know that referred customers are actually much more likely to stick around too? Let's dive into why referral marketing is an important addition to your marketing strategy.
Why is it important to choose referral incentives

Customer referral programs are one of the best forms of marketing you can run. The numbers speak for themselves:
Not only this, but a referral program also encourages new customers to sign up. This means that instead of losing potential sales, you can target your marketing and follow up on abandoned carts to increase conversions.
Creating a rewards program is worth the investment!
3 steps to choosing your rewards incentives
No matter what referral incentives you choose, there is one question to keep in mind: "are we giving our customers the best possible experience?"
Yes, you benefit greatly from referred customers (they have a lifetime value of about 25% more than other customers). However, your referral incentives should always have the customer experience at the center.
Whether your incentive structure rewards existing customers, new customers, or both, this step-by-step guide will show you which structure is best for your brand.
Step 1: Choose the right incentive structure
Step 2: Choose the type of reward you want to give
Step 3: Set the terms and conditions of your referral program.


Step 1: Choose the right incentive structure
Your incentive structure will depend on your business and customer experience goals.
Integrated loyalty programs are one of the easiest ways to set up referral incentives. This allows for several different referral programs:
Incentives for your existing customers (one-sided incentive)
Incentives for the new customer when they sign up (one-sided incentive)
Incentives for both existing and new customers (two-sided incentives)
Let's explore these in a little more detail:


1. One-sided incentives for existing customers
The first incentive structure is rewarding the customer that refers people to you.
Rewarding your existing loyal customers is always a successful marketing strategy. With a loyalty points program, you can easily award customers points when they refer friends to your brand.
For example, Bulo Shoes' loyalty program lets customers earn points even when they're not making a purchase. Customers are encouraged to share Bulo's channels on social media, complete their profile and follow Bulo on social media so they can earn points that they can spend in-store.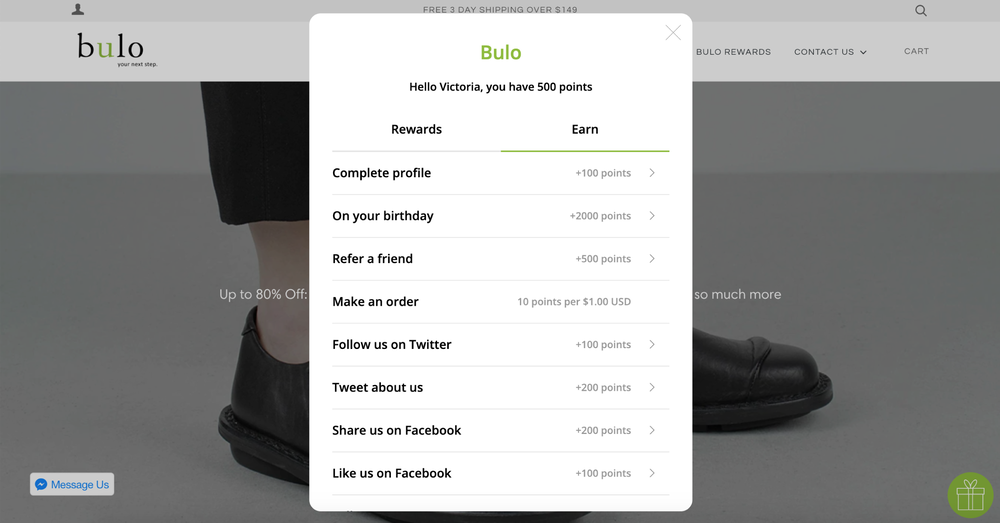 2. One-sided incentives for the new customer


You could also set up a one-sided incentive that rewards the new customer.
This could look like:
A discount for their first purchase
Automatically earning points when they sign up to your loyalty club
A free shipping discount for first purchases only
As a referral program, this might look like giving loyal customers discount codes to share with their friends. For example, you could let people share a code for free shipping on their first purchase with you.
One-sided incentives might work for extremely loyal customers, however, it will always work best when you reward existing customers for their efforts. This particular structure works better with influencers who are already receiving incentives in other ways (e.g. Use Code AMANDA10 for 10% off).


3. Two-sided referral incentives: rewarding both customers

Rewarding both customers is the best option for optimum referral program results. This is the standard program for Marsello referral programs.
In this setup, you reward your existing customers for bringing in referrals, as well as making a great first impression on your new customers. This strategy is win-win-win.


Step 2: Choose the type of reward you want to give


Now that you know who you are rewarding, you need to choose what you are going to offer them.
The best referral incentives both encourage existing customers to rave about your brand as well as boost your sales and brand image.


1. Discounts
When an existing customer refers a new person, sweeten the deal by offering a referral discount off their first purchase. This gives them a positive first experience and lets them try out your brand without committing at full price.
An example of a referral discount is the successful jewelry and women's wear brand, Katie Waltman. They have a two-sided incentive structure.
The team at Katie Waltman has not only boosted customer retention with their generous loyalty program, but they've also added a referral program for their customers. The referred friend is incentivized with 10% off their first order and the existing customer earns 200 points when their referred friend makes their first purchase.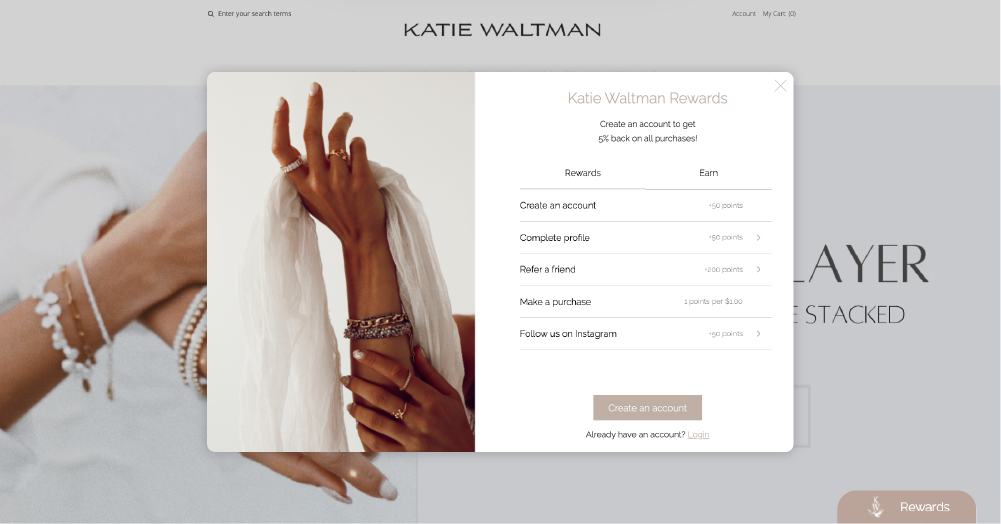 As a result of their creative loyalty program marketing, Katie Waltman has seen 100% customer engagement rate with their omnichannel loyalty program, and a 75% reward redemption rate!


2. Cash / Cash-back
Another referral award is a cash-back program. This more closely resembles an affiliate or commission program than a loyalty rewards program.
In this setup, customers get a cash reward or percentage of the new customer's purchase. For example, customers could get $5 every time someone uses their unique code for a purchase of $30 or more.
For an effective cash-back program, you need to make sure that the minimum purchase amount is more than the cash-back reward.
Take another look at Katie Waltman's loyalty program!
The KW loyalty offering includes a "5% back on all purchases for creating an account." With an offer like this, Katie Waltman not only incentivizes customers to join their loyalty program, they really make it worth the customer's journey from window shopper to a loyal customer.


3. Store credit
Earning store credit or loyalty points is a great way to reward customer referrals. That way loyal customers can enjoy your brand even more, and money keeps coming back into your business.
NZ streetwear brand, Federation +, is a great example of using customer referrals to earn store points.
With a customer referral program in place, Federation + encourages their current customers to refer friends and earn loyalty points as they do so. This way, the brand grows their customer database, while also improving customer loyalty.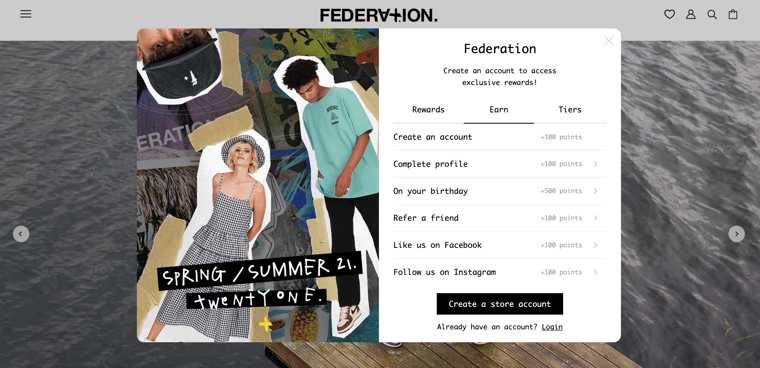 4. Gift cards
Gift card rewards are similar to store credit incentives.
A study from First Data shows that on average, U.S. consumers spend around $59 more than the value of a gift card. You could give gift cards to either the new customer, your existing customer (as a referral reward), or both!
Combined with a loyalty program, automatic upselling, and investment in customer experience, gift card rewards can be an effective way to boost your average cart value (as well as rewarding referrals).


6. Free subscription period
Offering a free or reduced subscription lets new customers "try before they buy". This is most effective for businesses that have a long-lifetime or recurring product. Crealunch is a good example, where customers would be buying meals on an ongoing basis.
Once they have crossed the threshold, your automatic email marketing can step in and keep them convinced!


Step 3: Set the conditions for your referral program

The last step for effectively incentivizing referrals is to establish parameters. You don't want to accidentally encourage referral program abuse or suddenly be out of pocket!
Posting referral program terms and conditions clearly will mean you get the sales benefits without the headaches.
Here are some questions to ask yourself when setting conditions.
When will the referral reward be given?
Decide on a timeframe for giving out rewards. This might look different depending on what reward type you choose.
Here are a few things to consider:
Do new customers automatically get a discount or only after they sign up?
For cashback, do they get it immediately after the purchase has been made or each month?
Do existing customers only get rewards when friends actually make a purchase?
Is there a time limit on the discount code once new customers sign up?
Thinking about these conditions early on will mean you make money from referrals rather than lose it.

Should you use a tiered reward structure?
A tiered reward program is a customer incentive strategy that rewards people the more they spend.
Consumers who engage with high-performing loyalty programs are 78% more likely to spend a premium. So the more you reward people, the more loyal they will be!
A referral program rewards your most loyal customers for advocating on your behalf. If you use a tiered reward structure, your referrals could increase as customers move up the levels. A tiered system gives more rewards to people higher up to encourage loyalty and higher spending.
Let's look again at modern streetwear brand Federation +. Their loyalty program features three loyalty tiers: silver, gold, and platinum. With an 88% reward redemption rate and 20% repeat purchase rate, it's no wonder that they have seen almost a 10% revenue boost from loyalty marketing alone.



Creating demand for your referral program


You don't need to reinvent the wheel to have a successful reward program. Marsello customers see the best results when they keep it simple! However, there are a few things you can do to make your referral program incentives more desirable or effective.
Create scarcity: Add a limited timeframe for coupons. This creates scarcity and encourages people to spend now
Reward loyal customers: If you are a new brand you might consider offering a slightly bigger reward for your existing customers to increase loyalty. For example, if sign-ups receive 20 points, you could make referrals 25 points
Run a seasonal campaign: To give your referral program a boost you could give double points for a limited time
Create multiple referrals: instead of giving out store points, you could give people free gifts after a certain number of referrals
Make an ambassador program: This is like a loyalty program except exclusively for referrals. This lets your most loyal customers feel like they are "in the club" and are rewarded with raving about you
Examples of successful referral programs from existing brands




Still not convinced that a referral rewards program is the way to boost sales and build customer loyalty on autopilot? Take a look at these examples of successful referral programs and how simple they can be!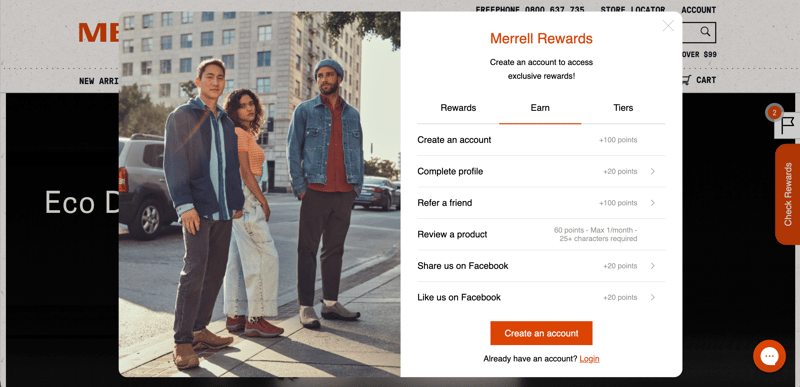 Merrell NZ
Merrell NZ is a footwear brand that helps people get into the great outdoors. Their loyalty program has a 15% repeat purchase rate and an average purchase frequency of 3.5x, showing that Merrell NZ's customers are already proven loyal regulars. Customers can earn 100 points to spend in-store when they refer a friend.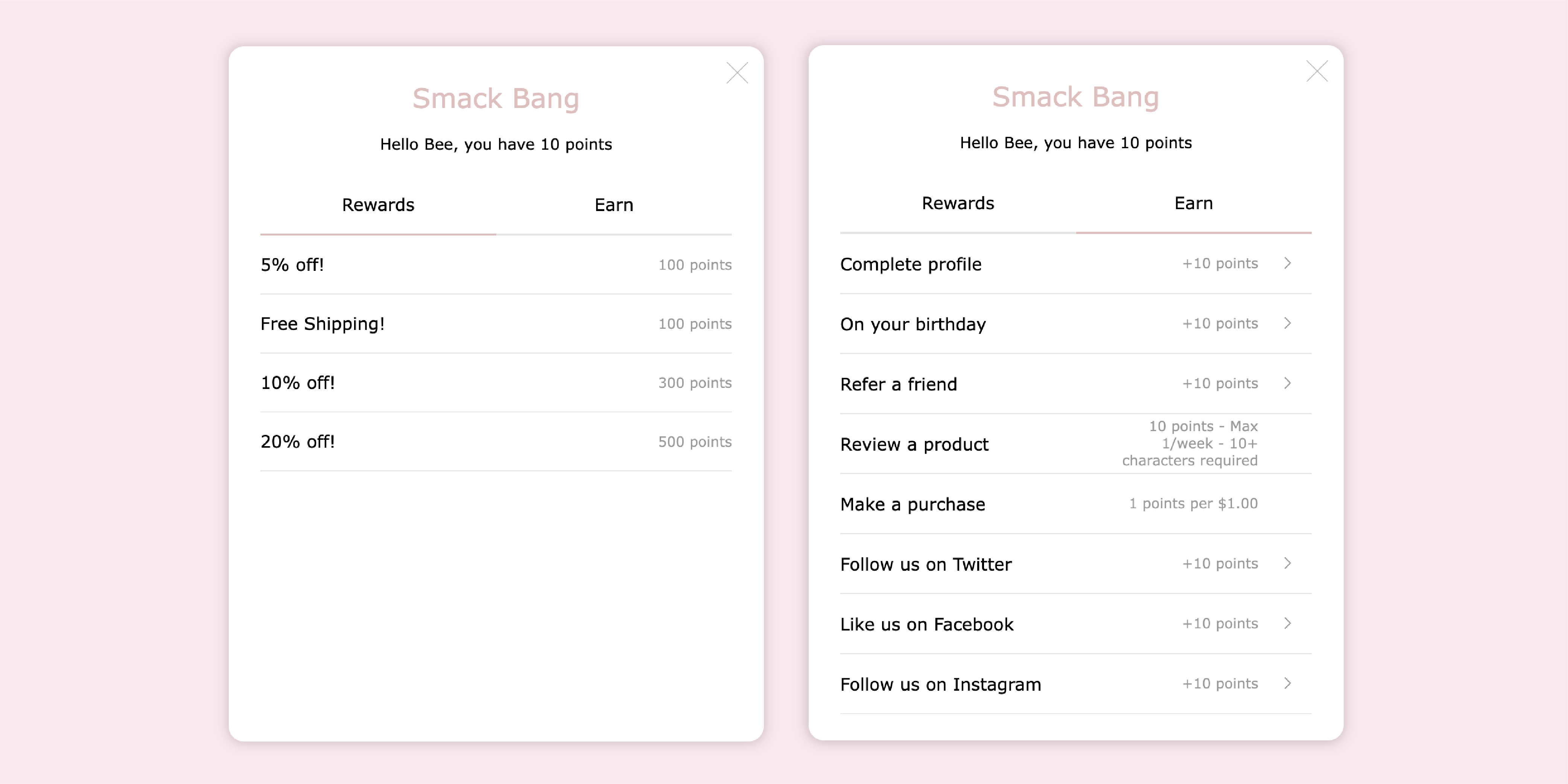 Smack Bang
Smack Bang is a New Zealand-based merchant that specializes in locally-made pet accessories, gifts, and treats. The gorgeous pet boutique also has a lovely loyalty program that's paying dividends; these loyalty initiatives have generated a 100% loyalty engagement rate, and a reward redemption rate of 38%. Using their adorable, branded widget, customers can earn 10 points when they refer a friend which they can see immediately on their dashboard.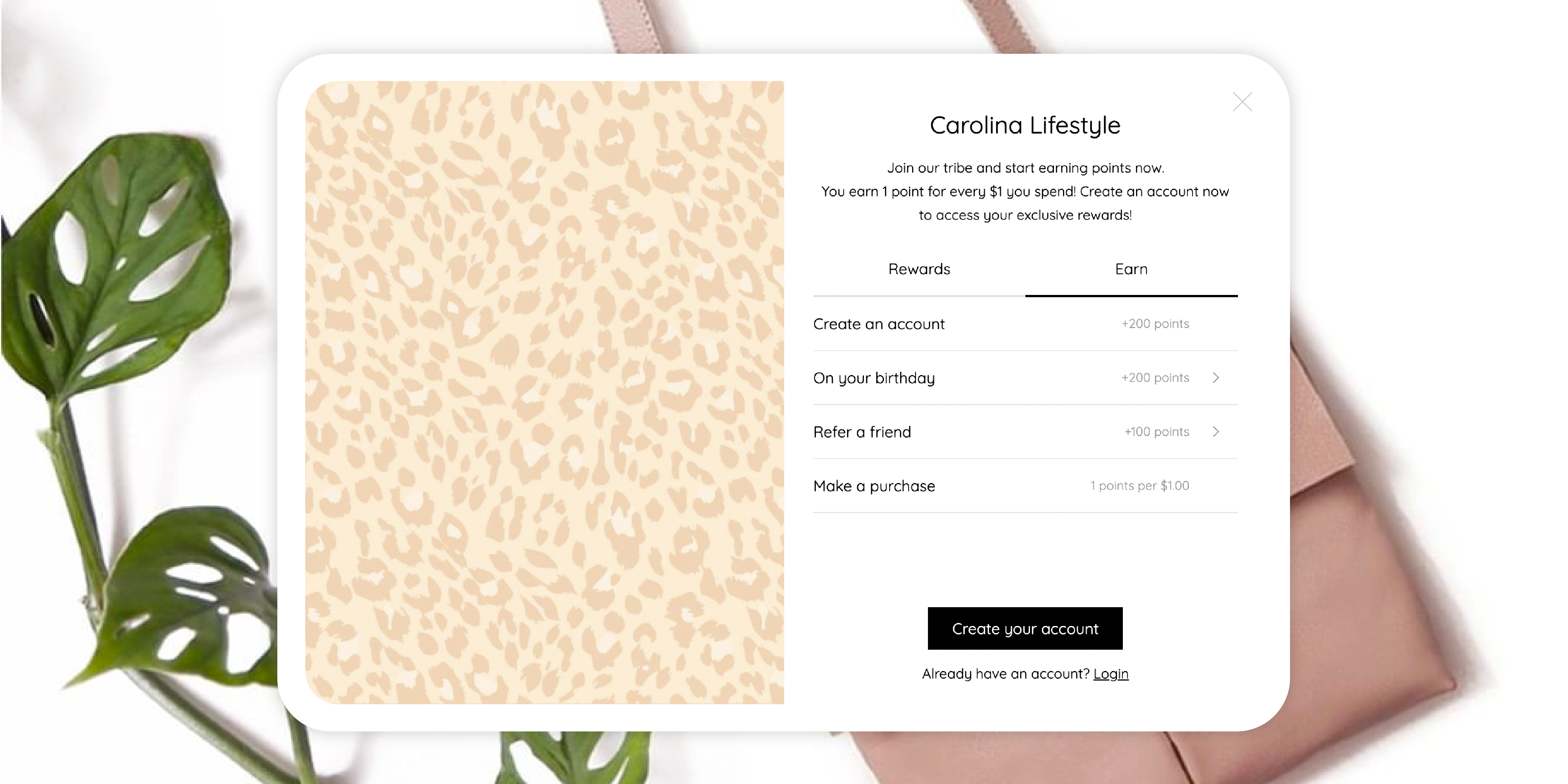 Carolina Lifestyle
Carolina Lifestyle also rewards customers who successfully refer their friends. Members get 100 points (equivalent to $10) for every successful referral – and those customers immediately get $20 simply by joining!
All these initiatives, combined with Carolina Lifestyle's exquisite and unique products, help to ensure that shoppers keep coming back. And it works – the company's average customer lifetime value (CLV) is $716.94, and about a third of Carolina Lifestyle's customers return to shop again within two months.


CROSBY by Mollie Burch
CROSBY by Mollie Burch is an eclectic, modern fashion brand. Their loyalty program, The Crosby Collectors, lets customers earn Pink Points. Their referral program is a good example of setting conditions for rewards. For example, customers receive points for referring a friend which can then be spent in store on orders over a certain amount.
Final words


Offering your new and loyal customers referral program incentives is a win-win-win sales strategy. Whether you are offering limited-time discounts, points to spend in-store, or other fun freebies, a referral program is sure to keep your customers (and bank accounts) happy.
Customer advocacy starts by creating a rewarding and engaging experience no matter how your customers choose to shop. Marsello makes it easy to launch a bespoke loyalty and referral program that is proven to increase customer lifetime value and maximize ROI.
Published Mar 31, 2022 3:10:15 PM